The '65 Twin Rev Combo Amp from Fender is a modern-day homage to one of the most beloved vintage amplifiers of all-time. The Black Face Twin Reverb tube amplifier was the only amp to seek if you wanted powerful pure sound.
When the re-run came onto the market, with an all-analog circuitry that matched the originator, it was more than happily met by guitarists worldwide. This combo amp delivers impressive sound very true to the original and has been dominating the industry since the mid-nineties.
It's a two channel amplifier with a great build-quality, despite being mass-manufactured. The enclosure weighs far less than the original but is a sturdy durable housing for the internal components. It's made from birch wood and has a black Tolex covering.
The circuitry is well-mounted to help protect the fragile tubes and there are no signs of any shoddy soldering. It has protected corners to help it endure rough-handling on the road. It features tilt-back legs and has a reinforced carry handle for easier maneuverability, making it a road-worthy workhorse.
It racks up 85-watts of peak power over four ohms but rivals a 100-watt option. It's a solid gigging choice. You can mic it up should you prefer or DI. It's suitable for any kind of guitar and brings with it a new lease of life for your ax.
It features 4 x 12AX7 and 2 x 12AT7 preamp tubes alongside the Groove Tube 6L6 power output tubes. They give it its memorable sound that made the songs of the sixties so iconic. The Black Face based circuitry allows it to ooze tones with a wildly harmonic delivery.
They feed the sound to two fantastic 12-inch Jensen speakers that have an excellent dynamic response and pump the powerful vintage tones to the audience. The Jensen Speakers are notorious for their high-end handling with a sonic quality that many describe as glassy.
They do a great job of dispersing the scooped mid-range harmonics that the Black Face was renowned for. They also help highlight the caliber of the clean channel and give the drives the familiar fat Fender crunch we all know and love.
This product is heavy and loud but gives one of the most premium-quality cleans with an impressive over-head. The break-up is non-existent below the eight mark, which gives it a wide range of genres to compliment. It's great for technical playing and takes a hell of a lot to get any sort of overdrive from.
Dialing in a tone can be a little trickier for a newbie as it offers a better degree of control than some combo-amps on the market. Don't let that color your judgment though; it has a simple enough layout and, thankfully, won't take too long to figure out.
The settings are split into two sets, including your typical three bands EQ, gain, and master volume. As well as the infamous twin reverb you have a bright switch to clarify high-output guitars, tidying up some of the humbuckers' fuzziness.
You can achieve a beautiful tremolo effect with the speed and intensity dials in the vibration set of controls. It has hookups for a dual footswitch set-up to facilitate easy playing. This is another of its main charms; it gives guitarists a reason to get excited about playing with pedals again.
Fender 65 Twin Reverb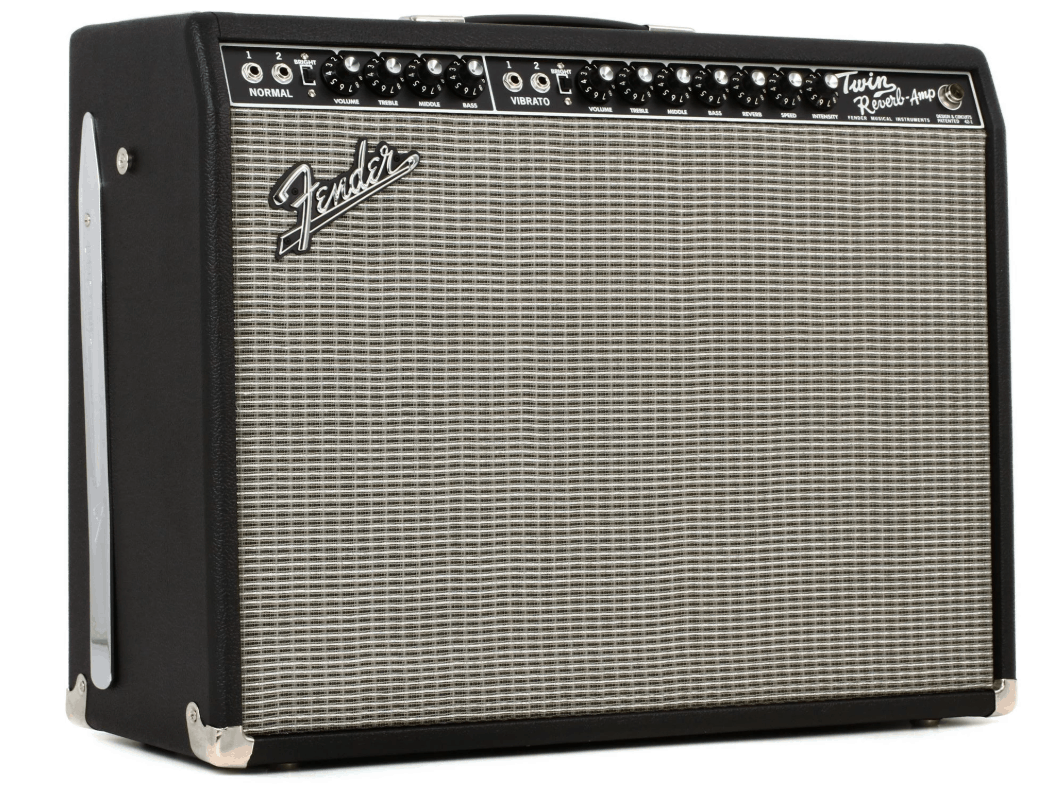 Summary
The '65 Twin Reverb is one of the cleanest amps on the market. It has enough overhead to play at gig-worthy levels without messy gain characteristics overshadowing its purity. It's exceptionally well-built, features matching analog circuitry to the original Black Face unit, and provides the same powerful sound synonymous with the era it came from.
The vibrato panel has a 3 band EQ and can be fully adjusted to reproduce the sixties sweeps that rocked the music industry. The layout is uncluttered, considering it has so many dials to fit on-board. It comes with a 2 button footswitch and can handle your other pedals if you really miss the dirt.
Pros
+ Authentic remake.
+ Analog circuitry.
+ Dual speakers.
+ Twin reverb.
+ Vibrato.
+ Powerful cleans.
+ Foot operation.
Cons
- Not for bedroom use, as the tubes require some volume to get the compression to the sweet-spots. You'll need a large rehearsal space away from anyone you might annoy.
Why We Like It
The '65 is one of the most faithful reproductions out there. More often than not a remake is simply close but no cigar, but this powerhouse does not disappoint.
Just like its progenitor, it has one of the best clean channels any guitarist could want. That's not to say that it doesn't have a great crunch - this amp is versatile and can be used to play pretty much any genre.
The Vibrato panel and tube reverb give it even more flexibility and you can whack in an effects pedal if you want a heavier edge.
If you liked the article, please leave your feedback.