The Fender Blues Deluxe is a dual-channel 40-watt combo amp. This contemporary reissue of the 1993 Hot Rod series has expanded its capabilities. The early nineties line itself was essentially a modern rendition of the original 1950's Deluxe model amps that shaped the music of an entire generation.
When the Hot Rod version came onto the market, it brought iconic vintage aesthetics and 'more drive' with it. However, some felt that their analog predecessors lacked the authenticity in terms of tone, and, admittedly, the circuitry was a little more limited. This reissue combines the best features of the Hot Rod and the Deluxe amps in one powerful little package. It provides extra drive but brings back the additional circuitry features.
The new Blues Deluxe sports the same retro good looks with a tweed cabinet design in a bright but creamy color. It also has a solid-construction quality with heavy-duty ply, and a genuine lacquered cloth cover. It's a little lighter than the original models (45lbs), which makes it more practical to take on the road. The cab has an angled front for better dispersion and a durable, CE approved grille made from steel.
The Blues Deluxe is user-friendly, with top-mounted chicken-head pointer-style dials sat on a retro, chrome plate. You can select between the dual channels for vintage versus overdrive; there are separate gain and master controls for them. The vintage channel has a bright switch, which is great news for high-output humbucking instruments.
This helps to emphasize the treble tones that can get muddied with the dual-coil pickup. Each channel has your typical 3-band equalization with a presence filter. It also serves-up an effects loop that has Fender's famous spring reverb built into it.
The Blues Deluxe delivers the infamous heavily-driven 'All-American' Hot Rod tones with a fat, buttery tubular-warmth. The sound is pumped through an Eminence speaker, exclusively designed for the series.
The circuitry has been refined just the right amount; it's gotten rid of the old-school problematic hum but hasn't completely killed the dirtier character it was known for. The new 3 x 12AX7 tube preamps have been paired with 2x 6L6 power tubes to give the output a heated drive.
This combo amp packs a real punch for a 40-watt option. There's good headroom, with break-up starting to creep in at the 7/8 mark. This gives great warmth and clarity at low volume levels and allows it to really open up when cranked. As this combo amp is versatile, it's ideal for a range of applications, whether its solo bedroom practice, jamming with others, or as a back-line.
The sound is impressive. Some Fender combos simply don't live up to the hype, but the Blues Deluxe is well named and compliments the genre perfectly. We wouldn't usually recommend anything less than a 50-watt for gigging. This amp is pretty sweet for gritty blues. It'll be fine for smaller venues. but it can be used with a mic for larger stage use.
It comes with a two channel foot-switch for easy channel selection and stomping effects on and off the fly. It has a quarter-inch preamp output.
Fender Blues Deluxe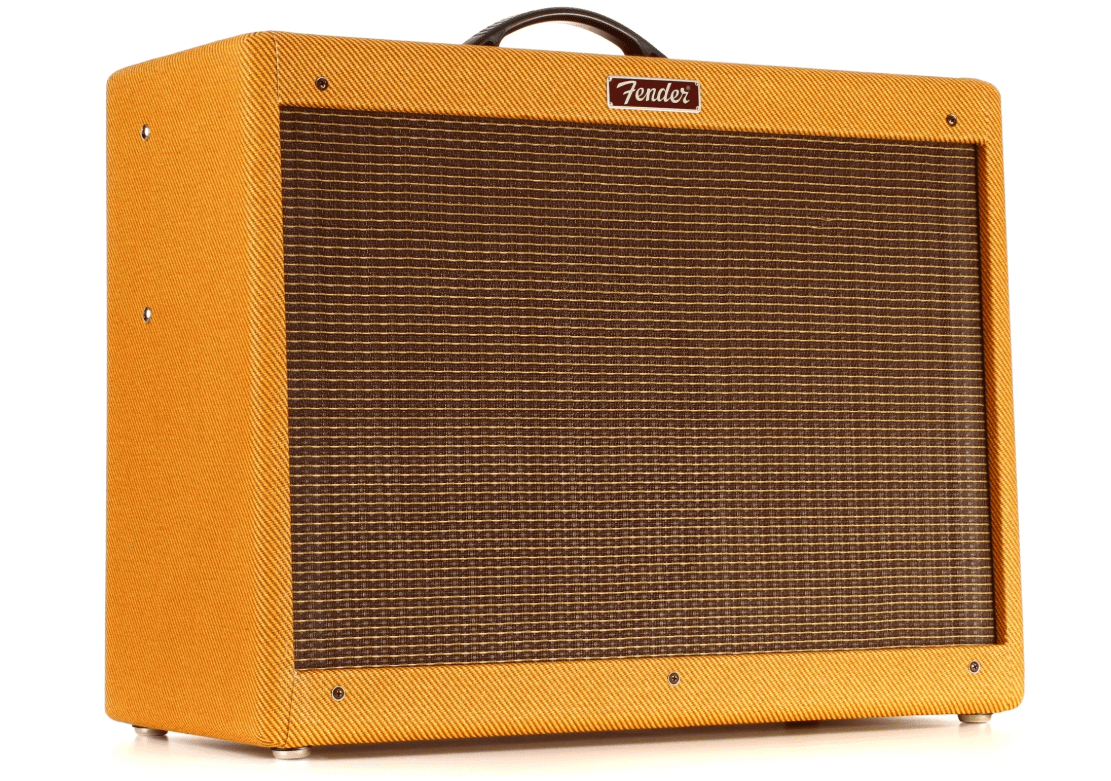 Summary
The Blues Deluxe is a fantastic iteration of the original vintage Deluxe amps with a modern twist that comes courtesy of their mid-nineties Hot Rod edition. It has two channels; one for an authentic vintage tone and a second that provides the unmistakable 'More Drive' channel feel - a channel that the Hot Rod once boasted.
It's very well-manufactured. The circuitry provides more creative options when it comes to tailoring your tones. The sound that emanates from this compact 40-watt amp is pretty impressive.
The power tubes are top-notch. It has a bright switch to help your humbuckers shine. The drive is sleazy and gutsy, rendering it idyllic for playing dirty blues genres. The gain and master dials provide a versatile amp. It has just enough headroom for playing low-key with a clean channel.
Pros
+ Dual-channel combo amp.
+ Powerful output tubes.
+ Angled front.
+ Sturdy grille.
+ Retro aesthetics.
+ 2 channel foot-switch (included).
+ Eminence Speaker.
+ Built-in effects loop with Fender spring reverb.
+ Refined circuitry.
+ Competitively priced.
Cons
- With a design that's heavily focused on the drive side of things, it's super gritty. You might find yourself better off playing cleanly with the vintage channel and a fat analog inspired pedal.
Why We Like It
This is a beautifully designed and well-executed marriage of some of the most sought-after features of two of Fender's best-loved amplifiers. One is a retro classic and the other is a meatier modern beast.
It addresses all of their flaws and brings together some awesome attributes that make it a gritty blues amp. As the name suggests, it provides some deluxe features for sculpting your tone with.
If you liked the article, please leave your feedback.