The Yamaha THR10 2 is a 20-watt modeling amplifier which is suitable for electric, acoustic, and bass guitars. It has a ton of features and effects that make it a one-stop-shop for guitar players. It is compact and portable, with enough power to keep up with a live band in a practice room or at a small gig.
It is digitally compatible with Yamaha's THR app, where you can control all of the parameters right on your phone. It also packs impressive recording capabilities, so you can track all of your instruments and put them together on the included CuBass package.
Specifications
· 2x10-watt speakers
· 15 amp models
· Three bass amp models
· Lots of effects
· Virtual circuitry modeling
· 3-band EQ
· Preset editing
· Bluetooth connectivity
· USB outputs for recording
· Cubase AI recording package included
Yamaha Thr10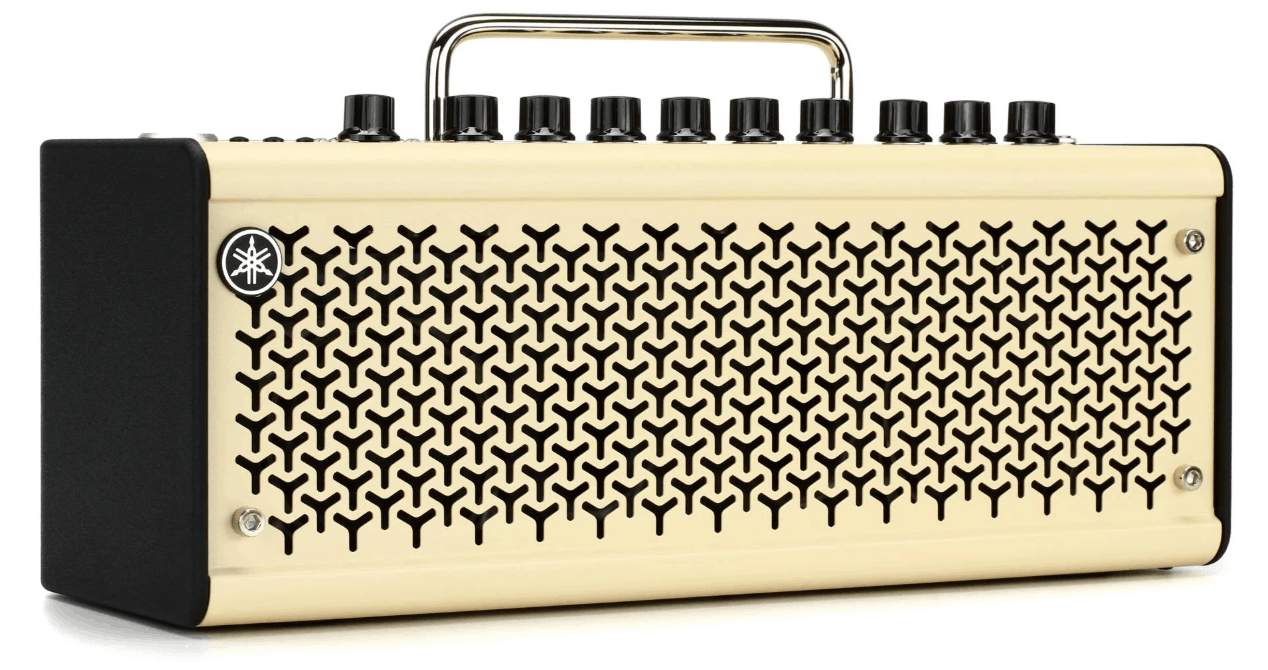 Summary
The Yamaha THR10, two modeling combo amplifier, is an impressively powerful digital amp that is compact and easy to move around. It packs tons of effects and capabilities into an amp that weighs less than 7lbs and measures 7.2x14.49x5.5".
It comes with 15 guitar models for you to choose from so you can pick the exact power amp style you want. It works for guitar players as well as bassists with three bass amp models for you to choose from. It also has a model bypass filter, which allows you to skip right past all of the effects and have your natural guitar tone come through.
It comes with the effects you need at a bass level, including echo, reverb, flanger, chorus, and more. A tap delay button will allow you to choose the rate at which your effects are emitted.
The 3-band EQ allows you to tweak all of the models and effects to the point that you want. You can construct and twist your tone to fit the sound you're looking for to recreate the exact sound that's in your mind.
It works as a recording interface for your instruments as well. You can connect the amp to your computer using the USB connector. It also works with the included Cubase package. The programmed amp models are super realistic and genuine sounding, which will create amazing recordings.
It has all the different types of outputs and jacks you need, including an auxiliary jack, headphone, and a Bluetooth connection, which lets you connect wirelessly. It comes with a wireless transmitter that has a strong signal, allowing you to play untethered.
You can connect to the Yamaha THR app and control all of your parameters right on your phone. The amps knobs are very user-friendly, and intuitive to use so you can make changes on the fly quickly and clearly.
It is very reasonably priced for an amp of this caliber. It doesn't have a ton of power and won't allow you to play stadiums without hooking into the house PA, but it would be an extraordinarily fun amp to play around with daily. The sound is pure and robust, and you get a ton of tonal capability and effects to carve out your favorite type of tone.
Pros
+ Affordable
+ 15 amp models
+ Recording interface built-in
+ Compact and portable
+ Essential effects
Cons
- Not super loud
- Slight learning curve
Why We Like It
For anyone who wants a highly capable amp for their home or practice space, this is an excellent choice. It can be taken practically anywhere and offers a wide variety of sounds that you can play along with basically any type of music you want.
It is not insanely hard to figure out, unlike some of the more complicated modeling amps. It has a bit of a learning curve, but you can figure things out pretty quick, and although it has a lot of possibilities, it is not so much that you'll get lost in the noise.
If you're looking to record at home, it works as a pedalboard and an interface that you can plug right into your computer and start recording. It has Cubase AI recording software included so you can install it onto your computer and get going. It's compatible with bass and electric guitars, which is a feature that many other amplifiers don't have.
It is reasonably priced and would probably work well within most guitar players' budgets. This is not the type of amp that you will be playing massive gigs with, but for home practicing, recording, and jamming with friends, it is an excellent option. It doesn't box you in with specific tones and gives you enough options that you can play acoustic, metal, rock, blues, country, or hip-hop.
If you're looking for a highly versatile amp that leaves some cash in your pocket and is a ton of fun to play around with, the Yamaha THR10 2 combo amp may be precisely what you're looking for.
If you liked the article, please leave your feedback.