Tube amplifiers are undeniably the more popular choice when it comes to picking an amplifier for professional live performance. They provide a richer, deeper tone with real depth and an incomparable clean sound in relation to a solid state amp, which unfortunately tend to have a bad rep in musician circles. They shape and color the tone of the instrument something which is something important to all guitarists.
Often tube amps are thought to be the pricier alternative to their newer adversaries, however reductions in fabrication costs and advancements in the field is resulting in heavy-duty, tube amps from leading brands such as Peavey, Fender and Marshall, at affordable competitive price ranges. Whilst not a particularly modern technology, they have been tirelessly researched honed and perfected, which has led to an array of beautiful models in recent years.
Having so many on the market can make it a bit of a minefield to navigate in terms of choices, here is our guitar tube amp review of what we feel are the top ten, along with a buying guide, to narrow down the requirements on what will be the best tube amp to fit your needs. If you are looking for an all-in-one type of solution, modelling amps are great for this.
At a glance:

Our top 3 picks
Our team's top 3 recommendations
Best Overall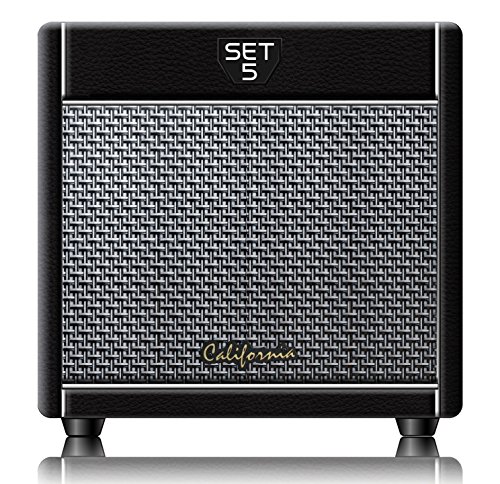 California Tone Research Set5

Single end tripod design.
Great tones for Jazz, Blues, or Surf's Rock.
Ideal practice tube amp.
Premium Quality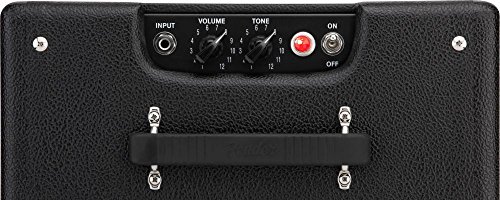 Fender Pro Junior III

Single end tripod design.
Great tones for Jazz, Blues, or Surf's Rock.
Ideal practice tube amp.
Great value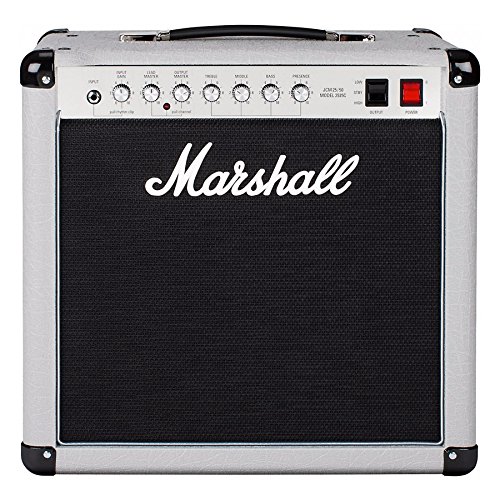 Marshall 2525C Mini Silver Jubilee

Single end tripod design.
Great tones for Jazz, Blues, or Surf's Rock.
Ideal practice tube amp.
View The Best Tube Amp Below
1. California Tone Research Set5
The "California (Tone Research) SET-5" guitar amp is a low priced 5W, A class, genuine all tube guitar amp. Featuring 12AX7 pre-amp tube and EL84 power tube for the purest tones an 8-inch speaker can provide. It has one input along with volume levels, treble and bass controls. It has two 1/4 inch outputs for 8 & 16 ohms speakers. Its simplicity is really one of its best features. The cabinet is of a solid structure, it has internal gussets for reinforcement and a vent to aid in cooling. The internal circuitry contains quality components, fiberglass PCB and ceramic sockets as well as a tone control, normally associated with Hi-Fi tube amps allowing for greater flexibility than more conventional designs. It breaks up nicely at high volume levels and gives 'bare bone' tones.
Pros:
+ Single end tripod design.
+ Great tones for Jazz, Blues, or Surf's Rock.
+ Ideal practice tube amp.
Why We Liked It - It is a user friendly, affordable tube amp that presents guitarists with quality amp tones for practicing and playing in smaller venues.
Bedroom volume - There are lots of tricks to keep the noise level down in a shared household while still enjoying the sound of your tube amp. For a start, you might want to opt for a closed-back cab to limit the amount of sound traveling and keep it in one direction. More importantly, you need to get your amp off the floor to avoid sound resonating through the surface; a stool will do if you don't have a stand.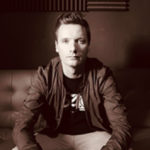 The Fender Hot Rod series amplifiers deliver that unique, identifiable Fender tone. These Fender small tube amps are affordable reliable and surprisingly loud with just a 10-inch speaker they easily rival vintage Fender amps. The Fender Blues Junior III is a basic 15-watt tone machine with stripped back circuitry for a back to basics approach to amplification. Whilst this Fender tube amp doesn't have all the bells and whistles of some of the more expensive models by Fender, it provides a touch sensitive authentic tubes sound. Easy to use and dial in a tone it is a great grab-and-go amp ideal for both beginners and seasoned electric guitar players (see our other review on the top acoustic guitar amps). With fat mid tones and reverb with the infamous slap-back notable in products containing spring reverb housing. The Fender Blues Junior serves up a dynamic response that experienced players crave most. Other upgrades to the model include Additional Fender Blues Junior III upgrades include; lower-noise shielding, and rattle-reducing shock absorbers for the EL-84 tubes. It has great aesthetics with a 'dog-bond' style handle and 'chicken-head' knobs.
Pros:
+ Clean-to-drive volume control.
+ Easy to read control panel.
+ Sweet highs and wholesome lows.
+ External speaker capability.
+ Spring reverb housing
Why We Liked It - These Fender amps are a Prime example of great value for money tube amps and they promote tone creativity, allowing artists to find their own signature sound without over-complicating the process.
3. Marshall 2525C Mini Silver Jubilee
This unbelievable mini version of the sought after Silver Jubilee with its signature sound. The Silver Jubilee was first produced as a product to celebrate 25 years of amplification and 50 years of Jim Marshall working in the music industry. Inspired by its predecessors it contains classic pre-amp features in a low power amplifier under 25 watts of power, it contains 3 12AX7 pre-amps, two EL34 (power amps), standard 3-band EQ, as well as presence, gain, volume FX loop controls. The product dimensions are 27.4-inch x 14.9-inch x 23.9 inch constructed to the highest possible standards at the Marshall factory in the UK and not outsourced parts. This power amplifier shares many original Jubilee Series features and delivers acclaimed quality amp tones.
Pros:
+ DI output.
+ Foot switch included.
+ High/Low output switching feature (from 20W to 5W)
Why We Liked It - It is an expertly crafted tube amp from a reputable brand who have years of experience in the products they are designing and engineering, making it one of the best tube amps for electric guitar on the current market, though a little pricier.
A cleaner sound - It's unlikely that you would buy a tube amp to get a really clean sound, but if you only have one amp and you need to be cleaner, there's a trick. You need to bypass the entire preamp section and go directly to the power amp. To do this, if your amp has an effects loop on the back, you want to plug into the return, and there you have it; super-clean.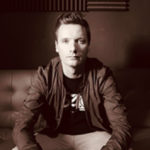 Harboring the makings of the legendary VOX AC30 , the Vox AC4 is a limited edition, hassle-free, all-tube miniature combo amp. Delivering the same epic top boost tones that have enchanted guitarists for the last five decades, a sound exclusive to one of the most popular tube amp manufacturers of all-time. The Vox combo amplifier consists in essence of two12AX7 pre-amp tubes and 1 EL84 power tube. It has all the obligatory controls expected; Gain Bass and Treble and a robust 12 inch Celestion speaker (2 inches bigger than previous models). It is an A class tube amp capable of pristine cleans and huge crunches. This combo amplifier carries the classic looks of the vintage VOX identity with a diamond grille cloth and basket-weave vinyl exterior.
Pros:
+ Unbeatable portable sound.
+ User friendly.
+ Historic sound quality.
Why We Liked It - It expertly provides the rich sounds of a tube-driven amp suitable for practicing at home, performing live and recording situations.
Related Review: Best Tube Amp Under 1000 Bucks.
This Blackstar HT1R is a cutting edge mid-range 100-watt tube combo amp. This Blackstar HT amp offers vintage tube tones in an 8-inch compact amplifier. User friendly controls include; Volume levels, Gain, and ISF Tone control; Overdrive switch has high build quality industry standard push-pull circuity and the following specs; Tube Complement: 1 x ECC83 (12AX7), 1 x ECC82 (12AU7) Power Tube, and an 8 Ohm speaker output. Awesome crunch and break-up characteristics expected from a 100 Watt amplifier at lower volumes.
Pros:
+ Easy reverb control.
+ MP3/Line input to jam with your favorite tunes.
+ Emulated speaker/headphone output.
+ Switch from normal to overdrive at the touch of a button.
Why We Liked It - The patented ISF control works in conjunction with with the equalization controls giving players access to infinite new tubes sound possibilities to design their own sound with the Blackstar HT1R.
6. Fender Bassbreaker 007 Combo
Bass breaker practice amps are a hard rock offshoot series that feature a powerful 'crunch' not traditionally associated with a Fender tube amp. The Bass breaker 007 Combo guitar amp has hassle-free gain knobs and tone controls and a switchable treble booster for increased overdrive. The sustain is audible but not over bearing at higher gain channel settings, faithful to the instrument dynamics. This hard rock offshoot combo guitar amp has a single EL84 power tube, 2- 12AX7 pre-amp tubes and a Single 10 inch Celestion speaker. A durable and versatile amp with stylish vintage looks. Grey lacquered tweed, leatherette handle and cloth grill. Loaded with complex sounds.
Pros:
+ Treble-booster circuit that adds pre-amp gain.
+ ¼ Line Out Jack to feed output of the amp to a recording device or another line.
+ True Class-A amplification.
Why We Liked It - This Bassbreaker combo guitar amp is an incredibly loud tube amp from a brand who are integral to modern music.
7. Peavey Valve King II Micro-Head
The Peavey ValveKing II Micro-head is an ultra-compact all-tube electric guitar amplifier head. This amp features hot-rodded amp tones with Peaveys notorious reliability. Well researched designed and constructed this Micro-head delivers everything great tube tone for stage and studio use. Containing state of the art all-tube circuitry and powered by a pair of quality EL84 power tubes. Featuring all the standard controls such as a 3-band EQ and reverb along with variable tube power outputs. You can switch between 20, 5, or even just 1 Watt. As with other guitar heads it is superb paired with an addition Cabinet but by its self it is a monster of a mini amp that won't disturb the neighbors. Big tones in a small but legendary Peavey package!
Pros:
+ USB recording output
+ A mic-simulated direct out
+ 'Vari-Class' emulation function (from Class A to Class A/B )
Why We Liked It - It is an outstanding tube amplifier and also has useful TSI tube-monitoring indicator that informs you of the health status of your power tubes.
This highly affordable Class A amplifier with an 8-inch turbo sound speaker is the epitome of all that is desired in a cheap tube amp option. The parts are all painstakingly hand crafted as opposed to relying on mass produced manufacturing methods. Driven by an EL84 tube and featuring a 12AX7 tube it brings an honest vintage tube tone in a modest, portable cabinet it provides awesome tone control. The Bugera V5 has an added proprietary 'Infinium' tube life multiplier technology unique to Bugera which revolutionizes tube life management. It has appealing vintage aesthetics, sporting a simple tone knob, digital reverb, independent gain knobs and master volume. to complement its high calibre, authentic sound. Its Pre-amp design originates from a humble 1960's design concept. Whilst already a low watt tube amp, the Bugera V5 also switched to a single watt mode which still benefits from full gain channel manipulation. Perfect for use in apartment rehearsals.
Pros:
+ Headphone mode for silent guitar solo practice.
+ 'Infinium' tube life management system to help keep a tab on your tubes power.
+ Jack for unhooking the built in speaker and hooking up an external speaker cabinet instead.
+ Master volume & independent gain knobs
Why We Liked It - World famous British engineering in a small tube amp which produces a variety of tones from pure cleans sound, purring blues and huge crunches. See more guitar amps under 200 bucks.
A Truly versatile 5 Watt tube amplifier for electric guitars. It uses a ECC83/12AX7 pre-amplification tube and a 6V6GT power tube for the amplifier section, plus a Celestion speaker. It deftly handles a range of frequencies. Its increased dynamic range produces a superior sound. The mids and highs and lows are totally balanced. This amp features a durable open back case for a more ambiance and the retro cloth speaker grill and synthetic leather and chrome exterior make for very pleasing 40's/50's inspired aesthetics. As with most tube amps for guitar, it improves after a honey moon period to break the tubes in and warm them up the given 20 hours play time the warms tones will melt.
Pros:
+ Simple controls.
+ Celestion super 8-inch speaker.
+ Low budget option.
Why We Liked It - Well-rounded tones and smooth, rich distortion from an incredibly low cost tube amp.
As previously mentioned Bugera's are hand crafted to a high degree of standards. This fantastic cage-style guitar tube head has 2 channels and switches effortlessly between a classic warm Class A sound and rawer AB tone. Perfect for practice and intimate gigs but once added to a set-up is truly unbelievable. Typical controls and additional integrated high-def reverb with dedicated control. Driven by four12AX7 and two EL34 tubes. Cool aesthetics on a compact multi-class guitar head.
Pros:
+ Clean and dirty channel.
+ Revolutionary INFINIUM Tube Life Multiplier technology.
+ Hand built with care.
Why We Liked It - It is a powerful amp with plenty of overhead and possibly the best 50 Watt deal you will find.
On the edge of breaking up - That sweet spot of being right on the edge of breaking up is the reason tube amps are so sought after. It's when you can play quietly with plenty of detail and clarity but trigger that overdrive when you dig in more. You can get this sound going straight into the amp without any pedals. If you have a bright-sounding guitar, adjust the amp settings to counter it; treble around 11 o'clock and boost the bass a little.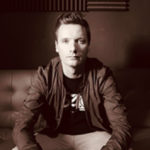 Tube Amp Buying Guide
The genre you play will heavily influence the type of guitar tube amp you are after. A Jazz aimed tube amp will be nothing like a distortion amp and so on.
The majority of guitarists often have an individual preferred they are seeking and others like to switch it up during performances so the type of musician you are will really influence what you want from a great tube amp. Other things to consider are venue and audience size as this affects the watts of power required.
Whether you already intend to use a range of pedal effects with it is also important as it renders complex in-built tones a costly and useless extra. So to help prospective buyers pick out a vacuum amp that suits you as a player here are some frequently asked questions answered before you purchase a suitable electric guitar tube amp.
What is a Tube Amp?
Tube amps is a term given to vacuum amps (or valve amps in the UK) because they contain vacuum tubes within that control the electric current inside. Forcing the current to only run one direction. A pioneering technology invented over a century ago.
A very simple example of a vacuum tube is a diode. Containing a cathodes and anodes. One sends electrons the other collects them and sends them to a control grid. They utilize thermal energy, take a while to warm up and produce a soft glow. This is why they generally have a higher energy consumption than a solid-state amp.
However, modern Tube amps have managed to miniaturize the technology and they are capable of running at a much lower wattage these days.
Why choose a Tube Amp?
The benefits of a good tube guitar amp far outweigh those of their digital counterparts though this is a topic which is widely debated. Tube amps produce pristine clean tones, something which most experienced guitarists endeavor to achieve and value above all else. They have what is described as a warmer sound.
Traditionally, they are considered the best amplifiers with a preferable tone quality. They have proven significantly lower-harmonic distortion and great high-power and high-frequency operation than a transistor driven solid state amp. They also provide a more musical tone once they are pushed which is notable in comparison to an over-driven solid state transistor amplifier which frequently sound almost artificial.
Tube amps clip in a softer, less audible manner and use and need much less negative feedback. Output transformers within most tube amp circuits help prevent speakers from shorting whereas transistor driven amps will usually blow the speakers if they are not fused.
Best Small Guitar Tube Amp
There is nothing quite as liberating as just letting rip on a great tube amp but it can be impractical especially in a residential area. Luckily in this day and age, there are a number of more compact models that are still authentic vacuum tube amplifiers giving that sought after sound and experience without noise complaint.
If you are looking for a good small practice tube amp you are still going to want a relatively compact cabinet dimensions as well as smaller speakers. With a multitude available for sale these days, it should be easy to find the one that is right for you and your needs.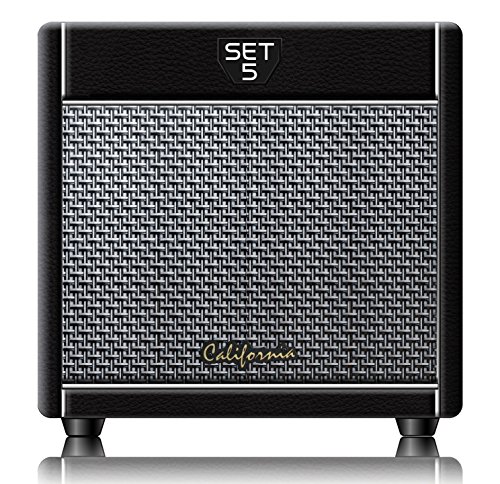 We recommend something like the California or one of the guitar heads reviewed above their sound to size ratio should fit the bill.
Whilst lower watt tube amps for guitar will undoubtedly mean lower decibels as will more compact design, but make no mistake the high volume break-ups on these smaller scale models can still pack an admirable punch. Today's leading brands have truly taken innovation to the ultimate miniature performance level.
Best 25 Watt Tube Amp
There are many low watt options currently on offer to consumers. The Bulgera 5 Watt above is clearly an obvious contender. If you are looking for a tube amp with low consumption or low output benefits it is also worth remembering that some of the higher watt amplifiers on our list also offer low watt settings to easily switch between for user managed energy consumption control.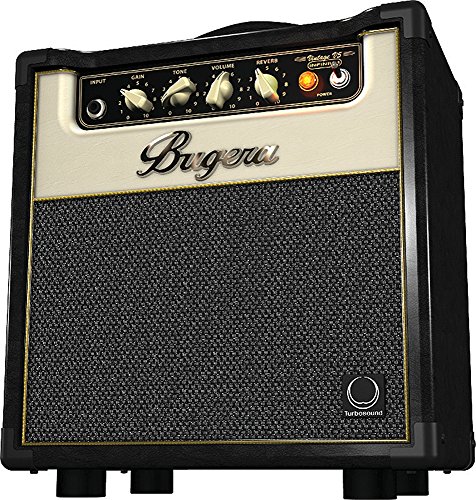 The Peavey Valve King we have reviewed in this article is another model which offers built in settings for use at just one solitary watt like the Bulgera does but has the added ability to crank it up when you feel inclined. This is one way to keep your options open regarding future use.
Best Budget Tube Amp?
This question is entirely dependent on the type of budget being referred to. If you are looking for a low budget tube amp the Monoprice or the Bugera 5 watt above are great examples of cheap tube amp choices. They both produce a fair amount of bang for your bucks and offer comparable clean tones.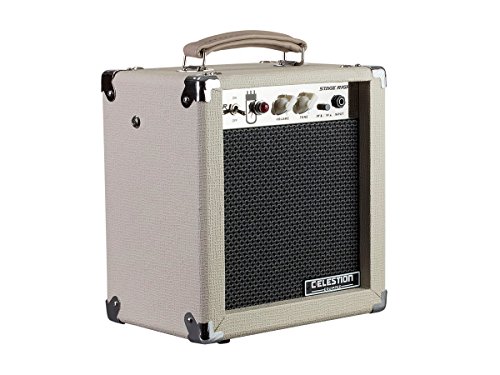 When determining your level of budget, you need consider your needs. Is it for practice, performance or perhaps recording purposes as this is a major factor which will heavily influence your requirements. If you are just practicing you wont need a whole lot of volume at your fingertips, you may even want to opt for a headphone output and practice morning noon and night until your hearts content!
Conclusion
Tube amps provide a top notch, incomparable natural sound, they produce smoother, warmer, clearer sounds they are subtler and affix harmonic distortion. The majority of solid state alternatives constantly promote themselves, earnestly highlighting their capabilities of replicating tube amp tones to a high degree, but why choose a flattering imitation over the real thing when the costs are really only marginally different? If you are looking for a tube amp for solely its tone benefits, there are plenty of amazing products on the market.
When all is said and done what to look for in a good tube amp really does differ from person to person each favoring their own unique tones or even respected brands. This makes finding the best tube amplifier down to you as an individual but we hope our article helps make the decision a more informed one.
Expert Tip:
If you are still undecided about tube-driven amps in the digital age, we recommend going for a hybrid amp model which employs a combination tube pre-amps and transistors technology. They deal well with both low and high end frequencies and still have that desirable tube-tone.
Did You Know?
When tested with a sine wave producer, results showed the physics of a valve amp give users more option for shaping the sound. If you push the overdrive a little bit flattens the top of the sound wave a when you push harder, it flattens the bottom also. So tube amps for guitar really do respond in a more sensitive manner and the amplification stays true to the dynamics of the guitarists playing skills.
If you've enjoyed this review by Music Critic, please leave a positive rating:
[vc_separator