If you're searching for the best mini guitar amp, then you're either looking for a micro version of a guitar amplifier, or you are looking for a miniature amplifier that can be used for your hi-fi system or for boosting your car's audio system. Either way, you're covered here, as this list and buyers guide deals with both types.
The most amazing thing about a mini amp for your guitar is that emulates the tone and sound of normal versions, but at a fraction of a cost, allowing you to play at home quietly or with your headphones on, and, of course, the portability of a mini guitar amp means you can take it everywhere, making it ideal for buskers.
With a mini portable guitar amp for your car or home, then you can get a boost to your sound, more control over bass and treble, all for a tiny investment.
To make sure that you choose the very best micro guitar amp for your needs, check out this list of the best mini guitar amplifiers, and then the buyer's guide and breakdown that follows.
Related: Guitar Amps Under $200
At a glance:

Our top 3 picks
Our team's top 3 recommendations
Best Overall
Blackstar Electric Guitar Mini Amplifier

3W Output
Two Channels
Packs a Punch
Affordable Price
Portable
Premium Quality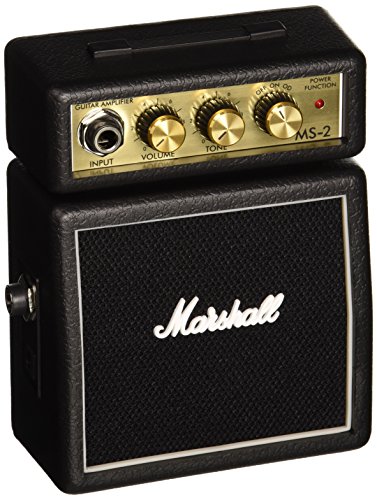 Marshall MS2 Battery-Powered

3W Output
Two Channels
Packs a Punch
Affordable Price
Portable
Great value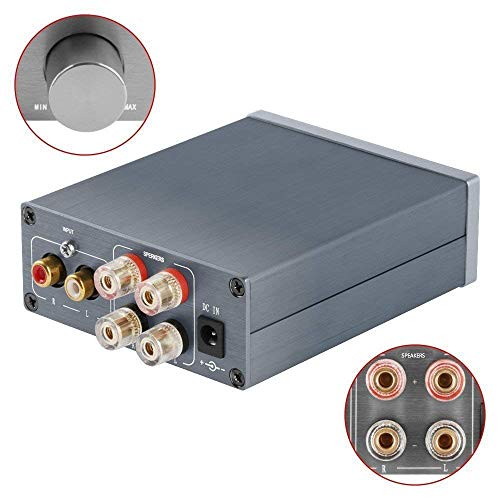 Fosi Audio 2 Channel Stereo Audio

3W Output
Two Channels
Packs a Punch
Affordable Price
Portable
View The Best Mini Amp Below
1. Blackstar Electric Guitar Mini Amplifier
This tiny, 3-watt amp from Blackstar is one of the best around. Despite having dimensions of 7.59" by 5.59" by 4.29", it packs quite the punch for such a little unit. The manufacturer has also managed to pack a lot of great features into its small frame.
There are two channels. There's a standard channel for clean sound, while you've got another that can be used for overdrive. The tone sounds just like a full-size amp. Another handy feature is the in-built tape delay effect that can be used to great effect once you've experimented with it.
Many guitarists purchase mini amps so that they can hook up headphones to them and practice in silence. This is possible with this product, as there's a line-in port for your headphones.
You can easily use this mini amp while you're out and about too, as it can be powered by a battery. There's also the option to plug it into the mains.
Pros:
+ 3W Output
+ Two Channels
+ Packs a Punch
+ Affordable Price
+ Portable
Why We Liked It - It's a tiny amp that packs a big punch, offering you an exceptional tone that sounds like a full-sized amp.
Demos -These amps may be small but they are mighty! To get a true representation of how each amplifier sounds, be sure to check out demos available for free on sites like YouTube. This way, you'll be much more likely to score an amplifier suited to your sound the first time around.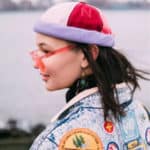 2. Marshall MS2 Battery-Powered
This Marshall MS2 micro guitar amp is basically a half-stack Marshall shrunk down to 5.5inches in height. That means that the power has been scaled down, but it hasn't affected the ability to recreate the classic Marshall sound.
The power is only 1 watt, so you shouldn't expect to be able to perform live with this Marshall MS2 micro guitar amp, but since it has a headphone jack, then it makes it perfect for playing at home. Instead of investing in a mini micro full stack, you can emulate the sound, and hear it through your headphones. The Marshall MS2 micro guitar amp is also battery powered and it is possible to fasten it to your belt.
Pros:
+ Tiny size desktop guitar amp
+ Battery operated
+ Can be attached to your belt
+ Can recreate classic Marshall tone
+ Affordable price
Why We Liked It - If you're looking for the best battery powered guitar amplifier for portability, then you can't go wrong with this tiny Marshall MS2 micro guitar amp that only weighs 12 ounces and can be fastened to your belt.
3. Fosi Audio 2 Channel Stereo Audio
Unlike the previous two mini guitar amplifiers on the list, this one is for your hi-fi system, not for an electric guitar. It is made by Fosi, which is a company that has an excellent reputation for producing affordable, high-quality audio equipment.
This portable guitar amp has both aluminum tone knobs and an aluminum shell, giving it a stylish look. It can drive speakers of 20-watts to 200-watts and it offers you an exceptional frequency range of 20Hz to 20kHz. It also has RCA input, which makes it perfect for your smartphone or MP3 player, as well as your laptop.
Pros:
+ RCA input
+ Aesthetically pleasing
+ Excellent frequency range
+ Can drive 200-watt speakers
+ High-quality sound output
Why We Liked It - Considering the price and the outstanding sound quality, then this is the best micro guitar amp for someone wanting to choose an amp to beef up their computer speakers or for use with your smartphone or MP3 player.
Mini amplifiers may not be the best for on-stage performances, but they're perfect for practice sessions or jamming out while on the go. These are also invaluable tools for any street performance. You can also use mini amplifiers as a compact PA system for whenever you host a semi large gathering.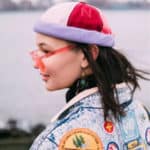 This is a versatile little micro crush amp that is loaded with some great extras. For example, it has an in-built chromatic tuner and it can also be used to control an external speaker cabinet. This Orange micro amp is battery powered and offers you 3-watts of power, which is more than enough for practicing at home, and will also suit street performers and buskers.
The orange shell makes this micro crush stand out and gives it an original look. It has knobs to change gain and shape, which offers you more range in tone, but it is especially recommended to guitarists who love clean tones.
Pros:
+ 3 watt guitar amp
+ Can be used to control external speakers
+ Lots of tonal range
+ Battery operated
+ Powerful reverb
Why We Liked It - The fact that this Orange micro crush amp can double as a tuner or for controlling bigger speaker cabinets makes it the best micro guitar amp for guitarists who crave versatility.
If you're looking for a mini guitar amplifier to boost your car stereo or your home speakers, then the Kinter MA170 might be the best micro amp for you, especially if you don't want to break the bank to pay for it. This affordable tiny amplifier offers you the ability to control both bass and treble, as well as master volume and tone.
The output power is 2x20 watts, and it gives you an output impedance of 4-16R. The input voltage is rated at DC 12 volts. It really is perfect for in the car, and you will immediately notice the huge improvement in power out of your standard car speakers.
Pros:
+ Perfect for your car stereo
+ Great value-for-money
+ Big power
+ Bass and treble tone controls
+ AUX input and RCA input
Why We Liked It - It is the best mini guitar amp for hooking up to your car speakers to give you a huge boost in power and to give you the sort of bass control that you don't usually get on standard speakers.
6. Blackstar Fly Guitar Combo Amplifier
This mini battery powered guitar combo amp from Blackstar offers you ample opportunities to express yourself via a huge range of tonal options. The reason it offers you so much range in tonality is due to Blackstar's proprietary Infinite Shape Feature technology, which gives you limitless options for tone creation.
This battery powered guitar amp also has a tape delay effect for extra resonance. You get 3-watts of power from it, which makes it louder than a lot of other mini combo amps, and it can actually be combined with Blackstar's Fly 103 so that you can double your power too.
Pros:
+ Infinite options for volume and tone
+ Tape delay effect
+ 3-watts of power
+ Line in for MP3 players, smartphones, and laptops
+ Options for mains power or battery power
Why We Liked It - The ISF technology that Blackstar Fly3 has created in their mini combo amps is incredible due to the huge variety of tone that you can create. That is what makes this the top mini guitar combo amp for players who love to be able to shape their sound. The mains option is great if you are concerned about battery life while out at a gig, for example.
See more guitar amps under $500.
7. Boss Katana Mini Battery
Every guitar player knows that the Boss Katana mini amp is one of the best around. The Katana amp by Boss has won awards for its outstanding quality. Fortunately, Boss have scaled it down to make this Katana mini version. You have three choices when it comes to sound settings, which are brown, crunch, and clean. This is something that you usually get on a full amp rather than a mini version.
You also have tape delay onboard effects for a smoother sound with enhanced resonance. The equalizer will let you control low, middle, and high tones. There's also an AUX input on this Boss Katana mini amp, which is perfect for guitar players who like to jam along with their favorite bands.
Pros:
+ Suitable for electro acoustic guitars
+ Big power
+ Multiple sound settings
+ Analogue equalizer
+ Tape delay effects
Why We Liked It - The Boss Katana mini amp is easy to use, has a huge range of effects and sound settings, is suitable for acoustic guitars, and it offers you the quality that makes the bigger version so popular.
Mini Guitar Amp Buyers Guide
If you're looking for the top mini guitar amp, then there are a few things that you should consider before purchasing one. This gear guide should enlighten you on what features to look out for when you're choosing the right portable amp for you.
Type of Mini Guitar Amp
There are two types of mini amps to choose from. The first is a guitar mini amp, also known as micro amps. This type of mini guitar amp is basically a scaled-down version of a regular amplifier. Often they are based on a bigger amp model, so will offer similar tones. Obviously, if you are an electric guitarist then this will be the type of mini guitar amp for you.
The second type is used for a stereo system or for a speaker system. These are small versions of guitar amplifiers that can be connected to a stereo system to offer you a big boost in sound quality and power. They are especially useful for boosting your car's stereo system.
Power Output
This is measured in wattage. The general rule is that the larger the wattage number is, then the more power you'll get from your mini guitar amplifier. A mini portable amp for guitars will often be somewhere between one and five watts. Anything in this range is normal and should be perfect for such a tiny amplifier. With stereo mini guitar amps, then the power output is slightly different, as what you're looking for here is what size speakers the amp can drive, so make sure that you pick a micro guitar amp that will be able to drive your speakers.
Onboard Effects
In regular-sized guitar amplifiers, then there is a huge range of onboard effects that you can find. In mini guitar amps then you are more limited. The best micro guitar amplifiers, however, will offer you overdrive channels at the very least. There is a possibility for more onboard effects, though, such as a tape delay effect.
Input Options
Ideally, you want a mini guitar amp that will allow you to directly connect your phone or laptop to it so that you can also play along with your favorite music. You also want a headphone line in so you can carry out silent practices. An RCA input is especially useful for a stereo amp, as that's how you'll connect it to your speakers.
Can I perform live with a mini guitar amp or are they too quiet?
Battery powered guitar amplifiers have become very popular with buskers over the last few years as they are highly portable. Some mini guitar amps will be loud enough to perform live in this context. They will not be loud enough for performing with a band, though, nor will they fill a room with a loud sound, so you're better with a proper amp in such cases. For busking, though, a mini portable amp is ideal.
Are all mini amps battery operated?
In general mini amps will be battery operated, but the top mini amps also have the ability to plug into the mains, which is ideal when you're at home and worried about battery life.
Expert Tip
If you're a guitar player looking for the right mini portable guitar amp for you, then make sure you choose one that has a lot of tonal range, which means finding one that has some control over gain tone and shape. Being able to change sound settings gives you another dimension.
Did you know?
The mini guitar amplifier that is valued at the highest price in the world will set you back a remarkable $159,995. Why? Because it was designed and built by one of the most respected names in the amplifier world, Alexander Dumble. He made it with his own hands back in 1978.
Conclusion
Guitarists will love the portability of a mini guitar amp, as it can be clipped onto your belt, and then used for practicing at home or even out in public while busking. And if you're not a guitar player but looking for a mini guitar amp to boost your home stereo system or your car audio system, then make sure you choose one that will be able to drive your speakers. Whatever your needs, you can find some excellent mini amps these days.
If you've enjoyed this review by Music Critic, please leave a positive rating:
[vc_separator