Having the top RCA cables are very much important to date for connecting audio devices. They came out back in the 40s and since then have been used all over the world with various set ups. There are several other names for this small yet incredibly useful cable including phono connector or lotus plug.
If you thought RCA cables are dead, you could not have been more wrong. It is true that HDMI cables are very popular now for connecting devices but there are still many appliances that have RCA inputs only like televisions.
At a glance:

Our top 3 picks
Our team's top 3 recommendations
The Best RCA Cable of 2023
1. AmazonBasics 2-Male to 2-Male RCA Audio Cable
This RCA cable from Amazon Basics is downright high quality due to the materials used in it. It is perfect for audio connections both in professional or domestic settings. You can use these with High Fidelity systems. The best part about this particular cable is its gold plated connectors that ensure long life. If you are very particular about the quality of the audio then this is the thing you need as it cancels out all the noise and all you hear is pure audio which is absolutely consistent.
They are super easy to use thanks to the red and white color markups. There are two outputs that can be connected to either L or R input. You have three length options including 4, 8 and 15 feet which should be enough for most households or studios.
Why We Liked It - Not only is it high quality, it is also backed by one year warranty from Amazon Basics. You can never be too sure about an electronic purchase so the warranty makes it a safe buy.
2. Amazon Basics Adapter Audio Stereo Cable
Connect easily with the Amazon Basics Adapter Audio Stereo Cable. This cable may be basic, but it will get the job done. One end features two Male RCA connectors, and the other end features one Male connector.
This cable will connect tablets, smartphones, or MP3 players to a stereo, speaker, or another RCA-enabled device. The standard aux jack is perfect for left and right devices and audio input and will fit a standard auxiliary jack for headphones or earphones.
Thanks to the dual-shielding metal connectors, the signal is pure and crystal clear. Experience minimal signal loss with a full connection.
The beveled step-down design of this cable is durable and built to withstand years of wear and tear. In addition, the PVC exterior will ensure your cable remains strong and flexible - there's less chance of the cable tearing with repeated use.
Why We Liked It: This is a great no-nonsense cable without any bells and whistles. Thanks to the exterior, it's built to withstand years of use. So you'll always be connected.
3. AudioQuest - Red River RCA
Audio Quest has managed to produce an RCA cable that meets professional standards by every aspect. Whether it is its connectors or insulation, everything is designed using the most modern technology.
The conductors in the cable are insulated by polyethylene foam which makes sure that no interference occurs and that the sound is retained. It has a triple layer noise dissipation system that redefines audio quality and gives even high end cables a run for their money. The inside is just as good as the outside with Long Grain Copper
Why We Liked It - Let's be honest, this is possibly the best looking RCA wire you can find anywhere online or in the market. Who says wires just have to be plain and simple black colored? With its tangled insulation, it looks quite cool.
4. Mediabridge ULTRA RCA Subwoofer Cable
Are you looking for something that does your woofers justice? This cable from Mediabridge might just be the thing you need. This subwoofer cable is optimized for connecting your woofers to audio devices. If you are all about that bass, this one would definitely not disappoint. It is good for low frequencies thanks to its low loss coaxial core.
This one too is gold plated to ensure there is no corrosion. The split tip center makes sure that the signal strength is strong and that contact pressure is high enough. As for insulation, there are ample layers to protect any signal loss. The conductor is surrounded by dielectric insulation, aluminum braiding and further on two layers of shielding of foil. The cable also includes a Velcro strap to store it safely. A lot of wires produce a humming sound which is absent in this one.
Why We Liked It - It is super affordable and is designed to support woofers which a lot of people love. The design is protective and high quality so whether you need it for domestic use or professional, it is great for any use.
5. KabelDirekt (3 feet) 2 x RCA Male
This RCA Male to 2RCA Male stereo cable from KabelDirekt is available in three lengths including 3, 6 and 15 feet. It is a two channel audio cable for high quality left and right signals. It can be connected to your audio system, stereo, DVD player or BluRay player. The dual male cable allows it to be connected to any kind of stereo output be it right or left for high quality sound.
From the core to the insulation everything is top quality and designed to deliver high value for money. The connectors are plated with 24K gold which protects it from corrosion or rusting. The core which is Oxygen free is designed in that way to prevent any EMI or RFI signals interference.
Why We Liked It - KabelDirekt is a name people trust and for this particular product they give full refund guarantee i.e. if you find any fault you can return it to them. Such is their confidence about their product which goes to show that it is perhaps outstanding.
6. UGREEN 3.5mm to 2RCA Audio Auxiliary
This cable is perfect for connecting your small audio devices to a bigger stereo or audio system that takes in RCA input. All you need is a device with a 3.5 mm aux port such as your smartphone or many other audio players. This makes it compatible with a plethora of devices including most smartphones both iOS and Android as well as many tablets.
These days it is common to play music directly off apps on the phone or tablet so most people opt for such cables with 3.5 mm jacks. The slim connector fits well into all devices despite being covered by bulky covers. It is super annoying to have to take off a cover to play music.
Why We Liked It - UGreen offers life time warranty for their product. This cable is a great value for money as it is very useful in daily life and is of decent quality. Most people do not want to spend a lot on just a cable and this provides a good solution.
7. Hosa CMP-159 3.5 mm TRS Cable
Hosa CMP 159 connects devices with 3.5 mm port to audio devices with dual ¼ inch outlet. So basically you can connect your phones or tablets to other devices such as a mixing console. The conductors in the wires are Oxygen Free Conductors that ensure maximum quality of sound signal.
The connectors are nickel plated to match this high quality and offer protection against corrosion. The length of this cable is quite generous as 10 feet should be ample enough to cover a small distance within most rooms. It is a Y cable and is super light despite having high quality materials used for its insulation.
Why We Liked It - It is super cheap so you can buy multiple of these at a time. Not that you will need to replace them soon, such a bargain is hard to find for a decent quality cable. It is an affordable solution for your sound mixing needs.
8. Fosmon A1602 3-Way Audio RCA Switcher
Now this is a truly multipurpose and useful device that can give you the ultimate high quality sound experience. With this you can basically connect up to 3 devices with your television like Xbox, PlayStation or an audio system. Not just TV, it is compatible with any device that uses RCA as an input but obviously it is more common in TVs.
The main benefit of having this sort of connector is that when you have multiple devices you do not have to unplug one to plug another. You can have all three devices connected at all times and there is no external power required. It has a 3 way audio/video splitter that is easy to connect.
Why We Liked It - It is a convenient solution for connecting television or any other device to multiple other devices. Also, it saves you a lot of money as you get to connect multiple devices with just one connector. If you are looking for something that is convenient and good value for money Fosmon provides the best solution.
9. Hosa CPR-202 Dual TS to Dual RCA
This is yet another affordable and decent quality RCA wire from Hosa. The CPR 202 connects dual ¼ inch to dual RCA male. It is a 2 meters long cable that is sufficient for either studio or domestic use. There are other lengths both shorter and longer available too and the price depends on the length.
This one too has rugged nickel plating to provide necessary protection and durability. It is best for connecting unbalanced phone jacks with stereo jacks. The OFC technology spares you from BMI or RFI interference, delivering sound that is top quality.
Why We Liked It - Hosa is a name of quality and affordability and this cable is no exception in this regard. You have a cable that delivers good value for money and high durability. It is very simple in construction but gets the job done right.
10. AudioQuest - Sydney RCA-TO-RCA
AudioQuest has produced a high quality RCA to RCA connection wire that has polyethylene insulation. It has carbon based 3 layer noise dissipation system that delivers sound as it really is. It has an asymmetric double balanced geometry. The plugs are silver plated to ensure protection against damage from moisture and dust. It weighs only 3 pounds so you can get the idea about how light it is.
No matter how frequently you use it, its construction is designed to withstand rough usage as well. Since it is insulated with polyethylene there is no absorption of energy from surrounding circuitry and as a result no distortion in sound. It is quite expensive though which makes it an important investment especially if you need it for professional use.
Why We Liked It - It is without doubt very high quality thanks to its overall construction and design. Audio Quest ensures that you get the best out of your purchase so their cables are designed with the best materials out there.
Useful Item Guide
There are several things that determine the quality of the RCA cable and it is important to know about them before going online to purchase one. Here is everything you need to know about these:
Value For Money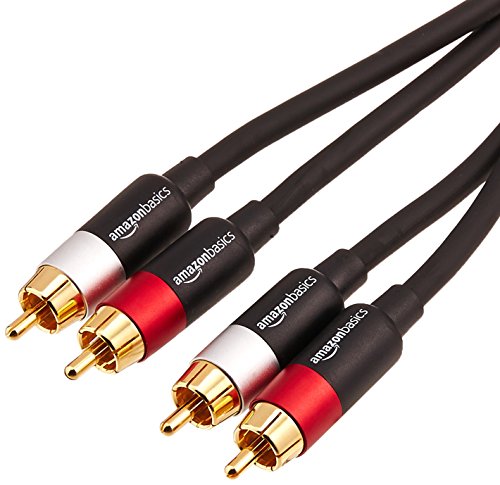 When it comes to best value for money, there are lots of things to look at. When looking for the product for best value for money there are two things to mainly focus at. Once is performance and other the cost. AmazonBasics 2-Male to 2-Male is our best choice for value for money. This small cable is capable of supporting out of this world sound while being very pocket friendly. It comes with gold plated, corrosion free connectors that make the cables extremely durable and high performing. This cable is capable of eliminating unwanted sound feedback, resulting in high quality, crisper audio. The red white color makes the cable easy to install as well.
Longest in Length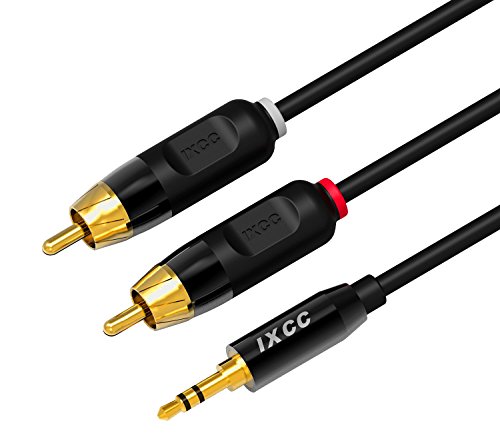 The length of any RCA cable is also deciding factor. There are many users who need cables, longest in length. This maybe because the positioning of the speakers, etc. If you are looking for longest RCA cables then iXCC 6ft Dual Shielded is your best companion. Besides being 6 feet in length, this great cable supports some great sound quality. It's a multipurpose cable, which means that you can use it with your smartphone, pc, laptop, tablet, TV, amplifier, etc. These cables guarantees excellent sound with their high-quality, gold plated, corrosion free connectors. One of the problems with longer cables is that they tangle and always get in the way. This is not something you associate with this cable. It is specially built with tangle free materials, which ensures that you enjoy high-quality sound without any fuss or stress. 
Highest Quality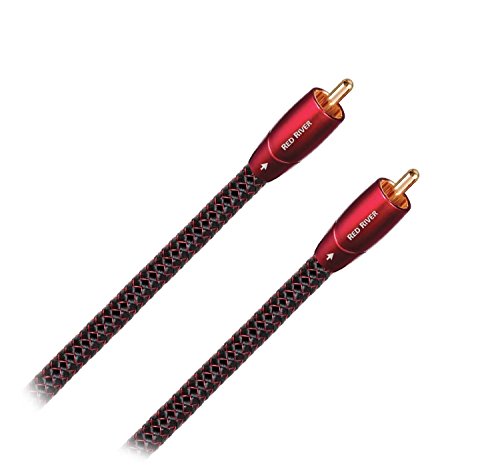 If you are looking for an RCA cable that is nothing but highest quality then we would recommend AudioQuest - Red River. These amazing cables guarantee high performance in every aspect. What every you requirement is these cables are bound to impress you. Some of the highlights of this great product are the separate ground connector, awesome triple balanced design, long grain copper make and many more. There is nothing like this cable when it comes to high performance. This product, in particular, has been the result of years of hard work from the makers, which truly reflects in the sound it generates. This product is surely worth a recommendation.
Types of RCA Cables
Now there are fundamentally two types of RCA cables: composite and component. They differ only in terms of quality or type of the signal they carry. The composite type has three lines including one for video and the other two for audio which is usually used with stereo devices. The component cable is usually used with high definition televisions using three lines for videos instead of only one and two for audio. This improves the video signals immensely.
Color Coding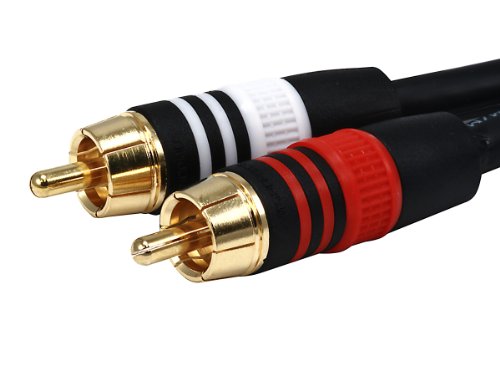 The wires are usually coded with colors to avoid any confusion. The colors on the connectors should be matched with the color on the input port of the device. In composite, the video line is colored yellow while the audio lines are colored white/black and red for left and right audio respectively. The color coding for the component is a little bit complicated as there are separate lines. There are two red connectors one for video and audio but a second color is used to distinguish them. Other lines for videos are marked with blue and green.
Audio RCA
The RCA cable is also used for connecting audio or stereo devices to transmit sound signals. In this case, the cable only transmits audio signals. It is usually of very high quality and should be like that for the signal to be of high quality. It can be combined with video RCA like component to achieve both HD video and audio transfer.
Connectors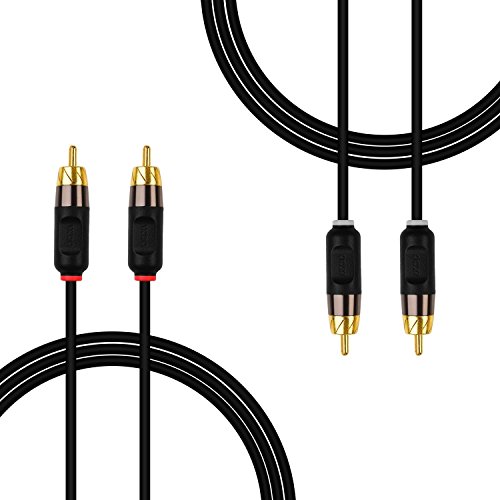 One of the most important considerations when buying an RCA is the connectors at the end. The connectors are virtually the same in terms of shape and size. However, it is the material that varies and determines the quality and life of the cable. It is important to note that the conducting capabilities vary from one material to another and that can affect the signal greatly. The materials used in connectors on these cables are gold, silver, copper and nickel.
In terms of conductivity, silver has the highest rate and gold has the lowest. However, the latter is commonly used for plating the connector. This is because it is strongly immune to corrosion and rusting. It does not oxidize and therefore is best to protect even the other two materials. So when buying RCA you will see a lot of wires plated with gold which is a good indicator of their longevity. If such plating is absent, the connector becomes vulnerable to oxidization which causes problems in the signal. Silver although great at conducting can still get oxidized over time. So it is a good idea to choose a connector with gold plating.
Other materials used for plating include nickel and zinc which do outperform silver but are less strong against oxidization as compared with gold. These tend to be a lot cheaper than gold plated ones and are very commonly used therefore.
Note: It is important to take into consideration the other end of the connection i.e. the port on the device. Some material combinations can be a bit problematic for the signals. The connections should not be of materials that are prone to cause an electrolytic reaction for example tin and gold.
Lengths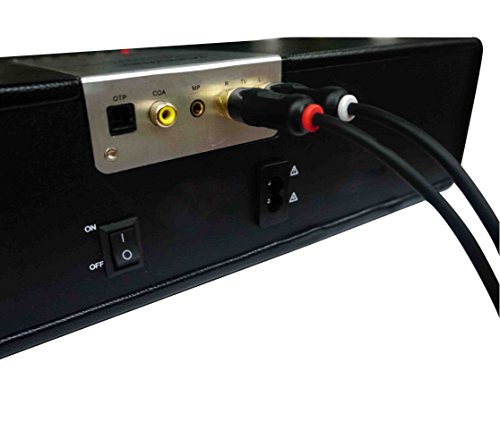 The lengths of the cables vary and you can easily find one that suits your needs. The lengths usually range from 3 feet to 15 feet. The latter is more than enough for most setup whether you are using it in your house or a studio. For instance, iXCC dual RCA Audio Y Cable is one of the longest cables you can find online. However, there is a little effect of the length of the signal. Generally, it is considered that the longer the cable the less quality there is in the signal. So if you have the choice to use a shorter length, you should. Nonetheless, the manufacturers are producing high-quality wires with great insulation. You should measure the length using a measuring tape from the devices you need to connect. Make sure to add some extra length to it.
Shielding
Most wires would have enough layers of shielding to ensure that no interference occurs. However, the high-end cables usually have even stronger insulation that shields against all types of interference. This is particularly important in the case of a lengthy wire as it is susceptible to drop in quality and be affected by interference.
Brands and Pricing
RCA cables especially audio cables are very affordable and you can get a good quality cable under $10 easily. Some from high-end brands can cost a bit more than that. In fact, some top brand cables can even go upwards of $100. It depends entirely on you and your budget how much you can afford to buy. Most cables that cost even lesser than $10 can provide you with good value. The Amazon Basic 2 male to 2 male RCA is a good example of a cheap cable that has great value for money. You can be sure about using this for months or even years. As for the pricey ones, the quality is unquestionable. The Audio Quest Red River is very expensive but is of the highest quality that provides excellent sound in its purest form thanks to premium quality materials, innovative designs, and heavy shielding.
Are RCA cables the same as component cables?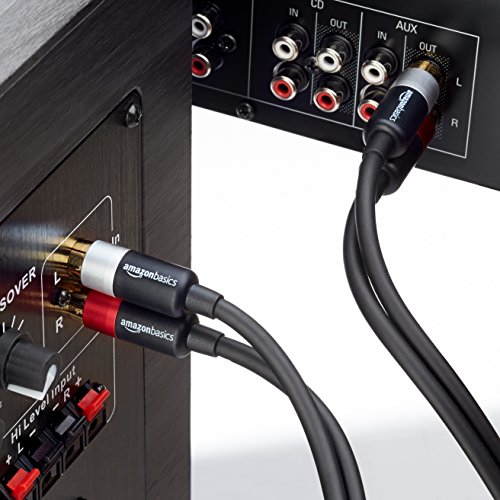 There are several types of RCA cables and component cables are one of them. So you can say that component wire is similar to other RCA cables. However, there are differences in terms of how the signal is carried or the end results you get. The component cable has three lines of video signals and two for audio while audio RCA only have lines for audio. Some components consist of only three lines of video without any lines for audio signals. In such a case they are combined with audio RCA to provide both video and audio signals between the devices that are being connected.
It also depends on what you are trying to connect and what you are trying to achieve in terms of picture quality.  Lot of times a simple RCA i.e. the composite one which is widely used should be enough even in the case of a component connection. However, if you are trying to connect it for a high definition picture or a HiFi sound then you might end up not getting what you want. It is the different plugs of the component cables that transmit video signals to achieve highest possible quality. This is because the simple RCA wires do not have the bandwidth to carry high definition signals.
Simply put these two wires are similar but not exactly the same and may not produce the same end results. For a high quality picture, you will have to spend some money on a top quality component wire.
Is An RCA Cable The Same As A Coaxial Digital?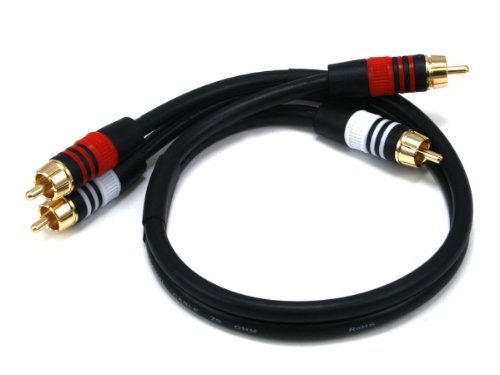 A Coaxial digital cable looks very similar to an RCA cable but it is not as it transmits digital signals instead of analog signals. They have a thicker shielding than digital cables and look very similar to RCA cables because of the connectors at the end. This wire transmits electrical signals and an aluminum foil provides shielding to protect it from interference.
Another thing that differentiates Coaxial digital from a traditional RCA cable that you use with television sets is its cost. Since these wires use thicker insulation and shielding, they tend to be a bit more expensive. They can cost more than $10 for a size cable for which you would probably pay less than $5 in case of an RCA cable.
You can use an RCA cable in lieu of a coaxial digital but it is recommended not to. This is because the digital one has powerful shielding and has higher bandwidth that cannot be matched with an RCA cable. This is why RCA cable start to loose signal quality over a long distance. For a short distance, it may work but for a longer distance a digital coaxial would be more suitable. The digit bits are not consistent on a long distance with an RCA and you start to loose quality of the audio signal i.e. the sound stutters.
The digital coaxial cable has all channels available in one line i.e. there is no left or right thing here as it is in traditional RCA cables. The single cable carries all the signals both left and right.
How to convert HDMI to RCA?
HDMI cables are now becoming very common for connecting devices to a monitor or tv. However, many television sets only have an RCA inlet so you cannot really plug in HDMI cables into these. In such a case you can convert the HDMI to and RCA cable by simply getting an HDMI to RCA connector. This device will get the signal from the HDMI cable and send it through the RCA cable connector to the television.
There are several kinds of connectors in this scenario and it depends on the output your HDMI is producing. You can get a complex one that has outputs of virtually all RCA kinds including component, S Video and the classic RCA. You will probably have to connect the connector to a power source and then plug in the HDMI cable to the HDMI port on the connector. Now simply connect the RCA cable to the port on the television. You can connect the respective audio and video lines to the connector and the tv.
A lot of modern devices are compatible with HDMI and RCA both so with either you should be able to make a connection. However, some tvs especially old ones only have RCA. You can get a separate stand alone RCA cable for them or convert your existing HDMI. Buying a separate RCA cable would not cost you more than the connector. These cables are quite cheap and may even cost less than the connector in which case it totally makes sense to buy one.
Which type of connector is the best?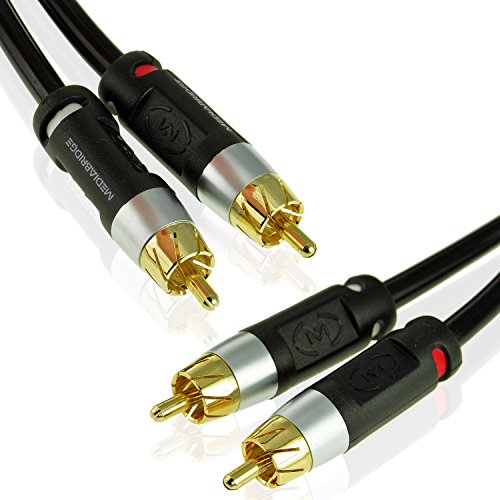 For RCA cables, the connector plays a vital role both in terms of signal quality and durability of the cable. Most commonly you will find the connectors to be made of silver, copper, nickel or even gold. Silver has the most conducting capacity so it is considered best for retaining signal. However, it is prone to get oxidized in which case it is usually plated with materials that are invulnerable to oxidization. This includes gold on top as it is immune to corrosion because of zero oxidization.
When looking at RCA cables, you should go for a connector that is plated with highest quality gold. If it is made from silver or copper, its conductivity would be better. If it is entirely made of gold, its conductivity would be less as compared with the other two materials. Nickel plating is decent enough for protection against corrosion but it is not as protective as gold. This is a lot cheaper than gold plating too so usually the lower end cables would have this plating. If you are looking for something that lasts quite long then go for gold plated connectors by all means. The threat of corrosion not only reduces life of the cable but also deteriorates the signal quality.
If you liked the review, please leave your feedback.
[vc_separator