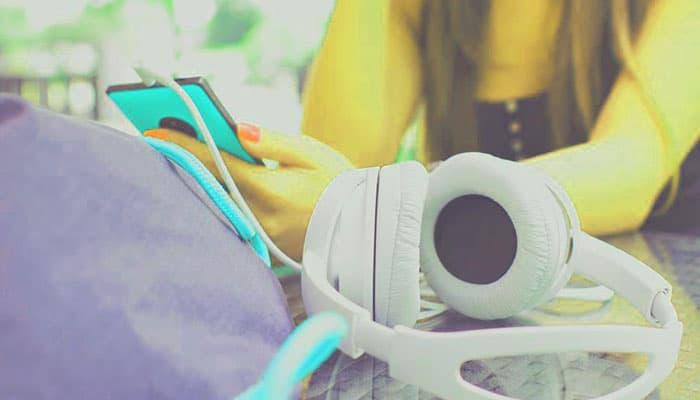 Finding the best headphones for under $100 is no easy task. However, here at Music Critic we've tried and tested everything available to bring you our latest review, saving you time and money. We have more specific reviews if you're looking for over ear headphones under $100.
If you're an audiophile who wants those heavy noise-cancelling earphones, equipped with all the best features in the world, you might have to spend a decent amount on the purchase. This surely doesn't mean that you won't get a decent pair on a budget.
When choosing the best headphones it all comes down to the use and style. Features should include Bluetooth compatibility and noise-cancellation. The rise of the smartphone has made the headphone market a pretty competitive one, and now there are a lot of cheap, high-quality options available at your disposal.
Without delaying any further, it's time to review the best earphones under $100. It took us a great amount of research to draft these budget-oriented quality headphones, and we hope that it will serve its purpose; that is, to help you chose the best headphones for you.
We think you'll love these budget headphones with noise-canceling capabilities!
1.   Cowin E-7 Active Noise Cancelling Wireless Bluetooth Over-ear Stereo Headphones
These headphones are arguably the best headphones by Cowin so far. It has all the things that you need out of the headphones and that too at an amazing price point. These headphones free you from the worry of wires as these are wireless earphones.
The active noise cancellation technology used in these headphones is best and that has been made possible by Cowin by putting its number of years of experience into use. Therefore what you hear from these earphones is exactly what you want to hear and nothing else. Read on for a little more to the review.
Pros:
+ Comes in with 40 mm large-aperture drivers making the quality of the sound pretty good and the bass response just amazing
+ These earphones are equipped with the active noise cancellation technology so you hear only what you want to. They make quite sound quieter and music sound better.
Why We Liked It - The Cowin E-7 Active Noise Cancelling headphones are one of the very best headphones under $100 that has the best noise canceling ability with the highest quality of sound.
2.  BÖHM Wireless Bluetooth Headphones with Active Noise Cancelling Headphones Technology  -
Everything about these earphones is just about perfect. Whether you talk about the stylish design of these headphones or the comfort that they have on offer, whether it is the active noise cancellation or the ease of carrying it is all just of the best quality.
With the BÖHM Wireless Bluetooth Headphones you are entitled to get all the best features as you will find with some of the most high-end brands such as Bose, Beats, etc. whether you want to use these earpieces to listen to your favorite playlist or just talk to your friends on call, they are designed to deliver just the best. Here are some highlights of the review...
Pros:
+ It comes in with a Bluetooth version 4.0 meaning that it will support almost any type of Bluetooth device. Therefore, you can easily connect it with PC, smartphone or tablet.
+ Comes in with premium stereo drivers enabling it to deliver thumping bass, prominent mids & sparkling highs.
3.   Avantree 40 hours DUAL Mode Bluetooth Over Ear Headphones with Mic
Go wireless is the new trend of the world. The wired earpieces now seem to be a story of the past. This wireless headphone will not only free you from the worry of wires all around you but also have the best sound quality on offer.
These earpieces also come in equipped with a mic, hence you can also use them in calls. When you speak of the comfort level that you get with these earpieces it is just outstanding since these earpieces are ultra-lightweight and have super soft pads. Here is a little more to the review.
Pros:
+ These earpieces come in equipped with apt-X technology which enables them to deliver high-resolution sound with rich bass.
+ These earpieces are super light also comes in with soft pads and an adjustable headband that adds to the comfort level of these headphones.
Why We Liked It - The Avantree 40 hours DUAL Mode Bluetooth Over Ear Headphones with Mic gives you the perfect on a budget solution for all your headphone requirements.
4.   Mpow Bluetooth Headphones Over Ear
This Bluetooth headphone making you absolutely free from the worry of wires can quickly and easily connect with any Bluetooth device such as smartphones, tablet or TVs, with a Bluetooth range of 33 feet. When talking about the portability that you will get with these earpieces it is quite amazing as well since the design of these headphones is a foldable one and also they are pretty lightweight.
These earpieces come in equipped with a 420-mAh battery so that you can use these earpieces continuously for 13 hours and that too without the worry of tangling into long wires. For those times when you will forget to charge these headphones they also come with an audio cable to be used as wired headphones as well.
Pros:
+ These earpieces offer passive noise cancellation keeping the sound in its original shape and without draining the battery.
+ It is designed to give you the ultimate comfort and lasting durability and that is because of the memory-protein ear cushion and the softly padded headband that is of stainless steel that this headphone has.
+ It comes in with a 420 mAh battery that provides 13 hours of music and 15 hours of talk time.
Why We Liked It - The Mpow Bluetooth Headphones Over Ear, Hi-Fi Stereo Wireless Headset is an amazing set of earpieces for a person on a budget that comes in with a passive noise cancellation and a lasting comfort.
5.   Skullcandy Crusher Headphones with Built-in Amplifier and Mic
These earpieces are definitely built to give you the extraordinary sound that you always wanted from your pair of earpieces. They come in with a built-in amplifier and unique sensation 55 drivers, therefore the sound and the amazing bass that you get with these headphones is just unmatched.
Another prominent feature of these earpieces is that they give you the freedom of adjusting the bass levels according to your personal needs and requirements. The Skullcandy earbuds come in with an adjustment slider enabling you to adjust the bass the way you want it to be.
Pros:
+ The realistic bass that these earpieces have on offer is just outstanding and that is because they come equipped with the Sensation 55 driver to give you the bass, you actually can feel.
+ These earpieces are also equipped with the REX 40 driver so the frequency response you get from them is quite smooth and with minimal distortion.
+ It comes in with a built-in amplifier that is hidden under the ear cup so you do not have to go for an external one.
+ The adjustable bass control that these earpieces have enabled you to set the bass level according to your personal needs and requirements.
Why We Liked It - With the built-in amplifier and state of the art Sensation 55 drivers, the Skullcandy Crusher Headphones are earpieces that you do not want to miss and especially at this price point.
6. HIFI ELITE Super66 Over-the-Ear Headsets
If your aim is to get best sounding music on the go, you cannot get a better solution than these earpieces. Whether you are a casual user or an intense audiophile who is pretty passionate about his music, these earpieces are designed to deliver just the greatest for both types.
If you are a casual user the factors that you will be focused on will be the ease of use and the comfortability and this is exactly what you get with these earpieces. On the other hand, if you are an audiophile who just wants quality sound out of the headphones, these are the perfect earpieces for you as well.
Pros:
+ It does not matter if you use these even at the highest volume levels you will always get the distortion-free audio and that is because of the advanced noise isolation technology.
+ These earpieces because of their ergonomic and lightweight design are ultra-portable and comfortable at the same time.
+ You can connect these earpieces easily with any device that supports Bluetooth connectivity such as smartphones, tablets, laptops etc.
Why We Liked It - The HIFI ELITE Super66 - Over-the-Ear, Wireless earpieces by Amazon is till date the most economical yet amazing headphones by Amazon that has a lot on offer for its consumers.
7.   JBL Synchros E40BT, Bluetooth, On-Ear Headphones
When you just want to be lost in that amazing sound of music where ever you go, this baby is just the right option for you. These earpieces come in with large drivers of 40mm delivering the best bass response that you ever needed. These earpieces come in with a feature of Share Me so you can go social with your music with the utmost of ease.
Pros:
+ These earpieces possess the signature JBL sound that is accompanied by 40mm large drivers delivering extensive bass with ultimate clarity.
+ With these earpieces alongside you, the hands-free calling is absolutely crystal clear and that is because the Ear-cup-based microphone is equipped with echo-cancellation technology.
+ These earpieces come in equipped with a built-in rechargeable battery that is capable of providing 16 hours of uninterrupted music.
+ These earpieces are best for the noise isolation since they come in with protein leather ear cushions and Ergonomic headband that enhances the comfort level as well.
Why We Liked It - Whether you talk about the precise sound or the noise isolation ability, the ease of use or the comfort level, everything about this product is just outstanding. Then you are getting all this at an amazing price point what else could you ever ask for.
8.   Sennheiser RS120 On-Ear Wireless RF Headphones
Unlike most of the earpieces on our list, these headphones are not Bluetooth earpieces. This does not mean that they are not as good as those ones. Since these are RF i.e. Radio Frequency earbuds, therefore, they come in with a transmitter that can easily be connected with any audio source omitting analog output.
Pros:
+ These earpieces are capable of reproducing detailed and analytical sound.
+ The bass response that you get with these earpieces is also of the best quality.
+ It is capable of receiving reception through walls and ceilings.
Why We Liked It - The Sennheiser RS120 On-Ear Wireless RF gives you the freedom to go wireless without and that too with the RF technology and amazing sound characteristics of Sennheiser.
9.   Audio-Technica ATH-M30x Professional Studio Monitor Headphones
Number 9 on our list of review section is Audio-Technica. Whether you are looking to get a pair of earbuds that are best for the music or something that offers more professional sound these headphones are just the perfect pick for you. With the brand name that is famous for manufacturing audio quality solutions, these earbuds are the perfect budget earbuds that you will ever find.
Pros:
+ It comes in with 40 mm drivers and rare earth magnets that provide an excellent bass response with crystal clear sound.
+ You never miss on any detail with these earbuds alongside you since they come in with excellent mid-range definition.
+ These earbuds are collapsible so the portability that you get with them is quite outstanding and can even fit in the smallest of places.
Why We Liked It - Audio-Technica is famous for coming up with some state of the art earbuds and with the ATH-M30x Professional Studio Monitor Headphones it has completely lived up to its expectations. You get all this at an amazing price point, nothing could be better.
10. Sony MDR10R Hi-Res Stereo Wired Headphones
Number 10 on our review list is Sony. These earbuds are capable of delivering High-res sound the same as you will find with any other headphones by Sony. Not only the sound that you get with these headphones is premium but also the superior comfort and the absolute design makes it compete with some of the very high-end models.
Pros:
+ These earbuds come equipped with 40 mm large drivers that deliver accurate sound reproduction.
+ These earbuds are also equipped with High-res audio content so that you do not miss out on even the slightest of the details.
+ These earbuds come with pressure-relieving cushions to provide you with that ultimate comfort and powerful bass response at the same time.
Why We Liked It - The MDR10R Hi-Res Stereo Wired is one of the best budget headphones by one of the very best in the business. Therefore, they have earned a rightful spot on our list.
Best Headphones under $100 Buyers Guide
Top Pick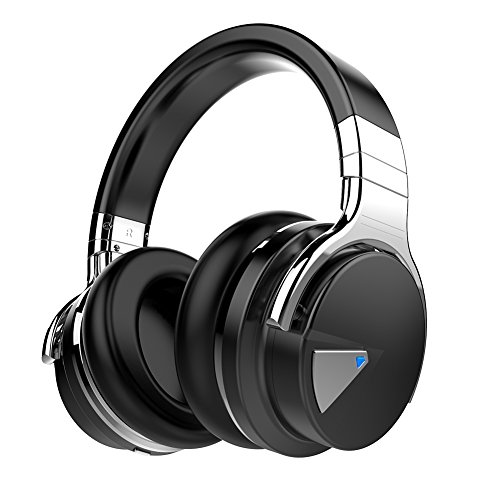 For our best pick, we have chosen the best budget earpads that bring everything into one. Cowin's E7 Active Noise Cancelling Wireless Bluetooth Over the Ear Stereo have literally everything you could look for in headphone set. The benefits are obvious as you have something that is highly portable thanks to its wireless make and lightweight. The drivers are of 40 mm so you can get the idea that the sound will be the best and especially bass signal will be significantly proper.
The drivers are of 40 mm so you can get the idea that the sound will be the best and especially bass signal will be significantly proper.
Another reason why this is our favorite is its design which is utterly stylish. The overall black ear cups and headband with luminous metallic parts looks very high end. The noise cancellation ensures that you get the best audio quality. And the best part is that its battery time is quite ample coming in at 30 hours of audio playback. Put in 18 months of warranty from the maker Cowin and you have something that is worth every penny. It is also very durable and comfortable as the materials used for padding are soft.
Premium Quality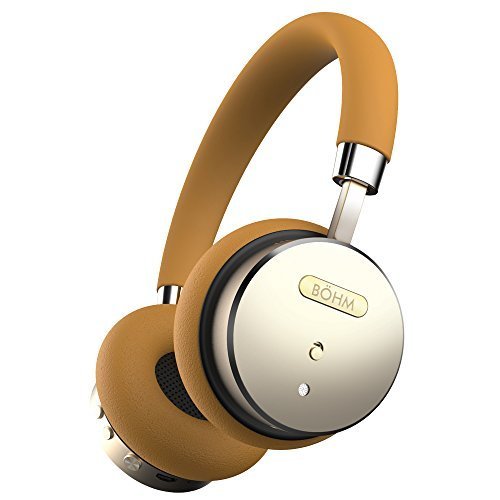 BOHM B-66 Bluetooth Wireless Noise Cancellation earpads are every bit high quality whether it is its sound, look or comfort. This golden colored headphone set is a definite looker when you see it first. However, when you use it you will find that the performance is even better.
With Bluetooth 4.0 it will work with most devices having this technology. You get a total of 19 hours of playback time in this best earpads under 100.
You can activate noise cancellation on these by flipping a switch and blocking every external noise in the room. Its noise cancellation is best, which means it rivals with that from known brands like Sennheiser and Sony. With a frequency range of 20Hz-20KHz, this headphone set is going to give you a volume that will blow you away. The range is best too at 33 feet which means you can easily roam around your room without weakening the audio signal. Whatever you need the earpads for this headphone will work best as it is multipurpose and highly compatible. It takes just three hours to charge and gives you ample time to enjoy audio all day. It is hard to find something this good at low prices these days.
Whatever you need the earpads for this headphone will work best as it is multipurpose and highly compatible. It takes just three hours to charge and gives you ample time to enjoy audio all day. It is hard to find something this good at low prices these days.
Great Value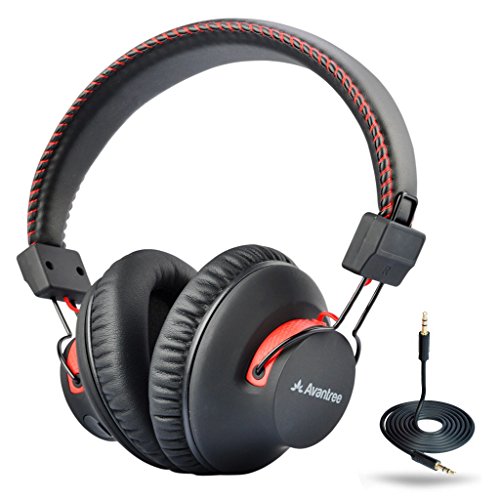 If you are wanting max value for your money, the best earpads you can buy at a budget are from Avantree. The apt X Hi-Fi NFC headset is a Dual mode headset i.e. it can be used both wired and wirelessly with Bluetooth. When used with a wire no battery is consumed so basically you can save the battery for when you are on the move. It is
When used with a wire no battery is consumed so basically you can save the battery for when you are on the move. It is a dual channel as well so you can connect two devices at the same time as your computer and mobile. You will never miss a call with this one.
This super affordable headset gives you a time of up to 40 hours of playback time which is one of the highest in the market. The sound quality is best too as it has a high-resolution sound with apt X. You will find your bass, treble, and vocals to be quite distinct and clear. All of these best features for just under 100 make this a product with arguably the best value for money.
It covers the ears entirely with its soft padded ear cups and provides active noise cancellation. It is best for those who like to listen to music while commuting on busy and noisy trains and buses.
Do you like the reviews above? Now, to help you make the best choice we give you our buying guide section.
Earbuds come in all sizes and all prices and that is why your budget is a very important consideration in the buying process. If you are looking for quality earbuds under $100, you have come to the right place as this guide will focus on how to decide which are the best headphones under 100. There are things that apply on virtually all headsets regardless of their prices like the size, weight or sound quality, but for something as much as $100 you can get more best features too like noise cancellation or bass boost.
Know what you are looking for
The first and foremost things are to identify your needs as that should help you filter out the best ones from obvious scads of choices. Do you need earbuds for gaming? Do you need a microphone as well? Is noise cancellation important? Do you need something light and portable perhaps wireless Bluetooth earbuds?
You should ask yourself these questions to identify what you will be doing most with the earbuds and then proceed with your search. The good news almost all types of earbuds come under 100 so no matter what you are looking for you will find something that will interest you.
Types of earbuds you can find under 100
$100 is a good budget for earbuds and you can find virtually all types of earpads in this range. Which one should you get depends entirely on you and what you are looking for.
Earbuds or earphones
These are the common type of headphone we use with our phones and music players. These are also the lightest and most portable. Most of these earphones are very cheap and even some of the high ends ones would cost less than 100. These are best if you listen to music mainly from your mobile and want something light and easy. The quality on these varies from one type to another and there are variations in design as well. For maximum isolation go for the in-ear earpads as they will cut down most external noise.
Over the ears headphones
This is like the standard earpads that most of us use for virtually everything from watching movies to playing games and obviously for listening to music. These usually rest over the ears with some completely covering your ears with a headband of varying size. These are good too as they tend to be light and come in so many colors and styles. The ones that cover your ears partially are not that great with isolation though as compared with over the ear headphones that completely cover your ears. The latter have big ear cups with heavy padding that prevents external noise from entering.
Wireless earpads
If you want higher portability, you can also go for wireless earpads that use Bluetooth technology to transmit the signal wirelessly. These work within a range which varies from one headset to another. You can find a high-quality headset in under 100 but there will not be a lot of choices in this range.
The quality of sound may not be the best (as on the wired ones) if you buy a cheap one. Make sure to check the available range of the earpads before buying them as going out of this range will weaken the signal and disrupt your listening experience. They also come with noise cancellation, microphone and sometimes have multiple channels.
These also need to get charged so that is another thing you should keep in mind. Most modern Bluetooth headphones give up to 15 hours of audio playback on a full charge.
Sound Isolation
This feature is very important and ensures that the quality of the sound signal remains intact. It basically keeps external noises at bay helping improve the overall audio experience. The more isolated the sound is the better it will be for your ears as you will not have to turn up the volume to the fullest. And listening to music at full volume for extended periods of time can be hazardous in the long run so sound isolation is something you would want on your earpads.
Frequency Range
Frequency range is also an important thing to check when buying the best earpads although you will find that usually, frequencies are the same for many earpads. Generally speaking, the bigger the frequency range the more sound you hear. The best range is 10-25 Hz for a headphone and any with this range will give you best sound quality. Most earpads have this range while some with focus on bass may have lower than this too. If you are into bass, you can check those out too.
Noise cancellation
Noise cancellation is a feature you could go for if you listen to music in noisy environments. This feature simply cuts out all the external noise through earplug sponge filling the ear canal. In noise cancellation, you can hear your audio at a very low volume without any external noise interference. However, earpads with this feature tend to be a tad bit expensive but you can easily find one that costs less than $100.
Impedance
Impedance is something people do not really pay attention to but should because it can affect the experience. It depends on the audio device you will be using with your budget earpads. The impedance should be the same as for the audio device you are planning to use it with.
The durability of Headphones Under 100
When buying earpads durability is something you should give importance too because the best headphone can last you many months or years too if used nicely. The materials used should be of the best quality and the only way to really ensure that is to buy from a trusted brand. Cheap earpads are known for being delicate and they do not last more than three months. You can easily find a sturdy headset in under 100. You will just have to narrow them down to known brand names.
Bass
A lot of people are looking for quality bass in their earpads and to be clear not every headphone has the sock it to your gut kind of bass. That type you can only find with speakers but nonetheless, the earpads have seen major improvements in the bass. These bass earpads have a boosted up bass thanks to the big sized drivers of 40 mm or above. These earpads too can cost less than $100 so they also fall under this range. When looking for the best bass headphones under $300 make sure to check for frequency range and driver size.
Comfort
This particular aspect of the earpads often goes ignored and the result is that you end up buying another headset even with your current headphones still working. How to ensure the headphones are comfortable when you are buying them online? The easiest way is to read our reviews to check if existing users found them comfortable. You can also check for which material is used like nylon, synthetic leather or foam. Some headphones may have antibacterial properties as well which is, of course, best especially in those supra-aural earpads that cover your ears entirely.
Weight also plays a major role in the comfort of the earpads as the heavy weighted headphones tend to be uncomfortable when worn for extended period times. This is why you should check the weight of the headphones as well. Earphones are the lightest type of headphones as they only have earbuds attached with a wire.
FAQs
Does having a tight budget means compromising on quality?
Whenever you are buying something you set yourself a budget and if that budget is small, you tend to think that it would be difficult to get the best quality. That is not always the case as if you follow the right steps you can find something quality within your tight budget.
In the context of earpads, your budget plays an important role because earpads are something that can be very cheap as well as very expensive. You can find a headphone set for as low as $10 and as high as $500 for that matter. Cheaper products are risky most of the times but increasing your budget is not necessary either. In the case of earpads, a budget of $100 is more than good to get yourself decent earpads with high-quality sound and high comfort.
You should know what you are looking for and find the best brands that come in that range. The key is to compare different products within your budget. You can even find advance earpads with microphone or Bluetooth in this kind of budget. Quality is not entirely dependent on the price tag so a small budget is not a dead end to quality.
Are noise cancellation earpads affordable on a budget and how do they work?
Noise cancellation is very popular among avid music listeners who want to get the best audio experience without any sound leaking. These kinds of earpads are usually a little more expensive but you can find some under 100 easily.
Noise cancellation is of two types: passive and active. The former is virtually present in most headphones and it uses multiple layers of foam to stop any external noise from entering the headphones. The over-the-ear headphones provide better protection from interference through these layers.
Active noise cancellation is more effective and it uses another technique to actively cancel out sound waves from the environment. It basically creates its own frequencies which cancel out the low frequencies coming from the environment. The result is that the listener only gets to hear the sound coming from the audio source.
Active noise cancellation is usually expensive and you would not find them on very cheap headsets. However, not everyone needs this type of noise cancellation so you can still get the best headphone set without this feature.
What best features can you get with headphones on a budget?
Budget headphones are quite more capable than most people assume. You can find plenty of best features with the best budget headphones in the market. For starters, if you are looking for a bass boost in a budget headset you can easily get that. Many of these headphones have a low-frequency range and very prominent bass.
Other best features that are present in budget headphones are sound isolation, noise cancellation, microphone, and Bluetooth. Sound isolation and noise cancellation help make the sound clear by cutting out external noise. This way you get to hear quality sound with every frequency even at a low volume. Microphone obviously let you speak and record your voice. Bluetooth allows headphones to work wirelessly in a set range which is usually measured in feet.
How do you choose the best headphones under $100?
Getting the best headphone is not much of a rocket science if you know what you are looking for. So, for starters; think about why you need these headphones. Do you listen to music? How do you listen to music? Are you a gamer? Do you listen to music while commuting?
When you know which type of headphones you want it becomes a lot easier. You would either want a simple supra or circumaural headset, earbuds or earphones all of which can cost under $100. You can also get wireless headphones too with noise cancellation in this budget. You can also search for the best brands whose headphones are durable, reliable and are high quality. Many best brands have headphones that cost less than $100.
Compare different models and read reviews about them. Besides all the technical specifications like impedance, frequency range and noise cancellation you also need to find out whether the headphones are comfortable or not. Comfort is very important for a quality audio experience and for that you need to choose the one with very soft foam and materials for ear cups. If a headset checks all your requirements, costs under 100 and is comfortable then that is the best budget headphones for you.
Are headphones under $100 durable?
Depending on the brand and the headphones itself, they can be very durable if they cost $100 or less. Headphones that are very cheap are considered less durable which is somewhat true for many low-end brand names. However, many under 100 headphones are known for their long life and sturdy make.
If you are buying a headset under $20, there is a chance it could be of low quality but headphones above $20 can be of decent quality. It is really up to you which ones you choose but you have to make sure that you are buying from a trusted brand. Weight is not directly connected with quality as now quality headphones are usually the lightest because they want to make them comfortable.
Another factor that affects the durability of the headphones is your own use. Even a low-quality headphone could last a little longer if you use them with care. You should keep them in safe storage when not in use, possibly in a case. You should coil the wires to protect the insulation from wearing or breaking. The more care you take the longer the headphones will last.
You can read reviews about the headphones you are about to buy to see if they are really long lasting. $100 is a good amount and you should be able to make do with them for at least a year or two.
How do wireless headphones work and what are their prices?
Wireless headphones use the Bluetooth technology for receiving signals wirelessly. Bluetooth is available on many devices like mobile phones, televisions and car stereo systems. It basically utilizes a chip that sends radio signals and the receiving device receives those signals through the same chip. However, it works in short distances only and the devices have to be within that distance. Outside this range, the signal weakens and the audio drops which can be considered a limitation of these headphones.
These headphones used to be very expensive when they first came out but now are much more affordable. You can get yourself a headphone set with Bluetooth in as much as $50, although there are models that are way more expensive than that. These are usually very advanced headphones and have the best features like noise cancellation. Most of these high-end brands can go upwards of $100. As for quality, the cheaper ones have seen a lot of improvement and you can get something reliable in under $100. Most brands now carry wireless headphones and many people actually prefer them over wired ones for their simplicity and convenience.
What size headphones are best for me?
The size of the headphones depends on your use and has also a little to do with your personal preferences. The big over the ear headphones that completely cover your ears so much as to hide them is best for studios and also environments that are noisy. The reason is that these provide the best passive noise cancellation with multiple layers of foam. However, they can be a bit heavier as compared with other types so they are not so portable.
The circumaural or partially over the ear headphones are best for most users whether you are listening to music indoors or while commuting. They provide isolation of sound but are not heavy at all.
The lightest and smallest of them all is the in-ear headphones. They are inconspicuous and best for using on the go. You can run with them, use them in buses or other transports, and even use them at home with your laptop or computer.
What are some of the best headphone brands?
Buying headphones from a trusted brand ensure quality and durability. This is why many people pay more to get headphones from popular name brands. Nowadays even with famous name brands, you can find cheap Bluetooth headphones. Some of the popular brands for headphones include Sony, Sennheiser, BOHM, Bose, Panasonic, Beats, and AKG.
From each of these brands, you can find almost all types of headphones in varying prices. Some of them are considered high end and have very expensive headphones like Sennheiser. Some have very affordable options like Panasonic and BOHM. Some brands are more popular for their styles like the Beats which come in popping colors.
Brands can be more of a personal choice for many as there are just so many brands out there that are constantly improving their products. When talking about these famous brands, it is important to mention counterfeit headphones. Many headphones are counterfeit and obviously, do not provide the same sort of quality that you would get from the original and authentic headphones. Counterfeits of popular brands like Beats are quite common so make sure the ones you are buying are from an authentic source.
If you liked this review by Music Critic, please leave a positive rating: