In this article, we're going to look at the 10 best Bluetooth speakers under $100. This little gadget is a must-have for people these days. It allows you to listen to your favorite tunes and podcasts wherever you are, and it is a huge upgrade on the stock speaker inside your laptop, tablet, or smartphone.
Gone are the days when you needed a record or CD player as well as a hi-fi system to be able to listen to music. Now, all you require is this portable speaker, as well as a device with Bluetooth capabilities, and you'll be able to listen to whatever you want.
Of course, there is a huge range of these products on the market. You can find some that have bright colors and eye-catching looks, which are loaded with lots of extras, such as waterproofing. The main feature, in our opinion, is the sound quality that they deliver. Long battery life will be very useful. We also think that it's important that the speaker offers good value for money.
With so many choose from, it can be easy to become overwhelmed and not to know which one is the best. That's why we have chosen our top ten for you to consider. After our reviews, you'll find a useful buyer's guide that will put you in a good position to make a wise investment. Let's get started!
At a glance:

Our top 3 picks
Our team's top 3 recommendations
Best Overall
TREBLAB HD77

Waterproof
Powerful bass
20 hours of playtime from a single charge
Premium Quality

JBL Flip 4

Waterproof
Powerful bass
20 hours of playtime from a single charge
Great value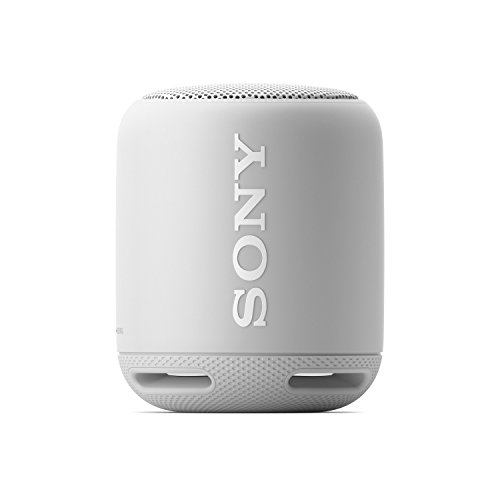 Sony XB10

Waterproof
Powerful bass
20 hours of playtime from a single charge
View The Best Bluetooth Speakers Under 100 Dollars
Top of our list is this excellent product from TREBLAB. It's loaded with lots of amazing features. For example, it includes IPX6 water resistance, so the party won't need to end if you get caught in the rain. It's also got an extended playtime of 20 hours, which is thanks to the 5,200mAh battery inside it.
Our favorite feature of this Bluetooth speaker is the high-quality sound that it delivers. It offers a wide frequency range of between 80Hz and 16kHz, so you'll be able to hear all the subtle details in your favorite tunes. It also delivers in the low end. So, if you're a fan of booming, thudding bass, then you'll certainly like this product.
There are some great extras integrated into this product too. You can even make phone calls through it, as it has an in-built microphone. It comes with a hand strap and a carabiner, so you can attach it to a belt loop or your rucksack for easy portability.
Pros:
+ Waterproof
+ Powerful bass
+ 20 hours of playtime from a single charge
Why We Liked It - It's an awesome bass Bluetooth speaker that delivers quality across the board. Our favorite feature is the sound quality it offers, but we were also impressed by the wealth of handy extras it delivers too, including a long battery life and water resistance. It's a safe investment, in our opinion.
Charing Time - Bluetooth speakers can be a whole lot of fun for on the go listening or gatherings. That being said, be sure to take charging time and battery life into consideration so that you're not left without music when you need it. Keep in mind that many bluetooth speakers can be charged via USB so having a portable power pack with you is a great idea.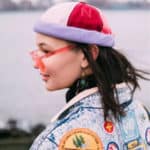 The Flip 4 is a cylindrical, compact, and portable speaker made by JBL. We love this company, as it consistently produces high-quality audio equipment for an affordable price. And that's exactly what this product is.
It's powered by a rechargeable, 3000mAh lithium-ion battery, which provides roughly 12 hours of continuous use from a single charge.
Despite its small size, it delivers surprisingly powerful stereo sound. It's got a built-in JBL Bass radiator to reduce the possibility of distortion with low-frequency sounds. You can wirelessly connect two smartphones or tablets at the same time. It's very easy to toggle between the two. It can also be easily linked to multiple JBL speakers for additional volume and a more layered listening experience.
This speaker is also completely waterproof. So, whether you're worried about the rain or you want to take it to the beach, then you can rest assured that it will survive getting wet.
Pros:
+ Waterproof
+ 12 hours of playtime
+ Compact, lightweight, and portable
Why We Liked It - No matter what the weather, this product will be able to perform, thanks to its excellent water resistance. The sound quality is stunning too, which is what you'd expect from JBL. It's a superb, all-round product that we highly recommend.
We're sure that we don't need to tell you that Sony knows a thing or two about making audio equipment. And the Sony XB10 is perfect proof of that. It's a compact, stylish speaker that's very affordably priced.
It features EXTRA BASS technology, which essentially means that it has an impressive built-in passive radiator that works seamlessly with the internal speaker to boost the low frequencies. This is particularly important, as the technology means that it can produce much more powerful bass than other speakers of its size are capable of.
As affordable Bluetooth speakers go, this one is hard to fault. It can be linked to a secondary Sony speaker to create full-range, rich stereo sound. It's water-resistant, so you can take it outdoors without worrying about getting caught in the rain. This outdoor speaker has a long-lasting battery life of sixteen hours too.
It's simple to hook up your devices to it, as it's got NFC technology, so with a press of a button your device and your new speaker will be paired. It's also possible to control Siri and other voice assistants directly through the speaker.
Pros:
+ EXTRA BASS technology
+ Pocket-sized, lightweight design
+ Water-resistant for worry-free listening
Why We Liked It - It's a lovely little speaker that delivers surprisingly powerful bass for its small size. Sony is a reliable brand, so you're sure to get a long lifespan out of it. For the money, it's an excellent product, in our opinion.
Boosted Frequencies - Many speakers and bluetooth speakers have boosted low-end frequencies to help amplify and make the sound come to life. If you want a bluetooth speaker that produces a fairly unaltered sound, you'll need to pay close attention to the frequency response guide provided by the manufacturer before purchasing.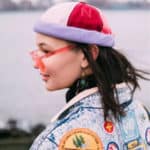 This is another ruggedly built, water-resistant option from Bose. It is very well made, as you'd expect from Bose, and it features non-slip silicone pads, as well as a large speaker grille. The greatest feature, however, is that famous Bose sound quality that audiophiles love.
It's also loaded with lots of technology. For example, it is compatible with an app that is very user-friendly and makes controlling the speaker a breeze. It's got a drag-and-drop interface that you don't need to be a technophile to control. The app also allows for a lot of personalization when it comes to settings too.
It offers eight hours of playtime from a single charge. Also, you can control Siri via the integrated microphone. It's compatible with other voice assistants too. And it's got a stereo and party mode, which can both be controlled via the mic.
Pros:
+ Bluetooth and NFC enabled
+ Comes with an app for easy control
+ 2 modes (stereo & party)
+ Micro USB recharge
Why We Liked It - It offers exceptional sound quality, which is typical of Bose. The app is another awesome feature that makes controlling the speaker very easy. If you want to have a lot of control over settings, then this is for you.
This product from Logitech has received lots of plaudits since it came on the market, including from respected critics like Gizmodo and Wired.
It provides a 360-degree sound which gives a far more immersive feel. It has a waterproof design, something which is slowly becoming the new standard with modern Bluetooth speakers. It has simple-to-use volume buttons, which make it easy to control.
On its own, it delivers a huge amount of power. But if one isn't enough, then you'll be pleased to know that you can hook up more than 150 of these products at the same time, by using the PartyUp function. This is perfect for a social event.
It has Siri and Google voice recognition for even easier access to your favorite tunes.
Pros:
+ Bluetooth and NFC voice commands
+ Waterproof and shockproof
+ Connect 150+ together for parties
Why We Liked It - It is a clever product which is reasonably priced and well constructed from quality materials. It is rugged and shock proof as well as waterproof. Overall, it's almost indestructible. The sound is flawless too!
The next product on our list offers an impressive amount of durability. It's got a robust, rugged construction that can withstand more than its share of knocks. It's also got a larger speaker than many other products of its size, which helps to produce a lot more volume.
It retails for around the $50 mark. Our team was very impressed by all that's been packed into this product considering that reasonable price tag.
It features an in-built subwoofer and provides 20 Watts of power, which far exceeds the power capabilities of many similarly priced products.
It has a sturdy, rubber strap handle, a touch aluminum grille, and chunky controls too. To further enhance its durability, it's even shockproof and waterproof too. You don't need a carry case for this product, as it's built into the actual speaker.
It provides full-range sound, and it's also got integrated bass matching technology for great bass performance.
Pros:
+ Carry case design makes it super portable.
+ Affordable.
+ Shockproof
+ Waterproof
Why We Liked It - It's a highly durable speaker that's got an integrated subwoofer that produces powerful, booming bass. We love how it looks too, as it reminds us of an old-school boom box. It's a great choice for bass fans.
Next on our list is this product from Doss. It delivers high-quality sound for a very reasonable price tag. It's also a compact, portable size that has the same dimensions as a brick, but certainly doesn't weigh anywhere near the same!
Doss is well-known to audiophiles for its inexpensive audio equipment that features cutting-edge technology. It's been around for a few decades, and the experience that it has is evident with this product. Inside this speaker are high-performance, combination drivers that produce enhanced bass performance. These components also ensure better clarity and fidelity with less than 1% harmonic distortion.
In terms of power, it delivers 12 watts, which is substantial for a little speaker. It also offers 360-degree sonic performance, with peak volumes that are surprising considering how small this product is.
With 12 hours of playtime, you don't need to worry about charging it all the time. It's also got a touch-sensitive control panel that makes it very easy to skip tracks or pump up the volume.
Pros:
+ Rechargeable
+ Portable
+ Micro SD slot
+ Bluetooth 4 technology
Why We Liked It - It delivers a huge amount of power for such a little device. We're particularly big fans of the ease with which it can be controlled. Overall, it's a great value-for-money product that's a safe choice for the money.
Made by Anker, this product delivers 360-degree sound that performs well across the whole soundscape. Why? It's because it features two state-of-the-art, neodymium drivers. These drivers are joined by dual passive radiators, which all contribute to a room-filling sound and very powerful bass response.
It features Anker's famous BassUp technology. It enhances low-end frequencies, as well as analyzes them in real-time so that there's never any unwanted distortion. The result is smooth, powerful bass, which adds a lot of depth to the sound that the speaker offers.
This product is built to last. It's 100% waterproof, as well. You don't need to worry about it breaking if it gets splashed at a pool party or if you're caught in the rain.
It comes with access to Anker's proprietary app which allows for equalization control. It's also got a lot of options for EQ presets that are ideal for a range of musical genres.
Another great feature is the LEDs that are on the underside of the speaker. They're designed to be driven by the music, so you can have a light show that matches the tune you're listening to. These patterns can be customized via the app. There are also five color themes to choose from. Of course, this doesn't add to the sound quality, but it does make this speaker even more fun to use.
Pros:
+ Waterproof
+ BassUp technology
+ LED light show
+ Alexa compatible
Why We Liked It - It's an impressive product that delivers exceptional sound quality, particularly on the low end. The app is user-friendly and allows for lots of customization in regards to the sound and the lights. Overall, it's an excellent product that doesn't just sound great but also is fun to use. It's perfect for livening up a night in or for an impromptu party.
Don't let the small size fool you. The Klipsch Groove packs a big punch. With more than 70 years of experience, this manufacturer knows what it's doing. And you only need to listen to this compact speaker to get proof of that.
It offers a whopping eight hours of playtime from a single charge of the battery. When it's on, then you'll find the sound filling the room, which is surprising considering the small size. It can produce such power because it's got a 3", high-excursion driver inside it. This driver pairs perfectly with the dual, side-firing, passive bass radiators. You get a crisp, clear sound that's never distorted, even when the speaker's volume is turned up to the max. We loved how natural and dynamic it sounds, making it ideal for a wide range of musical genres or for listening to podcasts or audiobooks.
It has user-friendly, top-mounted controls and can also be controlled via your smartphone or another Bluetooth device.
Overall, it's a well-made, robust product that's also splashproof and water-resistant. It comes with lots of useful extras, including a charger.
Pros:
+ 8-hour battery life
+ Splasproof
+ Crisp, natural sound quality
+ Dual bass radiators
Why We Liked It - It delivers a rich, well-balanced sound that is beefed up on the low-end because of the dual-bass radiators. It offers a lot of power for its size. And we think the eight hours of playtime from a single charge is a plus too.
Last on our list is the smallest one of the bunch. It's JBL's famous Clip 2 speaker, which packs a big punch for its tiny size. It's designed to be clipped onto a bag or belt loop, and it is so small that you can fit it inside your pocket. Despite its compactness, it is still very durable, as it is completely waterproof. You can immerse it in water completely and it will still perform perfectly. Many people use this speaker in the shower because of its water-resistant qualities.
It has an integrated cable and microphone for handling phone calls. It has a decent battery life and can be easily charged via USB. It comes in a number of colors, so you can easily find one that suits your style. Considering how small it is, the sound is quite powerful too. It's not going to fill a room, but that's not what it's for. If portability is your number one priority, then this little speaker will be ideal.
Pros:
+ Palm-sized
+ Clip-on
+ Great value for money
+ Waterproof
Why We Liked It - It's a tiny speaker that you can store in your pocket or attach to your belt, making it the perfect portable choice. The sound quality is impressive for its size too, which is what you'd expect from JBL, and it offers decent battery life too.
Durability - Many of these bluetooth speakers are built for on the go use, making them more durable than traditional speakers. However, keep in mind that water resistant doesn't equate to waterproof, and you should always try to keep your bluetooth speaker away from water unless it's specifically listed as waterproof.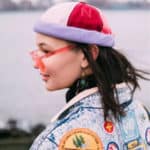 $100 Bluetooth Speakers Buyers Guide
Wireless technology has transformed how many people listen to music. Now that you can buy an inexpensive Bluetooth speaker that hooks up to your phone or laptop, then you can have access to all the music in the world, as well as podcasts and audiobooks. The popularity of these products has led to the market becoming over-saturated. It can be difficult to know which ones offer quality and which ones will leave you disappointed at tinny, unlistenable sound quality. We've now shown you our top ten picks, and we'll now answer the most commonly asked questions about this little device.
What to look for in Bluetooth Speakers Under $100?
As with all products, what you'll look for will depend on your requirements. For some, a basic model will suffice, as long as it delivers good sound quality. For others, it will be important to be loaded with lots of extras. Let's have a look at some of the common features so that you can decide what is important for you.
It can be useful to be able to connect multiple devices at the same time. This means that you can seamlessly switch between your phone and laptop without needing to unpair and re-pair again. It's also useful for it to have NFC technology that allows you to pair with a device without needing to go through lots of time-consuming steps.
As you'll know, most Bluetooth speakers are battery-powered. But you'll also know that each product offers a vastly different playtime from a single charge. Always pick one that suits your needs. For example, if you'll use the speaker while you're out and about or on the road, then you'll want a longer playtime. If you're using it at home and will be able to plug it in to charge whenever you want, then the battery life isn't that important.
Durability will also be an important feature to focus on if you're going to be taking the speaker out with you. Check what material it has been made from, as well as if it is shockproof. You'll also want it to be waterproof if you plan to use it outdoors. There's a range of water resistance ratings, from fully waterproof to splashproof. Make sure you check what level is offered by a product before buying it.
Sound quality will be the most important feature for lots of people, especially if you consider yourself an audiophile. Check what drivers are inside the speaker, what the power rating is, and also if it has bass radiators, so you can know what sort of sound you'll get from it. It can also be a good idea to check reviews of the speaker before buying so you know how its users rate its performance in terms of sound.
Can you get good quality Bluetooth speakers for under $100?
You'd be surprised by what's available for this price these days. Modern technology means that high-grade speakers can be mass-made for low prices. And the low manufacturing costs transfer into low prices for the consumers.
Of course, a budget speaker won't offer the level of performance as a premium product that costs hundreds of dollars. That doesn't mean that a budget speaker doesn't deliver quality, though. You'll have seen from our list that lots of the big brands are selling low-cost products these days too. A Bose product is still made by the company, even if it's sold for less than a hundred bucks, and this company doesn't put its name on a product unless its passed its quality control.
The main benefit of a Bluetooth speaker is its compact size. It's a portable device that you can take with you wherever you go and be able to listen to music. It will always deliver better quality than the stock speakers in your phone or laptop, so it's a safe investment, in our opinion. You don't use a product like this for appreciating music at its very best. For that, you'll be needing a hi-fi system. Instead, you use a product like this for listening to music on the go, for impromptu parties, or for listening in places you usually wouldn't be able to, such as while you're showering in the bathroom.
Best waterproof Bluetooth speakers under $100
The majority of our reviewed Bluetooth speakers in this article have water resistant properties making it a very tough one to call. Some of the waterproof items are IPX5 classified and others feature IPX7 certified designs so these are arguably more waterproofed than the rest. From those at the top of their game in this price region, we would say choice for best waterproof Bluetooth is undeniably narrowed down to the Flip 4 from JBL or another option is the Sony XB10 but it isn't quite as loud as the JBL and you need to purchase 2 for stereo sound.
Remember if you are wanting louder volume levels the JBL speakers can be multi-linked and for a budget of $100 dollars, you can get 2 to start you off.
Best value Bluetooth speakers under $100
When it comes to value for money, then the top product on our list has to be the Doss speaker. It manages to pack a huge punch for its size. It also costs very little indeed and far outperforms its price tag. At around $25, then you can't go wrong with this low-risk investment. The sound quality isn't bad either. Of course, it doesn't compete with premium products, but it still isn't that bad.
If sound quality is more important to you, though, then we think that the Photive M90 is a better choice, as it offers excellent sound for a reasonable price tag. It delivers 20w of power, and it includes a dedicated subwoofer that truly packs a big punch. For bass fans, then this will be your ideal speaker. It doesn't come with lots of unnecessary extras either. So, if you prefer your speaker to sound good and you don't care about it having all the bells and whistles like LEDs or apps, then this one is perfect for you. As a team of audiophiles, we take sound quality seriously, and this product certainly met our high expectations.
Conclusion
It's easy to find a good Bluetooth speaker these days, as there are so many great ones on the market. Unfortunately, it's also easy to spend your money on a sub-standard product. That's why you need to do a little research before handing over your hard-earned dollars.
The first thing to do is to decide what features are important to you. Is it sound quality? Or is durability more important? Will you use the speaker outside or inside? If it's outside, do you want it to be fully waterproof or will splashproof be enough? How long do you want the battery life to be? If you ask yourself all these questions and more, then you can start to define what sort of product it is that you're looking for.
Of course, it's also important to have a clear idea of how much you want to spend. If you have decided on your exact budget, then you can focus your time and efforts purely on speakers that are in this price range.
We can recommend any of the devices on our list. Each of them delivers top-quality sound, a durable construction, and substantial playtime. They are all affordably priced too, and we think that they offer great value for money. You can't go wrong with any of these ten, in our opinion, but if you decide that they're not for you, then we recommend that you purchase a product made by a known brand, such as Sony, Anker, or Bose, as you'll get a more reliable product.
We hope that our article has provided you with lots of valuable information and that you're now ready to buy your new speaker.
Expert Tip
If you are looking for audio quality above all else and don't need the portability or waterproof conveniences that Bluetooth speakers offer for audio on the go, then we suggest you head on over to our ten best powered speakers article, which takes an in-depth look at awesome bookshelf speakers.
Did You Know?
The majority of us listen to MP3 audio files which are 128kbps bit rate. These files sound the same through wired and un-wired speakers. The differences between the speakers will only become noticeable at higher bit rates.
If you've enjoyed this review by Music Critic, please leave a positive rating:
[vc_separator