Every backyard oasis needs some good outdoor speakers. Without them, the atmosphere is going to fall flat. Nobody wants a backyard party with no music. Sound quality, durability, style, and power should come to mind when you're thinking about what type of speakers will be best for you.
Whether you're relaxing beside the jacuzzi or throwing an all-night rager, you're going to need the best outdoor speakers for your specific purpose. There are plenty to choose from, and it's our goal to help you find the right ones for you. Here's a list of the 10 best outdoor speakers in 2023.
At a glance:

Our top 3 picks
Our team's top 3 recommendations
Best Overall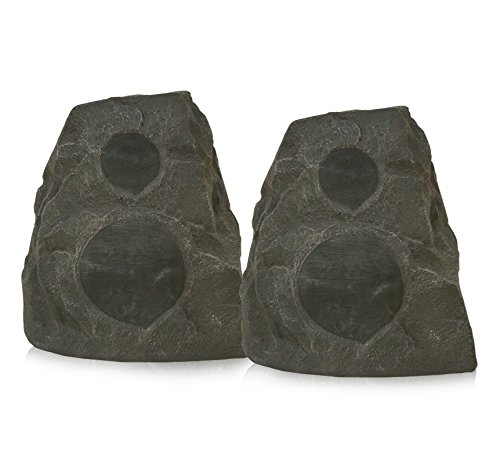 Klipsch AWR-650-SM

Rock shaped
Stereo and mono capabilities
Durable casing and hardware
Good rich sound
Premium Quality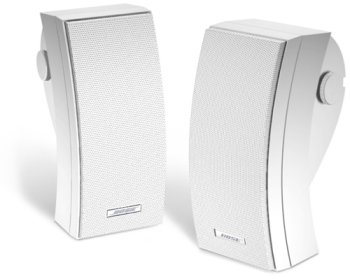 Bose 251 Wall Mount Outdoor Speakers

Rock shaped
Stereo and mono capabilities
Durable casing and hardware
Good rich sound
Great value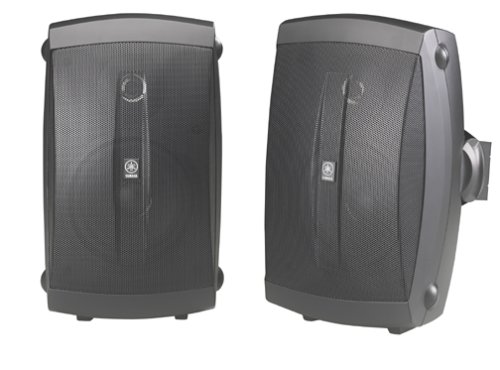 Yamaha NS-AW150BL

Rock shaped
Stereo and mono capabilities
Durable casing and hardware
Good rich sound
View The Best Outdoor Speakers Below
If you're looking to be a little inconspicuous with your outdoor music player, then a rock speaker may be just what you're looking for. No, not a rock and roll speaker, but a speaker which is designed to resemble a rock.
And of course, you can listen to rock on it as well. You can choose from either sandstone or granite designs to customize the look to your specific setting and have it blend in perfectly. On the hardware end of things, it comes with a dual coil polymer woofer, dual polymer dome tweeters, and a UV resistant enclosure.
You can listen in both stereo and mono output modes to fit your various needs, and they have a peasing sound on higher as well as lower volumes. You can place the speakers on opposite ends of your backyard or create a surround sound effect when you want to be fully submerged in your music. They are pretty durable and can last year after year.
Pros:
+ Rock shaped
+ Stereo and mono capabilities
+ Durable casing and hardware
+ Good rich sound
Why We Liked It - It's always nice if you can have your speakers blend into the background. Even if you want the music to be at the forefront. They sound great and work with a wide variety of backyard decor.
2. Bose 251 Wall Mount Outdoor Speakers
If you're looking for something on the higher end, then the Bose 251 outdoor speakers may be right up your alley. Available in black and white, the 251's deliver a crisp and impressive sound. With a 5.25-inch woofer, two 2.5-inch drivers, and a 2.5-inch tweeter, you are exposed to an elegance that is hard to match by most other competitors in the outdoor speaker arena.
These speakers are wall-mountable and cover a wide spectrum of sound capabilities. They are also tested to be highly weather resistant in rain, snow, and wind. Bose has designed these speakers with a wider "sweet spot" so you can move freely around your space while still experiencing the best sound possible. They are capable of emitting lower frequencies so you experience a fuller richness of bass and mid-range sound.
Pros:
+ Weather resistant
+ Articulated array technology
+ Low frequency capable
+ Available in black and white
+ Crisp and impressive sound
Why We Liked It - You can't go wrong with Bose. These speakers are full of richness and clarity and are designed to impress when working with an outdoor environment where it can be a little more difficult to get the best sound. They have also been weather tested to ensure a longer lifespan.
When compared to the Bose 251 outdoor speakers, the sound is hardly on the same level. But as far as affordable speakers that still pack a good punch, the NS-AQ150BL's are more than respectable. Two speakers included in the price will allow you to position them strategically to get the best angle. They come with wall-mount brackets so you can easily get them up and pumping in a hurry. They are also available in two colors.
The speakers come with a 5" polypropylene woofer, 1/2" PEI dome tweeter, and a frequency range of 55hz to 40Khz. They are suitable for both horizontal and vertical mounting depending on your preference, and only weigh 3.7 pounds each. If you are looking for a little more versatility, they can be brought inside and used as indoor speakers as well. Not bad for an affordable set of speakers.
Pros:
+ Two-way mount capability
+ Lightweight and versatile
+ Affordable
+ Wide frequency response
Why We Liked It - A pair of affordable speakers that sound great and are easy to mount. What more could you want? They aren't the creme de la creme of sound quality, but they get the job done if you're looking to host some friends and rock out.
4. Polk Audio Atrium 4 Outdoor Speakers
If you're a little less familiar with the Polk Audio brand, then you're not alone. Although they do not have quite the name that Bose or Yamaha has, they produce one of the most sought after outdoor speakers on the market. The price and quality of the Atrium 4 outdoor speakers are on point and does not disappoint.
These speakers are designed for all weather conditions and can stand up to harsher conditions like rain and snow. They are super easy to set up with a snap-in bracket that can be quickly tightened once you find you're preferred angle.
They have a 5.25-inch dynamic driver and a 1-inch tweeter which allows these speakers to boast an impressive quality of sound. When comparing the sound quality, the Atrium 4 speakers are comparable to the Bose 251's with some minor considerations. All in all, they can be considered one of the best outdoor speakers due to their quality and value for the money you're spending.
Pros:
+ All-weather certified
+ Quick lock mounting system
+ High-quality sound
+ Great value
+ Lightweight and versatile
Why We Liked It - The quality of sound and ease of use for the money spent on these speakers should make them a front runner as far as your considerations are concerned. They are comparable to Bose in the sound clarity while being a little closer to the affordability border.
5. NYNE Boost Portable Bluetooth Speakers
Not all outdoor speakers need to be mounted on the wall. Some are designed to be taken anywhere and everywhere with you. The NYNE Boost Bluetooth speakers will work well for the backyard, the beach, the campsite, or the bedroom. Whatever your forte.
What sets the NYNE Boost speaker apart from other Bluetooth speakers is the weather-resistant capability. They are designed to handle a ton of water damage and can be submerged under a meter of water for up to 30 minutes. They are also dust-tight to keep all the inner components clean and working as if they are new a lot longer. With 20 hours of battery life, you can listen for a really long time before needing to charge them up again. They also have a 100-foot range on Bluetooth connectivity so you aren't tethered to your chair. NYNE Boost speakers are a really versatile and affordable Bluetooth speaker that can be considered for a wide range of uses.
Pros:
+ Waterproof
+ 20 Hours of battery life
+ 100-foot Bluetooth range
+ Lightweight and portable
+ Easy connectivity
Why We Liked It - The portability and versatility of the NYNE Boost speakers is a real tipping point. Getting a good pair of speakers for the backyard is one thing, but being able to take them anywhere with you is an entirely different can of worms. A great, affordable option for outdoor music playing.
6. Dual Electronics LU43PB
If you're a bargain hunter, then the Dual Electronics LU43PB speakers should be the ones you're aiming for. They are one of the most affordable sets of outdoor speakers you will find, and they have a formidable sound as well.
They have been designed to withstand UV rays as well as rain with a nano-coating on top of an ABS casing which will add to the lifespan of the speakers. They can be mounted practically anywhere you want them to be as they are only 8x4" and come with easy mounting brackets.
A 4-inch woofer may be small, but it boosts the bass robustly and the 120-degree range offers great sound all across the backyard. These speakers can be beautifully inconspicuous and fit pretty much anywhere you need them to. The speakers also swivel so you can point them in your desired direction.
Pros:
+ Compact and lightweight
+ Easy to mount and swivel
+ Great sound, deep bass
+ Versatile
+ Highly weather-resistant
Why We Liked It - These are the speakers to go with if you want compact quality and affordability all in one. They are impressively loud for a smaller pair of outdoor speakers and are durable enough to handle the weather.
7. JBL Control 29AV-1 Premium
If power is what you crave, then the JBL Control 29AV speakers may hit the sweet spot for you. With 300 watts of ear-blasting power, they will be perfect for any midsized area. If you're someone who is frequently holding garden parties and you want to ensure your neighbors don't miss a beat, then these are the speakers for you.
The JBL Control29AV-1's have a frequency range of 40hz-19khz, and a 110x85-degree sound coverage range. Each speaker weighs close to 29 pounds and is mountable either on stands or on the wall.
An 8'inch woofer and a 1" titanium compression driver exude an impressive level of power which translates into booming bass and clear high frequencies. They are designed to handle rougher weather conditions such as rain, and direct sunlight without losing their ability to run the party.
The driver is rear-loaded into the baffle, which helps to protect the speaker instead of having it sitting at the front of the basket and overexposed. If you're not overly concerned about a budget, and you want some serious power, then this may be the right choice for you.
Pros:
+ 300 watts of power
+ Highly weather-resistant
+ Good for mid-sized environments
+ 110x85-degree soundscape
+ Deep and clear sound quality
Why We Liked It - This is your power horse speaker that will help you give the best impression at your backyard blowout. They are a little steeper in price, but with JBL you get the quality that you're paying for.
8. Theater Solutions 4R4G New Wired Outdoor
If the Klipsch outdoor rock speakers didn't quite tickle your fancy, then the Theatre Solutions 4R4G outdoor speakers may be what you're into. What differentiates the two is the weather resistance on these bad boys. They are a little more prepared to handle the outdoor weather than the Klipsch version.
These speakers can blast your sound at 95 dB and a frequency response of 80hz-20khz. They come with 4.5" poly mica woofers, ferrofluid-cooled soft-dome tweeters, and 4" wire leads that are encased with silicone. The cabinets are made of multi-layered silicone composite, and the grills are rust-resistant. The sound is quite impressive with these little rocks, but they do require an amplifier to get going.
Pros:
+ Rock design
+ Wide frequency range
+ Highly weather-resistant
+ 4 speakers included
+ Affordable
Why We Liked It - When you want your lawn decorations to surprise your party guests, you need a pair of outdoor rock speakers that can handle the weather so you're not always taking them in and out of the house. Great sound and value for money spent are ticks in the pro column as well.
9. VINCILEE LED Flame Speaker Wireless Bluetooth
Have you ever wanted to sit around a campfire that also plays your music for you? Though fire is literally incapable of emitting recorded music, this may be the closest you're ever going to get. The VENCILEE LED Flame wireless outdoor speaker is designed to dance with the music as it plays your favorite tunes. Perfect for more intimate outdoor settings where you want there to be a little bit of mood lighting.
This is a Bluetooth speaker that is compatible with major operating systems. With 33ft of transmission distance, you can leave your phone inside and hit shuffle and have an uninterrupted chill session right in your backyard. This is a pretty small speaker at 7'x4" and can be taken anywhere with you. It is pretty affordable as well when compared to other Bluetooth speakers on the market, and would work well as a basic outdoor speaker with a little bit of flare.
Pros:
+ LED Flame light
+ 33 ft of range
+ Affordable
+ Indoor and outdoor
+ Widely compatible
Why We Liked It - This is a unique design that affords you the opportunity to set the mood in two ways at the same time. It doesn't cost an arm and a leg and is perfect for any intimate backyard setting.
10. Definitive Technology AW 6500
Rounding out our list of the best outdoor speakers is a bass focused boomer that brings indoor quality sound to the great outdoors. Racetrack-shaped planar pressure-coupled low bass radiators blow the bass without impedance and fill your outdoor party zone with beats that'll bust your bad time vibes. Even with a small woofer, the capability is higher and can keep up with speakers with higher wattage and surface area.
This party speaker is super durable and strong with a fully-sealed design and galvanized steel mounting brackets that give you a 360-degree mounting range. A 5-year warranty on the drivers as well as the cabinet will give you peace of mind as well. This is an affordable outdoor speaker that'll give you the precision you want outdoors. Available in black and white.
Pros:
+ Galvanized steel brackets
+ 360-degree mount range
+ Deep bass capabilities
+ Fully-sealed casing
Why We Liked It - This speaker is affordable and robust and can set the tone in any of your outdoor endeavors. It is easily mountable and can be rotated 360-degrees so you can point the good stuff in any direction you want.
Outdoor Speakers Buyers Guide
Are your Speakers Weatherproof?
A pair of outdoor speakers aren't going to last long if they can't handle a little bit of non-ideal weather. The casings of your speakers should be watertight and able to handle getting wet. Things to look for are nano-coatings, waterproof ratings of at least IPX6, and rustproof properties.
You want to be able to mount your speakers wherever is most convenient, or you want to be able to take your portable speakers wherever you go worry-free. Making sure that they are built to handle the elements will ensure a longer-lasting lifespan.
How big do your speakers need to be?
For most situations, you won't need super-huge speakers, unless you're holding an outdoor rock concert in your backyard. Small speakers are still able to put forth a lot of power without taking up too much space, so you really have your pick of the litter when it comes to the size of your speakers.
Smaller speakers will give you the opportunity to place them pretty much anywhere you want, and it makes them a lot easier to set up. If you're worried small speakers won't be loud enough, you can put those worries aside.
Sound Quality
Sound quality is definitely going to be one of the most important things you'll want in your outdoor speakers. Bose arguably offers the best sound quality in comparison to the rest of the speakers on our list.
This is because they have revolutionized the design of speakers and how they emit sound. That isn't to say that a more affordable option can't get the job done for you. JBL and Polk Audio are also great options for really good sounding speakers.
But keep in mind, with speakers, you generally get what you pay for, and if you're looking to make the most out of your backyard relaxation station, don't be afraid to invest a little bit more.
Warranty
With outdoor speakers, a warranty is even more important than with indoor speakers. Simply because they will be put through more than regular indoor speakers are. If you get a good warranty that protects against manufacturer defects and early wear and tear issues, then you will be able to avoid any replacement or repair costs that you shouldn't have to take on.
Most of the best speakers will come with at least a 3-5 year warranty which stands behind the hardware as well as the speakers in any type of weather.
Mounting Brackets
Not all outdoor speakers need to be mounted, but it can be really helpful if they are. Having speakers that can be easily mounted with a fast locking bracket are really handy. This way you won't be tied to one specific location and if you want to change where the speakers are, you can quickly unlock them.
If you are buying mount speakers, ensure that they come with the proper mounting brackets, because needing to go find compatible brackets, or ordering them online will be a bit of a headache, and it should be unnecessary. The best mountable outdoor speakers will come with brackets included.
Wired or Wireless?
Depending on the type of vibe you're going for, a pair of wired speakers or wireless ones could make all the difference. If you've got a backyard with a jacuzzi and you just like to relax with your favorite music, then a pair of wired speakers that you can mount in your backyard will be fine.
If instead, you're looking for a speaker that you can take with you to the beach or to the park as you work out, then you'll need a wireless speaker. Just keep in mind that wired speakers will have no connectivity issues, and Bluetooth wireless speakers give you the convenience but run the risk of occasionally breaking the connection. Not a huge breaking point, but something to keep in mind if you want to just press play and chill out.
Conclusion
The best outdoor speakers are going to give you the vibe you're looking for, with the design, and durability you need. As you can see, there are plenty of options for various purposes, and what works for you may not work for someone else. Based on your budget, sound expectation, and versatility needs, you now have all the information you need in order to make the best buying choice possible.
If you've enjoyed this review by Music Critic, please leave a positive rating:
[vc_separator