As with all technological trends, the range of PAs on the market is getting smaller in size in recent years. This is pretty convenient if you're a solo performer because a PA is generally the biggest thing for you to lug around. Bands usually share the hard work until they can afford the assistance of a roadie, but for a budding soloist, it can be a little tougher.
Once upon a time, speakers had to be larger to be able to function, especially for public address. Fortunately, the capabilities of recent tech are far more advanced, and lately, we see this demonstrated in the form of column-style PAs.
The Bose L1 system is a prime example of that. It comes from a company that's recently perfected Cylindrical Radiator Technology for its slim-line soundbars, perfect for your home audio needs. Now, they've turned towards the music industry, providing a ridiculously compact, all-in-one portable PA for performers.
This system measures 78.5 inches in length, with an 8-inch bass speaker, packing conveniently into two lightweight carry cases. This makes taking it to your next location a breeze. The loudspeaker array itself is admirable; the radiator technology provides a surprising sound in spite of its dimensions.
The Bose L1 is well-built. The vertical, polypropylene enclosure splits into three parts, giving you two distinct set-ups for a venue. Between them, they house six, precisely positioned drivers to take care of the full-spectrum and deliver powerful audio that disperses in a 180-degree radius. The Bose Spatial Dispersion technology aids this.
The rear panel of the power-stand sports a self-contained integrated 2-channel mixer. The first channel is for your vocals; it features an XLR input for connecting a microphone. The second has a 1/4" jack input; you can use this for a guitar, or an electric keyboard or piano.
There are also stereo RCA inputs, which is useful for those who perform to backing tracks. It's also useful for people who want to connect a laptop or iPod to play music between their sets, which is a pretty standard requirement. This makes the system suitable for DJs who use a turntable. The outputs are straightforward, with a main ¼ inch output, and stereo RCA outputs.
With all honesty, we were, at first, a little skeptical with the L1. But, for small venues, it's a viable option, especially if you're a soloist or an acoustic duo. The L1 is an updated revamp of the original model, which hit the shelves in early 2003.
It now bears the benefits of the company's ToneMatch technology that give the L1 improved consistency throughout use. This ensures clarity and definition and also colors the audio, based on the frequencies produced.
This provides an optimal setting for vocals in conjunction with its mic preamp and a different preset for guitar. The guitar input has excellent harmonics and a brightened middle. The vocals have good midrange-definition and clarity, whether sung or spoken through.
The ToneMatch technology has been developed by researching a variety of instrument inputs and optimizing the equalization of each to achieve an idyllic sound. This emulates some of the tweakings a sound engineer would have to do on the night, and works effectively, making the L1 a good starter system for any musician going it alone.
The L1 has 2-band EQ in the mixer section so you can further attenuate the treble and bass levels to your liking. There's also a dedicated volume dial for each channel.
Bose L1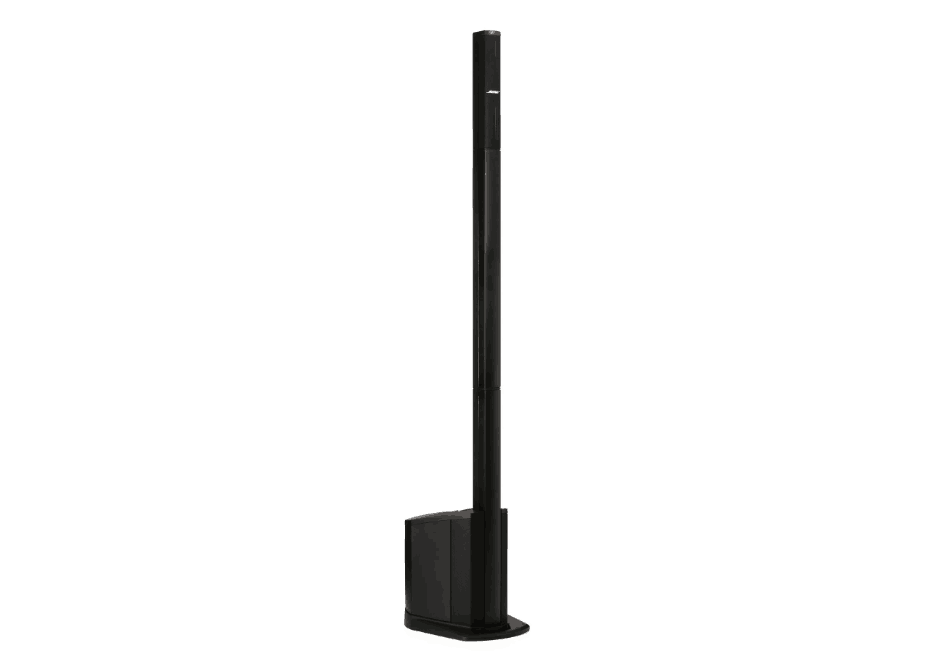 Summary
The Bose L1 compact system is a lightweight, portable PA that makes life easier for anyone with two-channel gigging needs. It's well-manufactured and provides two TonMatch configured channels - these give the user instant mixed connections, ideal for their individual uses. One is an XLR (for vocals), and the other is tweaked for guitar use but also sounds fine for piano.
The L1 has an integrated fool-proof mixer with two-band EQ and stereo RCA inputs that give it a little more versatility, making it ideal for solo acts, presentations, and DJ sets. It musters up a surprising volume level from its 200 watts of power and slim profile. Perfect for smaller venues.
Pros
+ Lightweight and compact.
+ Cylindrical radiator technology.
+ 180-degree audio dispersion with Bose Spatial Dispersion tech.
+ 2 ToneMatch inputs (1 x XLR and 1 x 1/4" jack).
+ Built-in mixer with volume and 2-band EQ.
+ Stereo RCS input/outputs.
+ Easy to set-up.
Cons
- Some duos might require extra channels.
Why We Like It
The Bose L1 Compact System is a fantastic option for a soloist. The portability is powerfully motivating, and the ToneMatch channel configuration takes the headache out of sorting your sound. The sound dispersion is very impressive. If you sing and play guitar and aren't looking to pack a huge venue, then this is the kit for you.
If you liked the article, please leave your feedback.