The Celestion Vintage 30 is a 60-watt replacement guitar amplifier speaker with a pressed steel chassis, a round copper voice coil, and a ceramic magnet. It offers a nominal impedance of 16 ohms, as well as a sensitivity of 100dB.
Celestion Vintage 30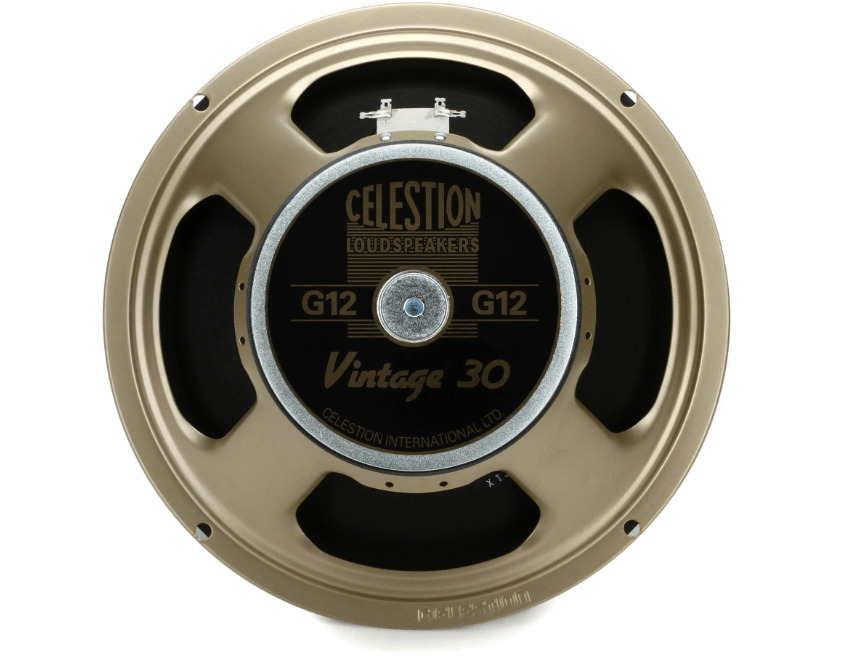 Summary
Back in 1924, Celestion filed one of the very first speaker patents in the world. Over the century since that patent was filed, Celestion has grown into one of the world's largest manufacturers of loudspeakers. The reason for its incredible success is down to Celestion's ability to innovate and adapt to new technology, as well as finding new ways to appeal to its market. And that market is not just large in number, but it is also made up of some of the finest musicians in rock n' roll history.
Celestion speakers are the industry standard, and they will be found inside Vox, Marshall, and many other guitar amplifiers. Celestion speakers are renowned for their distinctive tone, which has become closely associated with classic British rock n' roll. The Beatles, The Rolling Stones, and The Who all used Celestion speakers. But it isn't just British rock stars who are fans of these outstanding guitar speakers; Celestion also produced those famous guitar solos that Jimi Hendrix and Slash played to huge, adoring crowds.
The Celestion Vintage 30 is part of Celestion's famous guitar speaker range. Despite the name, this speaker is a relatively modern addition to the Celestion family, having been first produced in 1986, years after the British Invasion bands made the Celestion sound famous around the world. This speaker was designed to suit a harder rocking guitarist than those 60s musicians, as in the late 80s, it was a heavy metal that was all the rage.
The Celestion team wanted to create a guitar speaker that was able to handle the enormous amount of power and overdrive that the guitarists of the 1980s were famous for playing with. The older Celestion speakers just couldn't cut it anymore, but Celestion being such an innovative company, recognized this early and set about producing this beauty of a guitar speaker.
It features a round copper voice coil that has a diameter of 1.75", a ceramic H magnet that weighs 50-ounces, and a pressed steel chassis. These components all combine effortlessly to produce a perfect combination of complex overtones, accurate highs, warm lows, and rich mids.
The sound has to be heard to be believed. Although, there's a good chance that you will have heard it already, as the Vintage 30 has been used by Slash and Peter Frampton, along with many other legendary guitarists who have plied their trade over the last 30 years.
As this is a replacement guitar speaker, then there's some crucial mounting information that prospective buyers should know, so that you can be confident that it can be integrated into your amplifier. It has a cut-out diameter of 11.1", as well as a diameter of 12.2".
It has four mounting slots, and each mounting slot dimension is 0.31". Each mounting slot PCD is 11.7". The overall depth of the Celestion Vintage 30 is 5.3," and the whole speaker unit weighs approximately 10.4lbs.
As rock n' roll has changed over the years, so has Celestion, innovating at the same rate as musicians have, allowing the two to remain in a symbiotic relationship. Celestion needs rock n' roll guitarists just as much as rock n' roll guitarists need Celestion. Both couldn't live without each other.
Celestion speakers are the voice of rock n' roll because it understands what rock n' rollers want. This speaker is perfect for rock guitarists who value tone. If it is good enough for Slash, then its good enough for every guitarist, in our opinion.
Pros
+ As a Celestion speaker, you know you're getting the most iconic, most popular, and most respected guitar speaker in the world. Celestion speakers have been used on countless recordings for a reason.
+ At 60-watts of power, it offers a power upgrade for many amplifiers' stock speakers.
+ It is affordably priced, making it a great value-for-money option for anyone seeking a replacement speaker for their amplifier.
+ The sound quality is incomparable. It delivers quality across the whole soundscape, as well as a sumptuous tone.
Cons
- As this is a replacement speaker, then it will require mounting inside your amplifier. The quality of the speaker is worth the work, though.
Why We Like It
The Celestion Vintage 30 is an outstanding guitar speaker that is Slash's favorite guitar speaker. There's a lot to love about it, but the tone is our favorite feature. Celestion has earned the reputation as being the voice of rock n' roll for a reason.
If you liked the article, please leave your feedback.