We're no strangers to low-budget speaker reviews here at Music Critic, but it's been a while. We thought it was about time we look at the 10 best bookshelf speakers under $100 in 2023.
Transistor tech hasn't changed much in terms of functionality, but it's been refined over the years to a point where high-end models offer pristine audio and impeccable quality.
Products at the top price-range are constantly evolving as companies compete to outperform their rivals. This leads to some unbelievable trickle-down technology. We can get our hands all over this for far less money than the original model that featured the tech. This means that the lower regions really do offer up some great value for money. In today's reviews and buyer's guide, we're going to help you spot the gold from garbage.
Unlimited budget? Check out these top-quality bookshelf speakers under 1000 bucks.
At a glance:

Our top 3 picks
Our team's top 3 recommendations
Best Overall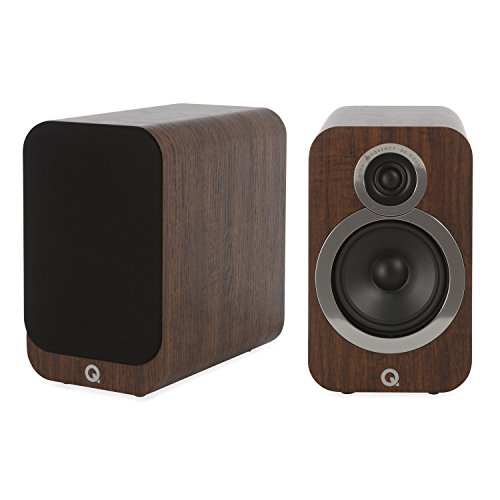 Q Acoustics 3020i Bookshelf Speaker Pair

Mid/bass driver with dedicated decoupled high performance tweeter.
Appealing retail price.
Extra deep enclosure for extended lows and impressively large scale sound.
Premium Quality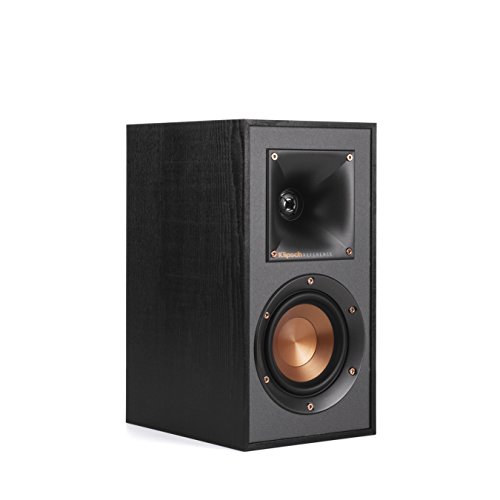 Klipsch R-41M

Mid/bass driver with dedicated decoupled high performance tweeter.
Appealing retail price.
Extra deep enclosure for extended lows and impressively large scale sound.
Great value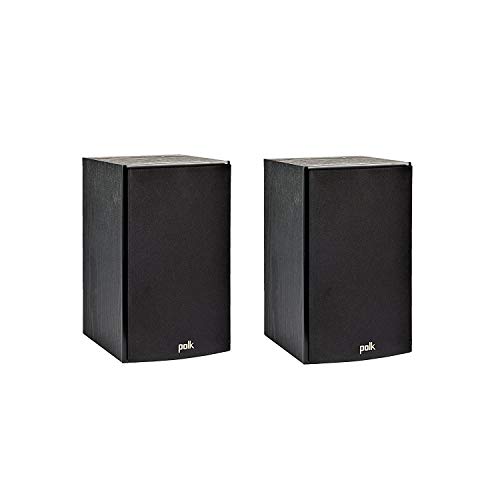 Polk Audio T15 Bookshelf Speakers

Mid/bass driver with dedicated decoupled high performance tweeter.
Appealing retail price.
Extra deep enclosure for extended lows and impressively large scale sound.
View The Best Bookshelf Speakers Under $100 Below
1. Q Acoustics 3020i Bookshelf Speaker Pair
Kick-starting todays review section are a set with an award winning heritage, which have spoken highly of before. They are an aesthetically beautiful but affordably priced, something which doesn't often go hand in hand. They come in 4 different colors, and have sound stunning enough to compliment their appearance.
They are an upgraded model, which are roughly 25% bigger in height and depth than previous models, helping them achieve better bass resonance. The enlarged front-to-back dimensions of the deep enclosure ensure that any cone noise which is reflected from the back of the enclosure is deadened to prevent distortion. The enclosure materials and design adaptations give it improved structural integrity, rendering them a very durable option.
They also feature a new mid/bass driver and decoupled high-frequency driver. Decoupling the tweeter from the baffles can significantly reduce the risk of interference and they have a PTP (point to point) bracing system, which reduces it further.
They serve up sound which is well balanced and defined with a very wide dispersion field, thanks to their over-sized surrounds.
Pros:
+ Mid/bass driver with dedicated decoupled high performance tweeter.
+ Appealing retail price.
+ Extra deep enclosure for extended lows and impressively large scale sound.
Why We Liked It - They provide some of the most perfectly balance high fidelity room-filling sound we have ever had the pleasure of listening to in the budget regions, and are surprisingly well-fabricated for their outlay. If you can stretch your budget, consider these bookshelf speakers under 200 bucks.
Use Case - Determine your use case for your bookshelf speakers before scoping out certain models. These affordable speakers are great for casual listening or their own or enhancing a preexisting sound setup. For example, you could use these speakers as an external sound source for a vinyl player or as additional speakers to fill out the sound.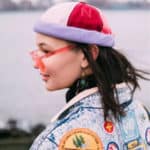 We have praised the reference series from Klipsch for many of its models in the past, but we think the R-41M is a great example of a great quality pair of bookshelf speakers without a heavy investment.
All Reference series models feature Klipschs exclusive TracTrix horn technology and LTS tweeters. They deliver very powerful sound with stunning detail.
The Linear Travel Suspension (LTS) employs a very lightweight 'Kapton' material which helps give a crisper truer resolute audio reproduction. The suspension design also reduces distortion risk and generally enhances audio as it help the tweeters perform much more efficiently.
The woofers cones are Injection Molded Graphite (IMG) which is a densely rigid composite that is contrarily lightweight. When working in conjunction with the TracTrix Horn-loaded LTS tweeter they outperform the majority of other 2-way classified bookshelf speakers.
The TracTrix horn helps the tweeter work in overload by helping to assist with the rapid expelling of air away from the tweeter. The shape of the horn changes from circular to angular which directs the waves more aerodynamically. Their design is expertly calibrated.
They are constructed from reinforced MDF which dampens unwanted vibration, prevents cancellation and coloration and they have a trendy polished exterior.
Pros:
+ LTS tweeters.
+ TracTrix horn technology.
+ Injection Molded Graphite cones
Why We Liked It - The reference series is, hands down, forcing its competitors to kick it up a notch they are one of the most powerful, punchy pairs in their class.
3. Polk Audio T15 Bookshelf Speakers
This low priced pair have also made our top ten list before as a great example of a budget bookshelf speaker option. Polk seem to be at the top of their game with their entry level products, they construct decent quality audio electronics with affordable price-tags, that feature trickle-down technology from their more expensive sets.
The T-15 bookshelf speakers are no exception, they are well constructed from high pressure MDF. Woods are acoustically inert and generally provide a more desirable resonance in comparison to a plastic set of speakers, not to mention they buzz less at louder volumes.
They have fantastic bass handling, employing a good quality 5.25-inch composite driver assisted by a front-firing bass port. This enclosure design element maximizing the bass capabilities for its compact size. They work in unison with a 0.75" silk dome tweeter and both drivers are engineered with Polks proprietary dynamic balance technology.
The sound is rich and detailed without muffling and importantly, widely dispersed. They are easy to set up and are compatible with the majority of home theater devices and stereos. They feature removable grilles and have an understated classic black look.
Pros:
+ Affordable price-tag.
+ MDF acoustic cabinet.
+ Ported bass enclosure for optimal bass quality
Why We Liked It - This pair are reasonably priced they feature wooden ported enclosures and support Dolby and DTS. They would be a welcome addition to any home surround set-up. They are good value for money with their trickle-down tech on board.
Aesthetics and Sound Quality - Bookshelf speakers have to have the unique balance between aesthetics and sound quality. Be sure to have the exact measurements of your bookshelf available before ordering your speaker set. This way, you can ensure that your bookshelf speakers fit perfectly into your existing set up, cutting down on unnecessary hassle.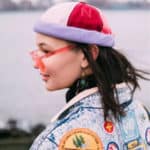 4. Edifier R1280DB Powered Bluetooth Bookshelf Speakers
Now for a nose at Edifiers well-equipped pair of powered bookshelf speakers. They work as a stand alone set free from an amplifier. The active speaker of the pair features easy access side panel controls. Users can adjust equalization and volume conveniently with them, or they can use their remote control instead.
We have examined other Edifier speakers before and we are always impressed with their natural crossovers, the depth of their audio, and how detailed the mid-range really is. This makes them great as a set of independent bookshelf speakers.
The bass driver has a 4 inch premium composite cone woofer, borrowed from one of their most popular models. It works in conjunction with a high performance13mm silk dome tweeter to provide high definition sound.
The enclosure is expertly calculated and made from pressure treated MDF, it features bass optimizing design elements which raise the bass performance bar as far as 4 inch woofers go.
This set also feature built in Bluetooth connectivity and are equipped with optical, coaxial, and wireless inputs, making them versatile. They have a low energy consumption, with a peak RMS of 42 watts per pair.
Pros:
+ Wireless.
+ Optical and coaxial inputs.
+ Carefully calibrated enclosure.
Why We Liked It - They bring some of Edifiers top tech down to a level everyone can enjoy and they also boast the mod conveniences of wireless as well. For those who want better quality, choose a bookshelf speaker under $500.
5. Sony SSCS5 3-Way 3-Driver
This next set of speakers have been featured in a handful of our reviews mainly because they are an accessibly priced 3-way class option, which is much more versatile. Dedicating a super tweeter in the mix in addition to a rigid Mica Reinforced Cellular woofer and tweeter. This allows for better equalization and more authentic audio reproduction.
The woofer is 5.2 inches wide and has a mica-cellular diaphragm, which is better for boosting low frequencies. The tweeter is 0.98 inches and the super-tweeter is 0.75 inches. Regardless of the super tweeters tiny size, its directional radius is wide and powerful. Each driver cone is of a composite nature, and each has been precisely tuned absolute clarity. Pairing a tweeter and super tweeter to share the intensely demanding high-frequency response makes vocal definition pristine.
The MRC woofer cones are incredibly durable, the cellular nature means they will not deteriorate as swiftly as a paper cone model. The cabinet is also durably built and incorporates a ported design. It is constructed from wood and lined with sound absorbent felt which eliminates rear sound pressure. They feature optimized crossover components and handle a recommended maximum power of 100 watts.
Pros:
+ 3-way class system.
+ Super-tweeter incorporated.
+ 100 watt system.
Why We Liked It - They feature optimized crossover components and the upgrades they have received without too much of a price hike, make them very formidable competition.
6. Micca MB42 Bookshelf Speakers
This passive pair are no stranger to our eyes either, as we have included them in previous bookshelf speaker reviews. We are wholeheartedly won over by them, they tick many essential boxes for buying on a lower budget and feature many design implementations from Miccas higher end lines. They have a reasonable a power handling of 75 watts each which is suitably loud ore the majority without too much energy consumption.
They have a solid build and are constructed with good, quality components. They are fairly compact with a classic black enclosure, covered in wood-grain patterned vinyl with softened bevels and rounded corners.
They feature a 4 inch woven woofer with a carbon fiber cone. It sits within a rubber surround to optimize bass performance, delivering distortion-free bass thanks to the ported enclosure design.
The woofer is coupled with a high performance 0.75" silk-dome tweeter that capably handles the high-frequency response without overheating. The crossover is manufactured with high-quality capacitors and filters beautifully. They are for sitting on a shelf and stand at 9.5" high, with a space-saving footprint of only 5.8" X 6.5".
Pros:
+ Compact model with a smaller footprint.
+ 150 watts per pair.
+ American manufacturing.
+ Low price.
Why We Liked It - It is very impressive that they manage to incorporate some very high quality components despite the low retail price.
7. Klipsch R-15M Bookshelf Speaker
Back to Klipsch for a look at another of their Reference series bookshelf models. They are a set which have impactive bass and a surprising presence in general for their smaller stature. This is largely due to their proprietary 90 x 90 TracTrix Horn which as previously mentioned all Reference series models are equipped with.
The TracTrix Horn takes the sound waves from the already very impressive tweeter and forces the air through a horn which begins as a circular shape and then becomes square. The change in the shape of the horn expels the air more rapidly which makes the higher frequency audio far clearer than other 2-way class speakers.
The other major reason the sound is so well defined is the tweeters themselves benefit from a Linear Travel Suspension design which enhances details and prevent distortion altogether.
The woofer is manufactured with composite cones that consist of copper spun injection molded graphite (IMG) which has the perfect properties for bass response and performance with minimal breakup.
Pros:
+ TracTrix Horn.
+ IMG woofer cone.
+ LTS tweeter.
Why We Liked It - With each driver working in conjunction with one another with a fantastic filtering crossover that implements cutting-edge wave-guide technology. They are effectively one of the best speakers in their class.
8. Edifier P12 Passive Bookshelf Speaker
Edifier is another company, who manufacture great entry level audio electronics for a price, that won't make you weep whilst reading your monthly statement. They somehow manage to do it without compromising on features which the brand memorable.
This means all of their products benefit from all the same advantages of their more expensive models and the P12 passive bookshelf set are demonstrative of this trickle-down tech we are constantly mentioning.
They are well-constructed from MDF which is a go-to material with natural resonance dampening. The enclosure itself is expertly calibrated to further reduce the cabinet resonance for sound clarity.
They feature a slightly smaller woofer cone at 4 inches and a ¾ inch silk dome tweeter which again is smaller than some we have highlighted here today. The smaller size is irrelevant with a bookshelf speaker as they are made to function ideally as one small part of a whole. The woofer copes well with low registers, responding and performing under pressure.
The treble is very bright thanks to the high output tweeters working overtime to produce highly defined details in the mix.
Pros:
+ Versatile placement (can be used a rear channel or surround).
+ Comfortable price.
+ Good quality components.
Why We Liked It - We have looked at louder bass options, but given the glaringly obvious fact that a pair of bookshelf speakers should really be handling the mids and highs with a dedicated separate woofer or subwoofer on a different channel, we feel these should not be overlooked.
9. Yamaha NS-6490 3-Way Bookshelf Speakers
Another 3-way class speaker set that sit below our budget cap are the NS-6490 pair from Yamaha.
They are once again a recently upgraded model and have also made the grade in previous reviews.
They are made for use with larger 7.1 set-ups, they have an ultra-wide frequency response and provide professional level audio.
Their 3-way set-up combines a high output woofer, a mid-range driver and a balanced dome tweeter.
Having a dedicated mid-range driver in addition to the high and lows means the crossover is more effective and can give a range of equalization.
The drivers are engineered from high-quality parts and designs are extensively researched by experts at Yamaha. They are very well-manufactured and deliver a clear and tight sound response.
The woofer has a rubber surround and is 8 inches the mid-range driver is 4 inches and tweeter just 7/8ths of an inch. They perform at a combined peak power of 140 watts and are magnetically shielded, making them perfectly suited to all home theater applications.
Pros:
+ Large 8" woofer.
+ Powerful full-range sound.
+ Ultra wide range frequency response.
+ 3-way class system.
Why We Liked It - The bass is tight, they have bottomless depth they have been heavily upgraded and would compliment any home set-up.
10. JBL Arena B15 Black Bookshelf & Surround Speaker
Another familiar face, and certainly a set on our radar are these affordable surround speakers from JBLs acclaimed Arena series. They earned themselves an entry in our Best Bookshelf Speakers Under $200 article last year and are still current enough to impress. For those of you who missed our previous review lets refresh ourselves on their specs. They are 2-way class and built to last using quality components.
They feature two 5.5 inch polycellulose bass driver cones which are highly responsive but maintain sufficient rigidity throughout use. They rely on JBLs patented High Definition Imaging wave-guide technology which was originally developed for their high-end JBL M2 Master reference speaker.
The high frequencies are dealt with by a 25mm soft dome tweeter to effectively deliver a wide frequency response between the two. They deliver room-filling, full range sound which is very well-balanced thanks to their cutting edge crossover circuitry which has been refined by expert engineers.
They are affordably priced and part of JBLs Arena system, although they will be compatible with most configurations as a surround system bookshelf speaker.
Pros:
+ Compact footprint.
+ Surround set.
+ Made from premium components.
+ Utilize high-end technology.
Why We Liked It - They are a key part of an awesome sound system from a fantastic series.
Sound Quality - Be sure to consider what type of sound quality you're looking for. If you're a basshead, it may make sense to prioritize a bookshelf speaker set with bass drivers. The best way to accurately account for your speaker's signal processing if to reference the frequency response graph provided by the manufacturer.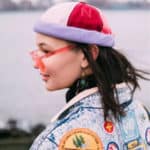 Buyers Guide for Bookshelf Speakers Under $100
What Is a Bookshelf Speaker?
Bookshelf speakers are designed to placed on a shelf and other raised surfaces.
Speaker placement is paramount to the overall audio in a surround system and although some bookshelf speakers will be perfectly adequate for monitor use for any listeners, they are intended to be part of a larger system.
Typically they are employed as left and right front, or rear surrounds in larger systems, joined by a central or LCR speaker and a bass woofer or subwoofer.
What To Look For in Bookshelf Speakers Under $100?
First and foremost, you must know your amplifier capabilities, you have to make a few calculations when setting up a surround system.
At this price region, it is prudent to keep expectations realistic but that being said we see some exceedingly good inexpensive models which feature high-end parts, techniques, and technology.
After amplifier requirements, you need to consider your space wisely.  Many models these days are much more compact than before with enclosure designs evolving, new composites being created with improved properties.
The majority of the passive pairs we have looked at will sound their best in at least a 2.1 system, as the majority are 2-way classified.
To use them for a 5.1 system or higher, you will only need a 2-way class set because your bass will be handled separately.  If your bookshelf pair are allocated less of a workload, they can run much more efficiently.
The key thing you will want to think about if you are not installing a surround set-up is the enclosure design or the bass optimization on-board.
The bass in a bookshelf pair may not be as present as you might like in the mix, this is because bass vibrations in a restricted space are illogical as far as physics go.  Manufacturers then have to tackle the problems associated with bass in a box head on.  They do this by opting for ported or vented enclosure designs.  They work utilizing tubing to maintain a constant fresh-air intake.
Finally your budget and personal preferences aesthetically will determine the range of products available to you, fortunately, there are a plethora of products with lower prices than ever before.
Conclusion
We cannot stress enough the importance of being 'spec-savvy' when you find yourself shopping for audio electronics on a lower budget, especially given the fact that it is one of the most saturated and heavily competitive markets imaginable.
Fortunately many companies especially the bigger brands are able to be more accommodating with their customers, advancements at the top-end mean bargains at the bottom.
Whilst a budget model isn't going to really outperform a premium one, but we have included many here in this article which is on-par with models twice their retail price.  As ever we hope our comparisons and detailed buyers guide will help you make an informed decision.
Expert Tip
If you are seeking audiophile level quality and are blessed with a bit more cash to blow you may want to head on over to our Best Bookshelf Speakers Under $1000 article instead
Did you Know
When a speaker produces audio it is subject to a lot of vibration.  The enclosure plays a critical role in dampening resonances that could cancel out sound waves and cause muffling and distortion.  The surface the speaker is put on therefore also impacts the sound quality
If you've enjoyed this review by Music Critic, please leave a positive rating:
[vc_separator