In this article, we're going to comb through the 10 best in-ceiling speakers of 2023. In recent years, they've gone from unobtainable accessories encountered on MTV Cribs to a tangible reality.
For the majority of us, ceiling speakers probably aren't something we've really given a lot of thought to. (That is unless your job description entails designing a PA system for business premises or installing a home theater set-up in your bat-cave
With audio and electronic technology developing in leaps and bounds and the steady reduction in fabrication overheads, installing ceiling speakers in your home or workspace has become a great way to get awesome indoor audio without sacrificing important floor space for a free-standing model.
So whether you have a constricted floor space or you just simply want to get rid of messy wires or bulky bookshelf speakers that spoil your decor, modern in-ceiling speakers will make for a fantastic addition to your sound system set up.
At a glance:

Our top 3 picks
Our team's top 3 recommendations
Best Overall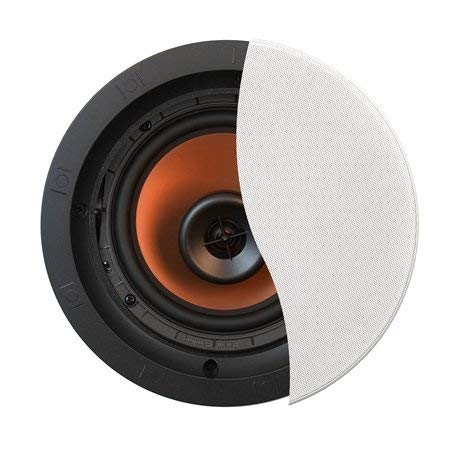 Klipsch CDT-5650-C II

Controlled Dispersion Technology - fully adjustable positioning.
TrackTrix horn.
Reasonably priced.
Wide dispersion.
Premium Quality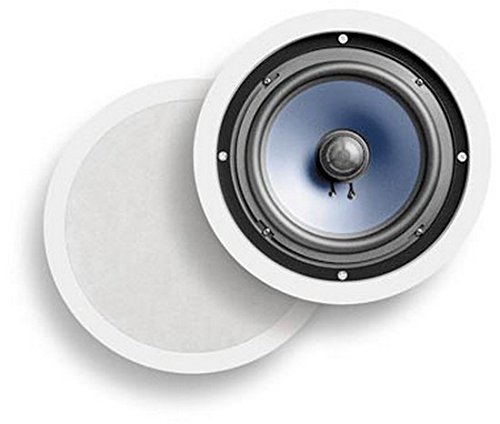 Polk Audio RC80i

Controlled Dispersion Technology - fully adjustable positioning.
TrackTrix horn.
Reasonably priced.
Wide dispersion.
Great value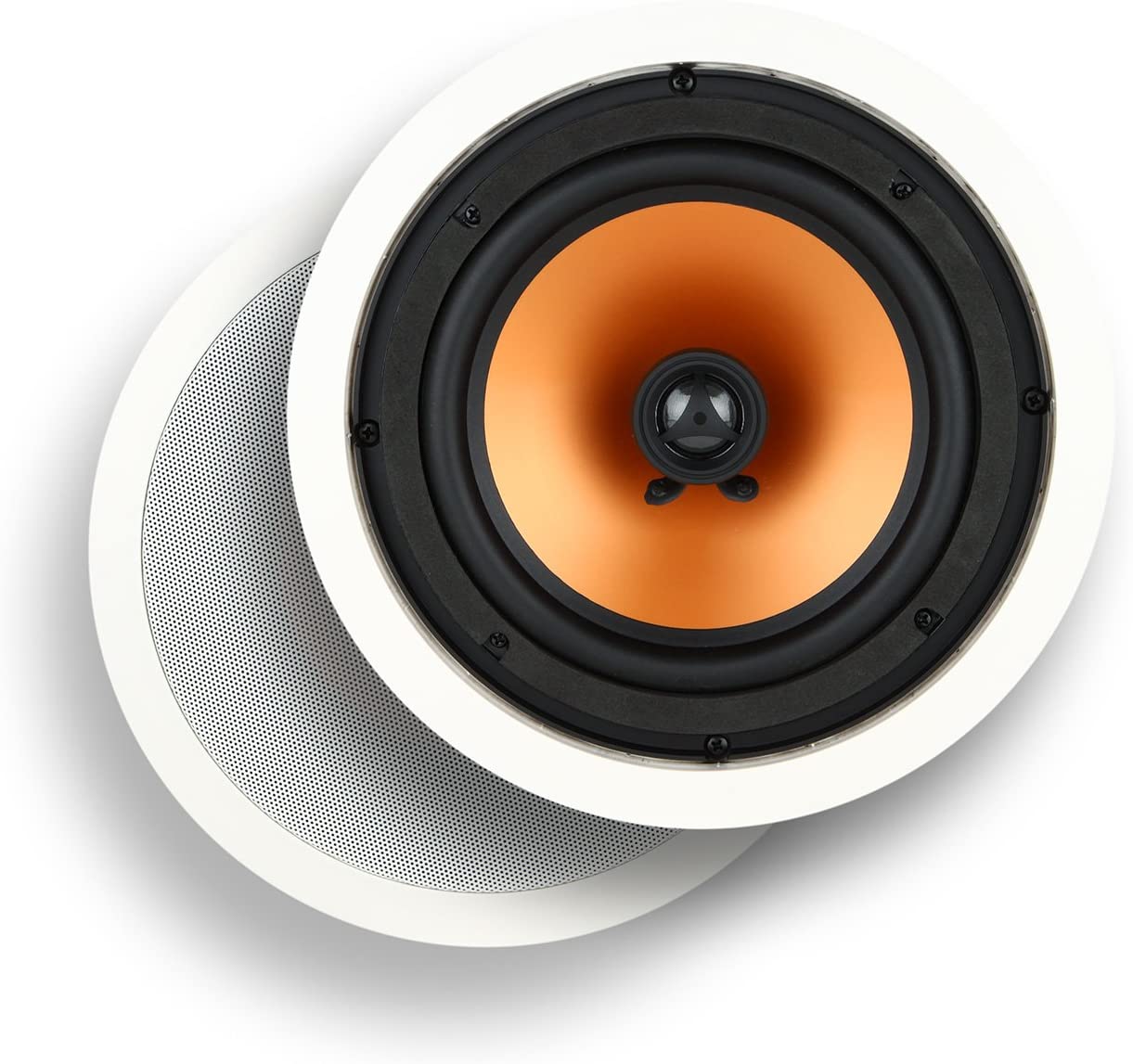 Micca M-8C 2-Way In-Ceiling In-Wall Speaker

Controlled Dispersion Technology - fully adjustable positioning.
TrackTrix horn.
Reasonably priced.
Wide dispersion.
View The Best in Ceiling Speakers Below
The need for a fixed location is a thing of the past with the Klipsch CDT-5650-C II, thanks to their high/low-frequency handling Controlled Dispersion Technology mechanism. Direct sound wherever you need it to go.
The CDT-5650-C II ceiling speaker features a 6.5" pivoting ceramic/metallic composite woofer, which has 360-degree rotation and the ability to shift 15 degrees in any direction, putting you in complete control of aiming your sound optimally.
The 1" titanium compression driver on this single speaker can pivot 100 degrees. Its high-performance sound is pushed through one of Klipsch's innovative symmetrical patented TrackTrix horns, helping to direct the sound much more accurately than other tweeters.
This upgraded in-ceiling speaker model also sees the addition of Klipsch's popular tried and tested Linear Travel Suspension to the tweeter. This further enhances the high-end frequency response, ensuring you get the sound performance you deserve.
Klipsch's in-ceiling speakers are reasonably priced, meaning good stereo sound doesn't have to come with a hefty price tag. Additionally the Klipsch CDT-5650-C II are fairly simple to ceiling mount, but the installation kit is sold separately.
Pros:
+ Controlled Dispersion Technology - fully adjustable positioning.
+ TrackTrix horn.
+ Reasonably priced.
+ Wide dispersion.
Why We Liked It - The Klipsch CDT-5650-C-II in-ceiling-speakers have fantastic treble and mid-bass attenuation and can literally be placed anywhere in your ceiling. So if you're looking for something with amazing sound quality to add to your home theater system, give this one a try!
Back Boxes - Ceiling speakers usually require 'back boxes'. Some will already come with them. Back boxes vastly reduce sound leakage from the back of the speaker and truth be told, sound quality will be poor without them. Back boxes also seal speakers from damp and moisture. They're usually inexpensive to buy.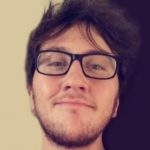 If you're looking for a terrific 2-way class option that gives Klipsch a run for its money, the Polk Audio RC80i might be one of the best ceiling speakers for you. This set comes in a pair, creating an amazing sound system that will take your listening experience to the next level. It's the perfect addition to all home audio systems.
Each speaker utilizes an 8" dynamic balance, mineral-filled, polymer-composite cone with a high-grade rubber surround. The mid-bass driver is coupled with a 1" metallic, soft-dome tweeter with a 15-degree swivel mount. Together they serve up super-wide sound that is well-balanced, no matter where you're listening from (even off-axis.)
The build quality of this set is excellent. The moving parts are kept in alignment by its strong basket design. It also features rotating cams to secure the speaker in place when suspended from your ceiling.
If in-ceiling speaker installation makes you apprehensive, you might find these easier to deal with than other options. The cams aid in a swift and simple install, and once fitted, they virtually disappear due to their extremely low-profile build.
They have a hardy construction, and all parts are made from water-resistant materials and rust-resistant hardware. This renders them great ceiling speakers for saunas, outdoor eves, pagodas, etc. So whether you need indoor or outdoor ceiling speakers, the Polk Audio RC80i is a very versatile choice.
Pros:
+ Swivel mounted tweeters and low-profile.
+ Competitively priced.
+ Great mid-bass frequencies.
+ Water and rust-resistant.
Why We Liked It - When it comes to affordable speakers, Polk is producing some of the highest-rating best-sellers on the market. Somehow they always manage to manufacture quality models that rival the best in their class, but with a much more forgiving price tag. With a great build-quality and moisture-resistant materials, they can't be beaten. So if you want exceptional sound quality at a reasonable price, these might be the best ceiling speakers for you.
3. Micca M-8C 2-Way In-Ceiling In-Wall Speaker
Looking for a very low-priced in-ceiling speaker option with excellent sound quality? Let's face it - this might be the only prudent option for some of us, given the fact that we will likely want two, four, or even six in-ceiling speakers, depending on the size of the room.
The Micca M-8C is a great 2-way class in-ceiling option. It has a dedicated woofer/tweeter combination in its driver array, which gives it a wide frequency response and great flexibility in configuring audio, whether it's subtle soundscapes or a high-impact booming bass response you're after.
The woofer measures 8 inches in diameter and features a high excursion design, allowing for maximized dispersion. The tweeter is around an inch and has a soft but rigid and durable dome to handle high frequencies like a boss.
These Micca M-8C speakers install effortlessly and can be painted to blend in with their environments.
Pros:
+ Ideal driver combination.
+ Great extended low end.
+ Cheap.
+ Easy installation.
Why We Liked It - Micca's in-ceiling speakers are well-built from carefully selected components and feature a foolproof design concept. The entire range is pretty impressive. They come in a variety of sizes, shapes, and styles and the price is great value for money. So if you're looking for a speaker that will look great in any home theater system, these just might be the best ceiling speakers for you.
Wiring Ceiling Speakers - Wiring ceiling speakers will require some thought and planning. You might need to install an amp box nearby your speakers, as you can't have very long wires between your speakers and an amp unit - this is a fire risk. Also, wires and amp boxes will need to be thoroughly damp and waterproof.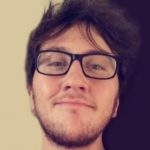 4. Acoustic Audio CS-IC83
If you're looking for an optimal surround sound system and find yourself shopping with a large speaker count in mind, you might not be interested in singular speaker models or the 2-packs we have already reviewed. Take a look at this fantastic 5-piece set from Goldwood's Acoustic Audio range.
These in-ceiling speakers have an affordable price tag similar to some of our top 2-way models, but these bargain beauties serve up a 3-way class system setup. Each ceiling speaker consists of one 8" woofer, one midrange driver, and one tweeter with 3-way passive crossover circuitry.
The woofers are seated in high-grade butyl surrounds for dampening, and the cone is formed from highly rigid polypropylene and benefits from forward-thinking spiders. The midrange driver cones of these passive ceiling speakers are Poly-Mica, and the 13 tweeters have a soft dome design to cope with the demands of higher frequency registers.
These in-ceiling speakers handle beautifully and produce a well-balanced sound performance. They are simple to mount on your ceiling and have some pretty meaty power-handling capabilities (20-350 watts per speaker).
Pros:
+ 5 x 3-way classification speakers.
+ Premium design ideas incorporated.
+ Bargain value.
Why We Liked It - These in-ceiling speakers are a fantastic bulk pack. They offer premium sound in a small package, and they're a sensible center channel audio solution that won't set you back too much. So if you're in need of more than one ceiling speaker for your surround sound system, this might be the best option for you.
This in-ceiling speaker option is essentially just a step down in size than RC80i. The dynamic balance woofer is smaller at 6.5" but employs a wide dispersion design that can fill bigger spaces. They share the same core electrical components and design features, but let us just summarize them in case you need a reminder.
The cones are polymer composites. They are mineral-filled and feature top-notch rubber surrounds to dampen any unwanted resonance. The dedicated tweeter is a traditional soft dome and is swivel mounted to facilitate adjustable positioning.
Each in-ceiling speaker is very simple to install with their handy rotational cams. And, of course, like the larger speakers reviewed, they are ideal for internal or external mounting. This is because all the components are made utilizing state-of-the-art moisture-resistant materials.
Pros:
+ Swivel-mounted tweeter.
+ Wide dispersion.
+ Water resistant.
+ Affordable price.
Why We Liked It - These in-ceiling speakers serve up surprisingly loud sound and their smaller size means they ring up as a penny-saving alternative to the first premium-packed pair. They're also moisture-resistant with an excellent build quality to boot.
This pair of premium level 2-way class coaxial speakers are a formidable entry from Yamaha. The Yamaha NS-IC800WH produce amazing audio that is well-rounded with a seamless crossover, making them some of the best in-ceiling speakers on the market.
The dual setup utilizes an 8-inch blue polypropylene mica cone woofer paired with a tiny fluid-cooled soft dome tweeter. The cooling makes the tweeter far more efficient and adds to its longevity, protecting it from overheating, extending the high-frequency response into ultra-high reals, and ultimately providing the crisp tops tasked of it.
The tweeter is swivel-mounted for aimed dispersion. These ceiling speakers have a fantastic crossover, a versatile frequency response, high-quality components, and low impedance, ensuring excellent sound performance.
They mount effortlessly to the ceiling. They even come with large mounting clamps, so you can be sure they are secure. The grilles have baffles that are set in a spiral shape, naturally aiding the audio dispersion. Additionally, the grilles are magnetic, so you can snap them on and off to paint and repaint in a jiff.
Pros:
+ Well-designed grilles.
+ Expert circuitry.
+ Affordable pair.
+ Easily mounted.
Why We Liked It - These ceiling speakers are very precisely built and have many measures in place to help achieve the best sound quality possible from a direct mount Not to mention, they can be placed in walls or ceilings. So if you're looking for in-wall speakers to add to your home theater setup, these are a great consideration.
If you thought the low price of the five 3-way speaker set was unbeatable value for money, you might want to think again. We're about to take a gander at the budget end of Goldwood's Acoustic Audio R series.
For almost half the price of the 3-ways, you can get your hands on five cheap and cheerful 2-way class speakers that are perfect for turning your entire room into a home theatre with an immersive sound experience.
They are also arguably smaller, harboring a 5.25" woofer coupled with a 12mm soft dome tweeter.
They still feature some impressive hardware and technology of the rest of the series, like the extended throw assembly butyl surrounds for increased performance and durability. These ceiling speakers also have the same low profile when mounted and are, of course, water-resistant like their brothers in arms. The mounting couldn't be easier, featuring a handy cut-out template and the integrated locking mounting features incorporated into its design.
Pros :
+ Wide dispersion.
+ Low profile.
+ Simple mounting system.
+ Low budget option - excellent value for money.
Why We Liked It - The value for money that this set of 5 offers up is pretty astonishing, to say the least. The cones are of a top-notch composite that we often see featured in products twice the price of this one per pair. So if you're looking for amazing ceiling mount speakers at a great price, you've found them.
After a nose at Yamaha's top 2-way class in-ceiling pair, we decided to up the ante and examine exactly what's on offer in their 3-way class models.
This Yamaha NS-IW280CWH set is 100 watts maximum input (the 2-way option we reviewed was 140 watts) and has more compact 6.25 dual woofers.
Each is incredibly well built, and their cones are once again composed of high-quality polypropylene and mica blend and produce pristine balanced audio with the aid of Yamaha's SoundMax technology.
The mids and lows are kept clear with superb dampening surrounds. The highs are left to the tiny dome tweeter, which is just ¾" in size but handles impeccably under pressure. The driver cones are sufficiently rigid for hours of high-energy audio performance, and the magnets are high-grade. It's obviously swivel mounted for wider overall sound dispersion.
This Yamaha NS-IW280CWH in-ceiling speaker is super simple to install and provides a high-performance, wide frequency response range that is rich and natural sounding.
Pros :
+ Compact size.
+ 3-way classification.
+ Expert crossover circuitry.
+ Patented SoundMax technology for ultra-wide room-filling audio.
+ Low price.
Why We Liked It - Yamaha is committed to delivering great sound quality and accessibility, and it certainly shines through in its products. This pair of ceiling speakers outperform many in their class. They retail for a fraction of their competitor's prices, so if you're looking for a budget ceiling speaker with excellent sound performance, this might be the one for you.
Polk Audio's Vanishing Series 255C-RT set is a step up from the Polk Audio RC80i. They make for a very impressive 3-way class, central channel speaker.
They feature Polk's dynamic balance technology and many components from the RT series, but they've been redesigned as the result of hours of heavy data collection from John Hopkins University.
The vibrating surfaces of the tweeters were scrutinized under a microscope to observe the resonances developments made when the cones were in motion. Under laboratory conditions and aided with laser imaging, they then engineered the best combination of materials and optimal geometry possible to counteract the resonances that are primarily responsible for all high-end distortion.
These ceiling speakers have highly efficient dual band-pass bass ports, so the low registers will be clear and capably handled. They work with 10-150 watts.
All ceiling speakers in the Vanishing series are all easy to mount using their one-cut, drop-in installation process. They all feature a wafer-thin, magnetically secured, sheer grille with a nominal profile from its surround.
Pros:
+ 3-way class.
+ Expertly calibrated.
+ Part of the innovative Vanishing series.
+ Can be wall or ceiling-mounted.
Why We Liked It - The internal components are premium quality, It is a central channel option and can be wall mounted as well as ceiling mounted. The design concept employs some pretty advanced techniques that combat distortion effectively providing pretty impeccable sound.
Polk Audio dominates the audio speaker landscape, so it is no surprise to see many options highlighted in today's reviews. Here's another offer again from the fantastic Vanishing series.
This in-ceiling speaker is from the upper end of their product lines, so the price may seem a little high in comparison to Polk's more accessible models, but the quality speaks for itself.
It is a 3-way class, surround-sound model with a woofer working in conjunction with dual tweeters. The main driver is 8 inches in diameter and has an ultra-wide dispersion. The pair of tweeters concealed manage the high-end frequencies, splitting the workload for better performance and sound quality.
The surrounds are formed from a formulated blend of high-quality materials, and practically every part has been refined to fit its purpose flawlessly. The circuitry is low impedance and features advanced crossover enhancements that further aid in delegating frequency signals and processing audio. This provides a more authentic and natural-sounding representation.
They are facile to fit, with their flanged design and complementary cut-out template. They have a nominal profile with wafer-thin magnetic grilles, just like the other speakers in the Vanishing series.
These ceiling speakers make a great addition to any home theater system but joined by the other speakers in the series, they are simply sublime. This is because each features across-board timbre matched blending.
Pros :
+ 3-way classification pair.
+ Dual tweeters for crystal clarity.
+ Premium grade components.
+ Advanced crossover enhancements.
Why We Liked It - These ceiling speakers are some of the best-sounding on this list. Combined with other speakers in the Vanishing series, they cannot be beaten for sound quality. So if you're looking for the best ceiling speakers for a surround sound setup, we highly recommend these.
Optimizing Sound Quality - The way you install your ceiling speakers is crucially important for their audio quality. You'll need to get a tight fit, using acoustic foam to plug the gaps between your wall and the speakers. The tighter and more secure the fit, the better! This will get the bass pumping whilst ensuring the higher frequencies are crip and detailed.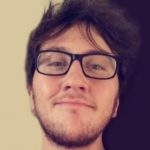 In-Ceiling Speakers Buyer's Guide
Buying in-ceiling speakers might seem like a complicated process. After all, when you take into account room space, your sound requirements, and your speaker set up so far, it becomes clear that the best in-ceiling speakers for one person might not be best for you. You may want one ceiling speaker to add to a small room or multiple to create a complete sound system the whole family will love.
How It Works
An in-ceiling speaker works in the exact same fashion as any other traditional speaker, the key difference being that they come without a cabinet.
If you have perused any of our other speaker articles, you will have undoubtedly ascertained that enclosures are pivotal in enhancing your audio clarity and optimizing the performance of the drivers within.
While ceiling-mounted speakers have many advantages over floor-standing speakers (and you can't argue with their understated aesthetics), they do bring a few problems for companies to counter with their engineering.
What to Look for When Buying In-Ceiling Speakers
A ceiling speaker that's easy to install should be a priority, but the main concern is audio quality. If you're looking to create a complete home theater system for watching movies, a ceiling speaker is the perfect way to get that surround sound experience. All the ceiling speakers on our list have excellent sound quality, whether they're a budget option or whether you're paying a premium price.
Ceiling speakers should be lightweight, and all circuitry should be impeccable to eliminate fire risks. It's ideal if your ceiling speaker can be positioned and adjusted to help you find the optimal listening position. If it points straight down, the sound is projected into any carpeting and dampened, or it can be bounced off hard floors, which both dramatically affect the audio quality.
Mounting a speaker in your ceiling means that your ceiling space itself effectively becomes the enclosure. Therefore, it's paramount that the speaker is researched, planned, and constructed with designs that consider the problems that can come with it and tackle them head-on.
How to install In-Ceiling Speakers. (Do I Need a Professional?)
Installing ceiling speakers might seem intimidating if you've never done it before. With modern generations often opting for convenience, many manufacturers have kept installation simple, implementing 1 or 2-step methods. While these differ a little from one another, and some include additional safety measures, they're not overly complicated, and you probably won't need a professional. However, you will need a little knowledge about the ceiling space, wiring, and pipes. You'll also need to make sure you check with building inspectors regarding fire safety risks in some states.
The main thing to consider is how many channels you'll have and how many speakers are optimal for the space you're hoping to fill with audio. There are loads of handy instructional videos on YouTube - many for some of the products we have compared within today's review section.
How Often Will I Have to Change In-Ceiling Speakers?
Ceiling speakers don't need replacing very often at all. This used to be a problem with older models, but thankfully, for the most part, it's a thing of the past - especially if you're shopping from reputable manufacturers and retailers.
You'll only really need to replace an in-ceiling speaker if it becomes damaged, if it shorts or blows, or if it was terrible in the first place. One drawback with an in-ceiling speaker is you never know how it will sound until it's already mounted in your ceiling. That's why shopping from well-known and trusted brands specializing in audio equipment is super important.
Audio electronics is a constantly developing field. Quite frequently, companies will refine or upgrade products, adding the latest technology and improvements from newer, better, and more expensive lines to their maiden models. So you may fancy an overhaul from time to time if you keep your ears on the ground and follow the hype for what's new.
Conclusion
Technology is constantly evolving, and thanks to this snowballing effect, in-ceiling speakers are becoming a trendy new reality in home theatre setups. Thanks to the stiff competition from companies hellbent on having their products take first prize in terms of quality, you can actually get yourself a pretty great deal if you know what you're looking for.
We have chosen to pick apart some 2-way and 3-way class models from some of the top manufacturers on the market. They are some of the best ceiling speakers available. Despite needing 2 or 4 (or perhaps more), the capital required is nearly as high as it once was.
Of those we've reviewed, the Polk 80 F/X RT are our forerunners, but they're a lot pricier than other ceiling speakers on our list. If you're looking for an affordable alternative, the Yamaha 3-way class pair may be the best choice for you.
With out buyer's guide, you should have no problem finding a set suited to your desired home theatre setup. You won't be disappointed with any of the options we have looked at today, as they all make for awesome additions.
Hopefully, you'll love the advantages of adding ceiling speakers to sound systems. If you're still unsure about overhead sound, you might prefer browsing our Best In-Wall Speakers article instead. Whether you want a set for background music, parties, or watching movies, we'll help you find the right speakers for you.
Expert Tip
If you're working on a concealed surround sound system set up, we recommend heading over to our 10 Best In-Wall Speakers article.
Did you Know?
It's imperative that you know your space before splashing out on ceiling speakers. They require a minimum clearance of 4 inches behind the speaker. This is key, so check beforehand, as cutting into your ceiling is pretty permanent.
If you've enjoyed this review by Music Critic, please leave a positive rating:
[vc_separator