When it comes to speaker aesthetics there are two very distinct tastes one being modern or even futuristic and the other retro. In this weeks' article we are going to be checking out the latter as we review the 10 best vintage speakers of 2023.
The majority of speaker pairs will usually feature both a passive and an active speaker, borrowing on old school analog technology with more up to date circuitry capabilities.
Those we are reviewing today have done away with the tubes and valves of a world gone by creating models with modern circuitry beneath their retro exteriors to provide a great middle ground. We have judged each worthy of our top ten list for providing fantastic sound, advanced abilities, and mod-cons under the gorgeous guise of an antiquated model of yesteryear.
We are also providing a buyers guide as per usual, albeit a little shorter than some given the judgmental nature of the aesthetically based criteria in this weeks reviews.
Pssst! We think you might be interested in these vinyl-ready speakers.
At a glance:

Our top 3 picks
Our team's top 3 recommendations
Best Overall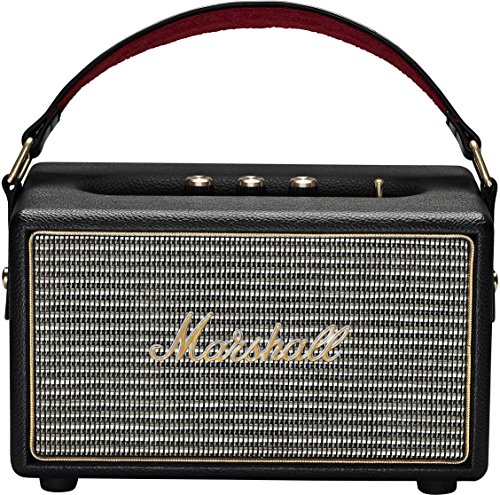 Marshall Kilburn Portable Bluetooth Speaker

Iconic Marshall design.
Loudest in its class.
Up-to date Bluetooth capabilities.
Aux input option.
Premium Quality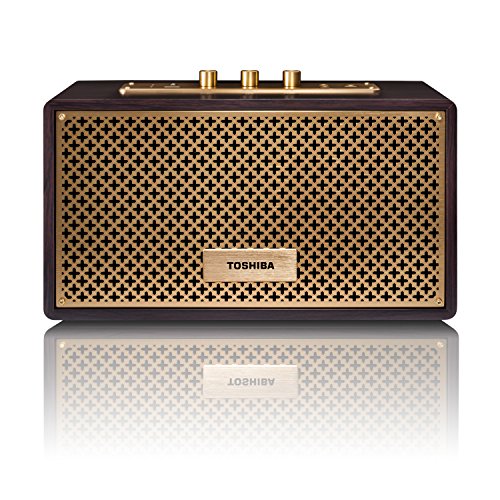 Toshiba Wireless Bluetooth Speakers: Vintage Retro

Iconic Marshall design.
Loudest in its class.
Up-to date Bluetooth capabilities.
Aux input option.
Great value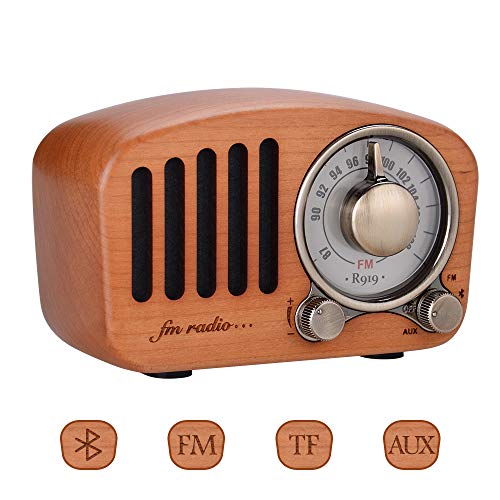 Qoosea Portable Radio FM Radio with Bluetooth Speaker

Iconic Marshall design.
Loudest in its class.
Up-to date Bluetooth capabilities.
Aux input option.
View The Best Vintage Speakers Below
1. Marshall Kilburn Portable Bluetooth Speaker
First up a gorgeous portable option from Monster manufacturers at Marshall Kilburn. It comes in classic black or cream sporting the iconic Marshall style associated with their amplifiers.
It is an excellent blend of modern conveniences in a vintage-inspired package. With its retro good looks which embody the spirit of rock and roll paired with its on-trend Bluetooth capabilities.
The speaker itself features dual 5.25-inch woofers and dual 1-inch dome tweeters. Together they provide clean mids and well-articulated highs. It is a class D speaker +2 X 29 watt and 1 X 50 watts and one of the loudest in its class.
It features analog Style knobs for volume and 2-band equalization (bass and treble) so that users can easily dial in their preferred listening tones. It weighs just 7 lbs and is easily portable utilizing its guitar inspired leather carry strap. You can travel around with it 4 to 20 hours max battery life.
Pros:
+ Iconic Marshall design.
+ Loudest in its class.
+ Up-to date Bluetooth capabilities.
+ Aux input option.
Why We Liked It - It is a great speaker which will match in with your Marshall amps that can also be taken on the go thanks to its increased portability.
2. Toshiba Wireless Bluetooth Speakers: Vintage Retro
Next up we have a very versatile option from Toshiba which is AC powered (40 watts). It can play directly from devices via a ¼" mini-jack, or its USB connection and also has built-in wireless capabilities to stream from Bluetooth devices.
This flexibility makes it a valuable piece of equipment. It is powerfully loud with its unmatched projection and traditional loudspeaker speaker array set-up. It delivers the well-defined high and low-frequency response, for great audio clarity which is in stereo, rich with details, and smoothly balanced.
It has a decent pick-up range syncing to devices within 10 meters of the speaker. They pair fairly straightforwardly and allow for users to control their playlists from an entirely different room.
The onboard controls fit in with the retro good looks of the classy all-wood cabinet and allow users to adjust the treble and bass settings in addition to the overall playing volume levels. It is finished with a beautiful vintage golden tinted metal filigree style grille. It is very durably built and has a hefty amount of weight to it.
Pros:
+ Vintage wooden enclosure with a metallic grille and retro controls.
+ AC powered model.
+ Superb volume capacity.
+ Current Bluetooth receiver.
Why We Liked It -We love the classically good looks of this model, it is on the pricier side but it serves up superior sound quality to the lower priced options on the market.
3. Qoosea Portable Radio FM Radio with Bluetooth Speaker
Now for a very cute option which is actually crafted by hand so you may be surprised to see how accessibly priced it actually is. It is a compact, stylized, retro FM radio which boasts the Bluetooth capabilities of a much more modern model.
They are truly beautiful to look at and make for a great accent in virtually any room. They come in genuine mahogany, or gorgeous cherry-wood which is ethically sourced Eco-friendly and 100% handmade from start to finish. The classy curves of the enclosure complement the natural materials chosen for its composition and it matches in with all your hardwood furniture perfectly.
The FM radio function provides old-school channel surfing, allowing users to tune between a frequency range of 87-108MHZ. The wireless connectivity current and serves up high-fidelity 'loss-less' sound quality as it is equipped with the latest technological advancements to bolster Bluetooth abilities.
It is user-friendly and pretty easy to pair and provides great stability. If the Bluetooth doesn't float your boat you will be pleased to learn it comes with a USB cord, and an auxiliary cord to connect directly to the majority of devices.
It is battery operated (rechargeable) and not much larger than your typical handheld camera so it is easily portable and therefore another great another travel option. You get around 7-10 hours of music playing depending on volume levels and other factors.
And the fact that you can get your mitts on this for well below 40 bucks is pretty unbelievable.
Pros:
+ All wood enclosure with vintage character.
+ Completely handmade.
+ Well engineered drivers.
+ Low price.
Why We Liked It - It is exceptionally low-priced for a handmade model. The cherry-wood gives it a tonne of charm and it serves up high fidelity sound and stable Bluetooth streaming.
4. Vintage Bluetooth Speaker Portable Wireless Speaker
Another compact retro radio choice with curved corners that screams 1950's is this pastel blue (or white) beaut from Lofree. It provides a great alternative to the product above although it might set you back a little more cash than the Qoosea Portable Radio.
The poison model has a durable horizontal grille and is very well manufactured and has some lovely vintage features which really pay homage to the style of the era.
It is a 2-way class speaker which provides great, well-balanced audio with good definition. This model has also been tweaked to provide an enhanced low-frequency response for better bass.
It is a 20-watt amplifier, that benefits from MaxxAudio technological algorithms to get optimal performance and provide sound quality typically expected fro a much larger speaker model.
It features built-in USB and auxiliary connections, offering up fab input flexibility and it can maintain a Bluetooth 4.2 connection with great stability even at a distance 33 feet.
It effortlessly syncs to your mobile and other devices and its built-in rechargeable battery can deliver up to 6 hours of uninterrupted listening. It is lightweight and comes sporting a leather-look carry handle for better portability.
Pros:
+ Veritable vintage appearance.
+ Bluetooth/USB and Aux inputs on offer.
+ Portable leather-look handle.
+ Decent battery life.
Why We Liked It - It has iconic aesthetics reminiscent of a decade with some memorable trends. It wouldn't be out of place in a 1950's diner with is powder blue ice cream sundae style.
5. TEWELL Bookshelf Speaker, Retrorock 24W
This next model the Retrorock from Tewell is competitively priced at the same level as the handmade Qoosea Portable Radio it is a fair amount bigger and a little louder in comparison as well, as its intended use is as a bookshelf speaker.
It is very aptly named and once again provides a superb option if you are looking for a speaker with a vintage-inspired appearance which harbors the convenient capabilities of something much more cutting edge than the real McCoy. It has a great classic woven textile grille with retro toggle switches.
It is powered by dual full frequency drivers which have been finely tuned by expert engineers to deliver punchy audio with well-defined registers. The bass is pretty unbeatable at this price level too and it is essentially distortion free, even at max volume levels thanks to its bass reflex system.
It delivers 24 watts of powerful premium sound and serves up stable Bluetooth connectivity for convenient streaming and it is mains powered so you can listen to your heart's content. It also has an auxiliary input available to use directly if preferred.
Pros:
+ Bookshelf speaker model with a retro essence.
+ Finely-tuned dual drivers.
+ Better bass (reflex system).
+ Stable Bluetooth/direct auxiliary connection.
Why We Liked It - It is another great vintage inspired choice, we like its woven grille and retro switches. It is bigger and features a great driver set-up and provides room-filling audio.
6. ClearClick Retro AM/FM Radio with Bluetooth
Now for a look at the competition from ClearClick a top company which pries itself on producing easy to use technology.
It is a very compact, classic wooden model which has an arch-shaped design emulating antique models from the golden age of radio. It is well-made from hand-carved hardwood and put together piece by piece by hand as well.
It features conveniently located front-mounted retro dials for the user to adjust between both AM and FM radio stations. It has a beautiful multi-cutout forward-facing grille which is heavily stylized to provide an authentic homage to prevalent historical models.
It is equipped with an up to date Bluetooth receiver capable of maintaining an interruption-free signal from a distance of up to 33 feet and it pairs effortlessly making it very simple to set up and use. It is AC powered so you don't have to worry about charging between use and can stream for as long as devices can manage.
Pros:
+ Miniature antique radio replica.
+ Modern built in Bluetooth receiver.
+ AM and FM radio stations.
+ Handcrafted.
Why We Liked It - It is another awesome option, we love its arch-top, it is veritably vintage inspired, and it is uncomplicated to use.
7. Retro Wireless Bluetooth Radio Speaker
Over to Pyle to peruse their vintage enclosure options. This retro model emulates the elegance of an age gone by we love its contoured cut outs and the rich burnt color of the design. It has a 'Fallout' semblance which would make it an awesome aesthetic addition to any room.
Its classic style is contradicted by its modern Bluetooth capabilities and current input connections on board such as its USB flash drive and SD memory card readers which make it one of the most versatile choices we have looked at yet. The USB is a double drive and can be used to charge devices.
It also features your typical 3.5mm jack connection for auxiliary input and RCS (L&R) outputs making it ideal for use with a turntable and connecting to external speaker systems.
It has simple replica rotary knobs which add to its heavily authentic vintage vibe and make operation facile. It also has a retro style dial to tune AM as well as FM radio frequencies. It has an extensive range of I/O options giving it very flexible functionality, it is great to look at and it won't break the bank.
Pros:
+ Classic vintage vibes.
+ AM as well as FM radio receiver.
+ USB and SD readers.
Why We Liked It - We just love the looks of this stylish speaker, with its reddish tone and antique dials, we also love the price-tag especially considering it offers up a far more diverse range of functions than its competitors.
8. LuguLake Handheld Multi-function Bluetooth Speaker
This little lug-around option from LuguLake is a lovely choice for a modern speaker masquerading in vintage-wear. It is tiny and lightweight and has a sturdy carry handle. We love its large convex grille paired with its old-fashioned front-mounted dial and toggle on power switch.
It has a 5.25-inch woofer and a 1-inch premium dome tweeter to cope with the treble end and is therefore technically speaking a mono option as it only has the one speaker array, you would need two speakers for true wireless stereo sound.
It boasts 10-in-1 multi-functional properties and is pretty impressive despite its deceptively small size. It is an FM radio with an antiquated antenna, It has a USB flash drive and TF memory card reader which supports U-disk.
It can stream remotely and be controlled remotely via Bluetooth. It features equalization control and can be connected to larger speaker systems. It has a line in and auxiliary inputs as well a dedicated microphone input ideal for impromptu karaoke.
It is a 25-watt amplifier which provides high-impact sound thanks to bass enhancement tech and driver design it delivers punchy bass and raw power. It features built-in rechargeable batteries which provide around 6 hours between charges.
Pros:
+ Venerable vintage style.
+ Completely handmade.
+ Bluetooth.
+ USB/TF memory card/Auxiliary mini jack/microphone inputs.
Why We Liked It - It is a very flexible option, which has been beautifully designed and hand crafted. It features a durable carry handle and has a decent battery life. The bass is very impressive in comparison to others, and though you would need to purchase two for true stereo sound it is reasonably priced for what it has to offer.
9. Pyle 2-in-1 Vintage Style Clock, Retro Bluetooth Speaker
Back over to the production line at Pyle for a peek at an elegant tabletop piece which is truly a little bit different. It is a vintage style speaker options that comes in the form of a classical era clock on a handcrafted birch-wood stand with a genuine swinging pendulum arm mechanism. Its wooden construction and brushed copper accents give it sophisticated style making it a real centerpiece.
It is essentially a beautiful real quartz timepiece, which features speakers and has an up-to-date Bluetooth receiver which can provide steady music streaming from a distance of up to 30 feet. This curious combo capably delivers full range stereo sound and is universally compatible with any Bluetooth device for hassle-free synchronization.
It features well-performing dual dynamic balance drivers which have surface are increasing technology that optimizes them to produce impressive bass. It also has a built-in USB reader/ port for device charging and a 3.5mm auxiliary input as well.
Pros:
+ Tabletop timepiece with a real pendulum.
+ Current hassle-free Bluetooth pairing.
+ Dynamic balance dual-drivers which deliver stereo sound.
+ USB reader and Aux input.
Why We Liked It - It is a vintage speaker option which would make a superb centerpiece for any room, it is a functional quartz timepiece and harbors some great I/O options. Its retail price sits just slightly over the hundred dollar mark but it is an unusual model with a lot of merit.
10. ART+SOUND Bluetooth Speaker Vintage Retro Radio
Our ultimate entry for todays vintage speaker model reviews is this competitively priced design from ART SOUND which offers up another great all-wood option, this time though sadly not handcrafted but this fortunately lends it a lower price tag.
Once again it bears vintage looks reminiscent of days gone by but in a style all of its own. The onboard controls are laid out very clearly to the left and right of the radio tuner display. It has a retro woven grille and is lightweight, compact and rechargeable rendering it another fab travel speaker choice.
It has a retro dial for fine-tuning FM radio frequencies and stylized knobs for user-friendly control. It features an up to date Bluetooth receiver and pairs to devices with ease.
It provides about 6 hours of uninterrupted listening between charges more than adequate for listening to your tunes on the go for extended periods and ideal for taking with you on a day out.
It features a standard 3.5mm jack aux input for direct listening should you prefer or if Bluetooth devices aren't available.
Pros:
+ FM radio with Bluetooth capabilities.
+ Wooden constructions.
+ Aux input.
Why We Liked It - It is an affordable, easy to use option which is has great stereo sound.
Vintage Speakers Buyers Guide
This weeks buyers guide is being kept short and sweet because when it comes to the best vintage speaker looks are literally everything.
With the term vintage encompassing rather a large number of decades each with distinct design styles a retro-inspired speaker models can differ very heavily aesthetically speaking.
Which to go for based purely on visuals is ultimately down to the individual's preference, but we will give you a few tips on what to keep an eye out for regarding their internal aspects and capabilities.
What To Look For in Vintage Speakers?
Aside from an iconic image, you will want to look for a model which ticks all of your entertainment needs. Many are classically disguised as genuine working radios but some offer AM and FM frequencies whilst others solely provide the latter.
If you are looking to stream then Bluetooth is a must, there was a time when wireless literally meant a radio but now you can technically have a wireless-wireless.
Whether its a radio or a timepiece you want or simply a Bluetooth speaker with a retro appearance there are plenty out there to choose from. Bluetooth should be as current as possible.
What to look for really comes down to a decent set of drivers, ideally, stereo sound and a decent variety of I/O options is always preferable.
If you want to travel with your vintage speaker then you will need a battery operated option and we advise going with something rechargeable for less hassle. If you aren't opting for an AC powered device then obviously the longer the battery life between charges the better.
As with any purchase, the budget is going to cap what you can and can't have, luckily there are many competitive models on the market and you can get your hands on a good deal.
Conclusion
A vintage style speaker has real character and can add a touch of classic style to any room. Their retro knobs, switches, and dials make them easier to operate functionally speaking and they can often be a real statement piece, sparking conversations and divulge something about your preferential taste to your guests.
We have over the years grown pretty accustomed to the shiny conveniences of modern technology but as you can see from today's reviews there are a whole host of manufacturers out there tending to our consumer needs to provide modern marvels wrapped up in memorable enclosures.
We have reviewed a suitable selection of great vintage look speakers which manage to do exactly this and hopefully they will have inspired you to go retro too.
Expert Tip
There is a multitude of models on the market with a vintage vibe whether it's an old-fashioned jukebox replica you want or a turntable.
Did you Know
The golden age of the radio was before the invention of television when it was the most dominant form of entertainment available the decades of the '20s '30s and '40s saw its design change often and many of the vintage style speakers we have reviewed today are modeled on their memorable aesthetics.
If you've enjoyed this review by Music Critic, please leave a positive rating:
[vc_separator