In this article, we are going to be highlighting 10 of the best gaming speakers in 2023. To give you a good idea of just what exactly your cash can get you, we have selected those we feel represent the best on the market, at their respective retail prices.
If you are shopping for a set of speakers suited to gaming you will likely want a pair with high performance to effectively cope with, rapid machine-fire or jump-scares. The sound is an integral part to a lot of games whether its background music, or used dramatically for suspense and just as much work often goes into the soundtrack as it does into the programming and visuals. Hardcore gaming fans are always looking for a more immersive experience and high definition audio to match the glorious graphics is a must.
As the sound is paramount to a users gameplay your PCs stock speakers will likely need a bit of an upgrade to satisfy your needs.
In our reviews, we are going to compare our contenders and pick-apart what makes each a suitable candidate for some of the best gaming speakers this year.
In our usual fashion we have also provided a gaming speakers buyers guide, to help resolve any unanswered questions.
At a glance:

Our top 3 picks
Our team's top 3 recommendations
Best Overall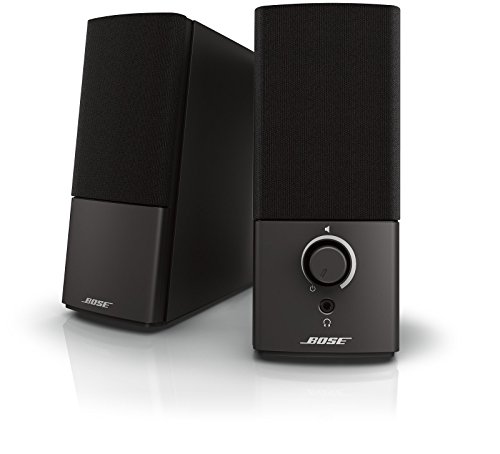 Bose Companion 2 series III

Ported cabinet.
Well made.
Affordably priced.
Premium Quality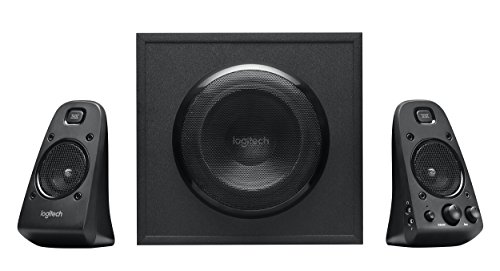 Logitech Z623

Ported cabinet.
Well made.
Affordably priced.
Great value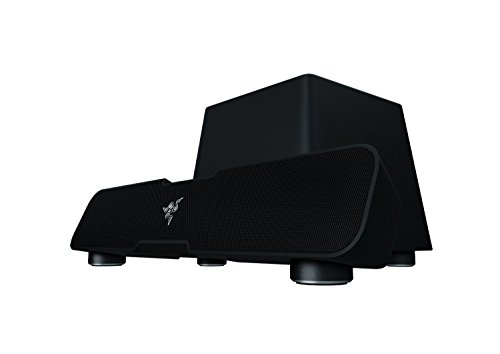 Razer Leviathan: Dolby 5.1

Ported cabinet.
Well made.
Affordably priced.
View The Best Gaming Speakers Below
1. Bose Companion 2 series III
First up a reasonably priced pair of multimedia speakers, the 3rd model from the Bose companion 2 series. They have a noticeably deeper low end than a standard set of PC speakers despite their compact nature, this is largely due to their hearty construction and the fact that they benefit from Bose engineering. The enclosure features a ported cabinet design, which is ultimately a necessity if you want low-end audio clarity from a smaller device.
The sound seems incredibly spacious thanks to its highly advanced TrueSpace digital signal processing, which helps to extend the dispersion field to provide rich clear sound at a surprising volume level.
The speaker to speaker wire is built in they are easy to set- up. They connect directly to your Mac or PC, they work with the majority of major operating systems and you can even connect an additional device via its auxiliary input.  Users have control over the volume and they feature a gaming headphone connection.
Pros:
+ Ported cabinet.
+ Well made.
+ Affordably priced.
Why We Liked It -
They are a low priced 2.0 option which has some great features to prevent distortion and feedback at maximized volumes, they sound very balanced.
Console Type - Be sure to consider your console before picking out your speaker. PC gamers will have different space constraints than someone who games on an XBOX or Nintendo Switch. Do you plan on using your speakers for cross-platform gaming? In which case, it's probably most convenient to find a setup with Bluetooth compatibility.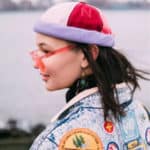 For just a tiny bit more capital, you can be surprised at just what you can get your hands on. This Lush 2.1 system from Logitech, has been designed by top computer accessory manufacturers who benefit from understanding the ins and outs of PC peripherals.
The system consists of 2 satellite left/right speakers and a powerful dedicated subwoofer that handle a peak performance of 400watts. They are THX - certified and provide high quality, fully immersive sound which brings games to life.
They are easy to set up, have a built-in headphone jack for private listening and feature easy entertainment connections located on a panel. The integrated controls also provide easy bass and volume adjustments.
Pros:
+ 2.1 system set-up.
+ 400 watts of power.
+ Great value for money.
Why We Liked It - A 2.1 system is an ideal set-up for your home computer, these are well made the subwoofer is 130watts which is incredibly powerful adding superb depth to your audio setup. Logitech really know their stuffand cater to all budgets, these being accessibly priced just shy of the hundred dollar mark.
3. Razer Leviathan: Dolby 5.1
Another manufacturer who caters specifically to a computer clicking customer base is Razer we have reviewed some of the products previously in other articles and they genuinely know their clientele well.
They make some great PC accessories and gaming specific laptops, which are superbly designed and very high performing, so it stands to reason their speaker designs have been just as well thought out.
The Leviathan is a space-saving sound bar and subsystem set-up. The soundbar harbors 2 full ranged drivers as well as dual tweeters and together with the dedicated downward firing subwoofer, they provide delectable Dolby 5.1 surround sound.
The cones are well-constructed composites and the tweeters are especially high performance. They are ideal for a range of multimedia uses and even feature 3 easy to switch preset equalizers settings calibrated to sound profiles for either gaming, movies or music. They also benefit from the modern conveniences of NFC connectivity and Bluetooth 4.0 capabilities for streaming music directly.
Pros:
+ 5.1 surround sound.
+ Compact sound bar design.
+ Preset equalization settings.
Why We Liked It - It is an ideal solution for a smaller space and it better delegates responses for each part of the frequency spectrum, ultimately providing a more natural balanced sound. They will set you back almost twice as much as some we have looked at but the bass is epic.
Bluetooth Latency - While Bluetooth can be highly convenient and a great feature for many gamers, keep in mind that this opens the door for latency. You may experience a slight delay (even if it's a couple of milliseconds) from sound to action which could be troubling for some players.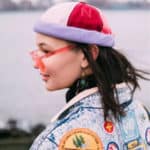 If the price tags have been a little rich for your tastes then another fantastic option from Logitech is their entry-level model the Z313. They still provide the 2.1 setups with satellite speakers and a dedicated subwoofer to effectively handle the low end and prevent distortion for a more pristine sound.
They are slightly smaller featuring smaller cones and a compact downwards-firing subwoofer, which is suitably housed in a ported enclosure design for optimal bass response.
They are nowhere near as powerful as their 400-watt superiors but they do provide a room-filling, well-balanced sound. They have an understated peak of 25watts but the bass is still pretty thumping. They have a convenient control pod for simple access and audio adjustment.
They are deceptively loud for their dimensions, the woofer can be tucked away which is a bonus and them set up in around 2 minutes.
Pros:
+ 2.1 surround system.
+ Dedicated subwoofer.
+ Low price.
Why We Liked It - They are an affordable speaker alternative for those who have a slightly smaller budget with their eyes on a Logitech 2.1 system.
5. ENHANCE LED with subwoofer
Now we are going to take a look at a shoestring budget choice that we feel blows most of its competitors away. It is another 2.0 stereo option but it actually has a budget subwoofer built-in and included in its dual drivers effectively matching a 2.1 system.
They have a 20m full range drive and a 60mm bass radiator that work with a great crossover to provide wide frequency response. They have a tiny footprint to match their tiny price and are as lightweight as they are compact, making them ideal for desktop setups. They have a smooth rubberized base incorporated into their housing to counter external reverberation.
They are low powered peaking at 20 watts per pair but pack a high-performance punch. Enhance gaming produce some of the most prestigious lines of gaming peripherals and dominate a large part of the market. This set is an entry-level model aimed at providing an accessibly priced solution for those who want bolder clearer audio that anyone can afford.
They are Bus powered, they have In-line volume control and feature striking red LED lit rims and highlights.
Pros:
+ Built in subwoofer (dual drivers).
+ Low price.
+ Low watt.
+ Cool LED's
Why We Liked It - They have the advanced features of Enhances premium products essentially downsized at a lower wattage to lower their retail to a pretty unbeatable level.
Another gaming set designed by top gaming peripheral suppliers is this fantastic, newly upgraded 2.1 system model from Genius. They are highly durable with a monstrously robust and edgy look which incorporates blue pulsating LED lit satellite centers.
The stylish casings house some premium parts designed with game-play audio in mind. They are ergonomically sized and provide as much power as possible for a compact system. They capably deliver unbelievable surround sound to your gaming experience.
They come with a wider range of input and output connections making them a very versatile option. The drivers are high-quality and perform impeccably well. The full range sound is well balanced and whilst they are designed for pristine game audio, they are suitable for a range of multimedia sound. They have wide compatibility, including notebooks, pad, laptop as well PS3/4 Box 360/ONE WII and much more.
They pack a peak power of 45watts per pair, which is 20% more powerful than the previous model.
Pros:
+ 2.1 system (subwoofer).
+ Multiple connections.
+ Adjustable volume and bass controls.
+ Ultra Rigid MDF wood cabinet.
Why We Liked It - They are very well designed, super versatile and have a rich deep bass with stunning good looks.
Back to Razer for an alternative model from their popular Chroma enabled line. They deliver exceptionally clean and natural sounding audio because of their expertly optimized drivers. They are just 3 inches and composed of custom weaved fro glass fiber providing excellent rigidity. Their engineering and composition enable high performance. They have a super wide sound field with positional accuracy for a more realistic gaming experience. The deal exceptionally well with mid to high frequencies giving more detail in the sound.
They feature rear-firing bass ports, for increased bass frequency response and overall richer audio. The bass can be adjusted incrementally with the bass knob, it has automatic gain control allowing users to shape their low end fro ground shaking rubles and quakes to an understated hum. Ideal for late night gaming sessions.
They are bus powered, Mac and PC compatible and have the advantage of Razer Synapse unified configuration for next level performance between your computer and its peripherals.
Pros:
+ Rear firing bass ports.
+ Competitively priced.
+ Positional.
Why We Liked It - We love the cannon like design of these little guys they are only around 9 inches tall but the skinny stands mean they take up very little of your gaming space. The Chroma ability makes them a stylish audio-visual addition to any man cave.
The z200 makes for another marvelous multimedia choice fro Logitech's many speaker systems. They are a very low priced pair, the speakers feature a dual set up, with one passive and one active driver in each. They pump out around 10 watts peak power each for great stereo sound with admirably audible clarity.
The two driver work in unison covering a broad frequency range and delivering balanced room-filling sound.
You can use them with multiple devices, laptops, smartphones, and tablets and you can also play audio from multiple devices simultaneously.
The controls are conveniently located and are of a 'fingertip touch' design style for complete ease of use. The pair also features a handy headphone jack for private listening, when necessary.
Pros:
+ Rich tones.
+ Cheap and cheerful choice.
+ Adjustable bass.
+ Dual driver setup.
Why We Liked It - They make for an awesome stock replacement pair giving you a much needed upgrade for around 20 bucks, making them unbelievable value for money.
9. Creative Labs 51MF1610AA002 GigaWorks T20
Another shining example of affordable high-quality computer speakers is these 2.0 system set from none other than the peripheral pioneers hard at work for Creative Labs. They are a fab newly upgraded model for their quality GigaWorks T20 series.
The engineers have enhanced the lower end response with their proprietary BasXPort technology which is what allows the pair to deftly deal with deep, high impact lows without the aid of a dedicated subwoofer.
They feature a front-mounted volume bass and treble controls alongside an auxiliary input for your headphone listening needs. They are really well laid out great to look at with their curves, and easy to use.
Pros:
+ Newly upgraded.
+ BasXport tech.
+ Won't break the bank.
Why We Liked It - Each speaker delivers a deceptively powerful sound from just 28 watts of power which we think is astoundingly good.
10. Gogroove BassPULSE 2.1
The BassPulse 2.1 system from GoGroove is a fitting product to end our reviews with. It is a very competitively priced, exemplary model with striking aesthetics, with its blue LED glow lights.
The speakers are angled ever so slightly for optimal audio projection and their bright lights pulse and flare to the audio when the bass equalization is above 80%.
The 40mm driver left and right satellites have been paired with a meaty 101mm dedicated side-firing subwoofer, which together provides rumbling bass and well defined mid and highs for a well rounded balanced stereo sound.
They are bus powered, the neodymium satellites are 5Wx2 add to that the 10W sub and we see these guys peaking at 40 watts. They are very well designed to have quality circuitry and have a good overall frequency response.
They set up in seconds, feature easy access front loaded volume adjust controls and provide impressive room-filling audio with top-notch bass.
Pros:
+ 40watts.
+ Side-firing subwoofer.
+ Affordable price.
+ Stunning looks.
Why We Liked It - They are an extraordinary set visually and they sound great the bass has great presence and they ring in just a smidgen below the asking price the other 2.1 systems.
Headphone Capability - Are you a big fan of gaming late into the night? It may be worth looking for a speaker system that has an embedded headphone jack so that you can easily switch between external output and sound playing through your headphones. Your neighbors and family members might just thank you for having the flexibility.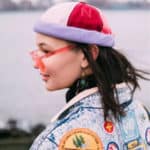 Gaming Speakers Buyers Guide
What to look for in Gaming Speakers?
When you are looking for gaming speaker you will probably have your eyes on something smaller, and lower powered than someone shopping for a home theater surround. You will likely want a 2.0 or 2.1 system to satisfy your bass requirements.
Something more compact keeps a desk less cluttered which is a no-brainer if you want ample mouse and keyboard room to game in comfort without your speakers literally cramping your style.
One space-saving solution is to get a sound-bar system, as it makes use of an otherwise wasted space below your monitor screen and hides away the wires as well.
A lower powered pair might sound disappointing, but they ultimately free up more power from your computer, ensuring that your hardware is focusing its power on processing your software for the best FPS manageable.
As we briefly mentioned for many, the gaming experience is improved by linking audio to 3D visuals for that immersive POV. The more realistic the better, but the best sound effects in the world will sound flat and synthetic or tinny or distorted on a poor quality set of speakers. So for gaming needs quality is key.
Of course, the level of quality you can get your mitts on is inevitably going to be limited by your budget.
Fortunately, the speaker industry is a highly competitive one and these days you can typically get yourself an impressive pair for around the hundred dollar mark.
Game sound effects can often be quite demanding of your speakers' drivers, just like the movies they use lower end frequencies for excitement (and to scare you) and higher-end frequencies for suspense, details, and voices. Having dual drivers is preferable to delegate the workloads of the mids and highs for better efficiency, but most important of all is the crossover circuitry to sort the frequencies to their dedicated drivers and blend the points between at which their responses cross-over one another.
Bass in a small containment is always subject to a lot of unwelcome vibration which causes buzzing and distortion so the subwoofer enclosure needs to be vented or ported in some fashion for any decent set of speakers.
Gaming style preferences are really down to the individual, we review many speakers for their fidelity and clarity however there are those who like to feel the air move, as it adds a tactile experience to the game immersion.
If you like clear noise-free bass look for the best enclosure designs if the distortion adds to the madness go for a higher watt woofer.
What is a gaming speaker?
A gaming speaker is a speaker which has been tailored to suit the conditions presented by a heavy gaming session. They are typically smaller and will have many optimized features on board to master frequency response, free of distortion in a high-performance manner but without demanding too much processing power from your computer.
Many top audio electric manufacturers develop and produce exemplary speaker models, some of them at the end of the day just won't cut the mustard when compared directly to those who have been engineered by companies who are specifically gaming oriented.
Why do I need gaming speakers?
The honest answer is you don't many gamers prefer headsets for multiplayer RPGs so that they can utilize team-speak functions, however, if you like to play solo having a decent set of gaming speakers really is a bonus.
In fact, many people use headphones for the ability to hear clearer, vital if you need to be able to pick out the distinct gunshots in the distance. Fortunately in recent years some of the speaker models being developed especially by professional gaming peripheral manufacturers we are seeing some top-notch surround systems 2.1 and higher which deliver the same spacial audio clarity, without a heavy investment.
If you fancy having friends over to watch your skills first hand or to take turns at game-play, then gaming speakers are once again a necessity.
It is amazing the wonders a decent upgrade can do and if you play a lot of consoles having dedicated surround speakers can be pretty mind-blowing in comparison to your built in TV speakers.
What is the best computer gaming speaker?
As we have explored some very different options we are going to break our best gaming speakers into 3 main categories. Our first being best value for money, for which our clear contender is the Logitech Z200 entry-level model with the lowest retail price.
The best in terms of quality of sound we find ourselves leaning towards the Razer leviathan 5.1 sound-bar but it is on the pricier side.
A good 2.1 set which is incredibly well made and priced straight down the middle of the other two is the Bose set, the companion series has been incredibly well received and they certainly make for a great model. If you want something a with an edgier aesthetic the GoGroove BasPulse2.1 set are eye-catching robust and just a tad cheaper.
Conclusion
We have looked a good range of affordably priced speakers which all tick different boxes of criteria which we have deemed essential to gaming use. 2.0 systems tend to be the most frugal option, if their attractive price tags reel you in, make sure they have adequate measures in place to deal with the bass frequencies.
Enclosures should ultimately be ported or vented in some fashion, to help prevent unwanted buzz and distortion at max volumes. This is really important because a lot of RPGs will utilize loud and sudden low-end sounds, to add to the intensity of the immersion
A 2.1 system with a designated low-end driver (woofer or subwoofer) will likely be far better equipped for bass and therefore handle more efficiently.
As you will probably have seen from today's gaming speaker reviews there are some great products on the market to choose from, it really comes down to space you have available your allocated budget, power preferences, and connectivity requirements.
Expert Tip
Sometimes less is more when considering the power of a subwoofer, a compact and low watt choice will suffice perfectly well in most rooms if they are well designed with appropriate enclosures for maximizing bass clarity.
Did You Know?
Some console gamers will maybe fancy checking our bookshelf speaker reviews, as sometimes opting for a larger home system setup can really help bring games to life. In terms of 360 degree sound a 5.1 or 7.1 system will improve
If you've enjoyed this review by Music Critic, please leave a positive rating:
[vc_separator