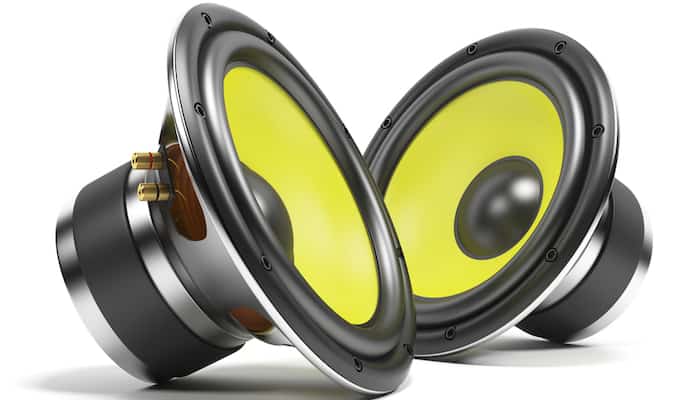 For many people, the most important aspect of any car stereo setup is the bass. Others prefer epic proportions, and some might go for volume over anything else. Whatever your sub-woofing needs, we've compiled a list of the 10 best subwoofers for cars.
We've sifted through the most popular car subwoofer purchases to find the best ones available on the current market. Below, we've translated those alien-like specifications into something that makes much more sense. Regardless of how much air pumping, trunk thumping, or sonic bass boom you fancy, we've got you covered.
We think you'll like: 6x9 Speakers
We'll explore some different aspects surrounding these thumping car speakers, including size, power, and their enclosure casings. These are things you should understand and consider before you decide on the best subwoofer for great bass in your car. So let's look at the 10 best power subs.
Looking for a smaller option? Try these top-rated 6.5 speakers.
At a glance: Our top 3 picks
Your shortcut to our team's top 3 recommendations
View The Best Subwoofer For Car Below
1. Alpine SWR-12D2 Type-Rz
This pick from Alpine is a bare subwoofer; you'll need to source or build an enclosure for it. It measures 12 inches In diameter and, given the idyllic box, will seriously rattle your ride. Looking for bigger subs? Check out these 18" subwoofers.
The cone is composed of a pulp that has been treated with Kevlar for extra stiffness and durability. The surround is formed with trademarked Santoprene. It sits in a progressive cone spider cast aluminum frame mount. The dual 2-ohm voice coils are over-sized, high temperature, and altogether great quality.
This car subwoofer has a great low-frequency response of between 24 and 200 kHz, making it perfect for producing whopping great bass pulsations. If you love bass, this could be the best car subwoofer for you. Its power handling is from 300 to 1000 watts RMS power - 500 per coil. Its peak power goes up to 3000 watts. It's sensitive to 84.7 decibels
Its mount depth is 6-3/8 inches and the cut-out diameter 10-7/8 inches.
Most customers have opted for reflex system design enclosures over solid sealed enclosure products to pair with this car audio subwoofer but both report satisfaction.
Pros:
+ 1000 watts RMS power.
+ Solid and rugged system design.
+ Beastly bass.
+ Dual voice coil and 2 ohm.
+ 3000 watts peak power.
Why We Liked It - As our Editor's choice, this subwoofer is a great pick, ideal for serious bass-heads. The duel voice could and 2 ohm are great features. We suggest a reflex case for sound quality as it's pretty hardcore.
This listing is for a complete package which consists of an MTX loaded car subwoofer sound system.
The manufacture has made this an effortless install and taken care of the math and logistics to find the idyllic enclosure for housing the Terminator subwoofers so they can move with far less power guzzling.
They handle 500 watts RMS power, totaling 1000 RMS power at 2000-watt peaks. They have polypropylene dust caps for added durability and incredibly lightweight. They also incorporate a mechanical cooling processor (Spider Plateau Venting) which refreshes the air intake around the coil to compensate for heat build-up.
Pros:
+ 2000 watts peak.
+ Cooling incorporated.
+ Dual 12".
Why We Liked It - The cooling system is this subwoofer is great, as it means it won't ever overheat. If you're worried about your subwoofer getting too hot, this is the best car subwoofer for you.
The JBL CT-Bass Pro12 is already housed in a tailored companion enclosure, which has been optimized for efficiency to provide the clearest bass sounds. This subwoofer includes a reflex style enclosure with a patented Slipstream port for minimizing turbulence and preventing compromised audio quality.
This 12-inch subwoofer features a polypropylene cone with a rubber surround that provides resonance dampening. The over-sized dual-stacked magnets increase magnetic flux. The cones motions are controlled by the patented GT Bass Progressive Spider, enabling high excursion listening.
Subwoofer coils are subject to heat accumulation when used at high volumes for long periods. JBL has tried to combat this with a vented pole piece, which improves the power handling at low power compression.
This subwoofer has a built-in amplifier running 150 Watts RMS/450peak and remote controls for adjusting the bass accordingly. This will create great sound.
Pros:
+ Built-in cooling solution
+ Own amplifier.
+ 450 watts RMS peak.
+ Polypropylene cone - rubber surround.
Why We Liked It - With a rubber surround polypropylene cone and all those watts, this is one of the best car subwoofers. This rubber surround subwoofer provides distortion-free bass at a high output. The housing has been systematically optimized - your car audio will sound incredible.
4. MTX Audio 5512-44 5500
Another 12" Bass speaker from MTX audio here. This time, just the car audio subwoofer itself ready for custom installation. It's a dual 4-ohm woofer and features MTX's Spider plateau venting to keep the driver cool and ultimately noise-free at loud levels. The venting helps keeps warm air away from the voice coil.
This subwoofer harbors an inverted apex surround which is narrower than their typical roll surround, allowing a greater surface area for the core. This enables the subwoofer to displace far more air. Their integrated t-yoke heat-sink is inside the motor structure. This subwoofer absorbs heat from the voice coil and radiates it out from the back-plate, making for an efficient thermal management technique. This car subwoofer also has easy to connect compression terminals for simplified installation.
Pros:
+ Dual 4 Ohm.
+ Thermal management and spider plateau venting.
+ 400W RMS power.
Why We Liked It - The key system design aspects (including the voice coils and 4 ohm) ensure it delivers exceptional bass frequency responses, with both high and low frequencies.
Kicker is going above and beyond to proficiently produce some excellent speakers, made with good quality components that provide an affordable option to the masses.
This subwoofer makes a great addition or replacement subwoofer. The 8-inch design means it's sufficiently versatile for sealed enclosure subs or vented enclosures. In terms of watts, this subwoofer reaches 300 watts RMS and a peak watt power of 600.
This subwoofer has a great design, with a 4-ohm dual voice coil and a magnet structure. This makes power handling and control effortless. This subwoofer is great to give you the sound you crave in long car journeys.
Pros:
+ 600 watts peak.
+ Highly responsive.
+ Super durable.
+ 300 watts RMS.
+ Dual voice coil.
Why We Liked It - Paired with good sealed enclosure set-ups, this is a great subwoofer for the money.
Next up is a 10 inch shallow mount subwoofer from Pioneer. It utilities a mica-injected resin cone structure which provides greater cone and gasket surface at the same external dimension.
This shallow mount subwoofer has been formed using Pioneer's flexible MICA injection-molded resin for accurate reproduction of quaking bass. It has a frequency range of 20-125 kHz and all in all, it's a pretty powerful speaker, especially considering its top-mount depth is just 3-1/8".
This shallow mount car subwoofer provides excellent value for money, as well as the opportunity for you to get creative with your own home builds.
Pros:
+ Affordable.
+ Resin cone.
+ Top mount depth 3-1/8".
Why We Liked It - This Pioneer shallow mount car subwoofer is competitively priced at the low end, but we feel this one is heavy, solid, and well made and will provide rattle-free, bass heavy sound.

7. Kenwood KSC-SW11 Compact
If you aren't looking to set any SPL records and are, sensibly, after a decent bass boost for your vehicle, this product is probably more up your street. Kenwood's KSC-SW11 is a fantastically compact space-saving solution. Its low profile is unbelievable. It can be placed under seats or in tight spaces. It comes in a solid, well constructed durable subwoofer enclosure and is powered with its own built-in amplifier. Kenwood's KSC-SW11 runs at 75Watts RMS power with a maximum of 150 Watts. It also comes with remote bass level control. It's simple to install; the device only needs connecting to your car battery, grounding, and wiring to your head unit
This one is an excellent car subwoofer. It makes for one of the smallest powered bass boxes going. The power subs pack a punch, despite their tiny size. Some people are even opting for 2 as they have such small footprints and are easy to hide - making for the perfect car stereo system. Now, they don't move a lot of air and are probably not much of a match for a high-end couple of 12's, or 10-inch, but they extend the low register and provide a decent bass sounds boost. As this car subwoofer is by Kenwood, in terms of durability, it will last a lifetime.
Pros:
+ Compact footprint.
+ All in one car audio subwoofer system.
+ High-quality construction.
+ Connect to car battery, grounding and wiring to head units
Why We Liked It - Kenwood's KSC-SW11 is a prefect car stereo for those with limited space. It's also for those who aren't looking for anything overboard that requires mounting, and sucks their batteries dry while it wobbles the windows. It's great for someone who appreciates a bit of bass in their travel playlist.
8. Dual Electronics BP1204
This set of car subwoofers are high-performance and studio-level quality. They are 12 inches in diameter an have a whopping 1,100 watts peak power between them both. Each is 600 watts RMS power at a level of around 4 ohm impedance.
These car subwoofers have increased output capabilities, thanks to their specialized tune port that include 2.5 voice coils and cones, brushed with aluminum.
The computer-aided system has been engineered for unrivaled optimization and unbelievable efficiency. The subwoofer enclosure is High-grade extra strength MDF and has a carpet for sound streamlining. They also have ventilated control circuitry, which is all viewable through the stylish curved Plexiglas. This provides a 'surreal viewing experience'.
Pros:
+ Dual 12" band pass subwoofers.
+ Carpeted subwoofer enclosure with reinforced construction
+ Built-in crossover for installation simplicity.
+ 600 watts, and 1100 watts peak power.
Why We Liked It - These are the best car subwoofers for accurate bass response. The built in crossover means it will be easy to add to existing speaker systems. These ones are as great looking as they are sounding.
This is another excellent subwoofer for your car.
This is an Output Class D amplifier, capable of 300 watts and 1,100 watts peak power. It has high sensitivity woofers that work best especially in small enclosures - this is what makes these subwoofers so perfect for your car.
It has a variable bass boost of 0 to 12 dB (40Hz to 100 Hz). This provides greater sound control. You can adjust the input gain using the bass remote knob or the input gain control. You'll find this on the side panel of the enclosure.
The design of this subwoofer is excellent. The trapezoid shape is highly rigid, increasing the flexibility of installation. Speaking of flexibility, you can install them in the cabin, in the rear, front, or under the seats. It doesn't matter where, as this subwoofer is durable enough for wherever you want to install it.
Pros:
+ Class D.
+ Good sound control.
+ 300 watts and 1,100 W Peak Power.
Why We Liked It - Make sure you get the best sound in your cars with this Pioneer subwoofer. It provides some mean mega bass sounds. It wont set you back too much. We think sticking to the recommended subwoofer enclosure suggestion will provide excellent car audio. It genuinely is one of the best car subwoofers to buy online.
Last on our list, but by no means least, is this 12-inch dual subwoofer enclosure from Kicker, a company that is taking the subwoofer industry by storm.
The enclosure itself is a front-facing reflex design with a tuned port. It has been factory built and tuned. The construction is high-quality. The tuning of the enclosure provides an even better bass response. It is high density carpeted MDF. The size has been specially calibrated for optimal use and it's a re-manufactured product benefiting from a host of improvements.
It houses 2 x 12-inch subwoofers, each capable of 1,000 Watts at an OHMS impedance of 2 ohms, totaling a tremendous 2,000 Watt peak RMS. It has solid brass terminals and makes for an easy install.
Pros:
+ 2,000 Watts peak.
+ All in one option.
+ Easy install.
Why We Liked It - It's an affordably priced dual subwoofer option which offers simple installation. There's no need for calculations or customization. It offers optimal savage bass pulsations effectively out of the box.
Car Subwoofer Buying Guide
Before we conclude our reviews, we're going to take a moment to go through some of the key information related to subwoofer purchases in an effort to wheedle out what's important to know before you buy.
What is a Subwoofer?
A subwoofer is a very low frequency producing speaker, containing one or more woofers, sometimes called a loudspeaker once housed. They are specifically designed for handling bass sounds and sub-bass frequencies. They are used in many set-ups from desktop computer speakers, home cinemas, home studio speaker set-ups, concerts, festivals, and raves.
While standard speaker sets will cover a broad range of audio output, any setup will have an instantly noticeable difference with the inclusion of a subwoofer handling the lower, thumping ranges.
They are built to capably withstand the sound pressure level (SPL) of low end sounds played at high decibels and were originally created to save traditional speakers from lower, louder damaging frequency pressures.
They move large volumes of air and often require a lot of power. It's fairly simple to generate high volume bass over a small bandwidth and many cheap car subwoofers to buy do exactly this. Creating studio-level sub-bass is a little trickier and requires more powerful amplification, a larger bass driver, or several small ones.
Subwoofers all function in a very similar way but the styles and specifications differ and it can sometimes be difficult to pick apart the pros and cons.
How Do Subwoofers Work?
Most commonly, subwoofers are electromagnetically driven. They house a stiff cone driven by a single voice coil centered in a magnetic field.
The single voice coil is attached dot the back of the speaker cone. It moves when current flows through it. pushing and pulling on the driver cone which moves in and out like a piston, creating waves as it's in motion.
Shape
Typically, they're circular, as with the majority of speakers. This is an ideal shape for funneling directional sound where you want it. It also produces a cleaner sound far less distorted than other shapes that some companies developed In the early 2000s.
Other shape options were initially explored for car use because, ultimately, a car is not well suited for typical loudspeakers. A decent loudspeaker actually requires a fair amount of space to function to the best of its abilities. Bass cabinets (bass bins) that house loudspeakers for concerts are sometimes larger than the trunk of a car.
The displacement volume is what reproduces loud low frequencies and without space, the displacement is not as impactive as it could be.
Non-circular shapes allow for bigger cone areas in limited mounting space situations but at the sacrifice of sound quality. The louder you go, the more the sound will distort.
Another key factor with subwoofers is the room they're in and it's natural acoustics. You can probably guess that a speaker for a vehicle isn't suited for as an auditorium or theater.
Sizes: 10-Inch Subwoofers Vs 12-inch Subwoofers
The range of sizes goes from 8-inch subwoofers to 21-inch subwoofers for typical commercial use. When it comes to using in cars audio, by far the most common is the 10-inch or 12, with outer measurements respectively in inches. The best car subwoofers aren't always the biggest. There will only be minor differences within the actual audio outputs in the different sizes. This is usually more dependent on power, but as you increase the size of the bass speakers itself you will, of course, increase its output.
One key factor to bear in mind when picking the size of your speaker set up is to make sure the boot of your car is large enough for any power subs you want to be installed. You must bear in mind, enclosures will also take up further space.
Type Of Enclosures
Some subwoofers you buy are housed in an enclosure already; others are solely the subwoofer, which you can add to your own build or replace previous woofers.
The enclosure style can actually have more of an impact on the performance of the subwoofer than the diameter size difference. Speaker enclosures in general (all types) need to be able to successfully separate the sound waves projects forwards from those at the rear because otherwise, the two cancel one another out. They will be out of phase and produce a terrible bass response. This is especially true for low-end frequencies. So the right enclosure is all the more important for subwoofers.
Usually, the drive of a subwoofer is placed hidden inside of a bandpass cabinet a tuned box that can resonate efficiently. This is what we see in typical home set-ups. The majority of powered car subwoofers adopt a reflex design over a closed box design.
Bass reflex enclosures are sometimes called ported enclosures, vented box or even reflex port. Ported enclosures employ a hole with a section of tubing or pipe; the two work in harmony like a pipe-organ. If they are built with accurate volume calculations, they can be louder than a sealed enclosure.
The math, for those interested, is explained in this Youtube video
https://www.youtube.com/watch?v=VDHhCsNoSpc
The equation is based on the Thiele/Small parameters. It also takes into consideration Hoffman's Iron Law. The fundamentals of the equation take into account the projected area of the diaphragm of the driver, the mass of the parts, and the compliance of the driver's suspension. it also takes in the mechanical resistance, the voice inductance, the volume of air, and much much more.
Passive Vs Active?
Passive subwoofers contain a subwoofer driver which is powered by an external amplifier. They typically have internal passive crossovers. Active ones have a dedicated subwoofer amplifier built-in.
What is the RMS Power Rating?
RMS stands for Root, Mean Square is a statistical measurement of voltage or current. The RMS power rating with powered car subwoofers gives an indication as to the highest possible measure of continual power which the speaker can handle.
How to Install A Subwoofer In A Car?
How you should install your subwoofer depends on whether you bought a bare subwoofer or one already enclosed. As installs go, they are relatively simple. Thanks to the popularity of the SPL wars, there are copious amounts of instructional videos available online.
https://www.youtube.com/watch?v=TzPbEaKmQyg
If you are still unsure, you can seek a professional. There are millions of garages or mechanics worldwide, all capable of putting in all the connections and making sure everything is neat and working.
Conclusion
As you have probably concluded yourself, there is far more involved in choosing the right subwoofer for your car than perhaps first gleaned. If you're struggling to make sense of the logistics behind your own type of enclosures, opt for something already contained. If you're building your own, seek some advice. Fortunately, today, the popularity of the SPL wars has led to a whole subculture of extreme car 'suping.' This means there is a wealth of material on the subject available online. You can learn from others' mistakes and benefit from their trial and error knowledge. There are some amazing low-cost car accessories out there to give your car a sufficient bass boost.
It's important to remember that less is sometimes more as far as audio quality is concerned. The next important factor to remember is that the enclosure really is key. The most expensive speaker from some of the best car subwoofer brands, in the wrong enclosure, will sound awful and vice versa. Size and money aren't factors that weigh in too heavily here when it comes to sound. We hope we have provided you with sufficient food for thought and a few fantastic options to consider for purchase.
Expert Tip
Although the human ear only detects a certain range of frequencies using sub-bass tracks and amplifiers, loud volumes can have irreparable effects on your hearing. We ought to warn you about the dangers of listening within an enclosed space, such as your car. You're at risk of Tinnitus, as well as low-frequency hearing loss altogether. The sensitive hairs in your ears die over the course of your life as they are exposed to individual frequencies. Overexposure reduces longevity. If you listen to a lot of basses, ultimately, you will lose your lower range of hearing earlier than most people begin to.
Did You Know?
Subwoofers are part of speaker amplifications' long history and some of the biggest were originally created in the 60/70's for adding extra tension in movie theaters for jump scares.
If you've enjoyed this review by Music Critic, please leave a positive rating: