We are back sifting through soundbars in today's article, this time with a more specific configuration in mind as we endeavor to shortlist the best sounding bars.
We have written a handful of articles on the subject, so some of you should be up to speed on their best attributes and just why they make for a creative home-audio solution.
We are highlighting a great array of soundbars we think are best. Their sizes make them a compact and convenient alternative to a traditional large surround-sound setup.
We will review five which we think do an admirable job of delegating the different frequency ranges to the right speakers for efficient audio handling and better reproduction.
At a glance:

Our top 3 picks
Our team's top 3 recommendations
Best Overall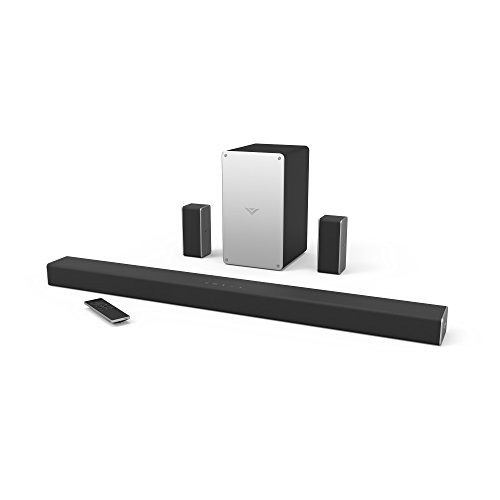 VIZIO SB3651-E6 SmartCast 36" 5.1 Wireless Soundbar

Dedicated ported subwoofer.
Decent rear speakers.
Best build quality.
SmartCast remote app.
Premium Quality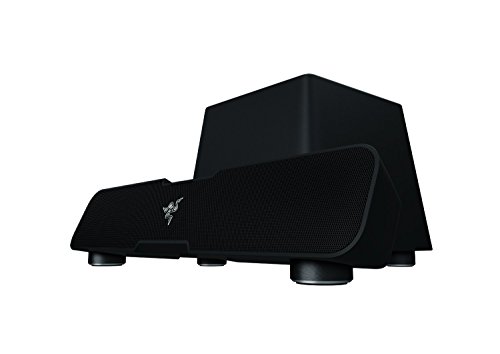 Razer Leviathan: Dolby 5.1 Surround Sound

Dedicated ported subwoofer.
Decent rear speakers.
Best build quality.
SmartCast remote app.
Great value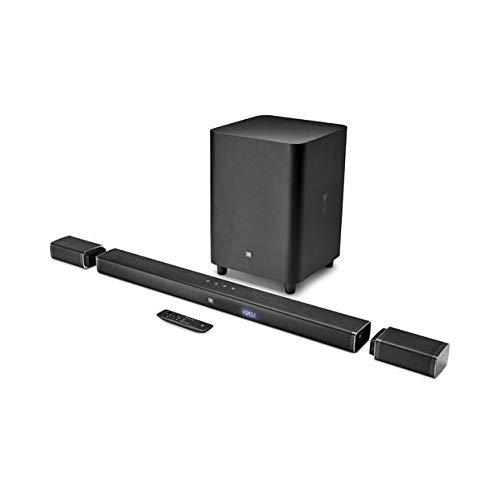 JBL Bar 5.1 5.1-Channel Soundbar

Dedicated ported subwoofer.
Decent rear speakers.
Best build quality.
SmartCast remote app.
View The Best Soundbar Below
1. VIZIO SB3651-E6 SmartCast 36" 5.1 Wireless Soundbar
First up a pretty impressive package from the engineers at VIZIO which consists of a soundbar and sub, with dual rear speakers.
All are well-designed and constructed; the rears are wired and the sub is wireless. The soundbar features a decent-sized port for dispersing rear waves which may otherwise cause distortion.
This soundbar houses a full-range pair of left and rights for front central positioning. They have a good balance and definition, and they aren't overworked because the dedicated subwoofer takes charge.
These soundbars support a host of technologies, including DTS TruSurround, DTS TruVolume, and DTS Studio Sound. It has Wireless LAN and Bluetooth connectivity as well as USB, optical, HDMI, and ARC.
Its SmartCast feature allows you to conveniently control the audio directly from your mobile by downloading the SmartCast application. The audio EQ can be remotely adjusted within the app, meaning you can tailor the soundbars to your preferences for a range of listening styles, including TV, movies, and music.
Pros:
+ Dedicated ported subwoofer.
+ Decent rear speakers.
+ Best build quality.
+ SmartCast remote app.
Why We Liked It - It is an affordable 5.1 setup with a capable soundbar that sports a variety of connections and supports a range of surround sound technologies.
2. Razer Leviathan: Dolby 5.1 Surround Sound
Next, we have a combination-soundbar and subwoofer, with features including a forward-facing, direct surround system set-up, constructed with 2 dual sets of speakers concealed within.
This kind of setup is better suited to a bedroom or office and ideal for gaming needs. Whilst it doesn't provide a rear for dimensional audio, it is still a phenomenal option.
The soundbar's full-range drivers measure 2.25 inches but pump out remarkably rich audio and the subwoofer adds authenticity to the low-frequencies giving users a better in-game immersion.
The sub is downwards firing and has a cool, flattened pyramid shape. It harbors a 5.25-inch cone which provides bass with great impact and nominal harmonic distortion.
The pair is built with a high level of quality control. The grilles are hardy and yet have modern aesthetics, sporting the Razer peripherals logo in the center.
They are engineered to function with Dolby Virtual Speakers, Dolby Digital, and Dolby Pro Logic II, as well as running Apt-X tech, which helps keep the wireless stream free from stuttering on you.
They have 3 equalization preset modes and sound formats (game, cinematic, and music) built-in for effortless switching between audio profiles.
Pros:
+ Compact option (no rears).
+ Great definition.
+ Preset EQ modes.
Why We Liked It - Razer are an industry bar-holder in the computer peripherals world, the soundbar has impressive audio and the EQ switching gives them great versatility. See more soundbars under $500 here.
3. JBL Bar 5.1 5.1-Channel Soundbar
This next option is a little more expensive but innovative, as it's a combination of a soundbar and sub, providing 2 optional rears as part of the soundbar's unique design.
Either end of the soundbar itself detaches from the main central section to be positioned as your dedicated wireless rears. These battery-powered soundbars charge to provide around 10 hour's listening time independently from the core-piece.
The soundbar houses 2 further full-range speakers to give you front-on audio. They have great balance and definition and are supported by a very powerful subwoofer.
The wireless subwoofer is equipped with a large-aperture woofer cone, measuring 10 inches, and delivers bass driven-audio with amazing depth and room-filling rumbles without any distortion.
It has a range of inputs, including 4K connectivity with 3 separate HDMI slots for ultra-High-Def listening.
It benefits from JBL's SoundShift feature for simple switching between TV and other devices. The device's Bluetooth is very capable, as it remembers previously paired products, and is programmed to be compatible with the majority of TV remotes, making controlling it easy.
Pros:
+ Innovative system.
+ Large subwoofer.
+ Impressive, powerful audio.
Why We Liked It - We like the design decisions it gives your rear speakers a tidy storage solution. The system is very well-manufactured and the audio is premium quality.
4. Samsung HW-N650 Panoramic Soundbar
We are finishing up with the best panoramic soundbar from the Samsung category. Although it has been developed for the best synchronicity with their brand televisions, it is as widely compatible as the other soundbars we have selected.
This high-end soundbar borrows previously best hardware from existing Samsung soundbars but has broadened its capabilities with the addition of Acoustic Beam technology. It projects audio in a panoramic manner, following the audio direction in relation to the visual imaging on screen.
The soundbar is rectangular and stylishly finished, with an all-metal construction and a weighty structure for greater longevity. It houses 3 forward-firing speakers which have a dual-nature (tweeter and mid-range cones). This gives the soundbar its own central channel, as well as to left and right.
Additionally, these soundbars have 2 upwards-firing tweeters that are directed into 2 pipes with dispersion-holes punched along the top.
Audio is then directed and bounced around the room to fill it acoustically. It gives a realistic, immersive feeling, rendering the audio-reproduction far more lifelike.
With 5 soundbar speakers, it is a very effective soundbar that effortlessly copes with the mid and high frequencies, leaving the rest to the capabilities of the wireless, active, independent subwoofer.
The subwoofer has a great presence and gives the best dynamic high-impact bass with inaudible harmonic distortion (less than 0.5%).
It runs at 360 watts, has a dedicated remote control and boasts a range of connectivity settings as well HDMI ARC, optical digital, 3.5mm audio jack, USB, and Bluetooth.
Pros:
+ Sturdy construction.
+ Advanced soundbar speaker array.
+ Acoustic Beam technology.
Why We Liked It - It is a great upgraded system which provides powerful audio that benefits from the acoustic beam tech to produce realistic surround sound.
Soundbar Buyers Guide
A surround sound set-up is the best way to cover your bases and far more capable than a minimal 2.1 system, without being as grand as a 7.1 setup.
It is a far more realistic configuration for a smaller living space, best for apartments with neighbors you want to keep sweet.
What to look for in a soundbar?
A compact soundbar is a smaller, often cheaper way, and therefore the best to accommodate a surround listening experience.
Soundbars may come as a set, with dedicated rears or subs to work as a team, or the soundbar itself could house the entire setup.
If the space you are shopping for is particularly confined then it will probably be best to explore the latter.
In either case, durability and engineering are key as they will need to last as long as possible and be able to support surround-sound technologies such as Dolby TruSound and Dolby Atmos sound.
It would be best to have a separate subwoofer, as a soundbar can't really capably handle bass-frequencies; the speakers need a larger surface area to respond to lower frequency vibrations.
The subwoofer should be somewhere between a minimum of 5 (for compact systems) and 15 inches (for large spaces) in diameter to adequately cope.
It should be built with a bass reflex port or similar venting in place to keep your bass free of distortion.
Conclusion
We have compiled and compared what we think are five of the best budget soundbar surround systems on the current market.
Each of the soundbars offers its own pros and cons but we hope this review has highlighted their best capabilities and what each is better geared towards.
If you are shopping for a bedroom you won't need a large subwoofer. With smart enclosure designs, many today are surprisingly loud and you probably won't find you crank it very often.
If you like to game, you will find that soundbars and subs with additional rears can enhance your gaming experience tenfold.
These bars are better suited to giving you audible directional cues as to where the sound is coming from in your virtual environment.
Expert Tip
If you feel like stepping it up a gear you could have a little look at our Dolby Atmos-enabled soundbar reviews for an insight into just where the home-audio industry is headed.
Did you Know
Atmos takes into account the sound elevation, adding a whole new dimensional quality to the way in which sound and sound effects are reproduced. It was introduced to cinemas in 2012 starting with just 25 locations for installation with more than 4,000 around today.
If you've enjoyed this review by Music Critic, please leave a positive rating:
[vc_separator