Whether you're kitting out your home, studio, or venue in sound equipment with the aim of creating music that sounds great to whoever is blessed enough to listen to it, one of the most important factors you need to focus on is what speakers you're using.
Getting the right speakers is such a critical choice for any situation. If you're in a studio, you need to right speakers that will allow you to hear every detail of your performance for mastering and sampling purposes. If you're performing to an audience, or just enjoying your music at home, you're going to need a speaker that grants you a fantastic listening experience.
This is where the QSC K10.2 comes into play.
This speaker continues the K series product line and is one of their most durable and most powerful speakers to date. If you've heard of the K series before, you'll know they prioritize durability as one of their main design points, and this is evident in this speaker model.
The rugged design means you can take and install this speaker anywhere and everywhere, and it doesn't matter if it gets knocked around and bumped into at a gig or during transit; you can perform safely in the knowledge that this speaker is going to keep pumping and keep on being reliable.
However, compared with other K series models, this one goes a step beyond. It has double the power of your generic 10-inch speaker, a new and improved SPL range, and a greater capability to produce bass tones, all of which ensure you have the very best sound experience possible.
This is then backed by features, such as power boosting, to ensure the clarity of your music is literally perfect, and the DSP management system is simply going to blow you away. If you take a look over to the back of the speaker, you might be a little overwhelmed with all the dials, knobs, and controls, but this is deceptive since this is one of the easiest speakers to use.
You'll also notice the LED screen integrated into the back, which makes managing your controls and features even easier. Using this speaker, you can actually load in numerous factory presets that will automatically change how the speaker sounds, depending on what you want and how you want to listen to it.
There's plenty of room for some exciting experimentation here. You can then take everything a step further with the adjustable parameters; this includes the standard like crossover control, a 3-band EQ, a Delay effect, and much more.
You'll also find this speaker comes with all the connections and ports you're ever going to need, including a mic input and several standard three-pin connections, ensuring you're able to use this speaker in any situation.
Qsc K10.2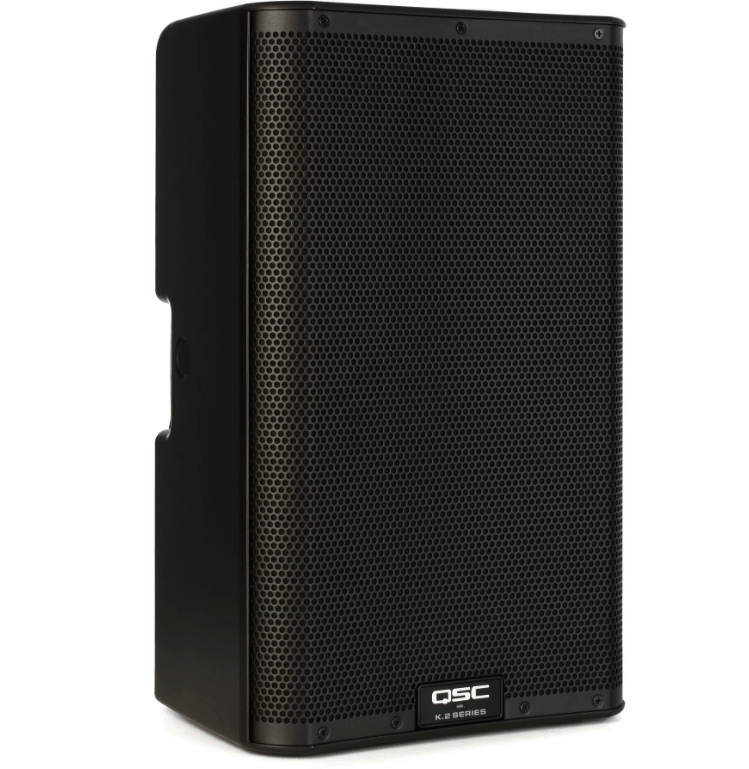 Summary
With all this in mind, it's safe to say you're not going to be disappointed with what this speaker has to offer. As part of the iconic K Series, this speaker is one of the best, especially when it comes to making your sound your own. Whether you're traveling around with this speaker as part of your PA system, or you're enjoying it in a static environment, this speaker guarantees to exceed your expectations.
Pros
+ One of the most durable speakers that you can rely on in any situation. The professional ABS rugged design is more than enough to protect against any knocks and bumps you may come across, as well as ensuring this speaker can last for years.
+ While measuring in with two 10-inch speakers (one LF and one HF), this device clocks in around the 2,000W mark, which is huge in terms of the quality of your sound and the high, loud volumes you'll be able to reach.
+ Comes gig and concert-ready thanks to the dual pole cup mounts built directly into the device. Whether you want this speaker mounted on poles, to a wall, or freestanding on the floor, this speaker is designed to do it without issue.
+ It comes with a ton of customizable options so you can get the sound exactly how you want it. Whether this is using the user-definable settings or the built-in factory presets, select what you want using the integrated LED screen and controls.
Cons
- None! This is easily one of the most popular speakers of its kind, and dozens of solid five-star reviews back up the quality experience that this speaker has to offer.
Why We Like It
It doesn't matter what genre you're listening to or what kind of listening experience you're trying to create with this speaker, the powerful sonic technology, including DMT (Directive Matched Transition) and the DSP, ensure that everything sounds perfect across the entire field of sound you're listening to!
If you liked the article, please leave your feedback.