Join us as we search through some of the worthiest, space-saving speakers on the market in our efforts to crown the best Dolby Atmos soundbar in 2023. We aim to give you all the info you could ever need on Dolby Atmos soundbars you can buy online.
Today with the cutting-edge sound technology of this incredible age in mind, we have narrowed it down to a handful of soundbar-centered audio systems. All of which are well-equipped for home audio and of course coded for coping with the demands of Dolby Atmos.
We have tried to select a few at different budget levels, though for the most-part given what they provide, sound bars retail pretty reasonably, to begin with.
As usual, we have also written up the benefits of these small but terrific speaker types in our detailed buying guide. This is to help assist you in your online shopping endeavors. But first, let's compare our favorite soundbars with Dolby Atmos.
At a glance:

Our top 3 picks
Our team's top 3 recommendations
Best Overall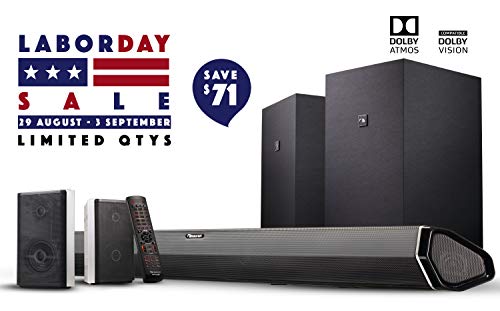 Nakamichi Soundbar System with Dolby Atmos

SSE tech.
Seamless integration.
7.2.4 system Top Pick Virtual surround sound Two rear speakers
Premium Quality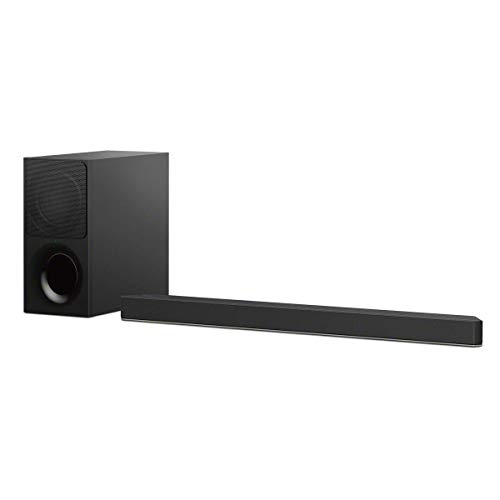 Sony X9000F 2.1ch Soundbar with Dolby Atmos

SSE tech.
Seamless integration.
7.2.4 system Top Pick Virtual surround sound Two rear speakers
Great value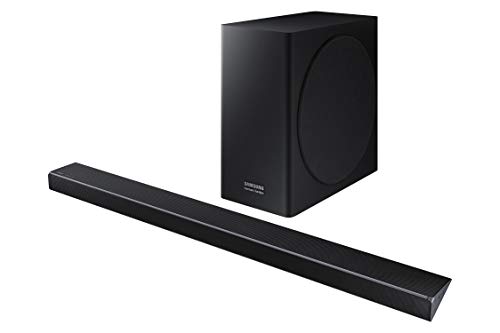 Samsung Harman Kardon HW-Q70R Dolby Atmos

SSE tech.
Seamless integration.
7.2.4 system Top Pick Virtual surround sound Two rear speakers
View The Best Dolby Atmos Soundbar Below
1. Nakamichi Soundbar System with Dolby Atmos
We are opening with our top pick today; an industry first, a 7.2.4, 4K pass-through system with a remarkable 7.2 soundbar at its core.
The sound system itself measures 42 inches and benefits from SSE tech. The Nakamichi Soundbar System with Dolby Atmos harbors multiple reference-grade units which feature surround, spatial, and elevation processing capabilities which allow it to take on Dolby Atmos' 360-degree virtual home audio where possible.
This excellent sound system with Dolby Atmos is joined by two rear speakers which are each equipped with a dedicated tweeter to handle the high-frequency response as well as dual sub-woofers.
The elevation processing adds height into the equation giving vertical directional queues to the sound system on top of traditional panning.
Together they accurately process the positional-object metadata and reproduce the audio within a spacial field accenting were the excellent sound experience has come from concerning the visual stimuli.
These Nakamichi soundbars with Dolby Atmos run at a peak power of 1000 watts, have a max SPL of 110 decibels and are easy to set-up.
Pros:
+ SSE tech.
+ Seamless integration.
+ 7.2.4 system + Top Pick + Virtual surround sound + Two rear speakers
Why We Liked It - This virtual surround sound system with Dolby Atmos is an exceptionally engineered option with advanced processing that can run with just about every Dolby sound tech. This is one of the best Dolby Atmos soundbars you can buy on Amazon right now.
2. Sony X9000F 2.1ch Soundbar with Dolby Atmos
Achieving a true Atmos set-up isn't likely to be cheap and cheerful. However, we have sourced this super option for those with a tighter budget that want to reap the rewards of a more-dimensional listening and sound experience.
The low price tag X9000F wireless surround soundbar is about as bare-bones as it gets from a premium company and Sony has managed to make an affordable entry-level option.
It is a 2.1 audio channel soundbar which comes with a dedicated wireless subwoofer.
This wireless surround soundbar is a slim-fit bar designed for use with the companies X9000F television but is pretty widely compatible.
The soundbar with wireless subwoofer incorporates sophisticated drivers which cope with the vertical elements that Atmos adds into the audio processing department.
It is well-manufactured and well-equipped and serves up excellent full-range audio reproduction with balance and clarity. This excellent soundbar with wireless speaker runs at 300 watts peak power and is easy to set-up and integrate.
Pros:
+ Bare-bones 2.1 soundbar with a dedicated sub.
+ Very low profile.
+ Affordable price tag.
Why We Liked It - This affordable Dolby Atmos soundbar under $300 performs pretty well considering it is less laden with drivers comparatively, providing a lower-cost solution for your Atmos set-up. The price tag is one of the many reasons to buy this soundbar.
3. Samsung Harman Kardon HW-Q70R Dolby Atmos
Next up, we have a 3.1.2 option which consists of a soundbar and sub combo from Samsung.
The Samsung Harman Kardon HW-Q70R is a very low-profile option for more subtle smart home theater integration. It is well-manufactured and capably engineered. The seven separate speaker units within the soundbar are on the smaller side but are very capable.
These Samsung Harman Kardon soundbars are configured as a traditional left-center-right speaker set to provide a front-on, triple-channel solution.
They have a dedicated center of the 7 to handle the mids in a transparent manner, which is excellent for dialogue. There are three for each side which are programmed with a Dolby digital codec. This key feature takes into account directional audio with advanced elevation processing.
The dimensional audio aspects are also aided by the inclination of the design of the bar as well.
The whole Samsung Harman Kardon soundbar has an exposed grille, which makes audio dispersion more efficient and useful it has decent balance and broad response. The sub-woofer has excellent bass handling and is distortion-free.
The Samsung Harman Kardon HW-Q70R benefits from adaptive sound technology for rapid signal analysis and workload optimization, ensuring the relative speakers each play their part and share efficiently. This keeps home audio clarity at its best even at very low volumes.
It has a built-in 4K pass-through and again integrates to UHD technologies without any manual intervention.
Pros:
+ Very compact.
+ 3.2.1 system.
+ Easy installation and auto-integration.
Why We Liked It - The Samsung Harman Kardon soundbar is very capable it features seven driver units which take on the job of what is traditionally handled by three. Having the triple left and right means it can deal with the all-important 3D spatial audio rendering required of Dolby Atmos. Check out the Samsung HWQ-90R as an alternative.
4. Sony Z9F 3.1ch Sound bar with Dolby Atmos and DTS:X
The Z9F Dolby Atmos soundbar from Sony is slightly higher-powered than the X9000F previously reviewed, in direct comparison, it has an extra HDMI input and reproduces audio at a much higher resolution than the other.
It is very well-equipped with three sensitive-broad range driver units. These drivers operate vertically allowing for elevation awareness and delivering audio with spacial awareness perfect for use running Dolby Atmos as well as DTS:X.
This Sony Z9F has a superb sound quality which allows it to highlight nuances even at the lowest of volumes; it gives excellent detail definition and dialogue is impeccably clean.
This Dolby Atmos sound system comes with a wireless sub-woofer dedicated for handling the low-end frequencies freeing up the bar to work optimally.
Pros:
+ High-resolution audio.
+ 3.1.1 system.
+ Quality manufacturing. + Dolby Atmos and DTS:X + Extra HDMI input
Why We Liked It - This Sony Dolby Atmos and DTS:X sound system is very well-manufactured and brings atmospheric listening to the customer.
Dolby Atmos Soundbar Buying Guide
What Is A Soundbar?
A soundbar is a type of speaker, with an extended skinny profile invented to utilize the space beneath your television screen and TV stand. They come in various lengths and make use of an otherwise wasted space.
They generally contain a minimum of 2 or 3 speaker drivers which can be a left and right or replace a typical L/C/R channel speaker.
Smart soundbar products have a smaller stature and these days are pretty capable despite their miniature sizes.
What is Dolby Atmos and How Does it Work?
With any luck, our reviews should have clued you in to some of the advancements Dolby Atmos has brought to the sound experience. We will clarify further before we leave you.
Dolby Atmos is a relatively recent development which has added a whole new dimension to audio.
Where surround sound aimed to refine the directional sound and take it from a simple left/right panning into the realms of reproducing home audio around you by adding in-front and behind into the equation, Atmos adds height which allows for a realistic over-head simulation a genuine 360 sound.
Audio used to be horizontally dealt with, surround made this horizontal line circular as though we were standing inside a hula-hoop and Atmos makes it spherical.
This, of course, is a pretty oversimplified explanation but an excellent way to think about it.
Sound is analyzed in conjunction with the visuals before-hand and tagged with metadata which the speaker audio system can then read and if configured correctly, delegate the necessary sound with multi-dimensional results.
If you have a capable AV receiver, we would suggest ceiling mounted speakers make use of the Atmos over-head special features which genuinely create a 360-degree listening bubble.
Dolby Atmos can be operated with up to 400 separate speaker audio channels to create the most realistic multi-room audio experience, turning a film soundtrack into reality.
What to Look For in a Dolby Atmos Soundbar?
Other than the all-important SSE processing capabilities (Surround, Spatial, and Elevation) which is handled by the DSP chips and circuitry, you are going to want to source a well-engineered, durable option with premium components within the units.
The soundbar should be a good length for your television and should be designed so that it makes good use of the smaller-footprint a soundbar is renowned for.
Ideally, you want to see a mix of driver types within at least three preferably five or seven. This is to help take care of the vertical elevation and spatial requirements.
The Dolby Atmos soundbar you pick should have good sound dispersion. If you are buying a sound system with Dolby Atmos rather than a solitary bar, you will want to check that the bass speakers are equipped with venting/ports. This is to handle the lower frequency response accordingly.
Conclusion
Dolby Atmos is one of the most significant advances in the television-audio industry. The company themselves regard it as the most significant step-up since surround-sound development. It is undoubtedly going to play a large part in the future of media and entertainment alongside another cutting edge tech like virtual reality etc.
We are heading towards an apex, where very sophisticated electronics are marketable on a mass-scale for the general populous for very little investment. This is especially true when you consider the breathtaking abilities soundbars offer-up for the average user.
There are many competitive models on the market. However, those we have suggested and detailed in our Dolby Atmos soundbar reviews represent some of the best-selling models. Soundbars demonstrate the best of their capabilities.
Expert Tip
To take any real advantage of Dolby Atmos settings, we recommend that you will need a minimum of 4 TV speakers (3.1). This is including a soundbar (no matter how packed with drivers). We suggest a dedicated sub-woofer alongside the left, right, and rear speakers in addition to a capable soundbar/central audio channel.
Did You Know
Dolby Atmos was first released to the public in unison with the 2012 picture 'Brave'. Brave was the first movie cut with a multi-room audio Atmos aware soundtrack for the proprietary tech to be experienced in.
If you've enjoyed this review by Music Critic, please leave a positive rating:
[vc_separator