The QSC K12.2 12" powered speaker is part of the acclaimed K.2 series that has been trusted and enjoyed by audio professionals for years. The K12.2 is a 2000-watt powered speaker with a ton of low and high-end frequency responses. It has the type of bass you need to keep people moving on the dance floor. It is suitable for a wide variety of uses, including dances, stage speakers, stage monitors, and PA speakers.
It comes with a steel mounting pole and a floor wedge design so it can be angled upward toward stage performers. It covers a 75 degree sound field horizontally and employes technology that cuts down on fizzles and hot spots in the listening range. It is a professionally designed speaker that any DJ, venue, or professional band could use extensively.
Specifications
· 2000-watts
· 12' Low-frequency driver
· 1.4" high-frequency driver
· Adjustable performance parameters
· Saveable presets
· Digital display
· DMT and DSP technology for more accurate sound quality in the field
· Durable and tough
· Floor mountable
· 23.7x13.8x14"
· 39lbs
The QSC K12.2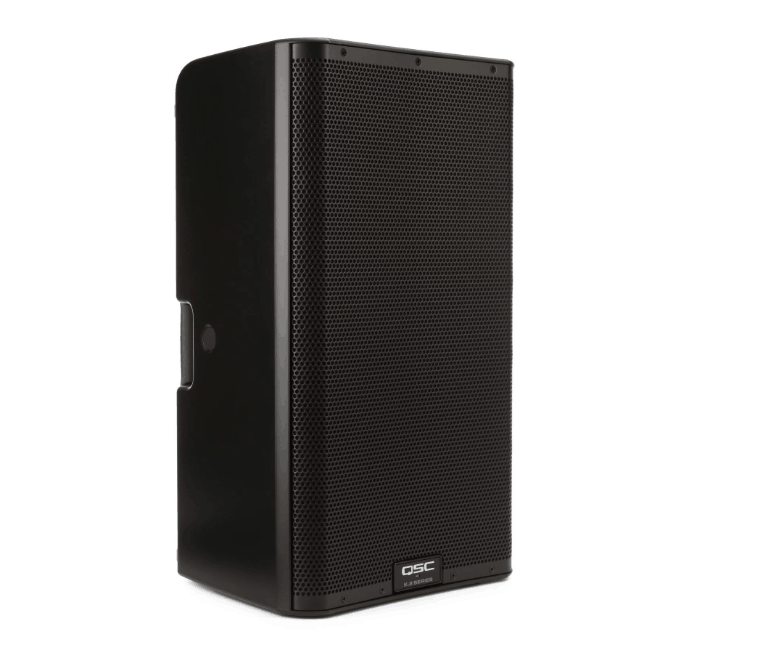 Summary
The QSC K12.2 is an incredibly powerful and capable speaker. It has 2000-watts of power that will deliver up to 132dB at 1m. That will be enough to handle clubs, outdoor live events, and any live show you need to play. Whether you're a DJ, band, or a public speaker, it packs tons of power for clarity and volume.
It has a full frequency response, which makes it great for a wide range of musical applications. It enables crystal clear high frequencies and busts out the bass to get people thumping and moving. Often, to get the level of bass you need with a speaker, it needs to be accompanied by a woofer. With the K12.2's, you have enough deep frequency response that a sub is not necessary. The frequency range is 45Hz to 20kHz and has a response range of 50Hz to 20kHz.
It comes with DSP (digital signal processors), and DMT (directivity matched transition), which offers consistent sound quality across the entire listening field. That means that no matter where your listeners are standing within the 75-degree horizontal field, the sound should be the same as it is when you're standing in the direct line of the speaker. Cutting down on hot spots and muffled sound is one of the most significant features of the K12.2's.
With two XLR line-in port and 2 XLR line outputs, you'll be able to connect your soundboard, or multiple boards, and send out to other speakers in the line.
It is a durable and sturdy speaker cabinet that can handle a ton of abuse. The enclosure is built from ABS plastic, and it has multiple mounting options. You can stand it on the steel pole to get the sound above the line of blockage from a crowd, or you can use the floor wedge design to use it as a high-quality floor monitor.
Adjustable knobs on the back give you all of the necessary parameters you need to keep things in check. If you are missing something in the mix, it is easy enough to make the adjustments to get your mix sounding just right. It also has saveable presets that you can quickly come back to, so there is no fiddling with settings when you're in the set-up stage of a gig.
The QSC K12.2 Powered Speakers are not a beginner grade speaker and are priced according to their quality. These speakers will serve up all the sonic satisfaction you need and take on any abuse that may come their way.
Pros
+ 2000-watts
+ High-frequency range
+ Amazing bass sound, excellent high-frequencies
+ Multiple mount options
+ Adjustable parameters
Cons
- Not the cheapest speakers
- Slightly heavy
Why We Like It
The QSC K12.2 speakers are built for professionals. If you need a speaker that is going to deliver on quality and durability show after show, then these may be the best way to go. They are not the cheapest speakers, but for the quality, the investment is well worth it. If you're a DJ, show promoter, venue, or just in need of some of the best speakers you can find, then they will work perfectly.
A broad frequency range, consistent quality over the field, and adjustable parameters are what allows the K12.2 speakers to stand out among the competition. They are built to give you no impedance of quality, no matter where your listeners are standing. They are highly compatible and easy to set up with multiple mounting options.
Plainly put, they may be the last live sound speakers you buy. Your listeners and booking agents will be pleasantly pleased with the sound quality you're able to produce with the QSC K12.2. Once you find your groove with the parameter adjustments, nobody will be able to stop you.
If you liked the article, please leave your feedback.