Summary
Bose PA systems have an excellent reputation in the music industry for delivering crystal-clear audio while also remaining compact and portable.
That's precisely what the Bose L1 Pro32 PA system offers too. It features an incredibly sleek, modern design that also makes it very easy to transport.
This portable PA system backs up its gorgeous looks with exceptional sound quality. The reason why it delivers such crisp, clear sound is down to the thirty-two, 2" neodymium drivers that are inside it. The speakers have been positioned so that the PA system offers almost 180-degrees of uniform coverage. It's also designed to provide ample vertical coverage, which it delivers perfectly, allowing for room-filling sound.
The low end is taken care of by the Sub2 Bass Module that comes with the Bose L1 Pro32 portable PA system. This subwoofer is equally compact and portable. Yet, it still manages to deliver powerful, thumping bass due to the high-excursion, high-output, Racetrack drivers inside it.
The Bose L1 Pro32 PA system with Sub2 Bass Module also includes an in-built mixer to top things off. It offers several pre-sets for the EQ, including for live music. If you want more control over the mix, then it's possible to connect your phone to the Bose L1 Pro32 so you can take advantage of the intuitive, user-friendly L1 app for mixing.
Overall, this is an exceptional, portable PA system and subwoofer that delivers professional-grade sound quality, as well as horizontal and vertical sound coverage that will fill a decent-sized venue. The subwoofer also offers deep, powerful bass that DJs and musicians will adore.
About the Bose L1 Pro32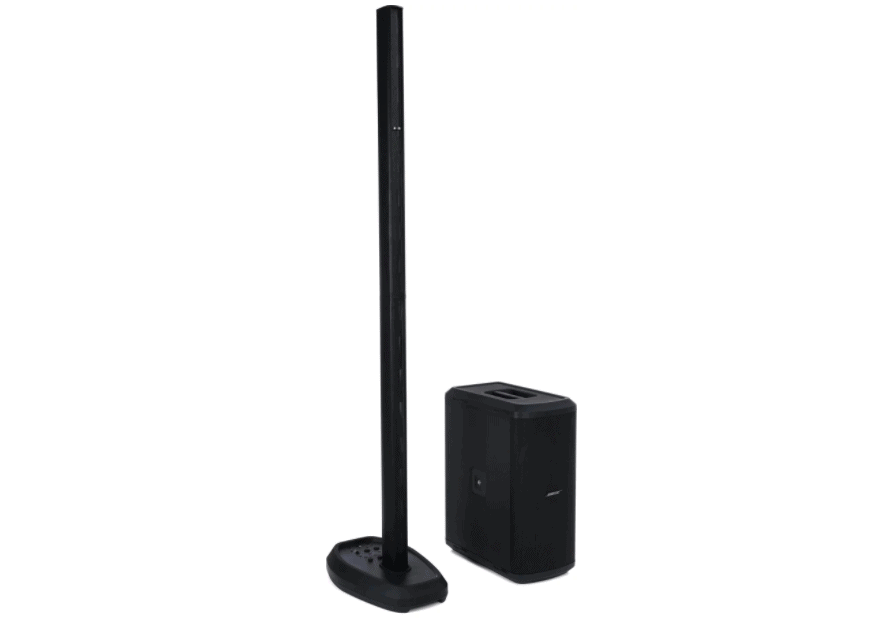 Key Features
Let's have a look at the key features of the Bose L1 Pro32 portable PA system with Sub2 Bass Module:
32 x Neodymium 2" Drivers: The Bose L1 Pro32 PA system includes this number of small drivers so that it can offer exceptional sound coverage.
10" by 18" Racetrack Driver: The Bose Sub2 bass module includes a racetrack driver, as well as a Class-D, 1,000w amplifier. They both contribute to the huge volume and low end that goes down to 37Hz.
In-Built 3-Channel ToneMatch Mixer: Illuminated controls and an intuitive design make this in-built mixer a breeze to master.
Ultra-Slim, Lightweight, and Portable: The L1 Pro32 weighs just 28.6lbs and has dimensions of 84.1" by 13.6" by 21.7". The Sub2 bass module weighs only 51.7lbs and has dimensions of 27.2" by 12" by 21.7". Together, they're easy to carry and transport.
Wireless Control: If you download the Bose L1 Pro Mix App, then you can wirelessly control and mic the PA system from your smartphone.
Pros
+ It isn't easy to find another portable PA system and subwoofer that's as lightweight and compact. Both pieces of equipment deliver a tremendous amount of power, making the small size even more impressive.
+ The ability for the L1 Pro32 PA system to deliver almost 180-horizontal coverage, as well as vertical coverage, make it an excellent choice if you want to be able to fill a room with uniform, clear sound.
+ The in-built mixer and the Bose L1 Pro Mix app both allow you to control the mix of the PA system simply and without any fuss. You don't need to be an audio expert to find the right mix for your live performances.
Cons
- Perhaps the only negative aspect of this brilliant PA system and subwoofer is the price tag. This is Bose, which means you get what you pay for, which is a professional, great-sounding PA system that will deliver quality for many years.
Who Is It Suitable For?
The Bose L1 Pro 32 portable PA system with Sub2 bass module is ideal for DJs, musicians, vocalists, and public speakers who want an excellent, portable PA system that delivers flawless sound quality.
Small venues may also want to consider it as an in-hour PA system.
Why We Like It
It simply offers exceptional sound quality that has to be heard to be appreciated.
It's also a highly portable PA system that comes with the necessary carry cases to make transporting it to and from gigs a breeze.
It's also designed with user-friendliness in mind and is very easy to set up.
If you liked the article, please leave your feedback.