Join us for a peek at the 7 best soundbars under $300 as we explore the appeal of their logical layouts.
With their conservative forms and clever space utilization a soundbar can be a savvy solution, their speaker unit designs have developed drastically and on the current market, there are some surprising models up for grabs.
Here we have selected seven of the best-selling solutions for your smaller set-ups for your browsing convenience.
Related: Soundbars for under 500 dollars.
At a glance:

Our top 3 picks
Our team's top 3 recommendations
Best Overall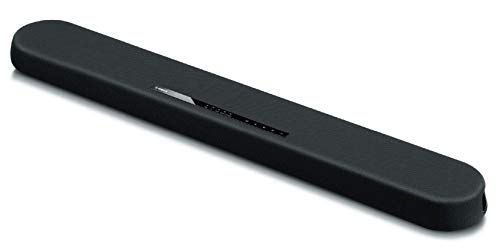 Yamaha ATS1080-R Sound Bar

Very slim.
Bluetooth soundbar.
Optical and HDMI connections.
Premium Quality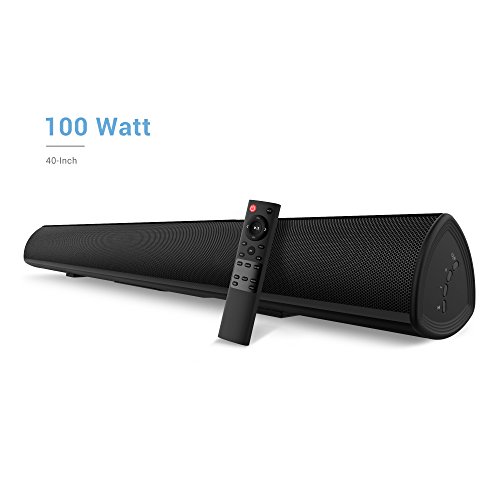 BYL Sound Bar Wireless and Wired

Very slim.
Bluetooth soundbar.
Optical and HDMI connections.
Great value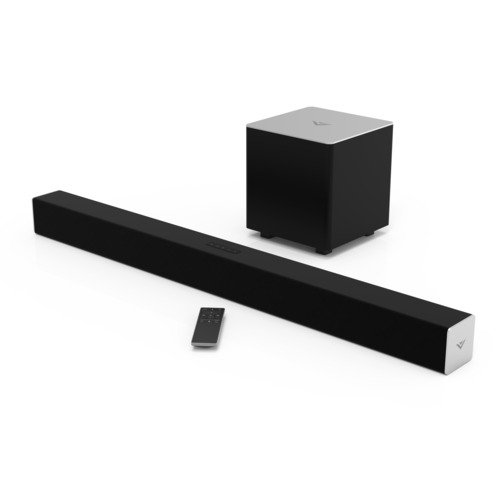 VIZIO SB3821-C6 38-Inch 2.1 Channel Sound Bar

Very slim.
Bluetooth soundbar.
Optical and HDMI connections.
View The Best Soundbars Under $300
1. Yamaha ATS1080-R Sound Bar
We are jumping straight in with one of the slimmest options on the market the ATS1080 from Yamaha which manages to deliver impressive bass capabilities from a minimal housing space.
It is higher priced than some of the low budget options but there are currently a whole bunch of renewed sets on Amazon which will save you a bit of cash and actually on close inspection the consensus seems to be they are brand new back-stock from Costco over-ordering.
It is well-manufactured with quality components, it is equipped with 2 hard-working miniature sub-woofer drivers that give the audio great depth. The middle is well-tuned helping to maintain clear dialogue.
The dimensions of the entire thing are 35 x 8.13 x 2.13 inches and it comes with a wall-mount hole so can be flexibly positioned. It supports 4K pass-through, has its dedicated remote control, and is both Bluetooth and Alexa compatible.
Pros:
+ Very slim.
+ Bluetooth soundbar.
+ Optical and HDMI connections.
Why We Liked It - The back-log of renewed sets provide excellent value for money as they are better quality than many in a similar price region.
2. BYL Sound Bar Wireless and Wired
Another soundbar which provides some of the best sound floating around the $100 mark is the beefed-up sound model from BYL which trumps the 4 speakers in the Yamaha above with 6 units total.
The set-up consists of quadruple full-range drivers and dual dedicated tweeters for better definition. They work together to serve-up broad-spectrum audio with great clarity and depth.
The low-end response is well-reproduced and aided by its bass reflex tubes. The tweeters have high-quality silk-film domes which are very sensitive and apt for a high-frequency response.
It can be used wired or via its Bluetooth connection you can train your regular TV remote to operate it directly.
Pros:
+ Broad range audio.
+ Built-in tweeters.
+ Well made.
Why We Liked It - It is a great example of what is available at this price level, it is deceptively powerful for a soundbar option and the audio doesn't fail to impress.
3. VIZIO SB3821-C6 38-Inch 2.1 Channel Sound Bar
Next up an ideal option for wider screens a 38-inch long soundbar option from VIZIO which provides well-detailed 2.1 surround sound.
It is a low distortion 100 dB option that has a dedicated wireless remote sub-woofer which has a line of sight of up-to 60 feet. It features built-in Bluetooth and is compatible with Dolby Digital and has DTS TruSound and TruVolume processing capabilities which support it in delivering a consistent line level.
It is constructed pretty solidly and the driver units work very hard as a left and right placement.
Pros:
+ Well-constructed.
+ Highly compatible.
+ Good drivers.
Why We Liked It - It provides a full-range 2.1 solution with great audio in a hardy package.
Now for a very cheap and cheerful solution; this budget-friendly Bluetooth soundbar is cross-device compatible and provides 4-6 hours of use between charges by utilizing an economic high-capacity battery.
It is a dual-channel bar with decent dynamic drivers and bass-ready diaphragms that provide a decent low response. It is fitted with an HD processing chip to enhance their performance.
It features a TF card reader so you can store a playlist for music listening and an integrated mic for syncing with your phone and answering calls mid-movie.
It is fairly durably made especially considering its price tag. It can be operated via on-board controls or with its remote.
Pros:
+ Low-cost.
+ Reasonable response.
+ Some additional mod-cons.
Why We Liked It - Whilst it won't compete with a high-end alternative it does a fab job. It seems reasonably well-made which is important in a cheap soundbar model.
Another accessibly-priced choice which is high-demand is the SAKOBS soundbar which is again a Bluetooth ready speaker with great capabilities.
It features the companies acoustic design which gives it front angling that better dissipates the audio to the listener and it can be wall mounted if required.
It appears to be pretty robust and the quality of the components used within is on par with far pricier options. The drivers are well-tuned and deliver an excellent dynamic response.
It has optical RCA and auxiliary connections. It comes with equalization presets that allow you to tailor your listening experience. It is user-friendly and comes with a custom remote control.
Pros:
+ Acoustic angled design.
+ Appealing price-tag.
+ Good output range.
+ EQ options.
Why We Liked It - The sound is far better than similarly priced soundbars, the design is strong and well-conceived the manufacturing and engineering is well-executed.
6. LKE Soundbar Wired and Wireless
The LKE soundbar sits somewhere between the price of the last 2 listings and it presents yet another inexpensive option for those with a lower budget.
It is a slightly smaller bar at 16 inches in length and it too benefits from a good dispersion angle the grille is also slightly curved which helps with the audio projection.
It has 4 input choices Bluetooth, line in/Aux, TF, USB, and can be used in a wired and wireless fashion which gives it good versatility. The sources can be easily switched between and the speaker has a dedicated remote control.
The dual speaker drivers are reasonably proficient given their low price tag and the audio is surprisingly loud with nominal distortion (at max volumes).
Pros:
+ Small footprint.
+ Affordable alternative.
+ Good input options.
Why We Liked It - It is a great bedroom option which makes for a great TV speaker upgrade and still has sufficient presence and capabilities to crank up your playlists when the mood strikes.
We are leaving you with our longest length soundbar selection; a 40 inch valuable model from the team at TaoTronics.
It is well-made and very user-friendly with an easy to read LED display. The components are good quality and the grille is angled to optimize audio delivery to the listeners.
The quadruple drivers are well-engineered they provide an in-depth full-range audio experience the bass has a well-balanced presence without distortion and the clear middles keep dialogue understandable.
It features an optical connection as well as an auxiliary line and can be used to stream via Bluetooth.
Pros:
+ 40-inch option.
+ Good driver set-up.
+ Price savvy.
Why We Liked It - It is simple to set up and enhances your sound by trumping your TV stock speakers without breaking the bank.
Soundbars Under $300 Buyers Guide
We have briefly touched on the soundbar concept in previous speaker guides but before we wrap up here are some key points to think about.
What Are the Pros of Buying A Soundbar?
A soundbar speaker has 2 real selling points, firstly they are far more compact than any other speaker type and secondly they are designed specifically to be positioned in the otherwise unusable space below your television when it is mounted on a stand. Though this is not to say they can be placed below a wall-mounted TV either.
Their design implements also mean that they are considerably more presentable. They help conceal the cables from the back of your TV and although this is not the driving cynosure behind their invention it is certainly a big plus for many.
Some home theater speakers take up space that many would prefer to have empty, or for some of us filled with an ornament or photograph. A soundbar is a great way to remedy smaller room spaces and free up surfaces so that you can make better use of them.
Do I Need A Soundbar?
Whilst you don't need a soundbar per-say, you will find the difference between a soundbar replacement and your regular TV speakers is astonishing no matter the region you shop. Of course, higher-end soundbar options will do a better job and be a more realistic solution for larger spaces but with the trickle-down nature of the electronics industry, there are many capable options in the budget region for bedrooms and office spaces that will make for a good upgrade.
They give your TV better audio clarity because of the way their dedicated speaker units delegate the various frequencies.
A soundbar is also a great L/C/R or just center channel option in a very large surround sound set-up if it has the right driver configuration.
What to Look for in a Soundbar Under $300?
Some of the more impressive bars on the market can cost you double today's price limit so it is far to say you need to keep your expectations realistic especially if you shop below the $100 mark. That said there is a number on the market retailing around or over that will suffice for most casual users.
You need to ideally shop for something with a dual or quadruple driver layout if you are intending to use the bar as a stand-alone.
Generally speaking, they ought to be paired with at the very least dedicated sub-woofer as was their original intention. There are some lower-priced options with their own sub-woofers which do a fine job in an intimate casual set-up.
The most important thing is to look for a bar that suits your needs and that is durably built to the best level of quality in its respective price region.
Conclusion
The soundbar design has a lot of merits to it which makes it a handy option for a variety of customers.
Today's soundbars have better speakers built off of the back of modern compact driver developments. Most allow you to have a miniature 2.1 set-up without heavy investment.
$300 is a rather generous budget when shopping for a soundbar speaker and in the upper regions, you will find yourself buying a rather impressive piece of kit, capable perhaps even of replacing your typical loudspeaker entertainment system speakers in the right environment.
We hope today's items and info will have sparked an interest in you.
Expert Tip
If you have audiophile tastes you might want to take a look at the Stealth-10 Ultra sets from Wet Sounds or the Bose 700 soundbar though they are pricey they provide the best soundbar quality around.
Did you Know
The soundbar is a relatively new concept first created in 1998 to be used with a dedicated sub-woofer and make use of an otherwise wasted space, big brand companies such as Pioneer, Yamaha, Sonus and Bose quickly cottoned on the benefits of the bar.
If you've enjoyed this review by Music Critic, please leave a positive rating:
[vc_separator