Summary
This portable PA system consists of a Bose L1 Model II with a B2 Bass Module.
Together, they create a compact, sleek PA system portable but still capable of filling a room with powerful sound.
The Bose L1 Model II features an innovative, cutting-edge design that effectively offers 180-degree, horizontal sound coverage. The result is an unmistakable sound that isn't ruined by distortion or feedback, as can be the case with PA systems that lack this one's quality. It's well-suited for venues where there will be up to 500 people in the crowd. The crisp, well-balanced sound is ideal for vocalists, DJs, or public speakers.
Integral to any good PA system is a high-grade subwoofer, which is exactly what the Bose B2 bass module is. It offers a huge amount of power that belies its compact size and remarkably low weight.
Overall, this is a professional-level PA system that stands out from the crowd because of the exceptional sound quality and sound coverage that it offers. When bought together, then the package is also excellent value-for-money.
About the Bose L1 Model II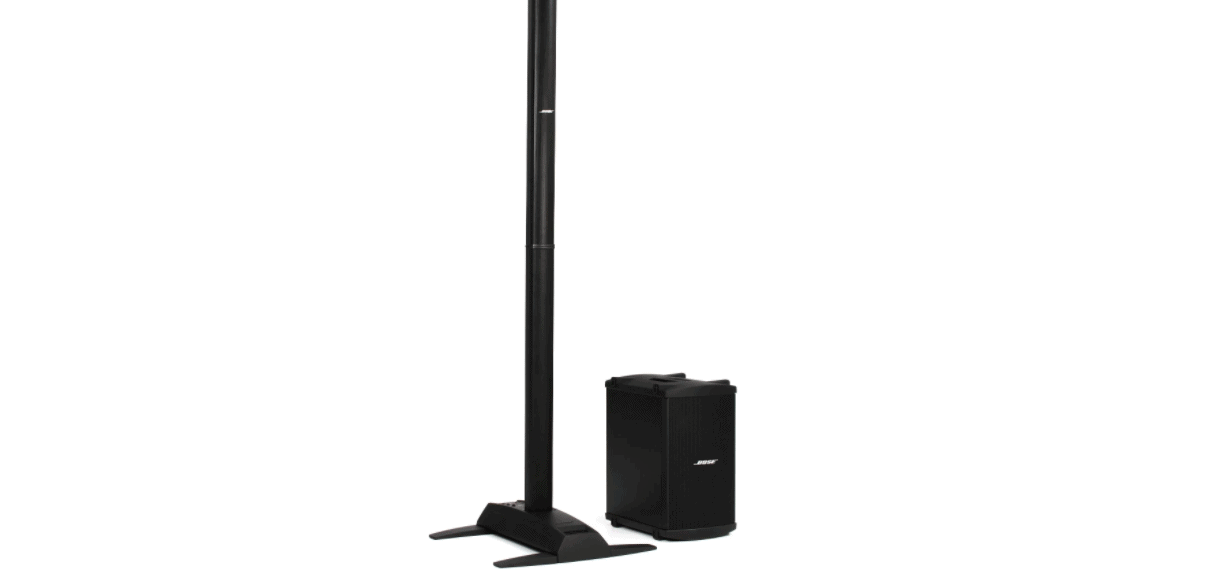 Key Features
Let's have a look at the key features of the Bose L1 Model II with B2 bass module:
Sleek, Portable Design: Both the PA speaker and the subwoofer are sleek, lightweight, and simple to transport. There's no need for a van, as they can go right in the trunk of your car.
Uniform, Wide Sound Coverage: The articulated line array with 24 speakers produces uniform, horizontal sound coverage thanks to Bose's 'Spatial Dispersion' technology.
Dual 10" Woofers: The B2 bass module delivers such powerful, deep bass because of two 10", high-excursion woofers.
Simple Setup: There is no need for countless cables or a degree in audio engineering when setting up this PA system.
Pros
+ It offers professional, room-filling sound for a venue that can hold 500 people despite the L1 Model II and the B2 bass module both being sleek, lightweight, and small enough to fit in the trunk of a car.
+ The sound quality is up there with the very best portable PA systems on the market. Bose is known for taking sound quality seriously, and you can hear that's true when you listen to the Bose L1 Model II with B2 bass module.
+ 'Spatial Dispersion' technology allows this PA system to deliver excellent sound – that's balanced and tonally rich – across a considerable distance without suffering any quality drop off.
Cons
- For DJs, the single B2 bass module might not offer enough bass for a large venue. Although, for any room with less than 500 in it, then it should be fine.
Who Is It Suitable For?
This PA system suits almost everyone, from DJs and musicians to public speakers, such as politicians, preachers, comedians, and lecturers.
Why We Like It
It offers typically high-quality Bose sound quality that doesn't diminish when projected outwards because of the excellent 'Spatial Dispersion' technology that it features. The B2 bass module also delivers rich, powerful bass.
If you liked the article, please leave your feedback.