Modern soundbar options are becoming a savvy solution for your home system set-up, especially where space is a concern. The best will still benefit from a dedicated sub to handle their low-end sound reproduction duties. For your convenience, we are showcasing some of the best soundbars with subwoofer combos available online.
With their unobtrusive statures and economic layouts, a good soundbar is a fantastic option for your rooms. They tuck tidily away below your television, making great use of space that would otherwise be unusable. They conceal their cables from your guests for a better-dressed home.
Their smaller sizes can spark debate about their speaker functionality, but rest assured there are a few on the market which, if paired to a powerful subwoofer, can adequately handle your audio requirements.
At a glance:

Our top 3 picks
Our team's top 3 recommendations
Best Overall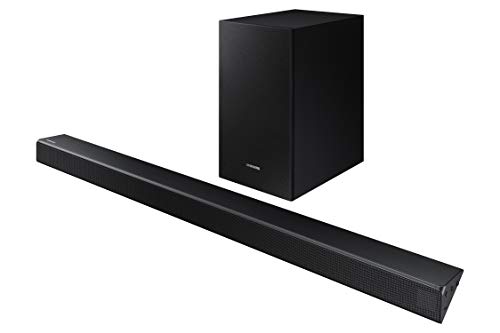 Samsung HW-R550 Sound Bar

Compact.
Smart sound analysis.
320 watts.
Premium Quality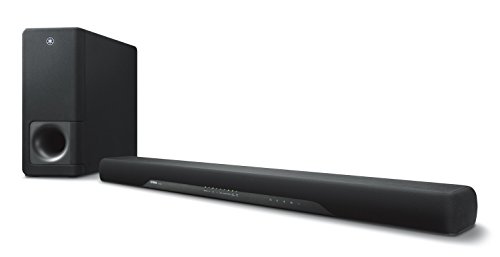 Yamaha YAS-207BL Sound Bar with Wireless Subwoofer

Compact.
Smart sound analysis.
320 watts.
Great value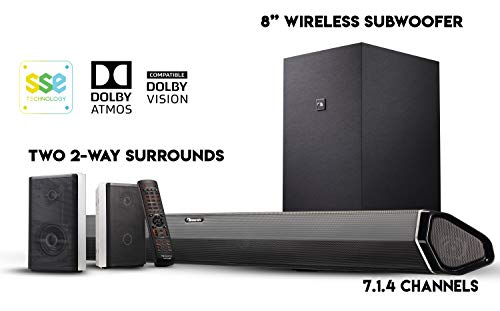 Nakamichi Shockwave Soundbar

Compact.
Smart sound analysis.
320 watts.
View The Best Soundbar With Subwoofer Below
1. Samsung HW-R550 Sound Bar
The Samsung HW-R550 Soundbar is one example of a co-operating set which delegates the low-frequency workload to ensure its efficiency.
It is a 320 system. The subwoofer is wireless and well-engineered with a good enclosure. The Samsung can put out a powerful rumble and copes well with a punchy low-end definition. It's well-made with a compact footprint, making it ideal for smaller spaces.
This soundbar is marketed as an excellent product for gaming. Although specially optimized for Samsung TVs, it's widely compatible. When hooked up to the right models, it will detect when you're gaming, and adjust the audio accordingly, by utilizing its smart sound analysis feature. By giving you the perfect settings for game-play, you won't miss a single detail.
The soundbar itself provides a capable front, left, and right, directing the audio straight to you. It's well balanced and doesn't distort. The soundbar can be expanded from a 2.1 to a 5.1 with relative ease and comes with wall mounting brackets if your flat screen is on the wall.
Pros:
+ Compact.
+ Smart sound analysis.
+ 320 watts.
Why We Liked It - This Samsung's gaming facilitation is fab - you can feel the impact of shots fired when the sub pumps the air.
2. Yamaha YAS-207BL Sound Bar with Wireless Subwoofer
Yamaha's sound bar supports DTX Virtual surround sound and can be integrated into a much larger system.
Aesthetically pleasing, this has a slim space-saving profile. The soundbar houses two mini-subwoofers on top of the wireless dedicated sub, so the sound is taken care of. The Sub is once again wireless and well-constructed. It has an over-sized port for its stature, providing better ventilation, allowing for high impact sub-bass frequencies to escape. It's fitted with a 6.25-inch cone and has surprising levels.
The soundbar also contains two tiny tweeters that are high-output, and work furiously with the higher frequencies. They ensure audio clarity and delver voice reproduction, which is especially well-defined.
As mentioned, they benefit from engineering, which copes with multi-dimensional audio-spaces. They're optimal when connected to a set of rears, encompassing the listen in their audio.
The Yamaha soundbar has digital optical HDMI (4k), stereo mini-jack connections, and comes with a remote control that can run from your mobile if you download the app.
Pros:
+ DTX Virtual surround sound.
+ Dedicated woofers and dual tweeters.
+ Mobile remote app.
Why We Liked It - Yamaha's soundbar effectively handles the audio. We love the App, which takes the headache out of losing your remote control.
3. Nakamichi Shockwave Soundbar
Next up we have a superb soundbar system, which not only covers your bass needs with a sub, but also provides a rear, left, and right to work in conjunction with their acclaimed Dolby Atmos codec.
The Surround Sound Elevation processing and Atmos compatibility mean they can provide genuine spherically-dimensional listening. They are hardwired to take into account the position of audio via complex metadata analysis. They can reproduce audio with advanced awareness of its placement horizontally, vertically, and in a surround fashion combined.
The downward-firing subwoofer has a tough casing; it's equipped with an impressive 8-inch woofer cone.
This Shockwave soundbar is an exceptionally capable piece of tech, with its fine-tuned configuration of newly upgraded, high-output speakers, and advanced processing powers. The soundbar is angled with open grilles for better audio dispersion.
The 2-way wireless rears complete the system, making it a full 7.1.4 channel system, which can cope with just about anything you throw at it. It's all very well-manufactured, it has 4K UHD pass-through, HDR, HDMI, and ARC optical and coaxial connections, and also comes with an remote control.
Pros:
+ 7.1.4 system.
+ SSE Dolby Vision and Atmos ready.
+ Great engineering.
+ Versatile outputs.
Why We Liked It - The Shockwave is a very competent complete system which brings audio elevation into the mix, creating dimensional audio. It has a range of output options, is easy to install, and reasonably priced. Find more soundbars under 300 dollars.
We are going back to basics with this 2.1 soundbar and sub set from BOMAKER, which provides an affordable and simple solution to your sound needs.
It's durable, yet aesthetically made, with rounded sides. You'll find dual front, left, and right speakers inside, which provide a good audio definition, covering the mids and highs for clearer TV audio.
This wireless sub has a slim physique, being taller than it is wide. It features a port to assist in distortion-free bass delivery and benefits from advanced DSP.
You can custom adjust the system to suit your listening needs, giving users control over their bass and treble equalization. The soundbar also has an automatic dialogue feature which clarifies the middle frequencies, making speech impeccable.
You can tweak it all yourself, or rely on the preset programmed listening modes. It has optical and RCA connections, and includes a remote control.
Pros:
+ Low-watt.
+ Great definition.
+ EQ control.
Why We Liked It - It is a well-made competitively priced 2.1 system which provides well-defined audio and presents equalization options to customize your sound.
5. WOHOME Bluetooth Sound Bar with Built-in Dual Subwoofer
Our next choice isn't actually a soundbar and subwoofer pairing; it's a low-cost compact all-in-one substitution. This WOHOME soundbar is equipped with a built-in dual 3-inch subwoofer, and can provide a 2.1 system setup as a stand-alone product.
In addition to the double subs, it houses two full-range woofers and dedicated dual tweeters. The sound has excellent definition and presence, and dialogue has great clarity. The overall audio is dynamically balanced.
The WOHOME soundbar is durably made for a budget-friendly option, as the grille is more robust than most. The cylindrical form helps to project the audio waves, giving listeners an improved dispersal.
This soundbar has onboard controls tucked away out of sight. It also comes with a remote. It offers optical, RCA, AUX, and USB connections on top of the Bluetooth.
Pros:
+ Cylindrical form.
+ Full-range audio.
+ Impressive definition.
Why We Liked It - They have packed a lot into this affordable WOHOME soundbar, to give it better frequency efficiency for clearer reproduction.
6. VIZIO SB2821-D6 28-Inch 2.1 Channel Sound bar
This VIZIO combo has a dedicated, compact, wireless subwoofer that pumps out up to 95 decibels.
It's 28 inches in length, containing two efficient full-range speakers with great response. You'll find on-board controls at the top of the device. It's rectangular and streamlined for sensible space use.
The sub handles the lower-end demand, and between them, they provide a 2.1 system setup with broadened accurate audio and a rich definition.
They support Dolby Surround, meaning they are instilled with both Dolby TruVolume and TruSound to manage fluctuation and optimize their audio efficiently.
They offer USB, optical, coaxial, stereo RCA, and standard 3.5mm inputs, and can seamlessly stream from your devices via Bluetooth.
Pros:
+ Streamlined sub and soundbar set.
+ Optimized audio settings.
+ Variety of inputs.
Why We Liked It - The WOHOME soundbar is another fine example of a well-designed, constructed, yet affordable soundbar. This compact sub performs surprisingly well with harmonic distortion levels below 1%.
7. BYL Soundbar with Wireless Subwoofer
Being a smaller 140 watt 2.1 system, this soundbar and sub pairing from BYL is ideal for bedroom use. It measures 28 inches, but still serves-up rich audio.
This wireless set offers optical as well as RCA and USB connections, along with an auxiliary input for streaming directly from other devices.
The soundbar is, again, well-configured. It handles a wide frequency response, giving impressively powerful audio for its size.
The sub is built to a high standard, and the enclosure harbors dual reflex ports for effective handling. They capably prevent wave cancellation, and lowering the harmonic distortion to undetectable levels.
The system is also equipped with the company's Bass+ technology, which allows for bass and treble adjustments to tailor the audio reproduction to your preferences via the remote control.
The remote control can be adapted to find your television signal via its universal infrared detection, meaning you can control your TV functions directly.
Pros:
+ Bass and treble controls.
+ Dual reflex ports.
+ Low harmonic distortion.
Why We Liked It - We love the on-board EQ adjustment, and the convenience of the infrared remote learning function that gives you a streamlined center of command.
8. MEGACRA Sound Bar with Wireless Subwoofer
We are leaving you with one last listing to mull-over from MAGACRA. This is a newly upgraded model which will fill your room with beautifully-balanced full-range sound.
The 2.1 system again consists of synced a wireless subwoofer and slim soundbar to serve up accurate audio reproduction, which won't ever fail to impress.
It sports optical, RCA, and AUX connections, as well as Bluetooth for wide compatibility. Furthermore, it also has a dedicated remote control, which gives listeners access to the bass and treble mix setting via the set's optimized digital signal processing.
Pros:
+ Full-range 2.1 system.
+ Wide compatibility.
+ Bass and treble control.
Why We Liked It - It is an accessibly priced best-seller, which competes with some of the industry-leading products available on the market. It serves up a good range of inputs and produces quality audio.
Soundbar With Subwoofer Buyers Guide
Television sets have moved to the flat-screen aesthetic that the majority of people seem to prefer, so it's only logical that they do so too in their audio accessories.
Why Choose a Soundbar and Subwoofer?
Surround sound was a breakthrough when it hit cinemas. It grew steadily in popularity from the first day it became available to the average consumer.
The technology was pricey in its earlier days. However, as the development of the electronic audio industry began to snowball, the costs plummeted to the point where most of us can enjoy a realistic cinematic sound reproduction from the comfort of our sofas, the way film-makers intended.
The smallest setup you can use to support surround-like sound is a 2.1. In the past this was achieved with a left and right satellite speaker wired to a bass speaker.
A soundbar and subwoofer pairing is a convenient, inconspicuous, and streamlined way to achieve the same thing.
Some soundbars (as you will have seen today) manage to pack-in more capably-configured arrays, which offer a more extensive surround setup.
One of the benefits with modern soundbars and subs is that they don't require a receiver, unlike a traditional home audio sound system.
A sound system can be very pricey to put together, and it will occupy much more space; a soundbar is a sensible alternative, especially in bedrooms or office areas.
What to Look For in a Soundbar With a Subwoofer?
Unless you're particularly short of cash and cramped for space, we would recommend you get a dedicated subwoofer, as opposed to a built-in subwoofer.
While there are a few in the upper-price regions which are well-designed, bass requires a far bigger diaphragm than will fit into a soundbar sized enclosure.
As the cones push huge amounts of air out, you should ensure that the subwoofer has a port or another form of venting.
As the cones move, they create waves at the back and front, which causes wave-cancellation. This is the reason for the lack of clarity and harmonic distortion.
Once upon a time, we built huge cabinets so that the front waves were direct and the back waves dispersed and muffled, but now the development of mathematically devised and ported enclosure design prevents this very efficiently.
As far as the soundbars, you should look for a length that compliments your television set. This can include matching dimensions, or it could be slightly shorter or longer, depending on the aesthetic you want to achieve. If the disparity is too different, it may look out of place.
The construction is important to consider, especially if the product is particularly expensive or cheap.
A cheaper soundbar will never be as durably made as a high-end version, but you should still aim for longevity, as flimsy grilles may eventually give way. Most importantly, you want well-engineered electronics.
Sometimes the best solution is to choose a renowned brand to avoid shoddy workmanship. You should consider the processing capabilities most carefully. As discussed, surround sound is the new industry standard, so you should look for systems that support this with their codec.
However, Atmos is quickly stepping up the game, and if your budget can stretch, then they're well worth considering.
Lastly, you want a good range of Inputs, which is pretty self-explanatory.
Related review: 18-Inch Subwoofers.
Conclusion
With their smaller forms that cleverly save space in your home, soundbars have a lot to offer as far as speaker models go.
Today's soundbar and subwoofer reviews will hopefully have inspired you and given you some insight into what is available for different budget levels.
It's difficult to crown the top of the bunch, but if you want a full system, we would recommend Nakamichi 7.1.4.
Atmos has truly reset the bar, but if the Nakamichi system is a little out of your league for the time being, then we would suggest the Yamaha. Cheaper still is the Samsung, which can always be expanded at a later date when you have more money to spare.
Expert Tip
If sound systems are uncharted territory for you, then for the sake of simple synchronicity, you could choose a soundbar brand that matches your television. It will be automatically recognized and have perfect functional compatibility.
Did you Know
The biggest recent leap in sound-system evolution is the Atmos processing from Dolby. We recently wrote a fresh review on some of the most capable SSE supporting soundbars, which will give you insight into the world's newest dimensional surround sound products.
If you've enjoyed this review by Music Critic, please leave a positive rating:
[vc_separator