Mackie CR3 multimedia monitor speakers are a great example of what Mackie is so good at. As with any piece of Mackie audio equipment, the best place to start is with the sound quality. It is – as you can expect – exceptional. As these are creative reference speakers, they offer a neutral, natural, and balanced sound that articulates each detail, making them highly accurate, and perfect for monitoring in a home studio or editing suite.
Mackie CR3 are 3-inch monitor speakers that offer studio-quality sound. As well as featuring a 3" woofer and a 0.75" silk dome tweeter, Mackie CR3 speakers have a peak power output of 50 watts and a frequency response of 80Hz to 20kHz. Audio sources can be connected to the Mackie CR3 speakers via 1/4", 1/8", and RCA inputs.
Mackie Cr3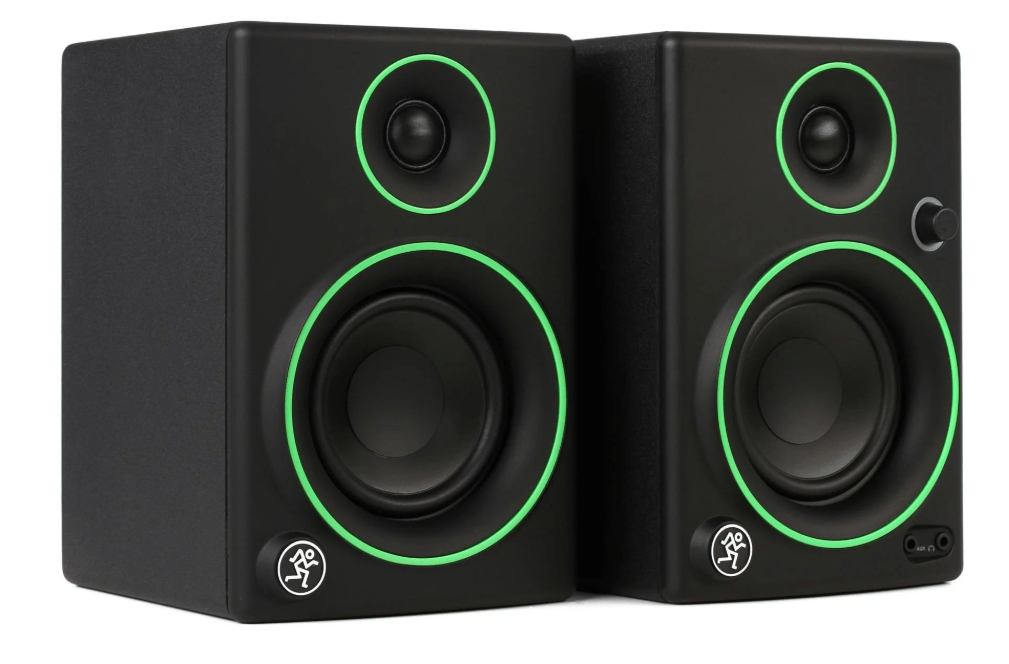 Summary
Greg Mackie founded Mackie back in 1988 in his home state of Washington. He wanted to create a company that offered premium audio equipment at affordable prices. The fact that, over the last 30+ years, Mackie has grown into one of the world's most popular audio equipment manufacturers is proof that Greg Mackie achieved what he set out to do.
The reason for the excellent sound quality is down to the 3-inch polypropylene coated woofer and a 0.75-inch silk tweeter that you find in the pair of monitor speakers. The tweeters have been cooled with ferrofluid. This eliminates distortion when using these speakers.
The outstanding sound quality is down to more than just the drivers integrated into each speaker. It is also down to the MDF cabinets where the drivers are located. The fact that these cabinets are constructed entirely out of wood puts them at odds with many other multimedia monitors in the same price range, which will often have a low-grade plastic construction instead.
The benefit of an all-wood structure is that it provides you with a more natural sonic character. There is a reason why professional studio monitors feature a wooden enclosure rather than a plastic one, and that reason is sound quality. And with a frequency range of 80Hz to 20kHz, Mackie has done all it can to ensure that nothing gets in the way of the exceptional sound quality that the Mackie CR3s offer.
The impeccable sound quality is just one of the excellent features that the Mackie CR3 multimedia monitors provide. They also offer easy usability, with a front-facing headphone jack, as well as a volume adjusting knob on the front of the speakers, so that you can quickly lower or heighten the volume from the comfort of your chair. Connectivity is a breeze too. The Mackie CR3 multimedia monitors can accept 1/4", 1/8", and RCA inputs, which means that almost all audio devices are compatible with them.
The Mackie CR3s have a few nifty features that are very impressive. For example, it is possible to decide which of the two studio monitors will feature the adjustable volume knob, as there is a speaker placement switch that allows you to do this.
To summarise, the Mackie CR3 multimedia monitors offer studio sound quality, thanks to high-grade, professional components, such as 3-inch polypropylene coated woofers and 0.75-inch silk tweeters, as well as all-wood enclosures. They are also very reasonably priced, meaning that they offer great value for money. Being Mackie speakers, you know you're investing in a product made by a very trustworthy company, famed for the durability of its products.
Pros
+ Studio sound quality is the biggest pro of the Mackie CR3 multimedia monitors. It is ideal for use in a home studio or editing suite, as the sound is accurate, balanced, and natural, which is what monitor speakers must offer.
+ As they are only 8.2-inches by 5.5-inches by 6.2-inches, then they won't take up much space on your desk.
+ They offer extensive connectivity, allowing you to input 1/4", 1/8" and RCA devices, meaning that you can use almost all audio devices with these multimedia monitors.
+ The biggest pro to the Mackie CR3s is the superb value for money. They far outperform the majority of similarly priced monitor speakers, which are unable to compete with the CR3's studio-quality sound and professional-grade components.
Cons
- At only 50-watts, they don't offer a huge amount of peak power output. Then again, they're not built for power but for accuracy, which is what they deliver.
Why We Like It
Mackie CR3 multimedia monitors are affordably priced, provide studio-quality sound, are made from premium-grade materials, and offer an extensive amount of connectivity, making them a solid investment for a home studio producer on a budget.
If you liked the article, please leave your feedback.