Review of Klipsch ProMedia 2.1 THX
Any serious PC gamer knows that having a quality speaker system can truly enhance your gaming experience. Klipsch's ProMedia 2.1 THX system has been around in some form for more than two decades. It's remained one of the most popular systems for gamers during this time because of the incredible sound quality it delivers, along with its affordable price.
Sound Quality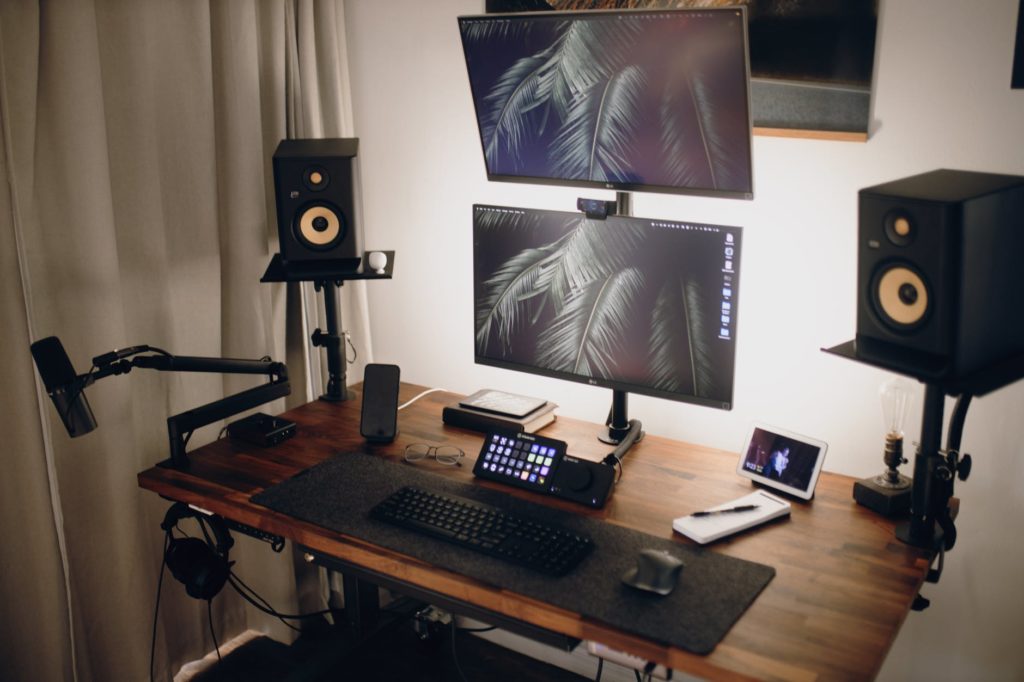 This three-piece, gaming sound system is comprised of two satellite speakers and a THX-certified subwoofer. The three components work well together to produce room-filling, immersive sound quality that offers you a cinematic-style experience. Each of the two-way satellite speakers includes 3mm drivers that are designed to take care of the mid-range. They also have a 19mm, PEI dome tweeter for reproducing the highs with perfect clarity. The satellite speakers also include Klipsch's Microtractrix horn technology, which is a big contributor to the exceptional sound quality the system gives you.
The subwoofer is key to the power and full-bodied sound that the Klipsch ProMedia 2.1 system gives you. It's a ported sub that's got a 6.5", side-firing cone that's made from a composite, fiber material. This driver delivers wonderfully rich and resonant bass that will enhance any gaming or film-watching experience. The volume can be turned up loud, and while you might find the room rumbling, the sound that comes out of the subwoofer will be clear and lacking in distortion. This is a big plus for this system as there are few speaker systems in the same price range that can offer crystal clear sound quality across the whole spectrum while also remaining rich, warm, and crisp.
Many people purchase this system for the volume. It's undeniably loud. This system offers you 260w of combined power. That translates into 110 decibels inside your room. If you're looking for a sound system that blows your socks off, then this is a solid choice. After all, when you go to a gig in a small music venue, then the decibel level will be in a similar area. It's unlikely you'll have the system turned up to its maximum level at all times, but it's certainly reassuring to know that you have the option either for a film night or for a gaming experience.
Design
Considering how powerful the Klipsch ProMedia 2.1 is, you might assume that it is a bulky system that will take up too much room in your home. Fortunately, this isn't true, and it's another reason why this system has stood the test of time. The two satellite speakers have dimensions of 8.5" by 4.2" by 5.67", which means they can be easily placed beside your computer monitor, for example, on your gaming table. The sub is just as compact. It's got dimensions of 9.5" by 9.8" by 10.2". The system is also lightweight, with it weighing 2.1lbs combined.
Volume Control
As any gamer will tell you, it's important to be able to swiftly control volume while you're playing. Perhaps there's a quiet moment in the game where you want to be able to hear approaching footsteps or another subtle sound. You also might want to be able to quickly lower the volume so that you can turn your attention to something or someone else momentarily. The Klipsch ProMedia 2.1 makes this a breeze. It's got touch controls for both volume and for the sub's gain. Of course, you can also use the main volume control to switch off the speaker system swiftly too.
Connectivity
Connectivity is simple with this system. You can hook it up to your laptop through the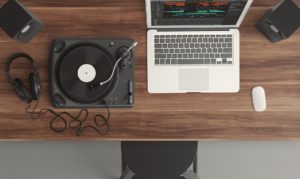 two2.5mm inputs, one of which is female and the other male. If you want to be able to connect through RCA, then it's possible to buy an adaptor that will give you the option. There's also a 3.5mm input on the front of one of the satellite speakers that you can use for your headphones. It's important to note that you'll need some lithium-ion batteries to operate this system.
Value for Money
Klipsch's ProMedia 2.1 THX system is often compared to the Z623 system from Logitech. This is because they are similarly priced, and the power rating is almost the same too. Both systems impress when it comes to the value-for-money that they offer. Logitech's product is slightly more expensive and that does translate into a slightly better bass performance from the sub but the difference between the two systems is minimal. You can't go wrong with either if you're looking to spend less than a few hundred bucks. Of course, audiophiles who are wanting a professional-sounding system will want to spend a bit extra. But for most gamers who want a boost to their pre-installed speakers or for a more cinematic experience at home, then either system will be good enough for your needs. There is, however, one issue that users of the Z623 often complain of that might make you stump for the Klipsch system, which is that the Logitech speakers can sometimes have an irritating hum from the sub. This isn't a problem for Klipsch. The quality control and attention to detail of Klipsch can't be faulted, in our opinion.
Overall, the ProMedia 2.1 THX speaker system from Klipsch is one of the best around in the low-price category. It offers a huge amount of power that few gamers will be able to handle at full volume for long. The sound quality is excellent across the whole spectrum, with crisp, clear highs, and rumbling, rich lows. They are easy to control and simple to set up too. Despite having a lightweight construction, they're also durable and are built to last. This THX-certified system will impress film fans as well as gamers, in our opinion, and the system can be used for music too. It's a safe investment for anyone wanting power, flawless sound, and easy usability for a budget price.
Summary
 Klipsch ProMedia 2.1 THX is a three-speaker sound system that's designed to be used with a PC or laptop. It features two satellite speakers and a subwoofer. The system has a combined power output of 260W. The satellite speakers feature a 19mm tweeter, a 3" mid-range driver, and a MicroTractrix horn. The subwoofer has a 6.5" fiber-composite cone inside it. The system weighs just 2.1lbs combined. Each satellite speaker has dimensions of 8.5" by 4.2" by 5.67", while the sub has dimensions of 9.5" by 9.8" by 10.2".
Pros:
+ Stunning sound quality that's THX-certified
+ Huge amount of power for such a small system
+ The sub delivers incredible bass
+ Easy to control
+ The setup is a breeze
+ Reliable product that's been on the market for more than two decades
+ Very reasonable price tag
Cons:
- The control knobs can be slightly too sensitive at times
Why We Like It:
It's an excellent speaker system for gaming, films, or music that has stood the test of time. The key feature is how it performs in terms of sound quality. It delivers rich, powerful sound with resonant bass thanks to the sub. If you take into account the reasonable price tag, then it's a superb value-for-money product.
If you liked the article, please leave your feedback.