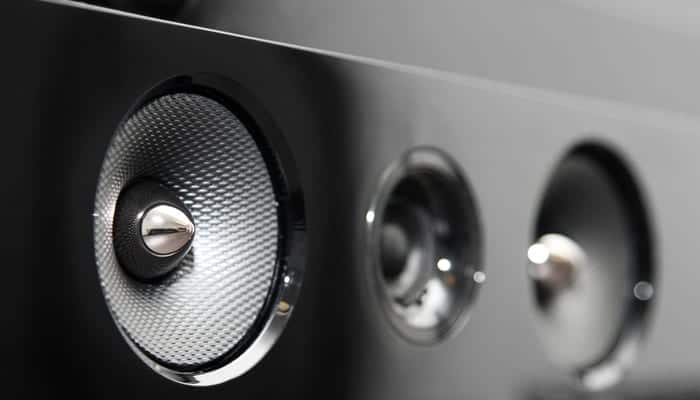 Join us for an illuminating look at some of the thriftier products lurking in the low-cost regions, which offer enough value for money to be considered for our best budget soundbar list.
We have sung the praises of the soundbar speaker concept before. Not only for its resourceful use of space and its progressive driver unit designs but also for its compact nature.
The industry is constantly evolving and churning out an abundance of soundbar options that differ dramatically in price.
The disparity does have a good reason, with some pretty advanced surround sound technology, such as Atmos, coming onto the scene in recent years.
Smaller speakers notoriously play second fiddle to their larger equivalents unless you have the luxury of shopping for a premium product, but we've found a few budget-friendly exceptions for you. So, let's get started.
At a glance: Our top 3 picks
Your shortcut to our team's top 3 recommendations
View The Best Budget Soundbar Below
The EWEMOSI soundbar is a deceptively powerful Bluetooth option that provides balanced stereo audio.
This soundbar has a solid design and durable construction which boasts two 1.8 inch speakers. In spite of their tiny size, they respond accurately to a mid-high range of frequencies and deliver a good definition. They're supported by bass diaphragms that handle the low-end, coping effectively with bass.
The delegation is processed by an HD chip, configured with the company's intelligent Bass tech, which helps to keep distortion nominal. They have a good deal of volume. The noise reduction feature also helps to ensure that the audio is clear.
As well as Bluetooth, this soundbar has a TF card, as well as a mini-jack auxiliary connection. It's compatible with a versatile range of audio formats. The battery lasts for four to six hours of continuous play at a high volume. It has a remote control for convenient operation.
It also features a built-in mic to support hands-free calling, aided by noise cancellation tech for a clearer signal.
Pros:
+ Budget Bluetooth soundbar.
+ Bass optimization.
+ Built-in microphone.
Why We Liked It - This is an affordable option with decent audio that offers a few mod-cons, rendering it a valuable purchase.
SAKOBS is another affordable excellent choice that offers superior sound. It may be almost twice the price of our opening product, but the sound quality is better when it comes to audio reproduction.
It has an aesthetically pleasing design which is not just for looks. It's rounded triangular form is conducive to good directional audio dispersion. It provides an elevation angle of 15-degrees, giving it a more spacious presence.
The inside stows four high-quality speakers with a full-range response that benefits from the enclosure's dual bass port design. This enhances the low-end, and deals with wave cancellation eliminates distortion risk.
Once again, this is supported by an audio processing codec that maintains frequency response efficiency and accuracy, delivering rich audio landscapes with great definition and excellent sound quality.
The circuitry also allows it to provide three different preset equalization sound modes tailored to music, TV, and movies which can be switched between using the remote controller, making this a good home theater option.
Along with the built-in Bluetooth connectivity, it offers RCA or optical input as well as a standard auxiliary input.
Pros:
+ 15-degree elevation angle.
+ 4 speakers with a dual bass port.
+ Range of connections.
+ Onboard EQ.
Why We Liked It - This soundbar is well designed. The speakers are very capable and the audio and sound quality is impressive. We love the equalization modes that separate it from the competition.
The TOPVISION soundbar features an innovative, detachable design, giving it a little more versatility than some of its competitors.
This is a hardy rectangular construction with visibly durable grilles. The entire soundbar can be split in half for separate use as either traditional left and right channel placement, or they can lie down as one soundbar.
The internal components are well-engineered. It features four quality speaker drivers with a built-in wireless subwoofer. It also includes a bass reflex tube in each half to keep it high-impact and distortion-free.
On-board digital signal processing once again allows users access to three preset sound modes like the previously reviewed soundbar.
It's kitted out with a range of input options including optical, coaxial, RCA, and a 3.5mm AUX. It comes with a power adapter remote control, a wall-mounting kit, and it benefits from Bluetooth version 5.0 for a stable signal.
Pros:
+ Innovative design.
+ Detailed array.
+ Preset EQ.
+ Wireless subwoofer.
Why We Liked It - The TOPVISION is another very commendable low-cost Bluetooth soundbar that provides rich, quality audio over a reliable wireless subwoofer signal.
4. Yamaha ATS1080-R Sound Bar
Next, we have an awesome streamlined soundbar from the expert engineers as Yamaha, featuring a built-in subwoofer and superb audio.
These soundbars retail at the upper-end of the low-budget region but are still accessibly-priced. They offer far better quality, with the inclusion of some impressive trickle-down technology from the higher-end of Yamaha's production lines.
These soundbars have a sleek and simplistic design with understated aesthetic beauty. Within their tiny confines are an advanced dual subwoofer and dual high-capacity tweeters. They work in unison to cover a broad response range and provide stereo audio with great dynamics.
They are assisted by Yamaha's Clear Voice processing, which focuses on the accuracy in the mid-range crossover region, to ensure that dialogue has the optimal definition, something hugely beneficial for TV use.
These soundbars support DTS Virtual:X to function with a realistic surround sound experience and provide a stable, wireless connection for easy streaming. They're also Amazon Alexa and Google Assistant device compatible.
If you opt for this soundbar, you'll find it's simple to install and operates via an HDMI arc, optical, or analog connection and comes with a remote.
Pros:
+ Thin profile.
+ Clear Voice and DTS Virtual:X processing.
+ Great audio quality.
+ Google Assistant and Amazon Alexa compatible.
Why We Liked It - The Yamaha soundbar is one of the best; it's very well-constructed, intelligently engineered and can function in a surround set-up. We love the duel subwoofer, and that it's compatible with Google Assistant and Amazon Alexa.
Related: Soundbars under 300 bucks.
The 40-inch MEGACRA is another similarly matched product that delivers one of the best listening experiences possible. The soundbar design is angled for the best possible audience projection.
These sounding bars feature four full-range speakers with two dedicated tweeters. They also have dual bass reflex ports to keep the low-end handling optimal. The audio has a great definition, and the bass has an impressive presence.
The signal processing chip provides three equalization modes, allowing users to switch their focus between settings optimized for music, movies, or dialogue definition for TV broadcasts, making this an excellent home theater option. You can listen in the kitchen, your bedroom, or your living room.
The Bluetooth connection is stable for wireless streaming. It's also fitted with a 3.5 mm AUX, RCA, and optical inputs for wired use.
It's well-manufactured and comes with a power adapter, remote control, and cables.
Pros:
+ Angled soundbar design.
+ Four full-range speakers and dual tweeters with a bass reflex set-up.
+ Great DSP which provides EQ control.
Why We Liked It - These soundbars are an impressive option that has caught our attention in the past. The audio has great definition and punchy bass, and the three listening modes provided by each are very distinct. This is one of the best sound bars for a home theater.
6. VIZIO SB2920-C6 29-Inch 2.0 Channel Sound Bar
This newly upgraded 2.0 system soundbar from VIZIO provides powerful audio and sound quality with balanced dynamics.
It's a well-made, streamlined enclosure rectangular in shape with smooth rounded corners and a denser grille.
It's equipped with two hardworking full-range speaker units that deliver impressive stereo which packs a punch. They feature top-quality components and are electronically engineered to support DTS TruSurround and TruVolume to fill your environment and maintain comfortable volume consistency throughout listening. This is great for your living room.
The wireless subwoofer means can operate it in a wired or wireless manner with Bluetooth at the touch of a button. It has optical and coaxial inputs as well as a USB connection, making it one of the best soundbars on our list.
Pros:
+ 2.0 surround soundbar.
+ Equipped for TruSurround and TruVolume.
+ Durable enclosure.
Why We Liked It - This can be hooked up to a separate subwoofer for a 2.1 surround sound set-up, making it one of the best soundbars on the market.
7. LKE Soundbar Wired and Wireless
This low-cost option from LKE provides a bare-bones soundbar alternative that focuses on basic functionality, yet still offers balanced audio reproduction. This is without breaking the bank.
It's a durably made, compact bar that features an angled build for projecting audio to the listener. The legs are little, which also optimizes the audio, ensuring that the sound isn't absorbed into the surface its sat on, which can muffle the clarity.
It features dual full-range speakers with left and right channel positioning for stereo audio. The definition is decent and the volume has a surprising amount of room.
This soundbar doesn't have quite as much to offer in terms of input, but it provides RCA or a 3.5mm connection. This is in addition to its wireless Bluetooth and a TF card reader.
You can recharge the battery via the USB connection, which provides eight hours of streaming between charges.
Pros:
+ Full-range balanced audio.
+ Battery powered.
+ Cheap and cheerful solution.
Why We Liked It - This is a bargain Bluetooth-ready soundbar option is perfect for smaller budgets and the best for installing in a bedroom setting. Although, you can install this soundbar and subwoofer in your living room if you wish.
Our final spot goes to a set-up from TaoTronics. This soundbar is affordably priced and has a heavy-duty minimalist design.
This is exceptionally well-made for a budget soundbar, with a dual front grille and an incline that's separated by an LED display screen. The soundbar's on-board 'capacitive' touch controls can be found below the display, though it can be operated via its remote as well.
The TaoTronics boasts four high-output drivers (two full-range and two bass diaphragms) which cover a wide frequency response to ensure that your bass has great depth and presence. Your dialogue is also clearly transmitted.
The Bluetooth keeps a steady stream, and it comes with an adapter to offer RCA, optical, and coaxial wired inputs.
Pros:
+ Great design.
+ Impressive audio definition.
+ Adaptable inputs.
Why We Liked It - The audio is on-par with products priced around the hundred dollar mark, so this soundbar has a lot of value to offer, and could be the best for you.
Budget Soundbar Buyers Guide
What to Look For in a Budget Soundbar?
When you shop with a restricted budget it becomes all the more vital to understand the significance of the specs that you are reading. With a little know-how, it isn't hard to shortlist your options into the best soundbars.
Durability
The durability of every best soundbar should be a factor to consider. Low-priced models will never be constructed from materials as hardy as the higher-end versions, but they ought to offer a fair level of value. You don't want to have to replace it too often.
Construction
The construction itself plays a big part. Lower production costs can sometimes equal shoddy craftsmanship, which is why it's sometimes wiser to opt for a brand held in high esteem, such as a Dolby Atmos smart soundbar.
Audio quality
The primary function of a soundbar speaker is for audio listening, meaning the audio quality should be regarded as the most important feature of the best soundbars. Other features, such as call-handling and Alexa compatibility, should be thought of as more of a bonus.
The audio quality boils down to two key ingredients: the speaker unit components and the digital signal processing. No matter how premium one of these is, it can't function to its full potential without the other.
As we mentioned in our intro, smaller speakers have a bit of a bad rep, and while they often fall short when compared to something bigger, this is not always the case.
If a speaker has a decent design that combats the size, they can work very well. A tiny set of earbuds is, after all, only a miniature speaker, and there are plenty on the market which impresses.
Bass can be a problem with a soundbar, but many have bass reflex ports or something similar in place to aid their low-frequency handling. Ideally, you should have a dedicated subwoofer for the lows.
You should never hold expectations too high with a budget product but, luckily enough, the constant development of an evolving industry like audio electronics brings rapid price reductions to the cutting-edge tech. So, if you shop sensibly then you're sure to find the best soundbar for you with a decent subwoofer.
Bluetooth
Lastly, it's important to remember that while Bluetooth brings a lot of flexibility with it, the streaming can be less reliable than a direct signal route. Newer versions are more capable and higher-priced products offer some exclusivity to higher speed bandwidths.
Connections
Even if you intend to use your bar wirelessly, you may find that, with a cheap soundbar, you'll need to plug in your TV for the best results. Ensure that the best soundbar you're buying has all the necessary inputs you require, such as HDMI inputs, or an HDMI arc.
Many televisions are equipped with a range of connections themselves, so you shouldn't find yourself too mismatched, but some models have more versatility than others. You don't want incompatibility to foil your endeavors, so make sure that if your TV uses an HDMI arc, then so do your soundbars or subwoofer.
Conclusion
Soundbars are a savvy way to conserve space and create a clutter-free feel in your home. In the last decade, speaker developments have allowed the technology to shrink but stay comparable to their loudspeaker-style predecessors. There are now some very admirable compact options available. You can even get a small smart soundbar if you want something extra - however, a smart soundbar might cost a little more.
Many higher-quality models can set you back a fair few hundred dollars, but the technological advancements are constantly trickling down to the lower end of the market.
Of course, you should never expect high-end and low-end products to be comparatively parallel in terms of performance, but we're confident that we've rustled up a few bargain options to cover your home theater and audio needs.
We hope our reviews and our bite-size, broken-down guide of what to look for in the best soundbars or subwoofer will help you in selecting one for your home.
Expert Tip
You should choose the length based on your television size. It's wise to opt for something that's the same length to keep the aesthetics looking good.
Did you Know
We recently looked at some of the best soundbar and subwoofer combos that provide 2.1 and higher surround sound systems as well as some Dolby Atmos soundbars which might be worth a nose if your budget is less of a concern.
If you've enjoyed this review by Music Critic, please leave a positive rating: