Are you looking for the best soundbar under $500? There are some excellent soundbar systems available in this price range. They will offer you cinematic surround sound that is textured, as well as fortified by the powerful bass.
Of course, you won't use the best soundbar under $500 just for movies, but also for listening to your favorite music, and the soundbar should offer you clarity tone whether that's in the low, middle, or high ranges.
The soundbar will also be able to detect what it is that you are watching or listening to so that it can automatically adjust. This is an excellent feature for sports fans, as the soundbar will boost the vocal frequency so that you'll be able to hear the commentator over the roaring crowd.
To make sure that you find the best home entertainment soundbar under $500, then consider this list of the six best, as well at the buying guide that follows it, then you'll be in a perfect position to choose the very best soundbar to invest your money into. Looking for cheaper? Try a soundbar for under $300 instead.
At a glance:

Our top 3 picks
Our team's top 3 recommendations
Best Overall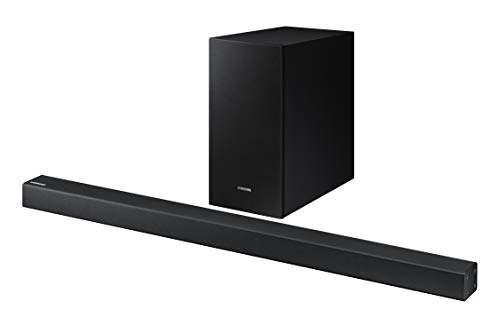 Samsung HW-R450 Sound Bar

Editor's Choice
Game Mode
Includes powerful, wireless subwoofer
Smart Sound Mode
Center channel for clear dialogue
Bluetooth speaker
Premium Quality

ZVOX SB500 Aluminum Sound Bar

Editor's Choice
Game Mode
Includes powerful, wireless subwoofer
Smart Sound Mode
Center channel for clear dialogue
Bluetooth speaker
Great value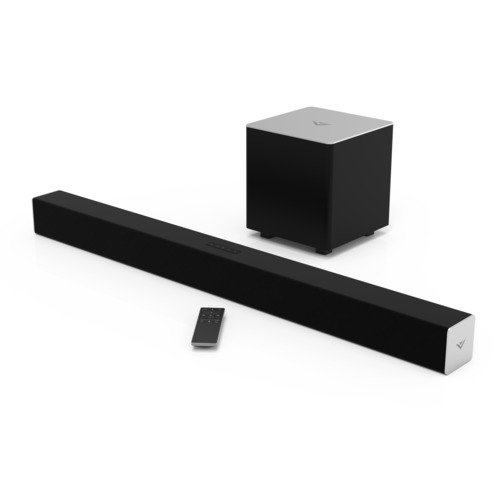 VIZIO SB3821-C6 38-Inch 2.1 Channel Sound Bar

Editor's Choice
Game Mode
Includes powerful, wireless subwoofer
Smart Sound Mode
Center channel for clear dialogue
Bluetooth speaker
View The Best Soundbar Under $500
1. Samsung HW-R450 Sound Bar
Our top pick of this review is Samsung's excellent soundbar. This smart soundbar speaker system comes with a wireless subwoofer so that you can get well-balanced, powerful, surround sound.
These surround sound systems can be put into a variety of modes that will make it adjust to the use that it is being employed, so if you're a gamer, then you can select Game Mode, and Smart Sound Mode will make adjustments so that you always get the best TV audio quality, whether you're playing PC games, watching sports, news, or movies.
Our top pick also has a center channel. This means that dialogue of the soundbar and subwoofer is always crystal clear. There's no need to lean into the TV anymore to try to decipher what is being said.
Pros:
+ Editor's Choice
+ Game Mode
+ Includes powerful, wireless subwoofer
+ Smart Sound Mode
+ Center channel for clear dialogue
+ Bluetooth speaker
Why We Liked It - The wireless subwoofer usually found in car audio speakers, makes this a contender for the best soundbar under $500, as you get rumbling, powerful, deep bass that will make PC games, music, and especially movies, much more fun. It's easy to see how this soundbar and subwoofer has been named our Editor's Choice.
2. ZVOX SB500 Aluminum Sound Bar
This ZVOX SB500 aluminum TV sound bar packs a punch, which is due to the dual subwoofers that are integrated into it. These home audio systems offer a Mega Bass function for floor-rumbling bass. The soundbar can be installed in a variety of ways, so you can lay it flat, stand it upright on your TV stand, or mount it on a wall.
This ZVOX SB500 home entertainment soundbar has special features such as AccuVoice technology, which gives you crisp, clear, and understandable dialogue. You can use your television's remote control for it too. The ZVOX SB500 powered sound bar perfectly suits televisions of a variety of sizes, but if your TV is between 50 inches and 90 inches, then this might be the best soundbar under $500 for you.
Pros:
+ AccuVoice technology
+ Ideal for TVs between 50" and 90."
+ Dual subwoofers
+ Wall mountable
+ PhaseCue virtual surround sound
Why We Liked It - This is a fantastic soundbar that is a contender for the best soundbar under $500 because of the mind-blowing bass that the dual subwoofers produce.
3. VIZIO SB3821-C6 38-Inch 2.1 Channel Sound Bar
This smart soundbar offers 100db room-filling sound that is beefed up by the wireless subwoofer that is included with it, which can also be placed up to 60ft from the soundbar. The excellent sound quality is crystal clear, and this is because the soundbar has Dolby Digital encoding, DTS TruSurround, and DTS TruVolume.
The best home entertainment soundbar under $500 shouldn't just offer exquisite sound, though, as it should also look good, and the stylish, sleek system design of this soundbar has to be seen to be appreciated. It also includes an easy-to-use wireless remote control.
Pros:
+ Dolby Digital encoding
+ 100db sound
+ Included subwoofer
+ Great value-for-money
+ Wireless remote control
Why We Liked It - This soundbar offers incredibly powerful sound, including booming bass, and all at a highly affordable price. Vizio has included subwoofer technology in this package - what is not to love?
The 3D surround sound offered by this smart home speaker comes from the remarkable internal set-up, which includes two 10-Watt tweeters, four 15-Watt full-range drivers, and two bass reflex tubes.
There is no need for a powerful subwoofer because of the bass tubes that accurately reproduce all low tones with booming power. This home entertainment soundbar has a maximum output of a whopping 105db and comes with wireless remote control.
You have four options for connectivity, RCA, optical, coaxial, and USB with this audio gear. This smart speaker is also wall-mountable. The Wohome TV sound system comes with a kit for you to do this. It's also really easy to set-up, straight out of the box.
Pros:
+ Easy set-up
+ 105db of maximum power
+ No need for a powerful subwoofer
+ 3D surround sound
+ Bluetooth 4.0 with 33ft range
Why We Liked It - The six drivers and the two bass reflex tubes put this in the best Bluetooth speaker soundbar under $500 category, as the power of the sound is incredible, as well as very clear.
5. Samsung Harman Kardon HW-Q70R Soundbar
There is no doubt that this has to be considered for the best soundbar under $500 prize. It offers panoramic sound due to the acoustic beam system design. Also, because of the Dolby ATMOS and the DTS:X technology then the sounds will come at you from various directions, meaning that if an actor walks from the left of the frame to the right, then his voice will move with him.
It also includes a wireless subwoofer, so that you get beefy bass. It will adapt to the sound of what you see on screen too so that you never have to worry about not hearing the dialogue.
Pros:
+ Dolby ATMOS and DTS:X technology
+ Panoramic, excellent sound
+ Adaptive sound
+ Game mode
+ Includes subwoofer
Why We Liked It - This Samsung wireless surrounds soundbar is a powerful subwoofer that offers panoramic sound, so any cinephile should consider this soundbar, as it will provide the same surround sound you're used to in movie theaters, meaning that watching movies at home will reach a new level with surround sound speakers.
6. Yamaha YAS-108 Sound Bar
Yamaha's YAS-108 has a very sleek, slim system design which will look great in front of your television, or underneath it if you decide to wall-mount it.
This TV sound bar has two woofers, two tweeters, and two in-built subwoofers, so you get an incredibly balanced sound. And, as with most Yamaha soundbar systems, Yamaha's YAS-108 includes ClearVoice voice-controlled technology so that you get crystal clear dialogue. The DTS: Virtual X technology makes for lifelike sound too.
This voice-controlled home entertainment soundbar is an absolute breeze to set up, and you can connect it to your TV through HDMI, AUX, or coaxial connections.
Pros
+ In-built subwoofers
+ ClearVoice technology
+ DTS: Virtual X technology
+ Wall mountable
+ Sleek system design
Why We Liked It - If you're searching for the best TV sound bar under $500 that is as good to look at as it sounds, while also incorporate surround sound technology, while remaining at a very affordable price, then Yamaha's YAS-108 is the soundbar for you.
Soundbar Under $500 Buyer's Guide
A soundbar is an excellent investment. It means that you don't need to rely on the low home audio quality speakers that you find inside even the very best flat-screen TVs. This simple piece of technology can sit in front of your TV or be mounted on the wall to offer you a surround sound experience in your home theater that will remind you of being a real movie theater.
It is remarkable just how much power you can get out of a soundbar. To make sure you choose the best soundbar under $500, then read this buying guide for an outline of the four key areas to consider.
Speaker Drivers and Subwoofer Type
In a soundbar, you will find numerous speaker drivers. The type and number of speaker drivers will depend upon the specific soundbar and will affect sound quality. Ideally, the best soundbar under $500 will have two tweeters and two full-range Bluetooth speakers. This will accurately reproduce the mid-tones and high tones.
But for low tones, then you have three choices. You can choose a soundbar that has bass reflex tubes inside it, a soundbar that has an actual subwoofer integrated into it, or a soundbar that comes with a wireless subwoofer.
Maximum Volume
It might surprise some people that small piece of equipment like a soundbar is capable of offering the sort of volume that can blow your socks off. If this is something that you're seeking, choose a smart soundbar with a maximum volume of at least 100db.
Enhanced Dialogue
Most manufacturers will include their form of technology to offer viewers a more transparent dialogue. Make sure that you choose a smart soundbar that has this technology so that you no longer have to bend forward each time a low-volume conversation is occurring on the screen.
Wall Mountable
Not all soundbars need to lie flat on a piece of furniture. Soundbar home theater systems are wall mountable too. If you've got your TV on the wall, then choose a soundbar that can be mounted on it also.
What is DTS:X technology, and what are its advantages?
In simple terms, DTS:X technology will allow the sound you see on the screen to walk around the room with you. So, for example, if a character shouts off-screen, then runs into frame screaming, before returning off-screen again, then the sound of the character's voice will bounce around your room, representing the movement in music.
This, of course, is perfect for movie nights in your home theater and will make you feel like you're in one of the many amazing movie theaters.
Expert Tip
If you're a gamer, then make sure to choose a soundbar that has a "Game Mode" as part of it. The sound will then naturally adjust to console and PC games, offering you a much more immersive surround sound experience.
Did you know?
The very first documented use of surround sound was done back in 1940, where 54 loudspeakers were used for a screening of the Disney film, Fantasia.
Conclusion
The best soundbar under $500 will give you immense volume, bass that rumbles your insides, as well as a panoramic surround sound experience. It will also include technology to ensure that all dialogue is clear, and even an object-based TV audio codec so that if a sound walks around your screen, it will walk around your room too.
If you've enjoyed this review by Music Critic, please leave a positive rating:
[vc_separator