Summary
As it's commonly known, a bass module – or subwoofer – is essential for a quality PA system. Why? Because it will provide you with deep, powerful low notes critical for creating a smooth, well-balanced sound. This is just as true for singers, DJs, and public speakers.
The Bose Sub1 Bass Module is an excellent piece of equipment designed to complement the L1 Pro Portable PA System range that Bose also produces.
It's compact – with a height of 20.9" and a width of 9.8" – and weighs just 35.5lbs. This makes it a portable choice. It includes a large driver that offers low-end reproduction to 40hZ. As it is a Bose product, then the sound quality is flawless. The clarity and depth of tone in this system needs to be heard to be believed.
It's a worthy sub for any professional, portable PA system.
About the Bose Sub1 Bass Module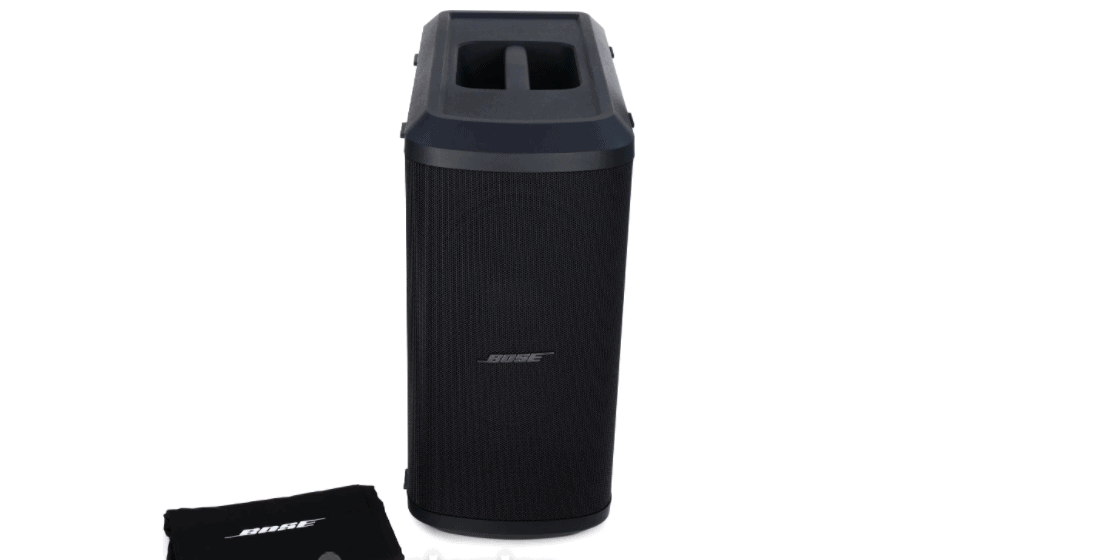 Key Features
As a piece of cutting-edge audio equipment, the Bose Sub1 Bass Module is loaded with excellent features. Let's look at the most important ones:
7" x 13" Racetrack Driver: The reason for the exceptional sound quality and bass projection is this Bose Racetrack driver.
480W Class D Amp: This high-grade amplifier ensures that the Bose Sub 1 Bass Module can deliver low-end down to 40hZ.
Speaker Pole Compatibility: This bass module can either be simply placed on the ground or mounted onto the Bose M20 pole.
SubMatch Connectivity: A SubMatch cable allows for optimal sound quality and automatic calibration when connected to your Bose line array.
Cardioid Mode: A useful mode for projecting bass forwards in a particular direction.
Pros
+ It packs a huge punch. Despite its compact, portable size, this bass module delivers 480w of powerful, pure low-end. The Racetrack driver is another high-grade component that allows for this little speaker for compelling bass. And if it isn't enough for you, then you can simply double up your subs by adding a second Bose Sub1 Bass Module into your setup.
+ The sound quality is incomparable. If it is part of an L1 Pro Portable PA system, it perfectly complements the other speakers, allowing for a well-balanced PA system that delivers professional sound quality.
+ Bose is a reliable brand. Investing in a Bose Sub1 Bass Module means that you can rest assured you'll get optimal quality for years to come.
Cons
- The only possible flaw of this product is the price. Then again, if you're seeking a bass module for a professional, portable PA system, then the price is reasonable.
Who Is It Suitable For?
It's suitable for anyone who wants high-quality low-end for a portable PA system. Public speakers, vocalists, comedians, DJs, and preachers are just a few of the people who can benefit from this product. It's particularly recommended if you already have an L1 Pro Portable PA system.
Why We Like It
It's a compact, lightweight subwoofer that delivers deep, powerful bass. The quality of sound that it offers is typical of Bose. It's quite simply a safe, excellent investment for anyone needing a professional PA system.
If you liked the article, please leave your feedback.