There's nothing better than a good pair of monitor speakers that take your audio listening experience to the next level, but finding a pair that suits you and what you require can be a challenge. However, Yamaha, one of the biggest names in the audio equipment industry, has an option you're not going to want to miss.
The HS8 8-inch powered speakers are a set of studio monitors aimed to be used in a professional environment, helping you mix and produce to the best of your ability. Of course, if you want to use these speakers to listen to your music casually, and in your own time, there's no reason why you can't enjoy the same benefits.
Using the latest in Yamaha's nearfield monitoring technology, you can set these speakers up in front of you to completely immerse yourself in your sounds and mixes, ensuring you hear every detail, and have the ability to reach perfection.
What makes these speakers stand out from the rest is the fact they contain Yamaha's original NS-10s cones, albeit a more updated version. Yamaha has been working on this technology since the 70s, and the fact it's still being used today should give you an idea of just how iconic and powerful it is.
These classic cones work optimally with Yamaha's new and improved bi-amplification drivers. The specially designed ported enclosures allow for the optimal flow of air around the speaker, thus allowing you to generate the crispest, most realistic sounds possible.
Bringing all these features together, you'll notice just how accurate these speakers are, and how much punch they have to give. The magnets are so much bigger than traditional speakers of this size. Coupled with even more technology, such as the Advanced Magnetic Circuit, the resulting dynamic response, and far-reaching frequency range is just unparalleled.
No matter what genre you're working with or what kind of volume you're listening to, we cannot overstate just how crisp and clear these monitor speakers sound. Just check out any of the hundreds of customer reviews from around the world, and you'll see just how blown away people are with what these speakers are offering.
Taking a quick dive into some of the detailed specs on offer here, these high-performance monitors come with a single 8-inch cone, plus a 1-inch dome tweeter, both of which come together to provide an outstanding frequency response range of 38Hz to 30,000Hz, which will be more than enough for the majority of applications.
With an LF power of 75-watts, and an HF driver power of 45-watts, this means you'll have access to a total power output of 120-watts, which is incredible when you consider the lightweight and highly portable nature of these speakers. Bi-amped, powered, and ready to go straight out of the box, it's easy to see why Yamaha is considered one of the best in the business.
Yamaha Hs8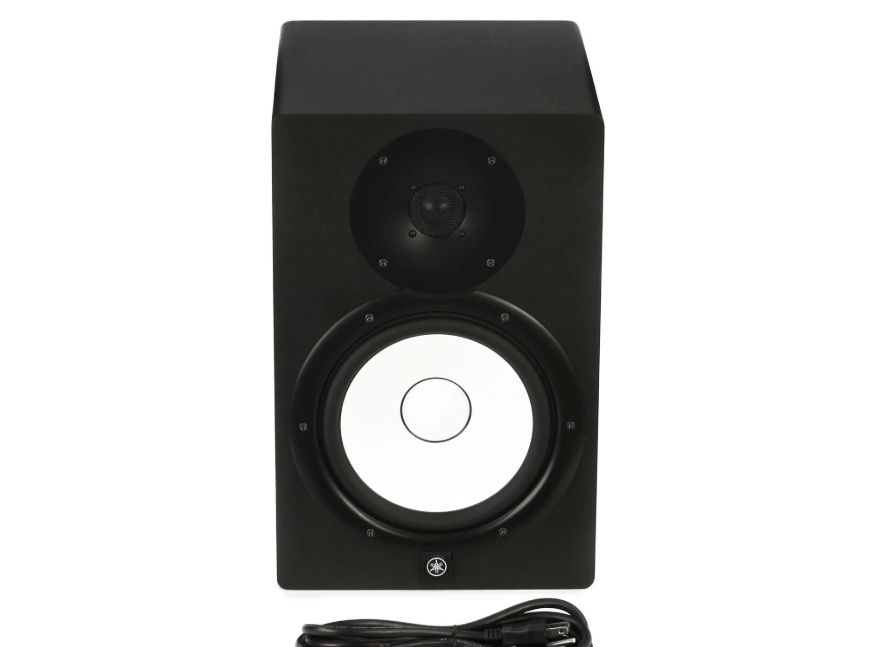 Summary
If you want precision and accuracy with your mixes, there's no denying the HS8s can deliver. Packed and overflowing with some of the best technologies Yamaha houses in their product inventory, the HS8s allows you to take your productions and mixes to the next level, all within a budget suitable for all.
Pros
+ These amazing-sounding studio monitors are excellent value for money, so they won't break the bank.
+ They offer an impressive frequency response range of 35Hz to 30kHz, meaning you'll be able to hear every note and chord in complete clarity with optimal detail.
+ They are one of the most lightweight studio monitor speakers weighing in at 22lbs, ensuring you'll be able to take these speakers wherever you need them without them holding you back or getting in the way.
+ The level of quality here is backed by thousands of four and five-star reviews from happy and satisfied customers worldwide.
Cons
- None. While these speakers might not be for everyone (monitor speakers usually come down to personal preference), there's nothing these speakers do wrong. Even if you don't like the sound, there are plenty of adjustment filters you can use to ensure the output is as close to perfection as possible.
Why We Like It
As you can see, there are a lot of fantastic features integrated into these speakers, so narrowing it down to just one we like is a challenge in itself, but not impossible. You'll love how easy it is to use these speakers in any room and still have a fantastic experience.
Of course, the acoustics of a room matter regardless of the output of your sound, but thanks to Yamaha's room control, you can easily adjust the output to sound optimal, no matter what kind of room you may be working in. This is in addition to the customizable high-trim response controls.
With this level of adjustment, you'll be ready for any situation. You can buy these speakers, safe in the knowledge you'll still be able to enjoy the optimal sound experience, regardless of your setup.
If you liked the article, please leave your feedback.