Nothing beats the convenience of a laptop. Being able to take your laptop to a cafe or restaurant, or bringing your laptop on vacation, has revolutionized how we work and play. However, a major drawback to the compact design of a laptop is that they often have tiny, thin-sounding speakers that can break your immersion in your favorite game, movie or television show.
Luckily, portable and compact systems have become widely available in stores and online, with a variety of diverse features to help you experience the media you love at home and on the go at an enjoyable volume.
With plenty of different options, levels of portability and sound quality, let us provide guidance finding the best set of speakers for your needs. Welcome to our top ten laptop speakers:
At a glance:

Our top 3 picks
Our team's top 3 recommendations
Best Overall
Creative Pebble 2.0 USB-Powered Desktop Speakers

Single USB input
Far-field Drivers and passive radiators
45 degree elevated driver
Premium Quality
Bose Companion 2 Series III Multimedia Speakers

Single USB input
Far-field Drivers and passive radiators
45 degree elevated driver
Great value
Rokono BASS+ Mini Speaker

Single USB input
Far-field Drivers and passive radiators
45 degree elevated driver
View The Best Laptop Speakers Below
1. Creative Pebble 2.0 USB-Powered Desktop Speakers
Creative has been making some of the best affordable after-market digital entertainment products since 1981 but is most fondly remembered for some of the best laptop speakers and soundcards during the PC boom of the late 1990s. Still creating excellent and affordable products today for music and gaming, they have introduced the Creative Pebble 2.0 to help consumers get the best experience on their laptops at home or away.
One of the most attractive features of the Creative Pebble is that it runs both its audio and its power from a single USB connection. We think this is a great, forward-thinking feature as many of the devices we use today are paring down their ports in favor of wireless syncing Bluetooth connections.
That means if you don't have a 35mm (1/8") audio jack on your computer or tablet, no problem! Just plug into one of your available USB ports and listen to your favorite songs with a gorgeous stereo image. Their speakers benefit from their small profile by being tuned for a far-field listening experience at quite a close range. This allows you to have an integrated stereo experience while being only a few feet away, which is perfect for late-night gaming sessions.
The back half is covered in a passive radiator that pumps out extra volume by vibrating sympathetically with the front speaker. This is a great piece of technology that ups the mechanical efficiency and provides these small speakers with a ton more bass. Its tilted 45 degree elevated drivers are also handy for ensuring that the sound hits your ears before anything else.
Pros:
+Single USB input
+Far-field Drivers and passive radiators
+45 degree elevated driver
Why We Liked It - Great Sounding speakers in a small package. The passive radiators and 45 degree elevated drivers set these speakers apart.
Portability - Will you be taking your speakers on the go, perhaps using them to amplify sound at parties, social gatherings, or TV watch parties? Consider the size and weight of your chosen laptop speakers to make sure they can easily fit in a handbag or a backpack for easy transportation.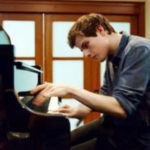 2. Bose Companion 2 Series III Multimedia Speakers
Bose has become a household name, providing small, efficient speakers that have big sounds to rival professionally set up HiFi sound systems. Having put their hand to creating affordable but quality compact speakers suited for home use, we are excited by the results.
This is not a new format for Bose, having gotten into the computer speaker market as early as 1987. Since then, Bose has made many exciting improvements to their design, and these series III models of the Bose Companion are some of our favorites yet. It's no wonder that this titan on the industry has a product on our list of best laptop speakers.
The Bose Companion 2 Series III Multimedia Speakers are a candidate for our least portable on our list, but what it lacks in portability is made up for in high quality, clear sound at a good volume. A bright, punchy signal is made possible by the TrueSpace stereo digital processing that seems to surround the listener with greater stereo width and bass response.
This would be our top recommendation for someone looking for something for gaming. With all that power in a small package, its secondary 35mm (1/8" inch) jack allows you to lend your Bose Companion 2's power to more than just your laptop.
Pros:
+High quality and trusted in name in multimedia speakers
+Secondary 1/8" jack for sources other than your computer
+1/8" headphone jack makes it highly compatible with a variety of inputs
+TrueSpace stereo digital processing
Why We Liked It - You can't beat the Bose name for sound quality, and these speakers deliver as expected. The Truespace stereo digital processing creates a fantastic stereo image. These are the best sounding speakers on the list.
3. Rokono BASS+ Mini Speaker
The Rokono Bass+ Mini Speaker is quite a contrast to our last two reviews, making it our first entry on our list of best laptop speakers to concentrate almost solely on portability. It's our only battery-powered recommendation and is truly for the nomad at heart that wants plenty of hours of play in a small package. This speaker is best for listening to music on-the-go.
Powered by a lithium-ion battery, it delivers 10+ hours for your laptop or tablet with a 35mm (1/8") output jack. Sleek, well designed, and easily transported, the Rokono Bass+ is the perfect pick for someone who wants to take this little guy to the park and listen to their favorite songs with their friends. With a capsule design that collapses for transport, opening up the middle allows for great mid and bass response.
One of the coolest features of the Rokono is that they can be daisy-chained. If you own two or more of these or have friends who do, you can chain these speakers together to get an even bigger sound from your Rokono on the go. When you are all done with your Rokono, just pack it up in its included travel bag, and you are ready to go. While not ideal for immersive experiences like gaming, the Rokono Bass+ is the go-to portable speaker.
Pros:
+Compact and sleek
+Deep bass for its size
+Rechargable battery for 10+ hours of play in a single charge
+Comes with a travel bag
+Can be chained together
Why We Liked It - The rechargeable battery and chaining function make this one of the best laptop speakers for music and movies for the traveler.
Power options - Many laptop speaks are USB powered, but not all laptops actually have USB ports. If your laptop does not have a USB port, you'll want a pair of speakers with multiple options for input, including a standard wall plug option for a classic, uncomplicated setup for any device.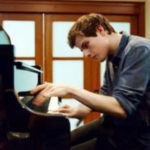 4. Logitech Compact Laptop Speakers
Logitech, like Creative, has long produced trusted computer peripherals. Less of a sound focused company, Logitech makes aftermarket computer mice, keyboards, headphones, and other accessories. It's no surprise that they have made some of the best speakers for the budget-minded.
Similar to the Bose speakers, the Logitech Compact Laptop Speakers are much less portable than some of the other offerings. These speakers are perfect for someone on a tight budget, looking for a better sound experience.
With 5 watts of power and a front-mounted reflex port, there is a lot to love about this low price speaker system. We suggest Logitech for someone looking for an economical solution to their sound needs, as their simple and familiar style provides great music and gaming experiences.
Pros:
+Very Affordable
+3.5mm input makes them versatile
+Reflex Port for improved bass response
Why We Liked It - More affordable than our other fully featured speakers, but the Logitech Compact Speakers are still a great product.
5. Moloroll Computer Speakers for Desktop
Moloroll Computer Speakers are a great middle-ground for someone looking for something portable but also big enough and sturdy enough for home use. With a quirky black rubber style with white trimming, these will look great framing your prized laptop, tablet, or desktop computer.
USB powered, with a 1/8" 3mm input, the Moloroll can be powered from either a USB on your computer or a wall plug. This is quite convenient for someone who wants to use their laptop speaker system for more than just laptop use. Its portable nature means you can set it up in any room in the house and plug any 35mm (1/8"inch) device you own.
If it has one major drawback, it's that its volume control is not mounted on one of the speakers and instead is attached to the cord. Other than that, this is perfect for entertaining guests or taking the speakers with you to an Airbnb for the night. Lastly, its metal grill, rubberized enclosure are both stylish and incredibly durable, making them at home next to your high-end computers and compatible tablets and phones.
Pros:
+Affordable
+USB powered, 1/8" 35mm input
+Compact and solid
Why We Liked It - The Moloroll is a stylish and well-designed speaker fitting of our best laptop speakers list. With some portability at a very affordable price, we highly recommend them.
6. Avantree AptX Low Latency Bluetooth Speaker
We are all familiar with how easy it is to get a great sound out of your home theatre setup by adding a discrete stereo soundbar. Avantree has taken that convenient idea and put it into a smaller footprint speaker with Bluetooth. While not a traditional entry, the Avantree AptX makes one of the best laptop speakers.
Now, usually, this would be where we'd warn you about the possibilities of latency when watching your favorite movie or playing a video game that requires you to react to sound queues while using Bluetooth speakers, but not with the new 4.2 Bluetooth technology. When using the Torpedo Plus with an Avantree transmitter, expect negligible levels of latency so you can enjoy your media the way it was intended to be enjoyed.
The Torpedo Plus also has three modes you can activate depending on your needs: surround sound mode, bass mode, and balanced (stereo) mode. Topping off all of these exciting features is two 5 watt speakers and a pretty substantial bass radiator for shaking your room during tense moments in your favorite movies. If you are not into the Bluetooth pairing, Avantree includes a 3.5mm auxiliary cord for plug and play connectivity.
Pros:
+Bluetooth 4.2 low latency
+Has surround sound mode, bass mode and balanced (stereo) audio mode
+2 5 watt speakers and bass radiator
Why We Liked It - The mini soundbar is highly convenient. Using this in conjunction with an Avantree transmitter makes it a fantastic wire-free listening experience. The Avantree is best for people looking for a wire-free listening experience.
7. Sanyun SW102 Computer Speakers
Sayun's SW102 Computer Speaker system is made with portability in mind. Their USB powered mini-speakers have some unique style features we think you'll love.
Featuring two stereo speakers with a wrap-around grill metal grill and ambient blue under-lighting, these are some of the more striking speakers on our list. While some might prefer having the power and audio to be transferred through a single USB, dividing the power source and audio input has some benefits and adds versatility to an already portable and easy to use sound system. This fantastic set of highly esthetic 5-watt speakers comes with a 1-year warranty and thirty-day money-back guarantee that ensures the consumer of their quality.
Pros:
+Compact size with unique wrap-around style
+Stylish blue underlighting
+Can be charged by computer or 5v wall plug
+1-year warranty
Why We Liked It - Portable and versatile, these USB mini-speakers are a great solution for someone looking for computer speakers with great sound quality that's perfect for music and gaming on a budget.
8. ARVICKA Computer Speakers
Arvicka's USB powered portable computer speakers are good quality, easy to use, and have a wonderful sound at a competitively low price. While not as portable as a capsule designed speaker, the Arvicka Computer Speakers will not disappoint with its compact design and big sound.
With a smaller size than the Moloroll cube design, these speakers are a touch more portable and would fit easily inside of a laptop bag or backpack. For someone unhappy with capsule designs but still looking for portability, the Arvicka Computer Speakers are our best laptop speakers alternative.
One of the most interesting design choices on these computer speakers is the underlit stands that they sit on. While one might assume that they are solely aesthetic, by raising the speaker cabinet off of the ground, this creates considerably better bass resonance.
Pros:
+USB 3.5mm jack style
+The USB Cable is 43 inches, and the Aux-in cable is 59 inches.
+Blue underlighting
+Cool cube design
Why We Liked It - The blue underlighting and the cube design make these some of our best laptop speakers on the list.
9. TaoTronics Wired Computer Sound Bar
Our second soundbar on the list has some cool features that make it a perfect choice if you need a soundbar for diverse applications. With its sleek design, powerful speakers, and small footprint, the TaoTronics Wired Computer Sound Bar certainly deserves a spot on this list.
USB power is a fantastic contemporary feature on a laptop speaker. Still, for those of us short on ports, sometimes it's not our best option when other necessary peripherals take precedent. TaoTronics have included a DC Port on this unit for precisely this reason.
This allows the user still to get great performance from their external laptop speaker while getting their power directly from the wall, saving one of their USB ports for their favorite wired electronics.
Another awesome feature of this mini soundbar is its microphone capability, which makes it perfect not only for entertainment uses but also for business applications. Perfect for conference calling over Skype and FaceTime, using this TaoTronics Sound Bar, you can ensure that all parties involved can hear and be understood.
Our favorite feature is its large volume knob located on the side, which, despite having no extra functional purpose, we think it's pretty stylish. That kind of thing can get you on our list of best laptop speakers.
Pros:
+USB powered
+Microphone capability
+DC port
+Big analog-style volume knob
Why We Liked It - The Microphone and DC port make this soundbar stand out.
10. AmazonBasics Computer Speakers
AmazonBasics has been a gamechanger in the market for no-frills home essentials delivered straight to your door. With a focus on affordability, we enjoy the AmazongBasics product line for its perfect simplicity. If you aren't looking for a ton of features and want something that is going to sound good with quick and easy setup, the AmazonBasis Computer Speaker might be for you.
There's no messing around here, and that's why these belong on our best laptop speakers list. USB or AC powered, one volume knob, no drivers or setup required. The speaker cabinets are well ported in the back for better bass response and power. The 35mm cords are wired into the back. It literally couldn't get any easier to plug in your laptop or favorite media device and get a good sound at a good price, delivered straight to your door. This isn't our pick for somebody desiring a portable speaker system.
Pros:
+Simple design
+USB powered
+Simple controls
+No drivers or setup required
Why We Liked It - If you are looking for something to keep on your desk to increase your enjoyment of media on your laptop computer, it doesn't get any easier than these speakers.
Bluetooth - While Bluetooth can be a fantastic convenience for laptop speakers, it can also create latency issues between your speakers and your device. This will not be an issue for solely audio experiences, but if you plan on watching from your laptop and protecting sound out of your speakers, make sure that your speakers of choice can generally stay under 25-50ms of latency.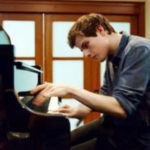 Laptop Speakers Buyers Guide
To USB or not to USB, That is the question
Three options exist for getting the audio out of your computer and into a new set of speakers: 35mm (1/8") output jack, a USB port or a Bluetooth connection. Each of these has its benefits and drawbacks. Let me take you through them and how they pertain to our list of best laptop speakers:
35mm (1/8") headphones jack
A standard for patching audio devices together for the last 100 years, these ports are everywhere on our legacy devices, musical instruments, headphone, and speakers. If you have a device that you want to use with your speakers that was made between the mid 20th century and 2023, we suggest getting a speaker that accepts 35mm audio jack inputs.
Now, the reason we say 2023 is because Apple released the iPhone 7 without a 35mm output in October 2016, and signaled to many other phones, tablet, and laptop manufacturers to do the same. With a myriad of adaptors now necessary to make your 35mm speakers work with current devices, it may be more trouble than its worth if your device lacks the proper output.
USB Port
Many of the speakers on our list power themselves using a USB connection, but some speakers can transmit their audio directly from the USB cord that powers them. This is a handy and clean way to handle your audio experience with fewer cords required, which keeps your desk looking tidy.
We think this is one of the best ways to transmit your audio to your laptop speakers but will create a myriad of issues for anyone wanting to use those speakers with a tablet or phone. These problems can be solved with the many adaptors for USB-C and Lightning connectivity that are on the market. Just be warned that they can be expensive. This option is best for people looking to use the speakers with your laptop only.
Bluetooth Connection
When it comes to speakers, Bluetooth connection is a great option for somebody who wants a portable and flexible connection free of wires that can clutter your desk or make travel a pain. Now that doesn't mean Bluetooth doesn't come with a myriad of problems. If you want to watch movies or any kind of video, lag can ruin your enjoyment completely.
Sensitive and intimate scenes can have out-of-sync dialogue, special effects and sounds may arrive at different times. Video game players can be very disappointed that the sound queues they depend upon for accuracy are delayed. Depending upon the quality of the speaker, the version of Bluetooth that it uses and the quality of the device you are streaming from.
If portability is paramount and the price is not an issue, a Bluetooth system might be perfect for you. If well synced, accurate audio and a good price are what you are looking for, explore the wired options on our best laptop speakers list.
Speakers: Proof that size matters
Buying the best speakers for your laptop has become a lot easier with contemporary designs employing ports and radiators to expand low-end response and increase the efficiency. Sound quality that used only to be available to people possessing HiFi systems is now available in speakers (drivers) 8" in diameter or larger and small tweeters to give you glassy high-end.
Now, with these modern designs, we can experience deep and rich sonics with well-engineered, high-efficiency designs. In this article, we've covered three different designs that we'd like to go a bit more in-depth about: the capsule, the desk (bookshelf speaker), and the mini soundbar.
Capsule speakers: Capsule speakers are the best compact portable speakers on our list. Meant to be pocket-sized, they concentrate on being the best choice for a person who wants to listen to music while out on a picnic. That compact design means these are going to be our quietest, least clear speakers with the smallest amount of bass response on our list of best laptop speakers.
This is made even more apparent by your environment. When used outside, these capsule speakers will lose considerable power as the sound has a long way to go before it makes its first reflection. Using lots of tricks to make its driver's sound bigger than they are, collapsable resonance chambers are common on these speakers. All of these things help bolster the sound quality of this design. But bear in mind that these speakers are best for those on the go. They aren't recommended for someone looking for a stationary speaker.
Desk Speakers: Your best bet for good quality audio is a good old fashioned desk speaker. Closest to a traditional design, these are a tried-and-tested way to experience good quality audio on your laptop at the right price. They also happen to be the least portable option. Often powered with a USB or DC port, these speakers are versatile and multi-use but very simple stationary speaker systems. These will usually house the largest, most full-ranged speakers on this list, but if you are looking for a lot of features, might I suggest you look elsewhere.
Mini Soundbar: Mini Soundbars are somewhere between our capsule speaker and a full set of stereo desk speakers. Self-contained and often wireless, these systems are usually a lot more expensive than your average capsule speaker, but have a greater sound quality and a lot more features. If lag is a concern for someone looking for something with a high-performance, choose one with wired options. Typically these mini soundbars have 5" drivers, which is a competitive size speaker compared to desk style speakers.
Does Price Matter?
Yes and no. Choosing computer speakers that come with a lower price tag can be tempting, but being frugal can pay off. When looking at two sets of laptop speakers, they may have the same size speakers and cabinet, but they could sound drastically different depending on the price.
Our suggestion for someone looking for portability that isn't interested in a very high-quality sound, you are more likely to get the best speaker that suits your needs for cheap. People seeking speakers with really high sound quality will be disappointed to know that the stationary nature of desk speakers and mini soundbars won't cut down the price. Someone seeking this experience should consider spending considerably more to find the right speaker for them.
Opt for Simple
When trying to find the right speaker in the styles we've listed, we suggest siding with a simple option over complex ones. Features like Bluetooth, or subwoofers on economic speakers may seem like you are getting extra value for your money. Still, usually, these additional features will be faulty, causing lag or boomy bass that sound unfocused. Finding something with bareboned features will likely mean they packed the most sound quality in for the value.
Conclusion
There are a lot of diverse options for choosing the best laptop speakers, and we're not sure there is a true "best option." Instead, try and find the best laptop speaker system to suit your needs. Whether you require something super portable, something very high quality, or something versatile that sits in between these two options, we know that you will find something on this list that works for you. Bluetooth, USB, and 3.5mm (1/8" input) are all great options, so hone in what qualities are most important to you, and happy shopping!
If you've enjoyed this review by Music Critic, please leave a positive rating:
[vc_separator