In our usual style, we are battening down the hatches, blasting up the volume to bring you a concise and unbiased comparative review of the 10 best Bluetooth speakers on the market.
We have sifted through the several-hundred available and weighed the pros and cons of each so you don't have to, liberating you to shop from the comfort of your homes.
As ever we have gathered all the relative data and put it into a jam-packed buyers guide that aims to answer all of your inquiries, allowing you to make a more informed purchase.
There are a tonne to choose from but we have managed to narrow it down to ten impressive candidates. We have tried to look at each budget level and include what we feel is an honest representation of the most capable within each price allocation, so let's get the ball rolling.
At a glance:

Our top 3 picks
Our team's top 3 recommendations
Best Overall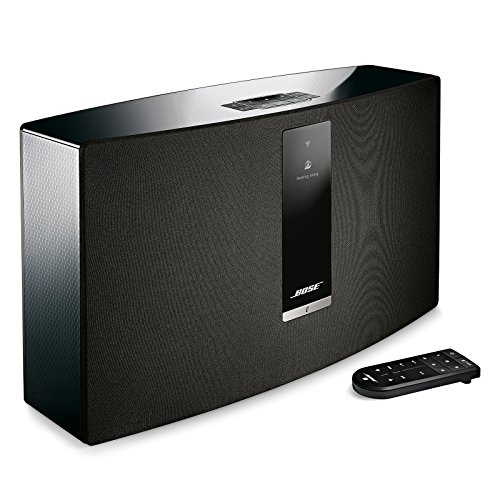 Bose SoundTouch Wireless Speaker

Powerful premium quality audio.
Excellent build.
Easy pairing.
Reliable, high-speed wireless connection.
Premium Quality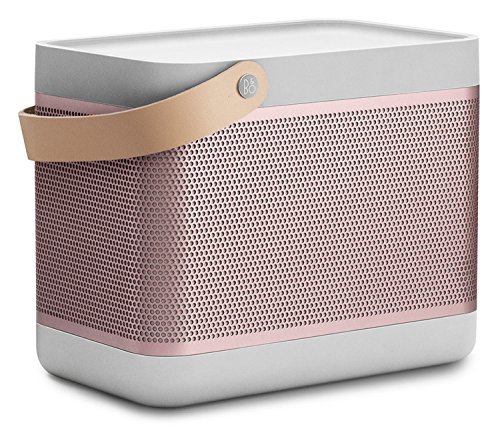 B&O PLAY Portable Bluetooth Speaker

Powerful premium quality audio.
Excellent build.
Easy pairing.
Reliable, high-speed wireless connection.
Great value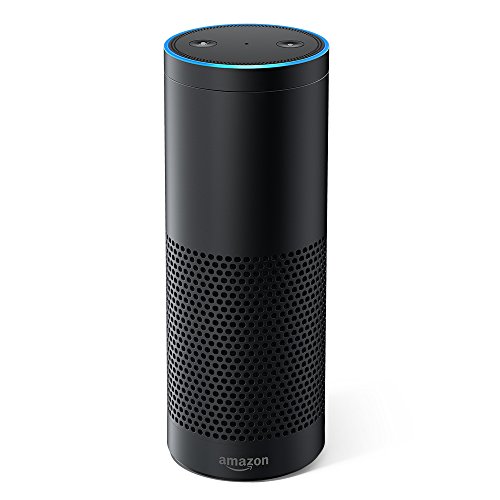 Amazon Echo Bluetooth Speaker

Powerful premium quality audio.
Excellent build.
Easy pairing.
Reliable, high-speed wireless connection.
View The Best Bluetooth Speakers Below
1. Bose SoundTouch Wireless Speaker
We are opening our review selections with a very esteemed offering from Bose's third generation of the SoundTouch series with their 30 model that makes for a very impressive room-filling model.
It operates in stereo as a stand-alone product which we don't always see with a singular Bluetooth speaker.
It has a good size the dimensions are 9.7" tall and 17.1" wide with a depth of 7.1" giving it plenty of space to house its very capable full-range array.
It effectively handles all aspects of the frequency spectrum with a wide response and reproduces sound with good details.
It has a fair volume though we would say that at maximum outputs the bass is a little muffled. It is instilled with a cut-off protection system to stop the components from overheating and overloading which can lead to it cutting out if it is cranked absurdly but it is built for pairing with multiple SoundTouch speakers.
When linked together the cut-out issue is far less likely and they have a much better headroom with the workload shared between them.
It operates seamlessly over the Bluetooth connection with a great loss-less signal. It can also be plugged in directly but that does seem to incur a nominal lag.
The wireless signal has compatibility within the 802.11 b/g/n family which is a significantly better signal for clear broadcasts with speeds that almost match a direct line but its exclusivity does make the product a little pricier.
It can function with Alexa devices for easier operation, or directly from your mobile via the app but also comes with its own remote control.
It also harbors its on-board controls which you can save up-to 6 settings for easy Bluetooth retrieval, saving your favorite podcasts directly.
It is compatible with AAC, Apple Lossless, MP3 and WMA audio formats and has a cable for mains powering.
It has great aesthetics and comes in either classic black or brilliant white the shape of the speaker front is slightly curved for better audio dispersion.
Pros:
+ Powerful premium quality audio.
+ Excellent build.
+ Easy pairing.
+ Reliable, high-speed wireless connection.
Why We Liked It - The components within are premium quality and the audio delivered has great balance with well-defined highs and no mid-range muffle. They work beautifully for music and dialogue alike and the Bose SoundTouch 30 might just be one of the best sounding options on the market.
2. B&O PLAY Portable Bluetooth Speaker
our second selection is again another high-end beaut which is blessed with some premium components and superior circuitry but comes in a more compact format, rendering it ideal for taking on your travels.
It has a very hardy construction which incorporates a strong leather carry strap to aid the portability of the product. The dimensions are 10" in length, 8" in width standing at 6 inches tall and it is suitably lightweight to fit its purpose.
It has stunning aesthetics and is a curvaceous cube-like speaker with a 360-degree grille that gives optimal audio dispersion. The grille is anodized aluminum to protect it from the elements and it also has a non-slip top formed from a durable polymer.
It comes in a range of colors, we particularly love the Shaded Rosa model designed by Cecilie Manz that has a grille with a dusky pink tone, complemented by the golden strap and silver housing.
Stashed away inside is a full-range, long-stroke high-performance speaker driver that measures 5.5" and works in conjunction with a trio of Mid-range tweeters with high capacity. They are 1.5" in diameter and capably provide definition and detail in the mix.
It also benefits from having dual balanced passive bass radiators to keep the low-end frequencies from becoming clouded and eliminating distortion problems. They measure 4 inches each and do a great job at handling the bass at powerful levels.
The audio is omnidirectional because of the 360-degree nature of the box serving up the unmistakable Bang & Olufsen signature sound.
The Bluetooth operates unimpeded, it can remember up to eight users to promote the companies social sharing awareness and stay connected to 2 devices simultaneously for easy switching.
It has a peak power of around 240 watts, the battery can last for up-to 24 hours playing at 75% volume for 8 hours straight, giving you plenty of time between charges.
Pros:
+ Durable manufacturing.
+ Premium quality product.
+ High-performance speaker array.
+ 24-hour battery.
Why We Liked It - It is another premium Bluetooth speaker which brings a lot to the table, the design is well-thought-out and is not only functional but beautiful. The audio is superb quality, the speakers are high-output with great performance and the signal stays streaming clearly over a generous battery allowance.
3. Amazon Echo Bluetooth Speaker
Now for a familiar face, If you are browsing on Amazon for a Bluetooth Speaker with mod-cons then you will have likely seen the companies proprietary device. The Echo is a fairly advanced little piece of kit built for optimal synchronization with Alexa to cater to your home audio needs.
It is a highly-recommended best-seller with a lot of acclaims which has been well-designed and constructed and most importantly retails at an accessible price level for most making it a realistic solution.
It features a cylindrical standing design that allows it to have an omnidirectional audio dispersion for 360-degree listening and can be placed anywhere in any room.
One of its biggest benefits is the link-up nature that allows it to pair with multiple speakers placed throughout your home all commanded from one center in a convenient hands-free manner via voice commands courtesy of Alexa.
Its Alexa compatibility also means it can give users news, weather, traffic updates, sports results as well as be used to schedule your Fire TV and answer your phones calls.
Alexa is always learning and evolving and the technology is cloud-stored so you get all the updates automatically. It can currently handle, Uber, Dominos and DISH orders as well as control a host of devices from companies such as Phillips, Samsung, Sony, WeMo and much much more.
It is equipped with seven microphones for far-field recognition and relies on the companies advanced beamforming technology so you can speak cross-room from a real distance. It also has a Drop-In feature to speak room to room so you won't have to shout across the house.
The drivers are very capable and built from quality components they consist of a woofer-tweeter combo. The woofer measures just 2.5 inches and is supported by a reflex tube that keep the bass clear. The tweeter is 2 inches and deals efficiently with the high-end frequencies.
The audio served up is well-balanced, rich and full-range with good definition and newer editions support Spotify and Sirius XM directly. It operates via an advanced audio distribution profile to keep your music streaming without interruptions and has a mains plug-in cable.
Pros:
+ 360 sound.
+ Well-engineered Woofer-tweeter combo with bass reflex tube port.
+ Can be linked up
+ Alexa compatibility for unlimited voice command of your home and life.
Why We Liked It -It provides adequate home audio but its most notable capabilities are its compatibility and far-field recognition which turns it into a command center for just about anything, with its always updating functionality the possibilities of the Echo are literally endless.
4. Harman Kardon Mini Portable Wireless Speaker
Next we have a high-end miniature Bluetooth speaker which is still far larger than some mini options available and packs a pleasantly powerful punch. It is about a third of the size of the original Onyx model from Harman Kardon and very well-made.
It has the same round and rotund shape but is little-over 15cm's in diameter. It has a wider flattened bottom to allow it some stability but has an overall depth of just 9.5cm's.
It is constructed from high-grade materials and the grille is very strong and covers more than 60% of the surface with its outward dome shape lending an important hand in the audio dispersion efficiency.
Its compact size is deceiving however as it houses a very well-engineered speaker unit. Despite having a mono woofer and tweeter the dual mid-range units are canted left and right and will provide a semi-stereo listening experience without pairing to a secondary unit, though it is advised for true stereo sound.
Up to 3 devices can be connected and it will also remember the last 3 paired for instant recall. It can be used for conference calling which is a convenient plus. The Bluetooth on-board provides a steady reliable stream and the battery lasts for 10 hours playtime and far longer whilst idle. It recharges via a mini-USB.
It has top-mounted controls and also features an auxiliary mini-jack input so you can play directly from a mobile device or hook it up to a laptop or computer.
Pros:
+ Great portability.
+ Quality construction.
+ Efficient audio array.
+ Adequate battery life.
+ Nice aesthetics borrowed from the larger Onyx model.
Why We Liked It - We love its round form it is an idyllic-size for quality audio in a compact housing, the mids are canted which gives the audio a stereo element despite the lows and highs being reproduced in mono.
5. Ecoxgear Ecocarbon Bluetooth Waterproof Speaker
Our next choice is the obvious one for the outdoors type that likes a bit of audio on their ramble. It is extremely well designed to take into account the rigor it will be put through with elements such as shock and waterproofing at the forefront of its design.
It is a little larger than pocket-sized but could definitely be called handheld, however, the company has cleverly provided a heavy-duty carabineer style clip for users to suspend the speaker from a belt loop or backpack strap or where-ever else they choose.
It features a rugged densely-woven metal grille and has good protection from knocks thanks to its thick rubberized surround. The edges have a raised tread like a car-tire so if you do prefer to carry it about it is non-slip and they also lift it from the surface it is placed on giving the audio better projection.
It is very water and particle resistant and will even survive a brief submersion, cleverly enough however it is built to float should it ever meet a body of water.
The charging electronics are protected by a waterproof plug that stays attached to the main speaker housing and the onboard top-mounted controls are also separate from the sealed electronic components.
It provides up to 12 hours of run-time between charges and the audio produced is surprising for its smaller footprint. It is equipped with dual 16-watt speakers and a 3-inch passive subwoofer providing stereo audio with a good dynamic range and fair definition.
Pros:
+ All-weather outdoor portable option.
+ Clever design features.
+ IPX-6 certified.
Why We Liked It - It is a well-fabricated option with sensible features, the audio is impressive for its dimensions and has good clarity thanks to the inclusion of a passive subwoofer.
6. B&O Play by Bang & Olufsen Bluetooth Speaker
Eighth in our sights is the BeoPlay model from the team at Bang & Olufsen for a more palm-sized model which brings better portability to the table. It is completely circular and measures 5.2 inches diagonally in diameter making it a little larger than a CD in size.
It is again very well-made inside and out from premium quality components that render it a premium choice.
It has a strong aluminum shell with a thin profile comparable to many of those we have highlighted and features a loop-hole with a cord for hanging conveniently where-ever you decide to place it.
The rounded surface provides a better sound dispersion than a flattened one projecting the audio from the grille curve.
It features a capable full-range speaker array within for dealing with a wide frequency response and producing well-balanced audio with good definition.
It has a built-in mic for handling voice calls and voice commands via voice recognition. It mutes via the microphone button with an LED indicator (red/green).
It also has a power button along with volume up/down and Bluetooth connects buttons to pair easily. It is fitted with a USB C port as well as a mini-jack auxiliary input. It charges in 3 hours and can last up to 24 hours streaming at a moderate volume level.
Pros:
+ Highly-portable.
+ Thin profile.
+ Built-in microphone.
Why We Liked It - It is a great option for those on the go that is chocked full of convenient mod-cons and can be voice-operated remotely.
7. Libratone ZIPP MINI Portable Wireless Speaker
Another great mini Bluetooth speaker option to consider is the ZIPP MINI from Libratone. It still stands at a commendable 8.8-inches tall and its cylindrical shape disperses omnidirectional audio.
It features Danish engineering that is cleverly constructed to deliver dynamic audio utilizes the companies proprietary FULLROOM tech that gives it a powerful mono sound.
It has an advanced internal structure that harbors a 360-degree cone. The array is formed with two 1'' tweeters and one 4'' sub aided by two passive bass radiators that eliminate distortion from the equation.
The speakers' SOUNDSPACE technology allows it to be paired to up to 6 other Zipps 2 for traditional stereo left and right or more for surround-like sound big enough to start a party.
You can preset your 5 favorite internet radio stations or saved playlists for one-touch retrieval. Its Bluetooth signal is strong and unproblematic streaming directly from vTuner, Spotify, Tidal, and many more.
It features a built-in dual mic for handling your calls and is a smart-speaker which can communicate with Alexa by pairing or plugging in an Amazon Dot, Tap, or Echo.
It has a hush detection feature which will mute everything immediately when your hand is placed over the top.
The covers are interchangeable so you can adapt it to your own style or match it to the decor of your room.
Pros:
+ Great audio definition.
+ Pair up to 6 Zipps for partying.
+ Alexa compatible.
+ Hush detection feature.
Why We Liked It - It is an impressive smart-speaker with modern aesthetics that are can be updated courtesy of their interchangeable covers. The audio is powerful with great bass handling despite being a mono option and the the link-up functionality is a bonus for large gatherings and social sharing.
8. Anker SoundCore Bluetooth Speaker
We are leaving you with a low-budget option which is a solid all-rounder and whilst it might not live up to audiophile expectations it is more than tailored to cater to your average everyday casual listening.
It is lightweight yet robust and remarkably well-built for a budget Bluetooth speaker.
The array is contained in a quality enclosure with curved edges. The components are well-engineered and it capably handles the frequency spectrum delivering balanced stereo audio with sufficient detail.
It carries two high-sensitivity drivers and benefits from the company's patented bass port to keep distortion at bay.
The materials used are tactile and give it shock-resistant characteristics to help keep it protected against drops. It is highly portable and can be lugged around in a backpack or handbag for traveling with.
The controls are top-mounted and it pairs with ease, the battery capably provides up to 24 hours of listening between charges. Bluetooth has good signal strength and stability and it can connect with Alexa compatible devices to broaden its capabilities further.
Pros:
+ Durable low-cost construction.
+ Dual drivers and a bass port.
+ Can connect with Alexa devices.
Why We Liked It - It has a durable design which is important in a cheap Bluetooth speaker. It has a solid speaker unit and the audio reproduction is good quality.
Bluetooth Speaker Buyers Guide
Before we dive into answering some of your pressing FAQs in our Bluetooth speaker's buyers guide we are first going to give you our recommendations from today's review selections.
1. Top Pick
The Bose SoundTouch Wireless Speaker is our top -pick because it is exceptionally well-designed it provides some of the best audio around and operates on a premium Bluetooth bandwidth which keeps signals free of stutters. In terms of the Bluetooth streaming alone this bad-boy outperforms all the other hands down and is 5G ready should you consider upgrading.
2. Premium Choice
Now the Bose above could have just as easily been placed in our premium choice but given that we have already crowned it that spot could be reserved for none other than the Beolit 15 Play from Bang & Olufsen with its gorgeous but practical design and a 24-hour battery. It is immaculately engineered it contains a full-range audio array with dedicated mid-tweeters and dual bass radiators and gives 360 degrees of audio that you can take with you.
3. Great Value
In our great value position is none other than the Echo Bluetooth speaker from Amazon which is in reality so much more than simply a speaker. The Alexa cloud capabilities render it a far smarter piece of kit that makes it a convenient addition to a modern home, controlling literally anything you could desire from the lights and temperatures of your abode to scheduling or even micro-managing your busy life.
Are Bluetooth Speakers as Good as Wired Speakers?
First off, that depends largely on the definition of good and what we are trying to categorize. The audio produced for example can be just as good as a wired speaker with similar components installed that match one another in terms of their dimensions.
The way in which the audio is generated relies firstly on the response of the speaker cones, which respond themselves to fluctuation and disturbances within the magnetic fields.
So from a technical perspective, yes the audio can be or on-par whether it is wired or wireless.
That said, a Bluetooth speaker relies on reading the electrical signals indirectly and though for the most-part modern Bluetooth has stepped up its game and operates fairly clearly, it can be subject to a lack of consistency. This is especially true of older version operations so you might say it is less-dependable than a wired solution.
Of course, because the stream is being read by the speakers in a wireless manner instead of directly, there is a nominal lag. For many ears this is unproblematic but over a long course of time, the nominal amount adds up and can create a longer lag as time goes by until a point where it is noticeable, remarkably so with a live stream.
If you are watching something and using a Bluetooth speaker the picture and audio can soon become completely out of sync with one another which can spoil viewing.
Occasionally this will cause stuttering as the audio tries to catch up with the current signal in real-time.
There are many digital processing technologies in place these days that aim to specifically tackle these issues by employing a codec within the electronic chips that enable them to stream accurately in real-time.
The bandwidth for operation plays a very important part and there are some higher-end speakers that utilize faster frequencies to ensure a steady stream like the Bose SoundTouch we opened our reviews with.
Cheaper Bluetooth products operate on busier signals which again lessens the quality because as you can imagine there are a plethora of Bluetooth devices competing over the airwaves in this day and age.
Do all Bluetooth Speakers Come to Stereo?
Actually only some Bluetooth speakers are built to deliver stereo audio as standard. In order to serve-up stereo sound, the Bluetooth speaker itself technically needs to house 2 separate speakers which should be spaced apart, even if it is only marginally with one directed to the left and one directed to the right.
That way they can feed the stereo signal both ways to reproduce any panning used in the audio track.
Given that the majority on the market are on the smaller side to fit conveniently into our modern busy lives a lot of them are singular arrays with no determined left and right.
Others will require pairing to a secondary Bluetooth speaker model (generally of the same brand) to give a stereo signal, delegating one as a right channel and the other as a left once they are hooked up together.
There are even Bluetooth models on the market that can function in both manners and give users control over the feature. Running them in either mono or stereo.
Many modern Bluetooth speakers can be linked to many other models these days and function as a team with some providing a powerful enough arrangement for parties when working via their linked modes.
Are Bluetooth Speakers Compatible for all Devices?
If we generalize, then yes most well-made Bluetooth speakers will be compatible with the majority of majorly recognized devices. There are of course exceptions to the rule as with anything and this will be more evident in the low-budget Bluetooth speakers which may not be quite as versatile.
Bluetooth scans the frequencies in the area and if they are recognizable and accessible then they can stream it.
How do you Recharge Bluetooth Speakers?
How to recharge your Bluetooth speaker can vary slightly from model to model but the majority will charge via a USB B or C connection. This can be plugged into your laptop or computer to charge or an adapter plug for directly charging from your mains power outlet.
Some Bluetooth speaker models have their own DC power supplies which will again charge straight from the socket.
One of the advantages a Bluetooth speaker with its rechargeable battery power can also offer ( asides from portable audio) is that many can be used to charge from in a pinch.
So you can effectively give your mobile a little boost whilst it streams your music via Bluetooth sharing the power whilst you are out of reach of the mains.
Do Bluetooth Speakers Use Data?
No, Bluetooth operates on its own bandwidth transmitting data over short signal distances in an entirely separate manner to your internet.
It, in fact, doesn't need wifi or even a cell-phone network to function. It is actually a different communication technology which is why it doesn't affect your data usage unless you are using an online application that requires internet data to operate.
This is where the confusion sometimes comes in so you must check whether your apps run in an offline or online mode some will require net but give the user the option to save (download) their favorite playlists for offline use.
To clarify If you stream from a saved playlist via your Bluetooth you will only need your Bluetooth on it will stream without an internet connection but if you play through Pandora or similar streaming apps then they require internet access and this will eat away at your data allowance.
Best Bluetooth Speakers?
With so many on the market competing it can be hard to navigate your way especially through the lower-end budget options which for the most-part differ very little from one another.
Those we have looked at all make for great options and with any luck, our Top Pick, Premium Choice and Great Value highlights above will have given you a clearer idea of what makes a good Bluetooth speaker.
For those of you who still need a little more to go on, we are going to take you through what to look for in terms of key factors and their order of importance according to a certain demographic.
What to Look For in a Bluetooth Speaker?
What to look for when you pick out a Bluetooth speaker is closely governed by the manner in which you are going to use it.
Those who want a portable pocket-sized device for amplifying their mobile on a sunny day in the park are going to want something very different from someone looking to fill their bedroom or even their entire house.
So it is important to think about the items intended use as with any electronic product. If you are out and about you will want to consider the dimensions more carefully and think about the weather-proofing of the speaker too in-case you are caught out by the rain.
The durability also becomes more pressing but in a different way than a home speaker needs to be durable.
For home use, you will probably want something with a much larger frame and bigger driver units to entertain. It should have grilles that are hardy as they often go first on a speaker in terms of exterior damage. The design should disperse the audio with a good projection.
Whatever your Bluetooth speaker requirements the sound is going to be key because ultimately they are for listening pleasure. How well the audio sounds is down to the capabilities of the speaker parts themselves as well as the digital processing technology on-board.
The internal components should be well-engineered for their function you want a full-range speaker to pick up a broader range of frequencies and this can really only be handled effectively by the right types of cones.
The mids and lows require a bigger surface area and the highs will benefit from a dedicated tweeter dome or compression speaker as the response is very fast-paced and puts off heat.
When it comes to bass most home speaker systems will have a dedicated woofer or sub-woofer to cope with the low frequencies independently, freeing up the mid-range driver to hone in on what it is best suited to handling.
This optimizes the efficiency of the system. If you have an all-in-one Bluetooth speaker you are therefore going to need to ensure it has A. sufficient space for a large enough driver and B. some sort of venting or reflex port within its build.
The reflex port will help take away the rear-waves to ensure there is no wave cancellation otherwise the 2 waves will simultaneously cancel one-another out resulting in a muffled and unclear sound.
This can also be the number one thing that attributes to low-end distortion and enclosure rattling.
The Bluetooth on-board should be version 4 or higher and ideally, operate on a high-speed bandwidth. If you are an Apple user you will want to check for Airplay compatibility and if you want to be able to use it with Alexa again you will have to check the specs.
Conclusion
There is no doubt with the way that the world is headed that a decent Bluetooth Speaker is pretty much a modern-day essential.
Now the staple of many homes for their ease of use mod-cons and tidier appearances free from cables they are a sensible solution many are drawn to comparably.
With the demand for Bluetooth capable speakers so high, the models are available in abundance. What you get is limited a little by your budget allocation but there are some great deals around to be had.
We believe we have gathered some great examples from the lower, middle and higher-end of the market for you to peruse and highlighted their best features.
Hopefully with our Top Pick, Premium Choice and Great Value recommendations as well as our exegetic guide you will be well on your way to choosing your next Bluetooth speaker with all the knowledge you need.
Expert Tip
If you are looking to set-up a surround sound system for your home audio needs there are a handful of very capable Bluetooth functioning systems on the market well worth a look into. As today's article clarifies Bluetooth isn't quite as dependable as a direct signal but there are some high-end products out there operating on exclusive high-speed bandwidths that handle the stream very effectively.
Did you Know
We have previously reviewed the best waterproof Bluetooth speakers so if you are looking for a travel buddy that can handle anything the weather throws at it be sure to take a nose.
If you've enjoyed this review by Music Critic, please leave a positive rating:
[vc_separator