Summary
Every vocalist needs a reliable, high-quality setup for performing on stage. And that's exactly what this Bose L1 Model 1S with B1 Bass Module Wireless Package offers.
It's composed of a PA system, bass module, mixer, dual-microphone system, and microphone cable.
Let's have a look at each component a bit closer so we can see what they offer.
The Bose L1 Model 1S is a lightweight, portable PA system that can also be used for monitoring. It includes power amplifiers that contribute to crystal clear, precise vocal reproduction. Perhaps the most impressive feature of this PA system is its ability to offer 180-degree horizontal coverage. This allows for a room to be filled with smooth, well-balanced, and evenly dispersed sound without any reverberation.
The Bose B1 Bass Module complements the L1 Model 1S perfectly. It offers a tremendous amount of power, despite being compact, lightweight, and portable. It reproduces such powerful low notes because of the two 5.25", high-excursion and high-output drivers that are integrated into it.
To ensure the very best vocal reproduction on stage, then a quality mixer is necessary. And the T4S ToneMatch mixer is certainly a professional-grade piece of kit. It features powerful audio processing, a user-friendly design, and numerous connectivity options.
Shure is the most loved manufacturer of microphones in the world. The BLX288/PG58 microphone system delivers the excellent quality that vocalists expect from Shure. The wireless microphones transmit flawlessly to the receiver without any negative impact on sound quality.
The final part of this superb package is a robust, rugged, 10ft, Pro Co EXM-10 Excellines microphone cable that can be used on stage or in the studio. It features high-grade Neutrik connectors that ensure a stable connection at all times.
Overall, this is a complete package for vocalists who want the freedom to move around the stage without a cable getting in the way. Singers needn't be the only ones who can benefit from this package, with the sound quality offered to be suitable to vocal performances of all styles, whether that be stand-up comedy, a political speech, or a sermon.
About the Bose L1 Model 1S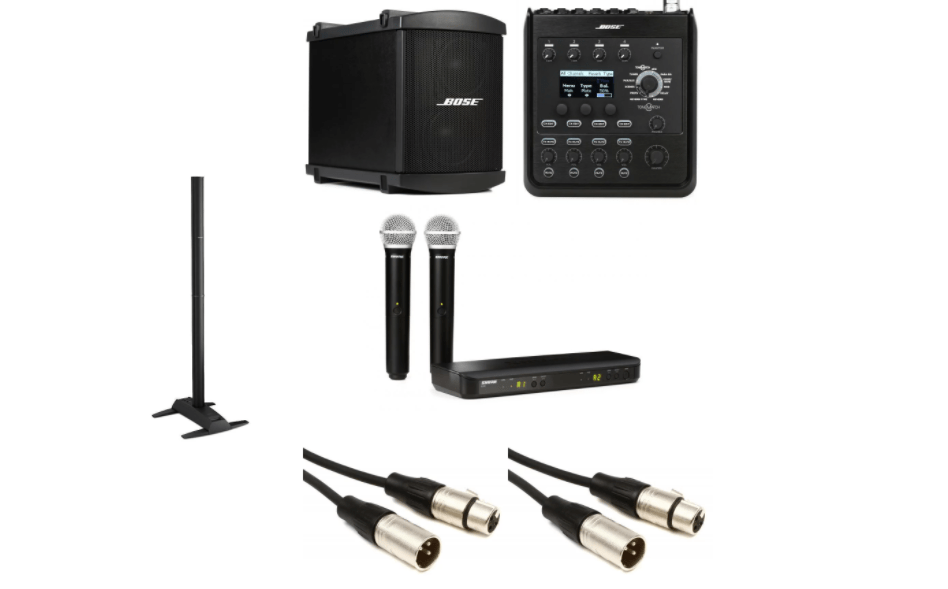 Key Features
The Bose L1 Model 1S with B1 Bass Module Wireless Package includes the Bose L1 Model 1S PA system, the Bose B1 Bass Module, the Bose T4S 4-Channel mixer, the Shure BLX288/PG58 microphone system, and a 10ft, Pro Co EXM-10 Excellines microphone cable.
Let's have a look at some of the key features of this exceptional package.
12-Speaker Articulated Line Array: The Bose L1 Model 1S includes a 12-speaker articulated line array responsible for its ability to produce 180-degree coverage. This means that sound projection is directed toward the sides, rather than up or down or even behind. This, in itself, can cause feedback, reverb, or echo.
Efficient Speaker Design: The B1 Bass Module manages to offer a huge amount of power despite its small size due to an efficient speaker design, including two high-excursion drivers. Not only does this bass module deliver power, but it also offers substantial depth, with it reproducing low notes down to 32htz.
High-Density Connectivity: Besides a wealth of features that make the T4S ToneMatch mixer perfect for a live gig, it also offers a huge range of connectivity options. Besides the XLR-combo jacks, it also has inputs for AUX, USB-A, USB-B, and a headphone jack, as well as a ¼" TRS analog output.
Cardioid Polar Pattern: The two Shure PG58 microphones feature a vocal-friendly, cardioid polar pattern that ensures your voice is clear at all times without any external noises infringing upon it. To further reduce the possibility of noise ruining a performance, these microphones also include an internal shock mount.
Smart Cable Design: For the very best signal quality, the 10ft, Pro Co EXM-10 Excellines microphone cable features a smart cable design, which means that oxygen-free wires are used, as well as a significant amount of spiral shielding.
Pros
+ Each component is designed with portability in mind. It's the perfect vocalist package for a small venue or for a touring speaker or singer who wants exceptional sound quality without needing to transport lots of unwieldy equipment. Each component's portability is further enhanced by its user-friendliness, with the equipment quick and easy to set up.
+ The wireless microphones are ideal for speakers or singers who want to be completely free to wander the stage while performing. With an operating range of up to 300ft, you can also enter into the crowd while being heard loud and clear.
+ This package includes everything a vocalist might want to perform with professional sound quality on stage. As it is a bundle, then the price is lower than it would be if you purchased every item individually, meaning that you get excellent value-for-money.
Cons
- Some vocalists prefer wired microphones to wireless microphones. But the Shure microphone system in this package is so good that it's likely that vocalists will become swiftly lose their connection to wired microphones.
- The price could be a little too high for some. Then again, this package contains Bose and Shure equipment, which are both manufacturers of professional-grade audio equipment, so it can be expected that the price is slightly high.
Who Is It Suitable For?
It's well-suited to anyone who uses a microphone, whether you're a singer, preacher, comedian, politician, or public speaker.
It's a complete package that would also be suitable for a small venue for up to 300 people who wants an in-house, portable PA system that delivers exceptional sound quality and deep, powerful bass
Why We Like It
It's a complete package for vocalists that offers excellent sound quality, easy usability, and portable.
We highly rate each component separately but taken all together; then it's an excellent choice for vocalists of all styles because of the superb value-for-money that it offers.
When it comes to audio equipment, then Bose and Shure know what they're doing, and that's exactly what we found with this highly recommended package.
If you liked the article, please leave your feedback.