The Yamaha HS5 is a powered, nearfield studio monitor speaker. It has a 1-inch dome tweeter and a 5-inch cone woofer. The frequency response offered by the Yamaha HS5 is 54Hz-30kHz. It is an ideal speaker to be used for mixing or mastering in a recording studio.
Yamaha Hs5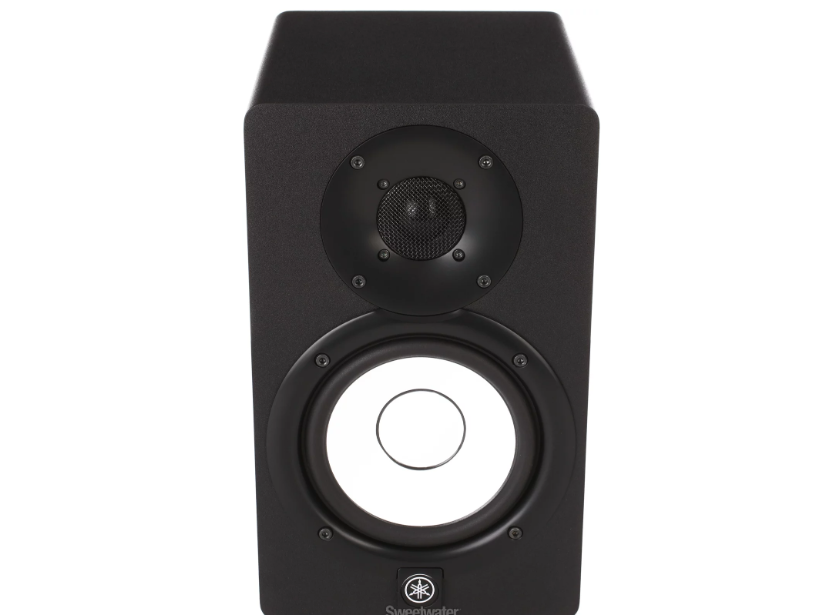 Summary
Yamaha's HS series has been winning plaudits for decades. These nearfield, active speakers – with their distinctive, iconic white cones – are a favorite with music producers all around the world. Why? Well, they simply offer natural, honest sound reproduction that allows you to mix and master your music in a manner that you can be truly happy with.
Every producer has found themselves using a poor-quality monitor speaker at some point in their careers and has thought that they've got the master just right, but then heard the music through another speaker and discovered that it sounds completely different.
That's always a risk when you use a monitor speaker that has been tuned to boost low or high frequencies. There's no issue of that sort when it comes to the Yamaha HS series, which explains its enduring popularity in the music world.
The Yamaha HS5 is an affordable powered speaker that sits at the lowest end of the HS series in terms of size. It has a 5-inch cone woofer and a 1-inch dome tweeter. These two transducers are renowned for offering a smooth sound across all frequencies. In fact, with a frequency response of 54Hz to 30kHz, there is barely any frequency that these transducers will not reproduce perfectly.
Of course, transducers of this quality require an amp unit that matches. And the Yamaha HS5 features a bi-amp system, which means that both transducers have an amplifier of their own. As you can imagine, the result is breathtaking. A pure, flat response all over the sound spectrum, combined with crystal clear, high-definition sound quality.
The Yamaha HS5 – just like all the powered monitor speakers in the Yamaha HS series – is more than just a pair of transducers. The whole speaker has been designed with a lot of forethought. The dense MDF enclosers offer extremely low resonance. These enclosures are also highly durable, which is just another positive aspect of this powered monitor speaker that makes it such a safe long-term investment.
You have a few different options in terms of controls, with the ROOM CONTROL and HIGH TRIM controls being a favorite of anyone who has used an HS series speaker in the past. Connectivity is a breeze too, as it has XLR and TRS phone jacks, which allow you to plug in multiple sources that are both balanced and unbalanced.
Overall, this is one of the finest active monitor speakers on the market that is part of the outstanding Yamaha HS series, which studio professionals around the world have raved about for decades.
Pros
+ The transducers and bi-amp unit mean that the Yamaha HS5 provides you with high-resolution, flat sound across a very wide sound spectrum. The honest of the reproduction makes a much better choice as a studio monitor than speakers that have been tuned to offer an artificial boost to low or high-frequency sounds.
+ The solid, heavy-duty, and dense MDF enclosure provides you with numerous benefits. But the ability to remove unwanted response is one of its best features. It also contributes to durability, meaning this speaker will last you a long time.
+ The HS series is made up of numerous powered monitor speakers with different sized transducers as well as enclosures. The HS5 offers a good combination in terms of size and price, which makes it one of the best-powered speakers in the Yamaha HS series to invest in.
+ The Yamaha HS5 is an exceptional monitor speaker that works perfectly in the studio for mixing and mastering. As with all speakers in Yamaha's HS series, they are an engineer's best friend.
Cons
- There is nothing to fault the Yamaha HS5 speaker. It is sensational across the whole sound spectrum, has been built to a high standard, and is perfect as a studio monitor. But, if you were forced to think of a drawback of the Yamaha HS5, then it would simply be in terms of size. It is the smallest speaker in the Yamaha HS series. Then again, at 70-watts of power, then it is more than enough for a small or home studio.
Why We Like It
The Yamaha HS5 is a flawless, active, studio monitor speaker that provides exceptional sound reproduction across a wide spectrum. It offers honest, flat, natural sound regardless of frequency because it hasn't been tuned to offer a power boost to either low or high notes. It is simply an outstanding nearfield studio monitor that would be ideal for use in a recording studio or as a high-quality speaker to be used by audiophiles at home.
If you liked the article, please leave your feedback.