Summary
Every singer needs a quality PA system, as well as a monitor for live performances.
The Bose L1 compact portable PA system is both these things at once. That's because its innovative design – featuring 'Spatial Dispersion' technology – allows you to place the Bose L1 behind or to the side of you and for you to hear exactly what the crowd is listening to.
How is that possible?
It's possible because the PA system is constituted of six small drivers. They're positioned in such a way that the speaker offers horizontal coverage of almost 180-degrees. The sound is, therefore, projected forwards and outwards, rather than vertically.
The result has to be heard to be appreciated, as the sound quality offered by the Bose L1 is stunning.
As a PA system, then the Bose L1 isn't just recommended to singers. Public speakers of all types will love the crystal-clear sound quality that it offers.
About the Bose L1 Compact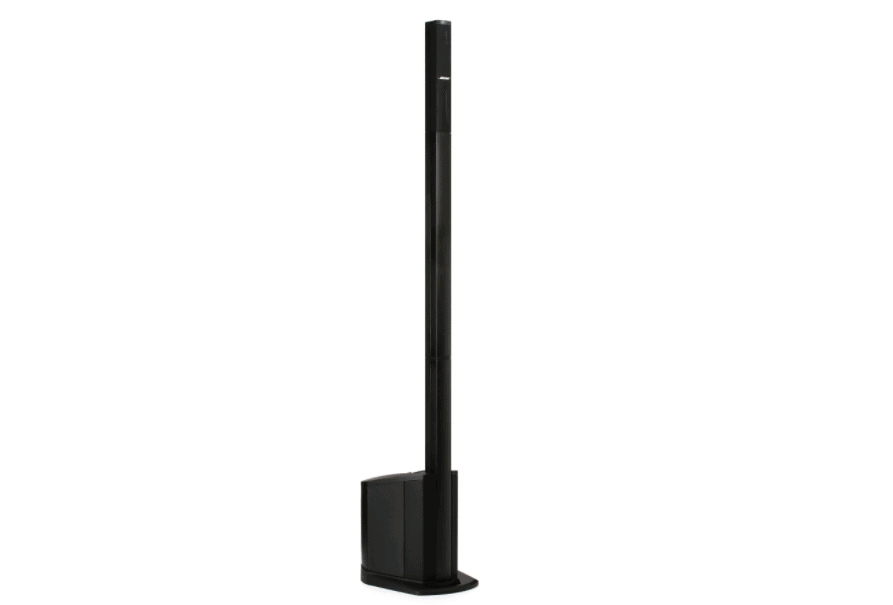 Key Features
Let's have a look at the key features of the Bose L1 compact portable PA system:
Spatial Dispersion Technology: This innovative technology created by Bose allows for wide, room-filling sound coverage of 180 degrees. That means that the speaker can also be used for monitoring.
In-Built Mixer: The mixer is integrated into the power stand. It has two channels to choose from. One is for a microphone and the other for an instrument.
Compact and Lightweight: The Bose L1 is also innovative in its ability to be collapsed and taken apart, allowing for it to be conveniently placed in the carry cases that it comes with. The whole system weighs a little under 30lbs altogether.
Pros
+ A combination PA speaker and monitor is something that all vocalists will appreciate. It cuts down on equipment, and it can also cut down on costs, as you get both from the same speaker.
+ It's a portable PA system that you can carry to a venue with great ease. It will also fit easily inside the trunk of your car or even on the backseat. It's that compact.
+ The sound quality is flawless, and the 'Spatial Dispersion' technology means that your audience will be able to hear your voice in crisp, clear detail regardless of where they're located in the venue.
Cons
- The only con is the price, which will be too expensive for some, but if you can afford it, it's worth it.
Who Is It Suitable For?
Vocalists, public speakers, comedians, preachers, and anyone else who uses a PA system will adore the quality that it offers.
Why We Like It
It's a high-quality PA system that doubles as a monitor. The sound quality is impeccable. And the ability to collapse it makes it highly portable, too—a superb PA system from Bose.
If you liked the article, please leave your feedback.