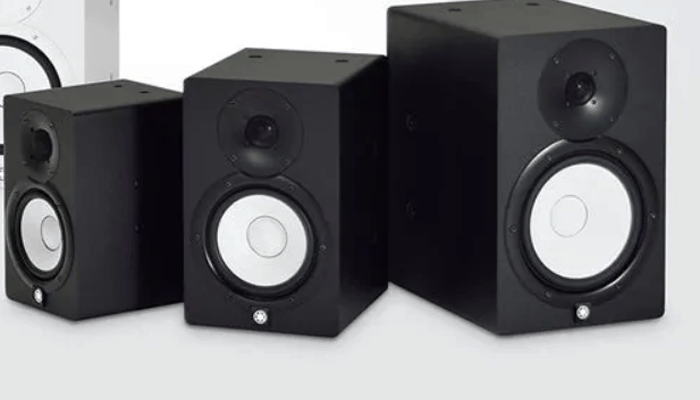 [[TOP3 OFF]]
Music enthusiasts will tell you that the Yamaha NS10 was one of the most important speakers in pop music history. In the 1980s, this speaker was every record producer's best friend. It was known for revealing all the flaws and inaccuracies in recordings, which was why producers used it as a monitor in their studios.
Of course, this inability to avoid the imperfections in sound meant that the Yamaha NS10 could sometimes turn from a producer's best friend into their worst enemy. Unfortunately, this divisive speaker, which inspired such strong emotions, was discontinued some years ago, leaving many to search for a replacement.
The Yamaha HS8 is the closest speaker to the Yamaha NS10 that's currently on the market. It is a great monitor for studio recording, whether that's a home studio or a professional set-up. Like the Yamaha NS10, this speaker offers incomparable clarity, so that every single detail – good and bad – can be heard clearly.
The bass reflex system and the 8-inch, 75-watt, cone woofer also mean that there's no need to use a subwoofer. If you were a fan of the Yamaha NS10 and are now looking for a modern alternative, then you cannot go wrong with the Yamaha HS8.
Key Features
The Yamaha HS8 is an outstanding speaker that is packed with excellent features. Here are the most important ones:
8" Cone Woofer: This woofer gives you minimal-distortion, well-defined sound on bottom-end output.
1" Dome Tweeter: This is an efficient tweeter that gives you clarity and crispness with high-end output.
Combined 120-Watt Amplification: This is a powerful and high-response bi-amplification system.
38Hz – 30kHz Frequency Range: This frequency range means that every single detail will be reproduced giving you an accurate audio image.
2-Way Bass Reflex System: This enhanced bass system eliminates the need for a subwoofer.
Room Control: This counteracts issues that come from speakers being placed near walls.
High Trim Control: This feature allows you more control over the high-frequency response.
MDF Enclosure: This gets rid of any resonance.
Pros
+ Like the NS10, there is nowhere to hide with the HS8. Every single detail is clearly reproduced and amplified, making it perfect for producers looking for a recording monitor. If you can hear everything in the mix, then you're then able to correct it and produce flawless music.
+ The combination of the 8-inch woofer and the 2-way bass reflex system means that the low-end frequencies are so powerful and well-defined there is no need for a separate subwoofer.
+ The two control systems – room control and high trim control – mean that the speaker is perfectly adaptable to whatever room or studio it is placed in and the location inside the room that it is placed in, so you always get reliable, quality monitoring.
+ The sound quality and 120-watt power mean that the HS8 doesn't just need to be used as a studio monitor. It is also a perfect home speaker that will offer audiophiles something that lives up to their high standards.
Cons
- The only con of the Yamaha HS8 is that it isn't the Yamaha NS10. But that isn't the HS8's fault. And, unfortunately, the NS10 has been discontinued. The HS8 isn't a consolation prize, though. It is an excellent speaker in its own right, and studio producers will love its monitoring capabilities.
Who Is It Suitable For?
The Yamaha HS8 is suitable for producers who are looking for a monitor. It doesn't matter what type of studio you have, or what the size of the studio is, as the room control and high trim control means that it is easily adaptable to all surroundings.
The Yamaha HS8 is also suited to anyone who was a fan of the Yamaha NS10, as it is an excellent modern alternative to the discontinued legendary NS10 speaker.
Why We Like It
Like the Yamaha NS10, the Yamaha HS8 offers incredible clarity, meaning that every single detail can be clearly heard, which makes it perfect as a recording monitor, but also for audiophiles who want to be able to hear absolutely everything on their favorite records. The Yamaha HS8 isn't quite the NS10, but it is a fantastic alternative that doesn't disappoint.
Other related product
Yamaha HS5
If you liked the article, please leave your feedback.