The JBL 305P MKII is an active, nearfield studio monitor speaker with a 5-inch cone woofer and a 1-inch soft-dome tweeter. Each of the drivers is powered by a 41-watt amplifier, which produces a combined power output of 82-watts. It also features a ported enclosure constructed from MDF.
JBL 305P MkII 5" Powered Studio Monitor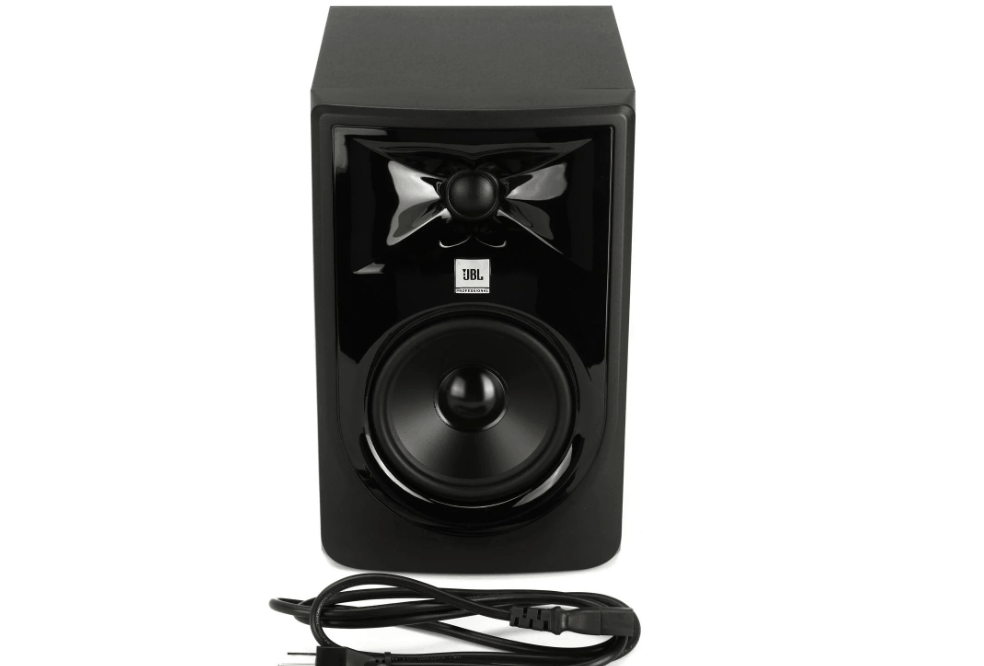 Summary
Everyone knows how good JBL's audio equipment is. From headphones to powered studio monitors, JBL always delivers exceptional quality. However, that's not all JBL products offer. They are almost always affordably priced, too. You could certainly say all that and more about this active, nearfield studio monitor speaker by JBL. It offers professional sound quality at a price any hobbyist can afford.
What is it that makes the JBL 305P MKII such a good powered studio monitor? There are a few ways to answer that question. The transducers are a good place to start – as they are with all types of speakers.
They feature a long-throw, 5-inch cone woofer, and also a 1-inch soft, neodymium dome tweeter. The woofer is boosted by JBL's Slip Stream low-frequency port, which basically means that your bass is more precise and tighter than a standard setup.
The high-grade transducers are just one feature of this speaker that makes it such an excellent studio monitor choice. The 305P MKII also includes another piece of JBL technology - the Patented Image Control Waveguide. This broadens the speaker's frequency response and offers a more accurate imaged sound that will improve your mixes and mastering. It also contributes to a soundstage that can easily be described as immersive.
As any producer – whether that's a professional or a hobbyist – will tell you, your studio monitor can be made or broken, depending on the room that it's placed inside. To heighten the chances of precise, accurate sound wherever you are, then the Boundary EQ will compensate for the room size and shape.
The 305P MKII has also undergone rigorous testing, where it's used at full power for 100-hours. It passed this test, which means that when you buy the JBL 305P MKII, then you're assured a reliable, long-lasting studio monitor.
The most important feature of a studio monitor is the sound quality. Looks are the last reason why you should choose a powered studio monitor speaker, but the JBL 305P MKII has the sort of aesthetics that means you'll be more than happy to sit it inside your studio, bedroom, or living room.
The 305P MKII is sleek, as well as modern in style. This is something that's related to JBL. Its products always look as good as they sound, which is quite an achievement because JBL speakers always sound amazing. The JBL 305P MKII is no exception. This affordable powered studio monitor speaker offers accurate sound across all frequencies, and it's loaded with cutting-edge technology, which only makes mixing and mastering easier.
Pros
+ The Patented Image Control Waveguide is an excellent piece of technology that ensures the JBL 305P MKII offers quality, accurate sound across a wide frequency range.
+ The Boundary EQ settings means that this powered studio monitor speaker is more versatile than others because it can compensate for the size of the room that it's placed in, as well as the natural acoustics found in the room.
+ The price is a huge pro for the JBL 305P MKII. It offers you enough quality that it could be easily integrated into a professional, studio setup. The price also makes it accessible for hobbyists or music enthusiasts with home studios.
+ This is a very good-looking studio monitor. The modern design is smooth and shiny and would suit any kind of studio. Not only does it look good, but it's also compact, so it won't take up much room.
Cons
- At only 82-watts, it's not the most powerful active studio monitor speaker on the market. Then again, power is one of the least important features of studio monitor speakers. And when it comes to the most important features – such as sound quality, bass performance, and durability – then the JBL 305P MKII delivers.
Why We Like It
The 305P MKII is an affordable powered studio monitor speaker that offers a top-quality bass performance, a wide sweet spot, and the ability to alter the speaker to suit the acoustics and size of the room you work in. It looks great too. And – as with all JBL products – you can be assured that it will continue to work perfectly and reliably for a long period of time.
If you liked the article, please leave your feedback.