Getting your hands on the best portable PA System is a no-brainer, but buying the best system for your needs might be a little tough. It's even tougher if you don't know what those needs are, exactly.
So, before investing in a high-tech portable PA System, you need to know how to get the best one for your personal preference.
A portable PA System aids your vocal cords by amplifying sound. You can speak to an audience without needing a whole nightclub speaker package.
Commonly, the user will find microphones, speakers, and an amplifier embedded into one Portable PA System. Some budget-breakers may include multiple microphone ports, other audio connection jacks, a mixer to tune your output, and more than one speaker to cover a greater sound distance.
We've carefully devised a list of the best 13 PA systems to help you buy the perfect one for you. After reading the review, we're sure you'll find the right one for your needs.
At a glance:

Our top 3 picks
Our team's top 3 recommendations
Best Overall
  ION Audio Tailgater Plus

50 hours of battery life.
Bass Boost Button.
Connect wirelessly or with a cable.
Premium Quality
  JBL Professional EON ONE Compact All-In-One

50 hours of battery life.
Bass Boost Button.
Connect wirelessly or with a cable.
Great value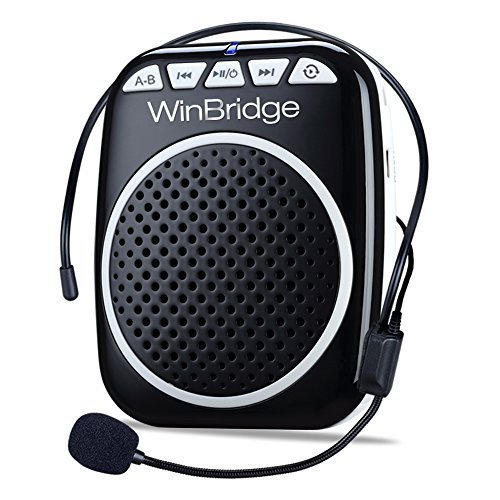 WinBridge WB001 Portable Voice System

50 hours of battery life.
Bass Boost Button.
Connect wirelessly or with a cable.
The Best Portable PA System & Speakers of 2023
1.  ION Audio Tailgater Plus
Get a Bluetooth PA system that packs a punch with the 50-watt ION Audio Tailgater Plus. This model features a powerful woofer and a remarkable tweeter that delivers vibrant sound, no matter what you're using it for. The Bass Boost button adds to the low end to achieve those deep low notes.
Connect wirelessly and easily from any Bluetooth-enabled device. No Bluetooth? No problem! You can also connect with the 3.5 mm cable included in the box.
This rugged machine features a radio system that comes with ten presents. It also makes for a professional-sounding karaoke machine, thanks to the high-quality microphone included in the purchase. And, with 50 impressive hours of battery life, you can party well into the night without worrying about charging up.
Pros:
+ 50 hours of battery life.
+ Bass Boost Button.
+ Connect wirelessly or with a cable.
Why We Liked It - One of the best things about this machine is the 50-hour battery life. It's one of the highest you can get on a PA system, providing hours of entertainment, no matter what you're using it for.
The Many Forms of PA System - PA systems come in many forms. Some PA systems are designed for live sound production, e.g. bands. These have larger speakers - loudness is an obvious priority. But you'll also notice PA systems on this that involve a headset/mic and a small speaker. These are designed for tour guides and other similar professions. Other PA systems involve transportable speakers with built-in mics for an all-in-one portable sound solution.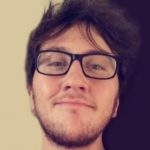 2.  JBL Professional EON ONE Compact All-In-One
The JBL Professional EON ONE is a super-compact package featuring a loudspeaker, mixer, and effects in one small PA system. Use the combo jacks to connect playback devices, instruments, and mics and experience that amazing sound JBL is so famous for.
Just some of the effects included are chorus, delay, and reverb. Connect to the JBL app and customize effects and presents to get the sound you're after.
This model has a frequency response of 37.5 Hz-20 kHz, and the 8-inch woofer provides a deep, low-frequency performance for excellent bass.
With a battery life of up to 12 hours, you can party all day before it needs to be charged. And if you want to go for longer? Just swap out the battery with the EON ONE's toolless system - you'll be back up and running in no time. And with an ergonomic handle, you can take this model anywhere.
The box comes with the machine, a rechargeable battery and charging cable, and a quick start guide so you can get set up ASAP.
Pros:
+ A portable machine.
+ Edit effects with the app.
+ A wide range of connectivity.
Why We Liked It - We love that this model comes with an app. Use it to edit effects and presents. Get the sound you're after, no matter what you're using your brand new PA machine for.
3.  WinBridge WB001 Portable Voice System
Portable systems are not all about outputting greater volume as some might need a balanced solution.
Tour guides, teachers and presenters need an all-in-one portable package to output their say, so getting a high-end PA system for this task won't be a sensible option. This is where WinBridge WB001 Portable Voice System comes into play.
This portable PA system is a cute little gadget which allows you to add audio to all presentations, and yeah! Loud and clear. Don't expect this PA system to output mind blowing volume as it is only meant to best help you in meetings or seminars. So people who are looking forward to a portable speaker partner than this box might be the best option for them.
Furthermore, WinBridge WB001 has rounded edges and a smoother waist clip design which allow it to get attached to your pant's waist so you can carry it around easily.
With this box, you get a sturdy rubberized headset that includes microphones as well so you don't have to invest your money separately on another microphone. On the features side, you get a loop and repeat button with one key for on/off. This one is one of the best selling products of 2023.
Pros
+ Best, small and compact design.
+ Easy to carry as it can be worn around the neck or through belt loops.
+ Powered with a lithium battery that offers up to 8 hours of service.
Why We Liked It - Without a doubt, WinBridge WB001 is a perfect partner for aiding your vocals. With 8 hours of long-lasting battery, the best support for TF/flash card and compact design this portable system won't let you down.
Built-in Mics - PA actually stands for 'public address' - PA speakers are speakers used to address the public, quite literally! It makes sense then that many PA speakers have built-in microphones to help you do exactly that - address the public. Wheelable, portable PA speakers are excellent for micing up your voice in public, whether you're a wedding MC, tour guide, or street performer.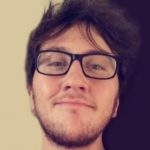 4.  GooDee Portable Pa System
If you are looking forward to a portable PA system to aid you while presenting something to your students then GooDee portable PA system would be a right solution for you.
GooDee voice amplifier is a high-quality portable device that outputs the best sound while protecting your throat from shouting out loud. You can use it indoors and outdoors for teaching, guiding, directing and the list goes on and on.
Thanks to superb speakers the system covers around 3500 square feet of an area with excellent clarity. Moving over to connectivity side, you can connect your microphones or either an mp3 player plus both at a time and the speaker will output signals at the same time.
Rechargeable lithium batteries make sure that you get up to 15 hours of continuous play time at full charge. Speaking about the design, it's super portable with the measurements of 4.13-inch x 3.31-inch x 1.38 inch which allows users to carry it around without any hassle.
In the box, you get the system itself with a headset microphone, charger cable, mp3 cable, mp3 line in port, Microphones line in port, removable belt clip, adjustable waistband and carry bag.
Pros:
+ Best powered speakers that cover up to 3500 square feet.
+ Microphones and mp3 input ports.
+ Best, compact design.
Why We Liked It - GooDee Portable PA System is one of a kind system that outperforms other challengers in the group. With 15 hours of playtime, 2 months of the hassle-free return policy and compact design makes this PA system the talk of the town. It is probably one of the most neatly designed products of 2023 - perfect for live events.
5.  PYLE-PRO PWMA100 - Portable PA System
For small gatherings or even in large auditoriums you need a partner to amplify your vocals while presenting something. Investing your bills on a high-tech Portable PA system will only burden your budget as you just need a compact amplifying partner.
PYLE-PRO PWMA100 comes in when you need a small yet powerful volume mate to make your say audible in the hall.
Its lightweight design ensures that you don't have to worry about it while traveling from here and there. Don't get confused by the compact design as it's equipped with a powerful speaker which ensures that your voice is heard.
You can also connect wired microphones but thanks to the wireless microphone that comes along with the package which gives you the freedom of moving around on stage. On the other side, you get 2 microphone input ports, one mp3 player port, and any other external audio device port so you can connect almost everything. If being heard is your mission in 2023, then this product is yours!
This box features an FM tuner for playing your favorite station over the speakers. Similarly, you can also connect other speakers using the audio output port. For playing the new beats in market users can also connect their phones using the auxiliary port to turn up the mood of a party.
Pros:
+ Powered with 80 Watts, which is enough for presenting in front of gatherings.
+ 12V 1.2 A rechargeable batteries.
+ Built-in one channel wireless receiver for connecting a wireless microphone.
+ The wireless microphone comes along with the package.
+ Two microphone input ports, One Aux port, and One audio out port.
+ Compact design, great for live events.
+ Features FM Radio.
Why We Liked It - With 80 Watts of power, FM radio support and 3 input ports with one audio output port this bad boy stays number one choice for many consumers.
6.  Tyler Tailgate PA System TWS404-BK
Have you ever seen a suitcase? If yes then you might get puzzled after seeing TWS404-BK Tailgate PA System by Tyler as it looks like a sturdy suitcase. Don't be too quick to judge this one by the appearance, as inside this system is a standalone audio beast.
Read Also: 11 Best Passive Speakers for Great Sound in 2023
This All-in-one suitcase is a multifunction portable amp speaker system that eliminates the hassle of carrying separate audio equipment. So where ever you go the party follows you all along the road.
Speaking about the goods locked inside, TWS404 outputs clear high, mids, and deep bass through 8-inch two-way speaker which is powered by a 60-watt dynamic amplifier built inside. Thanks to the 5 band equalizer you also hear the perfect distortionless sound.
Addressing more towards portability, this guy is equipped with telescopic handle and wheels so you can take it with you anytime and anywhere. But what about durability? Say cheese! Metal corners, a full-length metal grille, and a solid construction promise sturdiness even in harsh handling situations.
Engineers designed this PA System by keeping in mind the fact that users love connectivity options. That is why it is equipped with two ¼ " jack inputs for microphone/guitar, one AUX port for connecting any device with a headphone jack and Bluetooth 4.0 for wireless pairing.
Pros:
+ 75 hours of play time on full charge.
+ A USB port for charging your devices.
+ 8-inch Two-way speaker.
+ Powered with 60 Watt dynamic amplifier.
+ 2 ports for connecting microphone or guitar, 1 AUX port for connecting devices with a headphone jack.
+ Bluetooth 4.0 for wireless pairing.
+ Best, solid construction ensures sturdiness during live performances.
+ 5 Band equalizer ensures distortionless powerful sound experience.
+ Telescopic wheels and handle for easy transportation
Why We Liked It - With 5 band equalizer, 75 hours of battery timing and 60 Watt of dynamic amplifier this PA System surely tops many's wish lists of 2023 .
7.  Hisonic HS120B Portable PA System
Hisonic HS120B combines best portability and competence in a single package. This PA System has a powerful 40-watt speaker with a VHF wireless microphone to make your presentations go super recognizable.
HS120B is ideal for the ones who use their voice heavily on a regular basis, such as teachers, guides, etc. With a full charge, you get up to 15 hours of amplification over the microphone and 8 hours of entertainment when connected to any other audio source.
You can connect your laptop, old cd player or your smartphone directly to the speaker's AUX port. With the PA System itself, you get a lavalier & headset microphone in case you don't prefer wireless.
Along with many connectivity ports, you get separate controls for tone, echo, and volume so you can set everything according to your personal preference.
Pros:
+ Built-in VHF Wireless microphone with two additional microphone ports.
+ One Year Warranty.
+ Lightweight, compact and portable.
+ Powered with 40-watts of output, producing loud and clear sound quality.
+ Separate controls for tone, volume, and echo.
+ One auxiliary port for output and other for input.
+ One additional port for hooking up speakers.
+ 15 hours of microphone amplification and 8 continuous hours of music playing on a full charge.
Why We Liked It - In the box, you get almost everything to get up and running with your presentation. With 40- watts of power, Independent controls and built-in VHF Wireless microphone HS120B by Hisonic justifies the price tag. It is one of the best selling product of 2023 .
8.  Winbridge S92 Pa System
Winbridge is known for designing portable PA System under the hood of karaoke, teachers, tour guides, and trainers. S92 by Winbridge is one of the essentials that every teacher or guide needs in 2023 .
With a lot of features to talk on let's start off with its sheer strength. This box adopts the famous T1 brand digital public address with 25W of power. Similarly, it promises low power consumption and high efficiency which allows it to serve a continuous play time of 20 hours on full charge.
Along with the system, you get U2 wireless transmitter which is equipped with an 1800 MAH lithium battery. Similarly, the transmitter itself is very small which makes it easy to carry around.
Pros:
+ Along with the system itself, you get a U5 handheld wireless microphone.
+ U2 Wireless transmitter has a long 15 hours of standby time.
+ Powered with 25W of output.
+ Supports Bluetooth 4.0 for pairing your smartphone devices.
+ Tf Card and USB flash drive support.
+ Sound coverage of 2500 meter square.
Why We Liked It - On the whole, S92 by Winbridge is a great deal to conquer. With support for Bluetooth 4.0, sound coverage of 2500 meter square and U5 handheld wireless microphone this PA system is truly matching every customer's demand in 2023 .
9.  LyxPro SPA-8 Compact 8" Portable PA System
LyxPro was launched three years ago with the motive of fulfilling customer's demand of high-quality yet affordable audio equipment. While engineering an audio product LyxPro always keep the fact in mind that a customer is always right.
This company covers all users, whether you want a new gear for your studio or a new pair of wireless headphones for casual use LyxPro has got you covered.
Keeping the elite reputation in mind LyxPro has designed a portable PA system which they named as SPA-8. People who want a handy party system might fall for this beast product.
Portable PA systems are offered by many but when it comes to versatility most of them step back. That's not the case with SPA-8 by LyxPro as it is equipped with flexible inputs, reliable output, smart onboard controls, beast of a strength and quality audio reproduction. With such features, it does so much more than just amplifying your presentation.
Talking about the connectivity side, SP-8 has got it all that you'll ever need, like ¼ inch jack, XLR jack, balanced RCA jack, and R/L RCA line inputs. For pro users, this PA system features an onboard EQ that helps users to shape sounds according to their personal liking.
To set up the fire you are just one power card away as the speaker is an all-in-one solution. Just plug in the cable and start partying. 100 watts of power let you blast the environment with your words. So no matter what you are up to, this PA system ensures that audio reaches the farthest corners.
Apart from those typical input ports, you get a USB port for charging your devices, an SD Card slot to mess around with some music and Bluetooth capability for pairing your favorite music. For easy operation and full control, you get an onboard music control display.
Lightweight and easy to carry factors set this portable PA system apart from many portable systems and one of the top-selling products in 2023.
Pros:
+ 100W powered system.
+ 8-inch woofer to pump up the parties.
+ Support for Bluetooth and SD Card.
+ USB port for charging.
+ Many useful inputs like XLR jack, balanced RCA jack and R/L RCA line inputs.
+ Onboard EQ for shaping the sound.
+ Music controls on board with a display.
+ Nice option for live events
Why We Liked It - LyxPro defines the real meaning of quality audio products. With 100W of power, 8 inch woofer and support for Bluetooth SPA-8 definitely marks a special place in many customer's hearts and wish list in 2023 .
10. BEHRINGER EUROPORT MPA40BT-PRO
Synonym of light-weight in audio industry is Europort MPA40BT-PRO by Behringer. This extremely lightweight suitcase alike PA system might be your next friend when it comes to strength and quality.
From streaming your favorite songs through Bluetooth in the party next door or getting your message across the playing field Europort MPA40BT-Pro is capable of loads. Thanks to the 40W amplifier and two-way premium speaker this system output powerful sound. Forget about plugging this guy into a wall outlet as on a full charge you get 12 continuous hours of play time.
With the system itself, you get a high-quality dynamic microphone. Side by side, you can also add up 1 or 2 microphones that are sold separately to edge up your wireless easy to go anywhere experience.
As we are living in 2023 the days of cd players and tape are gone that is why Europort MPA40BT-PRO features Bluetooth connectivity. Now with just a simple pairing process, you can tune up to your favorite track without any hassle of buying outdated cables.
The great sounding of this PA system does not affect the weight factor as it is amazingly lightweight marked at only 9kg. Class D amplifiers and onboard battery pack coup up to give you 12 hours of continuous entertainment.
To add more to the transportation game this system has a luggage-style handle with built-in wheels so that you can carry it around with style and ease.
This extraordinary box features a built-in two-channel mixer with ultra-low noise high headroom mic preamps that deliver the true natural experience. Similarly, it features two band equalizer along with Bluetooth support for streaming audio from your smartphone.
Whether you are using this system standalone or along with other speakers you'll experience an out of this world quality. Behringer doesn't forget you after the purchase period so that's why they have given customers three years of warranty so any buyer can get expert assists when needed.
Pros:
+ Bluetooth ready
+ Luggage style hand and built-in wheels increase ease points.
+ As light as a feather.
+ 12 hours of continuous play time
+ Two channel mixer and Two Band equalizer.
+ World-class sound quality ensures neat live performances.
+ Free High-Quality dynamic mic.
+ 3 years Warranty.
Why We Liked It - Delivering such masterpiece in an affordable price range is complemental. With just 9 kg of weight, 12 hours of continuous play time and 3 years of warranty wherever you go the party follows you!
Mixers for PA Speakers - You may have noticed that some PA speakers on this list, such as the BEHRINGER EUROPORT PPA500BT and Yamaha STAGEPAS 600I Portable PA System have powered mixers. Powered mixers allow you to connect various inputs (TRS and XLR) which can be mixed in the unit and output through the PA speakers. These are ideally suited to small multi-source audio installations.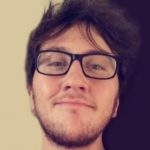 11. Hisonic HS420 PA System
Hisonic has been around the audio game since ages. From professionals to beginners every user trusts the name Hisonic for innovating something special.
People who are into public announcement would be glad to hear that Hisonic is a part of it as well. HS420 by Hisonic has got everything for voice and sound amplification.
This portable box is no joke as inside it's rocking a 40-watt RMS Bluetooth speaker and a VHF wireless mic system to match up your expectations.
No matter where your program or concert is HS420 can back you up for 8 hours on a full charge, thanks to the 12V lithium rechargeable battery.
Alongside VHF wireless receiver you get a belt-pack transmitter with a headset. Charging your devices along with the presentation is not a problem as HS420 includes a USB port. Similarly, you get a full-fledged SD card slot with FM radio and remote control.
2 extra microphone inputs and 1 guitar jack make sure that you have access to every single gear. Bluetooth support makes music streaming very easy.
Separate echo, treble, and bass controls crank up your karaoke game. So no matter if you are a teacher or a street performer this guy is backing you up with full strength.
Pros:
+ Built-in VHF Wireless mic.
+ Features a 2.4G Bluetooth technology for wireless music streaming.
+ USB port for charging devices.
+ SD card slot.
+ Powered with 40-Watts speaker that delivers loud sound.
+ 1-year warranty.
+ 2 microphone input ports and one guitar jack.
+ Ideal for every purpose.
Why We Liked It - Packing versatility and portability in one box makes this PA system a perfect companion for every user. With Bluetooth technology, built-in VHF wireless microphone and 40-Watts of powerful speaker Hisonic doesn't let its customers down.
12. Fender Passport Conference PA System
Fender products are legendary by every means as this company is serving since 1946. From beginners to the hot shots every artist has used fender instruments to create soulful music. From rock to pop, fender has revolutionized every genre worldwide with its experience and skills.
Passport Conference PA System by Fender is a portable audio system that contains every tidbit you need for producing great sound in a portable manner. With easy to use functionality even the newbies can operate this PA system for public addressing.
Idealism starts with this system as it's perfect for sporting events, functions, small clubs, seminars and pretty much everything.
The two innocent looking speakers are beast from inside as they are rocking 175 watts of power which is not a usual specification. Furthermore, an integrated 5-channel mixer can accommodate your entire band with its endless input options. Dialing the perfect sound was never been easy but say thanks to 2-band EQ, volume 20 dB pad for making it possible.
Addressing more towards the speaker's side, don't get carried away by their small size as they have enough potential to cover a large area without compromising on sound quality. Similarly, Class D amp makes sure that you hear clear and intelligible sound in every surrounding.
Pros:
+ 175 watts ensures that you're heard.
+ 5-Channel mixer
+ 2-Band EQ and 20 dB pad for creating top-notch sound.
+ Class D Amps for crystal clear output.
+ Lightweight and compact design.
+ Perfect for pretty much every use.
Why We Liked It - It's hard to find a versatile yet portable product at such price mark in 2023 . With 175 watts of a beast output, endless input options and separate controls Passport Conference PA System by Fender justifies the class of its manufacturer.
13.BEHRINGER EUROPORT PPA500BT
Bombastic yet elastic that what's Europort PPA500BT by Behringer is all about! This PA System gives you all that you could ask for a convenient yet all-in-one system. Forget about just public addressing in front of a small crew as Europort PPA500BT promises a whole lot.
Europort PPA500BT is a one-stop shop solution for parties, events, auctions and almost any application you wanted to test it for. With easy operation and fast setup, it's a perfect match to level up your addressing.
The compact design of Europort PPA500BT might fool you but both speakers got 8-inch woofers and 1.35" aluminum diaphragm drivers supported by a 500-watts output loud yet clear sound.
It's good to be free by the wired boundary of microphones so this PA System features a built-in wireless receiver which can accept signals from Ultralink ULM series wireless microphones. Ease, isn't it?
Pros:
+ 100 effects presets including reverb, chorus, delay etc.
+ 500W portable PA system with support for
+ Bluetooth streaming.
+ 5-Band Graphic EQ
+ A built-in wireless receiver for ULM series wireless microphones.
+ Easy to transport and setup.
+ Two low-noise mic preamps with phantom power technology.
Why We Liked It - This PA System defines perfection. With 5-Band Graphic EQ, 500W of power and 8-inch woofers Europort PPA500BT is creating a whole new level.
Portable PA System Buyers Guide
 Top Pick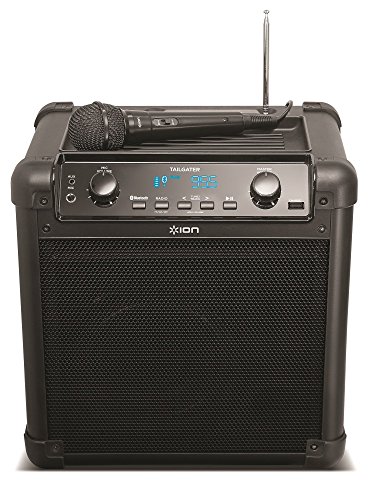 Interlocking the goods of affordability and prime quality matches our top pick. From reading thousands of customer reviews and expert speaker guides we have chosen that one unbeaten king!
ION Audio is known for creating history since 2003. With the goal of unlocking audio boundaries, this company stands out to be amongst the best audio creators. Providing advancements along with easy to use interface ION Audio is skying the limits.
People who are looking forward to a Portable PA System with the likes of affordability, ease and power Tailgater iPA77 by ION Audio provides an all in one solution. From public addressing, to throwing a party in your house this system covers all essentials.
For hooking up your device to stream music you no longer have to be limited inside a wired boundary, thanks to the Bluetooth and NFC support. For users who like to play it wired, an AUX (Auxiliary) port allows them to connect their smartphones with 3.5mm port and old CD player as well.
Remember that old wireless technology known as FM RADIO? You know what's coming, right? This portable PA System features our beloved old school FM Radio technology so you can tune into your favorite AM/FM station.
With the non-stop reception of 50 hours on a full charge you also get a USB port for keeping your devices alive on full-night parties.
That's not it! As the package includes a microphone and cable so you can start karaoke competition anywhere and anytime!
Tailgater iPA77 is built to be tough as it's surrounded by reinforced corners that can easily take bumps and humps all along the journey.
Dynamic powerful speakers and many features collaborate with each other to make your addressing pumping. With a USB port to charge your devices, NFC and Bluetooth technology for hassle-less streaming and up to 50 hours of continuous play time, Tailgater iPA77 by ION Audio is a well-deserved contender for your top pick category.
Premium Choice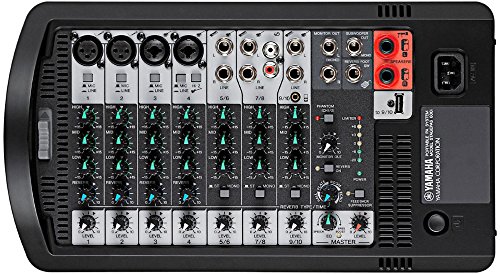 Our premium section packs up the state of the art product with no price limitations. We bet that you won't find such premiums in any other Portable PA System.
Yamaha is excelling the audio game since its birth. With only one aim in mind of reaching the sky, this company makes every audio freak love its product.
Allow us to introduce you to the best in line Portable PA System called as Yamaha STAGEPAS 600I. Leaping back a little, STAGEPAS series provide users with portable live sound solutions. STAGEPAS mixes power, features, quality, and ease in one grinder to output a glass full of portable innovation.
The simple design of this PA System helps a user to set it up in one go. Consumers with null experience won't find any difficulties for even setting up this system the very first time. This means that you are seconds away from a high-quality experience.
New STAGEPAS mixer allows you to dial the perfect sound, thanks to simple yet intelligent controls.
Feedback factor is annoying while performing. STAGEPAS 600I features a feedback suppressor which means that you are just a tap away from eliminating those irritating feedback moments.
Now matching your sound with the surroundings is as simple as turning a knob. Knob Master EQ gives you instant access of mixing your sound. Whether you are hosting a speech or kicking off a musical performance this feature gives you full control of getting your sound right!
This Portable PA System also includes four reverb settings! Yeah! You heard it right! One knob gives you instant access of four reverb like plate, room, echo, and hall. Adding just the right amount of high-resolution effects wasn't as easy as this.
A lot more is still unrevealed. With a USB port to charge your devices, feedback suppressor for eliminating frustrating moments and ultimate portability gives this Portable PA System every right to top our premium choice!
Great Value
Best in Less defines our great value section.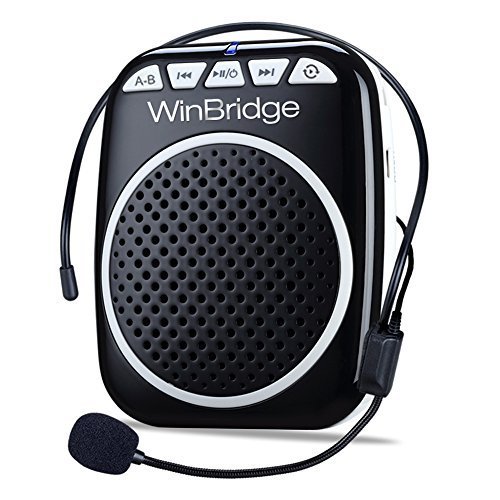 WinBridge WB001 comes in when you just need an easy to carry yet powerful system to amplify your say! Don't expect a huge of this little gadget as it is only meant for aiding you in small public addressing.
Small and Compact design of this PA System makes it the one stop shop for teachers, tour guides etc. An included microphone allows you to convey your message across the room.
An included microphone is engineered with flexible gooseneck design so you can adjust it easily without any tension of damaging.
As said above, WB001 is great for presentations, meetings, and where you need to save your vocal cords from swelling.
WB001 is not meant to output music but still, it features a TF card slot and flashes drive port to save you from boredom.
For easy transportation, the package includes a belt strap that gets attached to the amplifier by clips so you can wear it around the neck or through belt loops. Separate loop and repeat buttons give you instant access of repeating or looping your say.
This Portable PA System keeps you engaged for about 5 - 8 hours, thanks to the lithium batteries! Lifetime technical support and one year warranty create a win-win situation.
This Ultralight portable PA System has a class of its own. With up to 8 hours of playtime, separate loop/repeat controls and just 4.8 ounces of weight nobody can doubt the potential of this Portable PA System.
Mostly, Portable PA Systems are used in small venues like churches, school auditoriums etc. However, many Portable PA System promises great potential of powering up a whole backyard party. Portable PA Systems with more than one speaker is used to make public announcements in schools, rallies etc.
Sound reinforcement systems and Portable PA Systems are often marked as one but the reality is somehow different. PA Systems are primarily used to address public announcements whereas Sound reinforcement systems are used for music performances.
Now we'll look at two of the most common portable PA Systems that are used in everyday applications.
Small PA System
After reading the name what strikes your mind at the first place? Maybe that this type of PA System is small, well that's right! Small or Simple PA System includes a mic, an amplifier, and one speaker garaged up in one package. The gear is powered by 20 to 200 watts of power (depending upon budget) which can easily engage a small venue.
Don't expect a much of connectivity options out of a small PA System as it is only equipped with an FM Radio along with an Auxiliary port so that you can enjoy some music as well.
In the current era, most of the small PA systems are powered by a lithium battery to keep your say up for hours but still some systems are powered by the old socket-plug fashion.
From team meetings to walking tours small PA system fits all to provide you with a smarter way for addressing your say.
Large PA System
No! We won't play a guessing game this time around as you would have known what's coming. Large Portable PA System is meant to cover a large area so that your voice reaches every corner. A typical Large Portable PA System is equipped with a beast amplifier and more than one speakers. Side by side, the package also includes a couple of extensions like a mixer, separate controls, presets, multi-channel, wireless mic and much more to make it resemble a full-fledged DJ system (see full reviews of turntables here).
To impact a full auditorium a large PA system is powered by 80 to 500 Watts of power. From a CD player to a guitar you can connect pretty much everything to a large PA system as it is equipped with separate ports for every instrument. Moreover, Bluetooth technology is now common in large pa system for efficiently streaming audio wirelessly through your smartphone device.
Looking for a specific speaker for a guitar? Click here for our guitar amp reviews.
With heavy specs, Large PA system also ensures that you get long entertainment sessions ranging from 15 to 75 hours depending on the system model. Some systems also prefer direct power connection so first read the specifications column before paying the price.
Covering up to 3500 square meters of area Large PA system makes sure that your voice doesn't get ignored.
Now let's move on and look forward to the most irritating problem that every Portable PA System face.
Feedback
The all-in-one fashion of Portable PA System allows you to carry a whole audio system with you but it also lit up the most annoying problem.
When speakers output sound, the microphone picks it up and re-amplifies the signal to send it through speakers again which results in loud-high pitched sound known as feedback.
Feedback occurs commonly in Portable PA System as all audio equipment (like speakers, amplifier, and microphone) are packed in one solution.
As you can't keep microphone and speakers far from each other many Portable PA System features Anti-Feedback option to eliminate the re-picking of speaker signals.
So now be sure to check upon that Anti-Feedback feature if you are all about that precision and accuracy.
Yeah! That is all that it takes to pick the best portable PA System for your needs. By reading this guide and comparing your preference you can surely come up with the best option!
But wait! What if we introduce you to our top of the line three Portable PA System each for three different categories?
No! We have not compiled the products on your own judgment but by meshing customer reviews and expert advice into one so that you are backed up by the best.
FAQ's
What is a Portable PA System
A Portable PA (Public Addressing) system allows a person to amplify their sound at a greater volume.
Portable PA System includes a microphone, speaker, and amplifier in one box so that you don't have to travel with separate audio equipment.
Don't match a Portable PA System with a full-fledged audio system as it is only meant to cover a specific area.
On the connectivity side, you get basic ports like TF Card, AUX, and microphone. Many budget breakers offer users with Bluetooth support, audio source ports and guitar jacks.
How do I select the most suitable one?
Selecting a Portable PA System is easy but selecting a suitable system according to your personal needs make decisions go versatile. But relax as we'll highlight you three main points to hover upon while selecting a Portable PA System for yourself!
Budget
First, analyze your pocket and mark limitations. After that set, a specific price range in which you would consider a Portable PA System as dreaming out of the bound won't aid you anyhow.
Going too expensive or cheap will cause you in the near future. Be realistic, choose a middle budget range for targeting your next speaker system.
So first decide your budget!
Features
After setting a specific range, be sure for what purpose you are buying the Portable PA System.
If you are just getting your hands on a PA System for advertising your say in a room then getting those hot features won't aid you. But if you are buying a PA System especially for pumping up your house parties then getting those extra features will surely help you in the near future.
Matching your requirements with features listed on the spec chart will help you to pick the best Portable PA System out of many contenders.
Pro Tip: If you are all about that accuracy then be sure to check for the feedback suppressor feature on your next Portable PA System!
So be specific to your ground needs and check for the features according to it!
Is the sound quality good on a Portable PA System?
Yes! It's good per covering a specific area with fine quality. But Hey! Don't expect a full mind-blowing audio experience!
Portable PA System is only engineered for aiding your vocal cords with a greater volume for covering a large area. Although the sound quality doesn't lack in basics, expecting a full hi-fi stereo experience would be a mistake.
Looking for a little more bass? Click for our review of the best budget subwoofers available.
So on the whole, for public addressing purpose or adding your pool party with some music the sound quality of an average Portable PA System mark high standards.
What is the best portable PA system for singers?
Undoubtedly, it's the STAGEPAS 600I by Yamaha! Yamaha is known for providing every customer with professional audio equipment so this time around they thought to take Portable PA System game in their bare hands.
STAGEPAS series by Yamaha is all about providing customers with portable live sound solutions with features and power. The aim of the STAGEPAS series is to turn to surround into your own stage.
STAGEPAS 600I comes with two lightweight speakers packing up a mixed power of 680W so you hear a complete bombastic sound. Similarly, speakers and a mixer are light enough to carry by hand so you can take it anywhere!
Intuitive and simple design helps you to achieve an easy to set up experience. Furthermore, even users who have never experienced a Portable PA System won't find any problem setting this guy up for the very first time.
Running out of charge and you have got a show to host? Well this PA System has got you covered. Enjoy high-quality playback along with charging your device with a USB port so you don't have to rush to your waiting room back again.
A musical performance is nothing without high-quality great area coverage speakers. Well, say thanks to your audio buddy that has a new speaker design for letting the entire audience share the same sound experience.
STAGEPAS 600I is a perfect package for singers. With features like four reverb options, Knob Master EQ, and feedback suppressor this Portable PA System stands out to be the best for musical performances.
If you liked this review by Music Critic, please leave a positive rating:
[vc_separator