Are you searching for the 10 best powered bookshelf speakers in 2023? Bookshelf speakers don't have to only sit on a bookshelf; they can also be wall-mounted or put on stands. As they're so small, they won't take up much room. The best bookshelf speakers will give you high-quality sound and power, too.
However, you'll want to make sure that you spend your money on the right ones. The last thing you need is terrible sound or no power. Here's a list of the 10 best-powered bookshelf speakers in 2023.
Related: Bookshelf Speakers Under $100.
At a glance:

Our top 3 picks
Our team's top 3 recommendations
Best Overall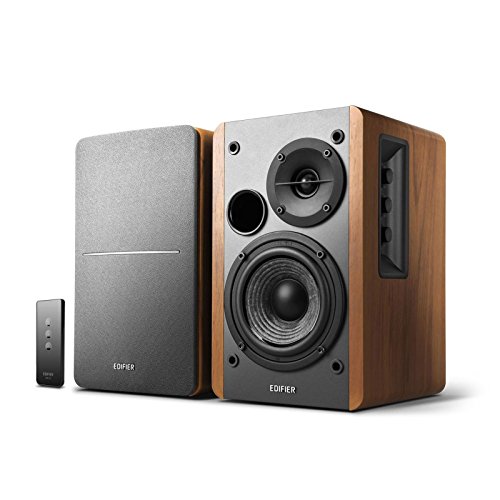 Edifier R1280T Powered Bookshelf Speakers

Pleasing to the eye
High-quality sound
Precise, digital controls
Good cable connectivity
Great value-for-money
Premium Quality
Edifier R1700BT Bluetooth Bookshelf

Pleasing to the eye
High-quality sound
Precise, digital controls
Good cable connectivity
Great value-for-money
Great value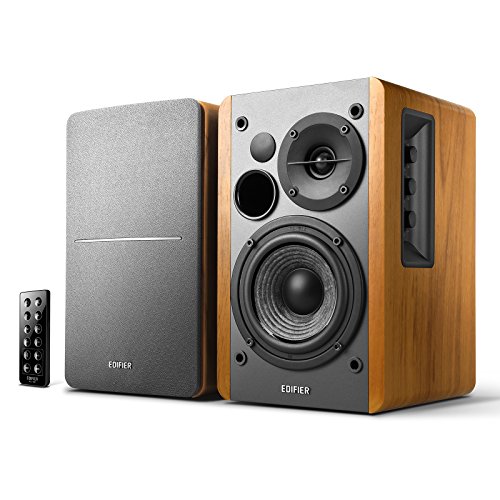 Edifier R1280DB Powered Bluetooth Bookshelf Speakers

Pleasing to the eye
High-quality sound
Precise, digital controls
Good cable connectivity
Great value-for-money
View The Best Powered Bookshelf Speakers Below
1. Edifier R1280T Powered Bookshelf Speakers
Edifier is one of the best-powered bookshelf speakers manufacturers around. That's why there are so many of their products on this list. These speakers have a lovely wooden finish, which would suit your home's décor. They also give studio-quality sound thanks to the 13mm silk dome tweeter and the 4-inch range unit.
They offer easy connection thanks to the two AUX inputs, and any device that has a 3.5mm headphone output will also be compatible. The dual-RCA output also means that you can hook them up to your TV and use them as home cinema speakers.
Pros:
+ Pleasing to the eye
+ High-quality sound
+ Precise, digital controls
+ Good cable connectivity
+ Great value-for-money
Why We Liked It - The sound quality is top-level, and they also look very good on your bookshelf, but they won't break the bank to buy them too. See some of our favorite bookshelf speakers under 1000 dollars.
Accurate crossover - Powered bookshelf speakers should have an active crossover built-in. That means the correct frequencies should get to the correct drivers with great accuracy without the need for an external crossover unit. Make sure your new speakers perform well in that area if you want a detailed and accurate sound.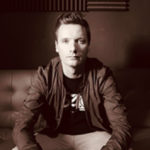 2. Edifier R1700BT Bluetooth Bookshelf
These powerful little bookshelf speakers dispense with messy wires, as they have Bluetooth capabilities. They also have a remote control, which means you can do everything from the comfort of your sofa. There's no risk of distortion, as they have built-in Digital Signal Processing and Dynamic Range Control.
The walnut wood effect gives them a stylish, classic look. And the Edifier name guarantees quality and reliability. It's possible to have two devices connected at the same time, as it has dual RCA output. A two-year warranty protects you against any faults or issues.
Pros:
+ Bluetooth 4.0 connectivity
+ Easy-to-use remote control
+ Quality, distortion-free sound
+ Excellent bass
+ Two-year warranty
Why We Liked It - They offer powerful sound for such small speakers, and the Bluetooth connectivity makes them easy to use and to sync up with all your devices.
3. Edifier R1280DB Powered Bluetooth Bookshelf Speakers
The sound reproduction that these powered bookshelf speakers achieve via the 4-inch bass driver and the 13mm silk dome tweeter is remarkable. Besides the Bluetooth 4.0 connectivity, there is also an option to connect to your television or computer through optical and coaxial inputs. That means that lossless connection will be enabled.
The build quality is excellent, and the wood grain effect looks good too. High tones and mid-bass tones are solidly represented, and they also have a crisp, clear sound to them. The HD sound can be easily altered with the newly designed remote control.
Pros:
+ High-definition sound
+ Optical and coaxial inputs
+ Modern style
+ Crisp, clear sound
+ Bluetooth connectivity
Why We Liked It - These are great powered speakers that give a high-definition sound that will do justice to music, video games, and movies.
Not always bookshelf - Despite the name, bookshelf speakers don't need to be placed on a shelf just because they fit. Wherever you position them, make sure you give them the best chance to deliver quality sound. Don't over-crowd them, and try to limit surface fibration in any way you can.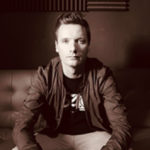 4. Edifier R980T 4" Active Bookshelf Speakers
With 24 watts RMS output these powered bookshelf speakers give smooth, tight bass, and crisp high tones. Midrange sounds also are also reproduced cleanly. The cabinets are made from natural wood, which lessens acoustic resonance. The wood also looks much better than a synthetic plastic material.
These 4" bookshelf speakers are tiny and compact, so perfect for avoiding clutter, while also getting quality, powerful sound from the 13mm tweeter and 4-inch bass driver. You also shouldn't get any distortion, even listening to music at high volumes. Considering the price tag on these Edifier bookshelf speakers, they offer excellent value for money.
Pros:
+ Wooden cabinets
+ Compact and small
+ No distortion
+ Affordable price
+ 24-watt output
Why We Liked It - These speakers really pack a punch for their size, offering amazing 24-watt output, while still only 4 inches in size. They are remarkable little bookshelf speakers.
You might be interested in these bookshelf speakers under 500 bucks!
5. Micca ON3 3-Inch Powered Bookshelf
Not only do these powered bookshelf speakers by Micca look great, but they also have a 24-watt x 2 amplifier built into them. Because the amplifier is enhanced with DSP processing circuitry, then you can be assured of full, rich sound.
The single driver also promises that there will be no issues to do with acoustic lobing, time alignment, or phase problems, which are common with crossover circuits. That means you'll get a smooth, natural sound that will suit any genre of music, as well as movies and video games. They are easily connectable with jack inputs on both the front and back.
Pros:
+ 24 watts x 2 RMS power
+ No top-end distortion
+ Rich sound
+ Easy-to-use remote control that can magnetically attach to the speaker
+ Suitable for computer or TV
Why We Liked It -The powerful amplifier that has been enhanced to offer excellent, clear and rich sound makes these speakers some of the best powered bookshelf speakers around.
6. Micca PB42X Powered Bookshelf Speakers
These powered bookshelf speakers come with a 4-inch carbon fiber woofer that offers a big boost to your bass. Besides the enhanced bass that the woofer offers, the treble is incredibly smooth because of the 0.75-inch silk dome tweeter than assures high performance.
The ported cabinet enclosure gives them a modern, fashionable look. At 9.5 inches in height and 5.8 inches in width, they are compact, and won't look conspicuous on your bookshelf. If you're looking for speakers that will give you a rich and robust sound to your favorite music, then these are a great option.
Pros:
+ Big bass
+ High-performance speakers
+ Modern style
+ Small and compact
+ Robust sound
Why We Liked It -The carbon fiber woofer really gives these bookshelf speakers something extra in the bass department that other bookshelf speakers cannot offer.
7. Fluance Ai40W Powered Two-Way 5"
If you're looking for premium bookshelf speakers with enough power to fill your room with high-quality sound then these two-way powered speakers from Fluance are for you. They have an integrated 70-watt Class D amplifier. The robust sound is also perfectly balanced thanks to the silk soft-dome tweeter and the woven, glass-fiber drivers.
The sound is so clear and natural it will almost feel as if you are at a live concert. The wooden cabinets not only look elegant, but they have been designed to eliminate any distortion. The Bluetooth capabilities make it a breeze to connect to your devices.
Pros:
+ Huge, natural sound
+ Beautiful wooden cabinets
+ Bluetooth connectivity
+ Excellent frequency response
+ Adored by audiophiles
Why We Liked It - It's very rare to find powered bookshelf speakers that offer such powerful, distortion-free sound, while also looking good too.
8. Edifier R2000DB Powered Bluetooth
The 120 watts of power that these Edifier bookshelf speakers give out is absolutely stunning. They have both Bluetooth connectivity and optical input, so whether it's your smartphone, tablet, television, or gaming console then they can be easily hooked up to it.
The sound is so good because of the innovative 25mm silk dome 'Eagle Eye' tweeters. They are also encased in wooden cabinets, which reduces the chance of acoustic resonance. As with most Edifier powered bookshelf speakers, you get a two-year warranty, just in case something goes wrong. The wireless remote control is a useful extra too.
Pros:
+ Astonishingly powerful sound
+ Great connectivity
+ Built-in amplifier
+ Worth the money
+ Aesthetically pleasing
Why We Liked It - The combination of power, quality sound, and a beautiful design. They are really good powered bookshelf speakers, which is what you expect from Edifier.
9. Yamaha NS-6490 3-Way Bookshelf Speakers
These three-way powered bookshelf speakers from Yamaha have two speakers, with each enclosure containing three drivers. These are an excellent, 8-inch, pearl white, long throw cone woofer, which reproduces thudding bass. There is also a 4-inch, ferro-fluid cooled cone that gives warm and lively mid-range sounds.
The 8-inch tweeter completes the three drivers. They combine to create an awesome, powerful sound that will blow your socks off and fill your living room. They are a little bigger than the other powered bookshelf speakers on this list, but that just means that the sound is more robust.
Pros:
+ Room-filling sound
+ Big bass
+ No subwoofer required
+ Classic, Yamaha 3-way design
+ Large size
Why We Liked It - These are big bookshelf speakers that give out an equally big sound. They also produce a classic-style sound that makes them great for audiophiles.
10. Audioengine A5+ Active
Audioengine strives to create great-sounding speakers that are also can be easily used. These powered bookshelf speakers certainly offer both of these things. Their peak power is an incredible 150 watts. But power isn't all these versatile speakers offer. You will hear the difference once you've wirelessly connected them to your devices.
They promise an authentic sound, rather than an artificial, over-the-top bass. Regardless of what genre you listen to, you'll hear the recording as it sounded in the studio. They are simple to set up too, so you can start listening to great-sounding music, almost as soon as you've opened the box.
Pros:
+ Peak power of 150 watts
+ Can connect to any smart device
+ Compatible with Apple Express and AirPlay
+ Hand-built cabinets
+ Easy-to-use
Why We Liked It - They are so user-friendly, while also sound great too. The Audioengine team always aim for the best, and these are some of the best-powered bookshelf speakers on the market.
Easy setup - Generally speaking, powered speakers should be plug and play, which means setup should be quick and easy. The fact that you can get your music playing with less hassle is one of the main reasons people go for powered speakers. So keep that in mind when making your choice.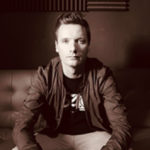 Powered Bookshelf Speakers Buyers Guide
If you're thinking about buying some powered bookshelf speakers, then you're going to need to consider a number of different things first. Not all bookshelf speakers are equal. Some offer an incredible amount of power, enough to fill a room, whereas others will offer quality sound, but not a lot of power.
The most important thing that you need to decide is what you intend to use the powered bookshelf speakers for. If you're planning on hooking them up to your television for gaming or watching movies, then you must make sure they will do justice to the range of sounds that they will need to reproduce.
Here is a breakdown of the elements of bookshelf speakers that you must consider before choosing which ones to buy:
Size
As the name suggests, most bookshelf speakers are designed to be small enough to sit on your bookshelf, and not be conspicuous or take up much room. This tends to be the case with most bookshelf speakers, which are often no taller than 9 inches, and of a similar width.
There are, however, some bookshelf speakers that are much bigger, for example, the Yamaha speakers on our list are hardly compact, in comparison to the Edifier speakers. Then again, even large bookshelf speakers are still small, and if they are a bit bigger, they might give you more power. So, you need to decide which is more important, size or power.
Power
If power is the most important thing to you, then you must check what wattage the speakers offer. The higher the number, then the more powerful your bookshelf speakers will be. At peak power, the most powerful bookshelf speakers will give out 200 watts, which is more than you'll ever need from such little speakers. Most users won't need anything near this, as peak power of 150 watts will be more than enough.
Connectivity
The simple choice when it comes to connectivity is between wireless or wired connectivity. If you want to use your smartphone for music, then it makes sense to find powered bookshelf speakers that have Bluetooth connectivity. Then again, if you're planning on hooking up your television to them so that you can enjoy the enhanced sound for movies or playing games, then it is important that they have optical and coaxial connections, as this ensures lossless, high-definition audio.
Sound Quality
The sound quality will be dependent on the in-built drivers that are enclosed inside the speaker units. The two most common drivers are the woofer and the tweeter. The woofer is responsible for the bass tones.
The size of the woofer will determine how powerful the bass is, but, if the bass is very important to you, then some bookshelf speakers allow for an external subwoofer to be connected to them, which will give you much better bass than the bookshelf speakers' woofer can produce.
The tweeter is responsible for high-frequency sounds. The tweeter is much smaller than the woofer and is usually around 1 inch. For a truly balanced and rich sound, then you should look for powered bookshelf speakers that also feature a third driver that will focus on midrange sounds.
Cabinet Material
To be certain that you avoid too much acoustic resonance, then choose bookshelf speakers that have wooden cabinets. Often these are made from MDF and are then covered in a glossy vinyl, which tends to have a wooden effect. A sealed cabinet will also aid woofer retraction and therefore give better-sounding bass.
Where should my bookshelf speakers be positioned?
To truly get the most beneficial listening experience out of your powered bookshelf speakers, you need to position them correctly. In fact, some bookshelf speakers require careful positioning, or else much of their sound quality won't be appreciated.
Bookshelf speakers are designed to be off the ground, so the first thing you must do is to select somewhere elevated to place them. If, for example, you intend to use them for gaming, then take your seat, and place one speaker at the 10 o'clock position, and the other at the 2 o'clock position.
They should then be angled towards you. Another key element of correct positioning is that the tweeter is at ear-level. That will enhance the sound you hear, and make for an excellent, and enjoyable listening experience.
If your bookshelf speakers offer powerful bass, then you may want to consider which wall you place them on, because you don't want to get on your neighbor's bad side.
Do my bookshelf speakers have to go on my bookshelf?
Absolutely not! It's easy to make this mistake because of the name, but these speakers are often used as PC speakers or as part of a home cinema system. You can put them wherever you want, just as long as you don't put them on the floor.
Do I need a subwoofer to go with my powered bookshelf speakers?
It isn't necessary. There are a lot of bookshelf speakers that how powerful woofers inside them that will give you very good low tones. If, however, the bass is very important to you, and you can't live without nodding your head to your favorite bassline, then you should also invest in a subwoofer, which will perfectly complement your bookshelf speakers.
Do all bookshelf speakers come with a remote control?
A surprising amount of bookshelf speakers actually don't include a remote control. The convenience that a remote control offers, means that you should really choose bookshelf speakers that do have on, as otherwise, you will need to constantly adjust the volume or equalize the sound on the actual speaker unit itself, which could become very annoying, very quickly. A remote control just makes it easier to focus on the excellent sound that your new bookshelf speakers offer.
Expert Tip
Powered bookshelf speakers can really pack a punch. Make sure when you are choosing new speakers that you aren't put off by a big price tag. It can seem that such little speakers couldn't be worth investing a lot of money into. But if you find the right speakers, then you can be assured a dynamic and robust sound, that can be shocking because of the little speakers it comes out of.
Keep an eye on the wattage and the size of the drivers, especially the woofer. And for the most balanced sound, then go for a speaker with three drivers, as then you'll get much better full-range sound.
Did you know?
The most common type of speaker currently used is called a 'dynamic speaker'. It was invented by two men, called Chester W. Rice and Edward W. Kellogg. Unfortunately, Edward W. Kellogg is not the same man who was responsible for also creating your favorite breakfast cereals.
It was in 1925 that Kellogg and Rice submitted a paper outlining their plans for moving coil loudspeaker. They were working for Thomas Edison's General Electric at the time. Had it not been for their paper, then the humble powered bookshelf speaker may never have been created.
Conclusion
There are, undoubtedly, a huge range of excellent powered bookshelf speakers available in 2023. The best of them can really pack a punch while remaining compact. The most important elements of bookshelf speakers are their drivers. For balanced sound, investing in speakers with three-drivers is the best choice, as then you will get a good range of sound.
Also, connectivity is a big consideration, as if you can connect your device through Bluetooth then it's much more convenient than having to constantly connect wires. A lot of bookshelf speakers are aesthetically pleasing too, with the wooden cabinets also doubling up by minimizing acoustic resonance.
Whether you're looking for powered bookshelf speakers that will actually sit on your bookshelf or others that you can use for your laptop or television, then you can find some especially good ones. Quality costs money though, so don't scrimp, and make sure that you invest your cash into bookshelf speakers that will give a high-definition sound that does justice to your favorite music.
If you've enjoyed this review by Music Critic, please leave a positive rating:
[vc_separator