The Yamaha HS8S 8" powered studio subwoofer is a deep end sub, that will round out the sound you're working with. It has an 8" subwoofer that offers bass level down to 22Hz. It has been engineered with a 150W amplifier, built specifically for bass frequencies. If you're looking for a subwoofer to help beef up your engineering, live sound, or music listening experience, the Yamaha HS8S may be the right one for you.
Yamaha HS8S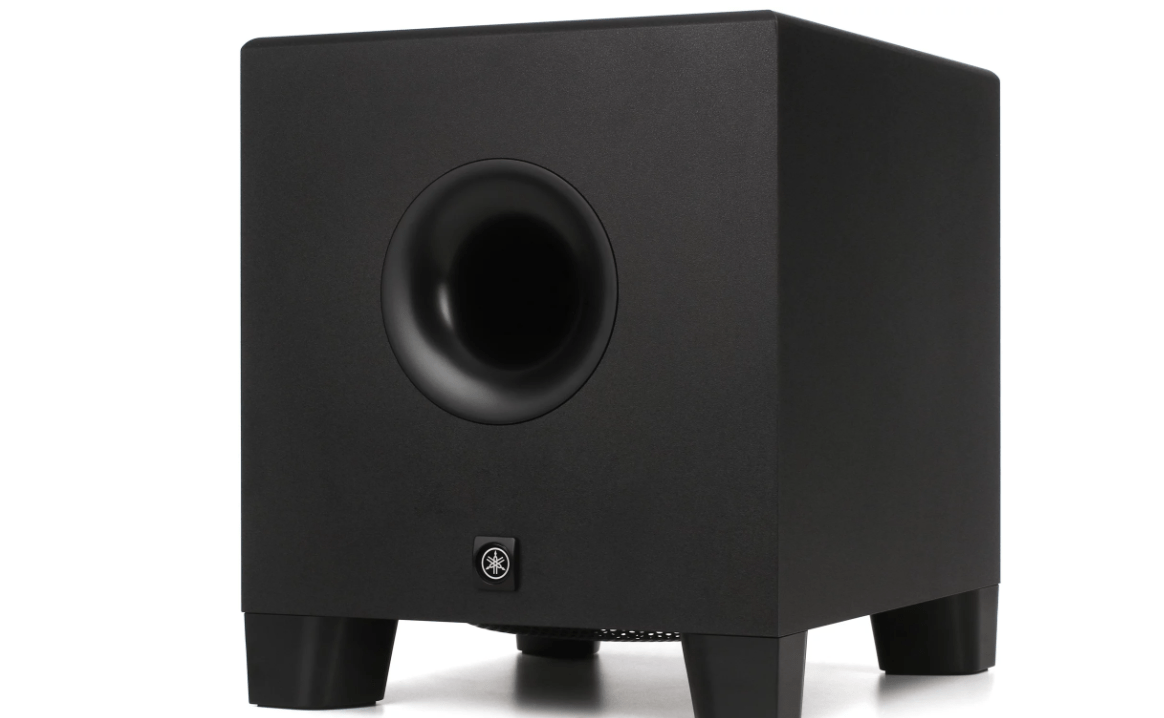 Summary
The Yamaha HS8S 8" powered sub studio subwoofer is an intense bass enhancing experience. It's designed to round out the lower end of the frequencies so you can hear all the lower end that you want and need.
When you're mixing music, having ideal bass capabilities is an incredibly important part of the puzzle. With the Yamaha HS8S, you get the level of low end you need to hear to distinguish precisely what's happening. It's a perfect woofer for studio engineers, live DJs, and home systems.
It has an 8" woofer built-in with a 150w amplifier, which can produce frequencies as low as 22Hz. It's an excellent match for the other Yamaha HS studio speakers. It is compatible with a wide variety of monitoring systems and is the bass compliment that you may need.
It has two types of inputs. XLR and TRS. No matter what type of lines you need to run into it, you've got the capability you need. If you have microphone cables, or regular instrument cables with a 1/4" jack, you have the connections necessary to do so. With high and low cut switches, you can protect the speakers you're working with to avoid blowouts.
The woofer has mounting holes on the sides and ends, so if you have a studio space where you want to mount it off the ground, you can do so. It is also quite light at 27.5lbs, making it possible to take this woofer with you on the road.
It measures 13x11x15", making is quite compact and doesn't take up a ton of space in your studio. It's also reasonably affordable compared to many other woofers with this level of bass capability.
Pros
+ Frequencies as low as 22Hz
+ Lightweight
+ Smaller size
+ Affordable
+ Multiple Input types
Cons
- Mounts not included
- No handles for carrying
Why We Like It
The Yamaha HS8S is an excellent woofer for any home studio or professional studio for that matter. It's reasonably affordable and delivers the level of bass that you need to hear all of the lower end intricacies. It is pretty small and lightweight, so moving it around is relatively easy.
With 2 XLR and 2 1/4" inputs, you can plug a couple of different components into the woofer. It works great for mixing in the studio or amplifying the bass during live shows. It makes for an ideal DJ woofer due to its weight and portability. The materials are quite durable, so it will stand up to abuse when taken on the road. It's compact enough to fit into most studio spaces and easily fits into the car when in transit.
Ultimately, this woofer gives you all of the low ends you need. The bass is incredibly strong and detailed, so you don't miss a single beat. The low end intricacies that are sometimes harder to make out when you don't have a high-quality subwoofer will have perfect clarity. It's also affordable enough to be within reach of most studio builders and live DJs. It's time to take your low end to a new level.
If you liked the article, please leave your feedback.