If you're looking to set up or add to a home theater system or sound system and you're seriously committed, please read on. Sometimes in-wall speakers are the only way to go, so today, we're busting out the top 10 best in-wall speakers in 2023.
Not only do these in-wall speakers add a touch of professional style to your in-home theater set-ups - but they also allow for a more immersive overall sound experience. Mounting your speaker directly to the wall or ceiling can aid surround sound set-ups and make them much more spatially accurate sound reproduction.
In-wall speakers are also a great solution for smaller spaces, as they have no footprint within the room itself. If you're tired of untidy wires, you also might want to consider an in-wall speaker.
We review a lot of different speaker types in our articles, and they all primarily function in the same manner. As we always stress, the enclosure is a very important part - an in-wall speaker is mounted on the wall, and its enclosure needs to be designed with this in mind.
The design features are paramount. Join us as we review a small selection of what's available on the current market and let you know just what they can do. Whether you're looking for affordable speakers or premium-priced products, we've got you covered.
In our usual article format, we have provided multiple speakers for you to browse through, and a buyer's guide that will attempt to answer some of your niggling questions about in-wall speakers.
At a glance:

Our top 3 picks
Our team's top 3 recommendations
Best Overall
Micca M-8C

Low price
High-quality drivers
Max power output of 100W each
Ideal for music or movies
Crisp and clear sound
Premium Quality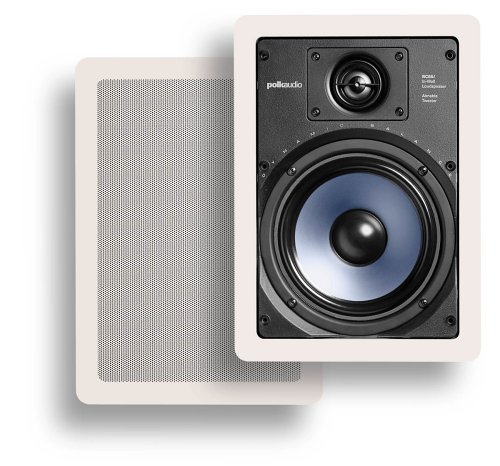 Polk Audio RC65i

Low price
High-quality drivers
Max power output of 100W each
Ideal for music or movies
Crisp and clear sound
Great value
JBL SP8II

Low price
High-quality drivers
Max power output of 100W each
Ideal for music or movies
Crisp and clear sound
View The Best In-Wall Speaker Below
Micca is a trusted company when it comes to affordable audio equipment, and the M-8C is proof of that. These in-wall speakers are a superb, low-price example of what Micca does best - providing clear sound performance at an affordable price.
The standout feature is the excellent sound quality that these in-wall speakers deliver. It's rich, crisp, and detailed, making this product just as good for music and watching films. The great sound quality is all thanks to the high-grade drivers inside each speaker unit. There is an 8" woofer and a 1" tweeter. The woofer is made from mica poly and offers a high-excursion output.
In terms of size, each in-wall speaker has a diameter of 10.75". They've got a mounting depth of 3.6".
Each speaker can handle a maximum power output of 100W, which is well-suited to a home sound system. So if you're looking to create a home theater system for watching movies or TV shows, these just might be the best in-wall speakers for you.
Pros:
+ Low price
+ High-quality drivers
+ Max power output of 100W each
+ Ideal for music or movies
+ Crisp and clear sound
Why We Liked It - These in-wall speakers have an affordable price but deliver the high-quality sound you'd expect from a premium product. In fact, we were particularly impressed by the exceptional sound quality that the two-way system delivers.
Correct positioning - Positioning your in-wall speakers is a more permanent decision than sticking your hi-fi speakers on stands. So it's vital that you get it right, not just for cosmetic reasons, but to get the best sound quality, too. Place your left and right speakers in a wall around 10ft from your chair, ideally around 10ft from each other. To maintain a good stereo image, don't place the speakers any less than 5ft from each other.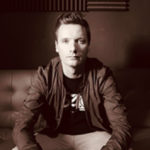 This premium pair from Polk Audio is another fantastic 2-way class speaker choice. Polk Audio makes some pristine audio products, and these are no exception.
Although a little smaller than the first at 6.5" speakers, this pair serve up a superb sound performance. They are ideal for internal or external mounting as the core electrical components have been expertly crafted and housed utilizing state-of-the-art durable, moisture-resistant materials.
The polymer composite cone is mineral-filled and sitting in a rubber surround, it produces excellent audio quality with dynamic balance. The dedicated tweeter is a traditional soft dome and is swivel mounted like its competition above.
This versatile in-wall speaker has a wide dispersion design and can fill bigger spaces. It also has easy rotational cams to aid in a quick installation.
Pros:
+ No extra assembly
+ Wide dispersion
+ Water resistant
Why We Liked It - These Polk Audio speakers are a great poolside or patio option. They are an affordably priced pair with an optional grille to paint. Get excellent sound quality wherever you choose to install this in-wall speaker system.
If you're familiar with JBL, you'll know about the powerful, full-bodied sound that its audio products always deliver, whether they're headphones or speakers. This product is a pair of two-way, in-wall speakers that pump out a huge sound output for an affordable price.
Each in-wall speaker contains both a woofer for the mids and lows, as well as a tweeter to take care of the highs. The drivers are top-grade, with both of them featuring a titanium laminate. You get crispness at the high end, detail in the middle, and distortion-free bass. The sound is well-balanced and will please any audiophile who wants a solid home theater system without needing to shell out thousands of bucks.
The swivel mount system provides you with a few options for fitting them in your home. We also like the dog-ear brackets, which will also allow you to retrofit the speakers.
Pros:
+ Powerful, well-balanced sound quality
+ Multiple fit options
+ Reasonable price
+ Loud enough for parties
+ Made by JBL
Why We Liked It - These are typically high-quality speakers from JBL. They deliver wonderful, full-bodied sound that is completely free of distortion, no matter how loud they're turned up.
Stiff front baffle - Unlike freestanding speakers, most in-wall speakers are built with a front baffle made from thin molded plastic. The thin plastic vibrates a lot, adding unwanted resonances to the sound. Try to find an in-wall speaker with a front baffle made from MDF or even metal to avoid this. The extra weight means the baffle resonates less, and it will even help dampen wall vibrations.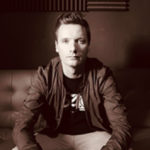 Looking for an alternate 6.5-inch cone woofer option? This new low-profile design from Yamaha is exactly what you need. It actually incorporates two directional woofers, sat on either side of a dedicated central tweeter. This set-up makes it perfect for us with a system for panned left and right stereo sound.
It provides a good sound performance. The crossover bridges the mid-range frequencies seamlessly, ensuring a great frequency response. Its streamlined design means it's compact and requires less mounting depth.
They run at a peak of 130 watts, mount with simplicity, and come with a cardboard template to stencil the wall for cutting. The frame and grilles can be painted to blend into their environment. The sound is clear and fairly well-balanced, and the highs are bright. The bass could be better, but as a central channel piece coupled with a subwoofer, these guys shine.
It also works as a left, right, and center speaker, making it a great addition to any home theatre speaker system.
Pros:
+ Ideal left/right/center speaker
+ Fantastic mid-range
+ Wide frequency range
+ Low profile
+ 3-way classification
Why We Liked It - Looking for center channel speakers? This speaker makes for the ideal front central sound bar for any home sound system when mounted horizontally. The frequency response is fantastic, providing high-quality sound. It's exceptionally well made and comes in just below the hundred-dollar mark, so it certainly gets the stamp of approval in our eyes.
Here's a slightly pricier option from the formidable fabricators at Klipsch. This 3-way class speaker has a set-up similar to the Yamaha we reviewed above. Harboring high-end components and boasting sound-boosting, horn-loaded technology, the R-5502-W II in-wall makes for an amazing addition to any system as a left/central/right speaker.
It features dual 5.25" ceramic cone woofers and a 90 x 90 degrees square Tractrix Horn with a 1" titanium diaphragm compression driver. The revolutionary horn-loaded tech produces a larger acoustic output with significantly reduced distortion risk, meaning much better sound clarity.
It has a slimline shape and a low profile with zero footprints to take up valuable space. It provides high-definition audio and is constructed from long-lasting premium caliber parts. It's easy to install, and the grilles attach magnetically. You can even paint them!
Pros:
+ 3-way class L/C/R set-up.
+ Next-level quality.
+ Great sound quality.
+ Straightforward set-up.
+ Magnetic grilles.
Why We Liked It - In terms of quality, the Klipsch R-5502-W II in-wall speaker is pretty hard to beat. These in-wall speakers sound natural, and the highs are audibly pristine. They mount extremely close to the wall, with next to no profile, and the magnetic grilles couldn't be simpler to attach.
This 3-way class, central channel speaker is not only suitable for mounting in walls, but also your ceiling too. So if you're looking for in-ceiling speakers to add to your surround sound home theater setup, these just might be the best for you.
These in-wall speakers are a part of Polk Audio's esteemed Vanishing Series and are packed with Polk's dynamic balance technology components from the RT series.
Unlike other Polk Audio speakers, the advanced design techniques rely heavily on data collected from laser imaging research done at John Hopkins University. When it came to this research, the vibrating surfaces of the tweeter were examined on a microscopic level to observe the resonances developed as the cones moved. The resonances are primarily responsible for all high-end distortion. Under laboratory scrutiny, the folks at Polk could engineer the perfect combination of materials and optimal geometry to counter unwanted resonances completely.
The speaker features a wafer-thin, magnetically secured, sheer grille that hardly protrudes from its surround. It has highly efficient dual bandpass bass ports, meaning the low registers will be clear and capably handled. So if you're looking for in-ceiling or wall speakers with a great bass response, it's worth giving these a try!
They work with 10-150 watts.
This speaker has a simple one-cut drop in the installation process. So if you've never tried installing speakers before, rest assured that you'll be able to mount this one to your wall with no problem.
Pros:
+ 3-way class.
+ Advanced calibration.
+ Can be ceiling mounted.
+ Part of a superb home system set-up series.
Why We Liked It - This in-ceiling or wall speaker features a well-thought-out design. The internal components used are of superb quality. The grille could be better for its asking price, but the sound quality is pretty impeccable overall. If you're looking for a ceiling speaker to add to your home theater setup, this might be the one for you.
Many of our speaker reviews so far have only been either individual speakers or pairs. But if you're looking for a home cinema set up, you might be a little more interested in this set of 5.
These in-wall speakers feature 2-way class designs, with a recommended power of between 20 and 200 watts each. They combine a 5.25" woofer with a 12mm soft dome tweeter and low impedance crossover circuitry to provide a great full-range sound output. Hooked together, they give real depth and impressive volumes with crisp clarity.
They feature a weatherproofed component construction, which is good news if you're shopping for speakers to install on a boat. They're also suitable candidates for spa or sauna use as well as patios, pergolas, or poolside bars.
These wall speakers have low-profile housings, with an overall size of around 7.625" and a mounting depth of 3" per speaker. Like the other speakers we've looked at, they also come with a handy template to help with holes.
Pros:
+ Weatherproofed
+ A set of 5 - great value for money
+ Surround sound effects
+ Ideal for yachts
8. Monoprice Caliber 106816
Fresh from the Caliber line by Monoprice, this is an affordably priced pair of in-wall speakers with amazingly good sound. These well-constructed 3-way class duo is sure to take your listening experience to the next level.
The 8" DuPont woofers feature advanced cone designs with woven Kevlar fibers incorporated into them. The Kevlar is lightweight but rigid, making it the ideal blend for clean bass reproduction, as it has significantly less distortion. These wall speakers also have oversized magnets that produce punchier bass with a larger impact. So if you're looking for a good bass response, these might be the best in-wall speakers for you.
The designated 1" pivoting tweeters are of a composite nature, resulting in a titanium silk membrane that helps reduce the risk of overheating. This allows it to cope with ultra-high frequencies with more precision for much sweeter-sounding highs that are well-defined.
The crossover switch is adjustable. These wall speakers have a maximum power handling capacity of 200 watts per pair. They're perfect for adding to any home theater speaker system.
Pros:
+ 3-way class.
+ Pair of speakers.
+ 200-watt capacity.
+ Distortion-free bass response.
+ Adjustable crossover switch.
Why We Liked It - If you're looking for a pair of in-wall speakers with amazing bass response, these babies are for you. They're a high-powered pair that come in under the hundred-dollar mark. So not only do they have an amazing sound performance, they come in at an affordable price.
This exciting easy-mount model from Polk Audio is perfect for those of you looking for a single-speaker option with high-quality sound. Designed with Polk's patented power port bass venting system, it makes for an awesome audio solution.
This wall speaker has a broad frequency response range, and its rectangular shape houses dual 6.5" composite polymer cones in rubber surrounds and a silk polymer tweeter. The drivers are designed for high-performance handling.
This versatile speaker has a robust build, and the magnetic grilles fit extremely close to the wall and work perfectly when joined by the other Polk speakers in the range. Its simple installation design incorporates twist clamp attachments to grab the drywall.
As a stand-alone, the bass is not the strong point of this wall speaker, but if you couple it with the Polk Audio's external subwoofer from this series, it really comes together well.
Pros:
+ 3-way classified speaker
+ High-performance handling
+ Simple to install
+ Very robust build
Why We Liked It - This wall speaker is very well designed. We've really been impressed with Polk's Vanishing series. Put together, the speakers in this series provide a well-arranged surround sound system that we believe would satisfy even the biggest self-confessed audio snobs out there.
We have saved our lowest-priced wall speaker option for the last. This top-selling 2-way class choice from Silver Ticket is sure to meet all your audio needs.
This versatile 6.5" speaker handles 80 watts of power rather admirably. It's suitable for 5.1, 6.1, and 7.1 home systems.
It features a mica-injected woofer cone teamed with a teeny tweeter (20mm) to handle the upper-frequency registers. The woofer is seated in a high-grade rubber surround. The tweeter pivots for directional sound, and the overall quality of the components used is genuinely impressive, given its bargain price tag.
This speaker has a great natural depth and rich sound - it's loud but not noisy. The impedance is not as low as some of the more expensive models we've taken a gander at, but we are quietly surprised with this product.
You can install the speaker horizontally or vertically; it mounts with a user-friendly, flip-lever quick-mount system and is sold individually with a free hole cut-out template and paint masks for those who want to paint the grilles.
Pros:
+ Dedicated woofer and tweeter set-up
+ Cheapest option we have reviewed
+ 80 watts
Why We Liked It - Looking for an affordable speaker with powerful sound? This is a great option for those on more of a shoestring budget. It implements all the necessary requirements for optimized crossover, resulting in a full range sound for very little investment. Buying two of these guys for multiple rooms certainly won't set you back.
Smaller woofers - Larger woofers are tempting when you want a big bassy sound, but they aren't always practical. In-wall speakers often come with an option of an 8" woofer and 1" tweeter, and the reality is, the crossover between those sizes doesn't always perform well. You end up with the wrong frequencies going to the wrong drivers and a degraded sound. Stick to woofers under 8" to maintain clarity.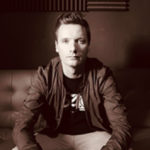 In-Wall Speakers Buyers Guide
What to Look For in an In-Wall Speaker
Unless you happen to be particularly savvy with audio electronics, you'll probably want to opt for an in-wall speaker with an easy installation.
Fortunately, modern consumerism dictates that most in-wall speakers available come with the convenience of simplified mounting, making it easy to install in-wall speakers. It's important to note some will have built-in wires, whereas others will only have the connections for the wires themselves.
All speakers are transducers that work using a magnetic field and magnets. They feature onboard processing that takes electrical signals, which disrupt the field and make the fixed magnets attract and repel.
This produces an in/out motion in the speakers. Low-frequency sound waves move the cones of the speakers less often, but with a bigger impact, higher-frequency sound waves pulsate much more rapidly.
The speaker, therefore, needs a minimum of two different cone types to deal with the very different ends of the frequency range, as well as a good crossover to deal effectively with everything in between.
So, ideally, you need a 2-way classification or 3-way classification speaker. If you have a home theater set up, you will likely be looking for specific in-wall speaker types for the various channel placements.
In home theater setups, a 3-way speaker is generally considered best for your central speaker (L/C/R). Then, you may want a specific left and right on top, a dedicated bass or sub-bass woofer, and so on. It's important to think about your speaker amplifier and set up before you browse the market.
What is an In-Wall Speaker?
At the risk of sounding completely condescending, an in-wall speaker is exactly what it sounds like. It's a speaker that has been designed to be mounted straight into the walls of your home or office.
Of course, this means they require an adequate hole in the wall to nestle into. Cutting into a wall is a calculated risk. Many wall speakers will come with a handy template to draw around before you cut. They must be mounted on drywall or false walls. You need some knowledge of where the load-bearing supports are located in your home as well as pipes and other electrical wirings.
What is the Best Sounding In-Wall Speaker?
In our humble opinion, the Polk Audio Vanishing Series set would be pretty hard to beat. Each of the in-wall speakers are designed with a specific placement in mind, which means they work best in conjunction with one another. They have mean power handling and benefit from some high development techniques to provide seamless sound that is high impact, full range, and exceptionally well-defined.
If you're not looking to break the bank, we suggest the Yamaha in-wall option. Although it has been designed to be a designated L/C/R central channel speaker, it would work reasonably well as a stand-alone in-wall speaker until you could fund further expansion.
Which In-Wall Speaker is Best for the Ceiling?
The in-ceiling speakers we've reviewed today are the 255C-RT model from Polk Audio's Vanishing Series and the JBL pair of 2-way loudspeakers. These speakers produce natural sound and make perfect additions to home theater systems.
Some of the other lightweight models would probably be worth considering, but they might not have attachment methods tailored to ceiling mounting. However, they could be modified easily enough if you know what you're doing.
Many of the speakers we've reviewed today are part of a series. You'll find other speakers individually catering to specific channel placement as part of a surround sound set-up. If you take a nose through their respective series, some may have a model better suited to ceiling mounting.
You have to be careful, as the effects of gravity are more of a concern with a ceiling-mounted speaker. The manufacturers have usually considered this within the model's design specifications and its mounting methods.
Conclusion
Installing in-wall speakers directly into your wall needn't be too daunting a task. The majority of in-wall speakers have been designed to mount simply, and many come with templates to make cutting a breeze.
Having a hidden home set-up needn't break the bank, given the rapid advancement of the modern electronics industry. Plenty of low-priced options are pleasantly surprising when placed optimally in a surround sound set-up. You'll find their respective capabilities allow them to work in harmony as a part of a whole.
If you're an audiophile, you'll likely prefer the premium models we've reviewed over their low-cost counterparts. All the speakers we've looked at today make for great additions or upgrades to your surround sound set-up.
If you're starting from scratch and are still a little clueless as to where to begin, we suggest looking at an entire series along with its amplifier. You'll need a grand total that fits comfortably within your budget.
Expert Tip
Getting yourself a stud-finder to assist you in your in-wall speaker installations could save you a lot of time and stress, but if you are really unsure, hire a professional.
Did You Know?
The most commonly used type of modern speaker is a dynamic speaker, which was invented in 1925 by Edward W.  Kellogg and Chester W. Rice. Although cutting-edge advancements have been made to circuitry since its conception, very little has changed in terms of its basic principles.
If you've enjoyed this review by Music Critic, please leave a positive rating:
[vc_separator