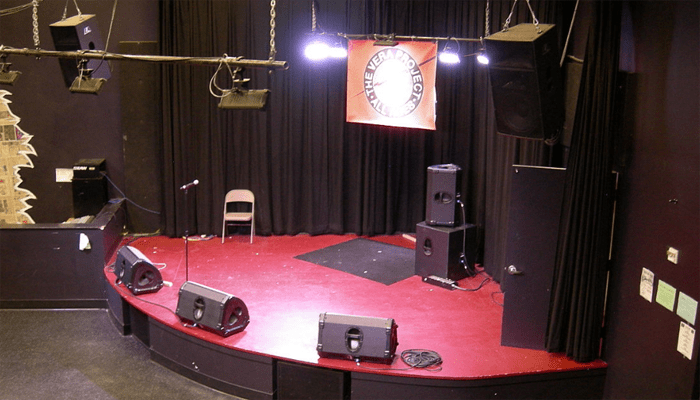 If you're searching for the best stage monitors, then you know how important this piece of equipment is to performing music live. A stage monitor will make sure that your vocals don't become out of time with the music.
Being able to hear the dry mix through the stage monitor will also help make sure that you keep in tune. The complexity of the stage monitor will depend on the size of venue you perform in, and this goes for the power of the stage monitor too.
There are some fantastic stage monitors on the market, but to make sure you select the right one for your needs, then consider this list of the best stage monitors, as well as the buyer's guide that follows.
At a glance:
Our top 3 picks
Our team's top 3 recommendations
Seismic Audio Small SA-10M Single Wedge Monitors

Powerwerks PW4P 50 Watt Personal PA Monitor

Rockville 1000 Watt 2-Way

Great value-for-money
Portable
200-watts of peak power
Dual ports
Light

Huge sound
Compact and lightweight
Mic and line input
Great price
50-watts of power

Feedback filter
1,000 watts of peak power
Handbuilt
Can be pole-mounted
Offers deep bass
View The Best Stage Monitor Below
1. Seismic Audio Small SA-10M Single Wedge Monitors
Seismic introduced its first speakers back in 2001, and since then they have become a well-respected manufacturer of all sorts of audio equipment. This budget studio monitor will give you a peak power of 200 watts. It includes a piezo horn tweeter and a woofer that has a 2-inch voice coil inside it.
It is easy-to-carry and since it only weighs just over 20lbs, then it is portable too, which is ideal for a gigging singer. The sound is both clear, as well as rugged too. It has dual ports. And the grill is 18-gauge and made from steel.
Pros:
+ Great value-for-money
+ Portable
+ 200-watts of peak power
+ Dual ports
+ Light
Why We Liked It - Seismic know how to produce excellent event and party speakers for low prices, and it is this combination that makes this one of the best stage monitors on the market.
2. Powerwerks PW4P 50 Watt Personal PA Monitor
This is a great stage monitor that is incredibly compact, but still capable of offering a huge amount of power. At only 10.5lbs, it is very portable and transportable for gigs, and it can also be easily mounted to a mic stand, for even better monitoring during concerts.
Then again, the 50-watts of power make it just as suitable as a PA for a small gig too. You can connect it to a microphone through the mic input, but it can also be connected to a mixing board or monitor feed through the line input.
Pros:
+ Huge sound
+ Compact and lightweight
+ Mic and line input
+ Great price
+ 50-watts of power
Why We Liked It - There's no doubt that this is one of the best stage monitors for anyone seeking a portable, lightweight stage monitor that can double as a PA speaker and be mounted on a microphone stand.
3. Rockville 1000 Watt 2-Way
If you're looking for a high-end, powerful stage monitor that offers your high-performance, then this might be one of the best stage monitors for you. It has a remarkable peak power of 1,000 watts, and the RMS wattage is 250w, and this is built into the monitor.
The quality is assured because the stage monitor is hand built, and it is constructed from high-grade materials too. Another nifty feature is that it includes an adjustable feedback filter so that you won't get any of that irritating feedback that you can find with lower quality stage monitors.
Pros:
+ Feedback filter
+ 1,000 watts of peak power
+ Handbuilt
+ Can be pole-mounted
+ Offers deep bass
Why We Liked It - It's just an excellent stage monitor that you're safe investing in because the materials it is constructed from are as high-quality as the sound, and the feedback filter is a really great feature too.
4. Behringer Eurolive B205D
Behringer always creates premium quality instruments and equipment, which is why they managed to construct one of the best stage monitors on the market with its Eurolive B205D. This is a very versatile speaker that won't just suit vocalists or keyboardists looking for a great monitor, as it will also be suitable for your personal recording studio or even for press conferences.
The power is 150 watts. It is an active speaker too. It has three channels, as well as a three-band equalizer so that you can find your ideal tone. At only 7lbs, it is incredibly light and easy to transport.
Pros:
+ 150 watts
+ Versatile
+ Very light
+ Three channels
+ Three-band equalizer
Why We Liked It - It is truly one of the best stage monitors around, as it gives you premium quality sound, is light to carry, and has that Behringer name on it that means you're ensured reliability too.
5. Seismic Audio Large SA-10MT-PW Single Wedge
This is another great stage monitor from Seismic that is both active and passive. It has a titanium horn, and the whole speaker unit will give you a frequency range of 48 Hz to 20k Hz. You have the ability to control high, middle, and low tones thanks to the three-band equalizer.
You also get a lot of power from this stage monitor, as it has a peak power of 500 watts. If you're looking for a stage monitor than also be daisy-chained, and then used as part of a big PA system, then this speaker is ideal for you.
Pros:
+ Can be daisy chained
+ Titanium horn
+ Lots of tonal control
+ Big power
+ Clear, quality sound
Why We Liked It - It gives you a lot of power and an equal amount of control, so you will be able to hear yourself very clearly during performances, which is what the best stage monitors offer you.
Stage Monitors Buyers Guide
Before you choose your next stage monitor, then consider the following features which you will find on the stage monitors, and this will, therefore, put you in a better position to spend your hard-earned money on the right stage monitor for your needs.
Active or Passive
There are two types of stage monitors. The first is an active stage monitor. With an active stage monitor, then the cabinet will contain a horn, a loudspeaker, and then a power amplifier. The mixing board connects directly to an active stage monitor.
They are different from passive stage monitors, which has a cabinet that contains just a loudspeaker and a horn and therefore must be connected to a power amplifier. Of course, the benefit of an active stage monitor is that everything is in the one unit, but this means that the stage monitor will be heavier and more expensive than a passive unit.
Power
There is a huge range in the peak power of a stage monitor, so before choosing your next stage monitor then consider what sort of power the amplifiers for the Front of House system will me, and then choose a stage monitor accordingly. A small monitor will be pointless if you're performing in large venues with powerful amplifiers.
Shape and Mountability
The most common shape of a stage monitor is the wedged one. These sit on the front of the stage, directing the sound up at the musicians. This is an ideal shape, but not all of the best stage monitors are shapes this way.
This is because it is becoming increasingly common to find stage monitors that can be mounted on a microphone stand. They can then be placed at head height, and shape here is less important than weight.
Controls
A three-band equalizer should be part of your stage monitor to make sure that you have more control over the sound. There are sometimes other controls on the best stage monitors. For example, a feedback filter is extremely useful, and also gain control could also be very handy for lots of musicians.
Expert Tip
The point of a stage monitor is to be able to hear yourself back. For vocalists, there is a good chance that you will be close to the monitor while you're singing. Bad stage monitors will, therefore, interfere with your sound because of feedback. Investing in a stage monitor with a feedback filter is the best idea for vocalists.
Did you know?
Tempo and time are the same things. Well, in Italian they are, as the tempo is the Italian word for time. That can be a little confusing for some singers who don't associate the tempo of the song, with keeping time with the music.
Conclusion
The best stage monitors will allow you to hear yourself when you sing and play music, therefore meaning that you don't lose time or tune. Choose one with great extras like a feedback filter and one that is powerful enough to be heard over your sound system.
If you've enjoyed this review by Music Critic, please leave a positive rating: