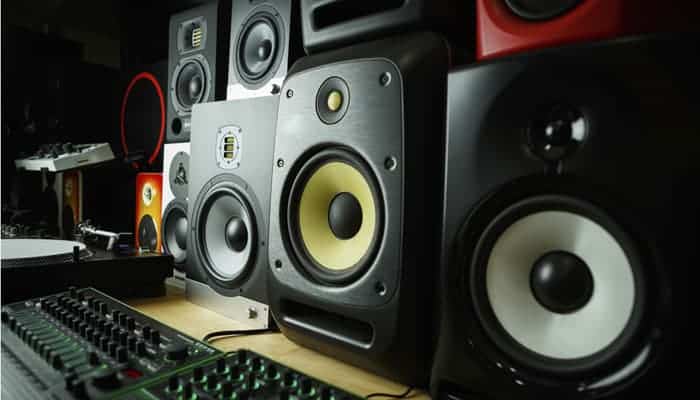 Are you searching for the best 18-inch Subwoofer? If so, then you know how important a great subwoofer is to every great sound system. It's the key to providing you with the deep bass everyone craves when they're dancing at a party.
A good 18-inch subwoofer will offer you more than just excellent sound quality. It should also be durable, heavy-duty, and easy to transport. The very best 18-inch subwoofer will be available at an affordable price, too.
To make sure that you choose the right 18-inch subwoofer for your needs, check out this list and the buyer's guide that follows it:
At a glance: Our top 3 picks
Your shortcut to our team's top 3 recommendations
View The Best 18-Inch Subwoofer Below
1. Rockville PBG18 18" Passive 2000
Rockville is a great American company that always offers good value-for-money on its audio equipment. And this 18-inch subwoofer is certainly a top-quality audio system. It offers a whopping 2,000 watts of maximum power, providing you with thumping, deep bass.
As you'd expect from Rockville, all the materials used are of a high standard. The non-resonant MDF cabinet is proof of this. The ergonomic handles have been designed for easy carrying. The fact that it's pole-mountable means it can be used for live performances. The deep bass is produced thanks to a 4-inch KSV voice coil and a 100-ounce magnet.
Pros:
+ Pole Mountable
+ 2,000-Watts Maximum Power
+ High-Quality Construction
+ Easy to Carry
+ Outstanding Deep Bass
Why We Liked It - This is a premium 18-inch subwoofer that provides you with great, deep bass thanks to a thoughtful design and quality construction.
2. Peavey PV118D Powered 18"
If you know anything about audio equipment, then you'll know just how great Peavey is. The PV series is renowned for its combination of performance and affordability. The Peavey PV118D is a powered 18-inch subwoofer that features a 3-inch voice coil and a 65-ounce magnet.
There is a contour circuit integrated into it, which is why it offers such lovely, deep bass. Some powered 18-inch subwoofers can struggle to overcome distortion, but that's not a problem with the Peavey PV118D - the woofer servo will ensure that distortion doesn't ruin the party.
Pros:
+ Great Value for Money
+ Distortion-Free
+ Thunderous, Deep Bass
+ DDT Compression
+ Reliable
Why We Liked It - It's one of the best 18-inch subwoofers for the money because it gives you that Peavey reliability for performance and affordability, as well as that luscious, deep bass.
3. JBL EON618S Portable 18"
JBL is the company of choice when looking for a premium audio system, whether that's an 18-inch subwoofer or car subwoofer. The key to their success is sound quality, which is always excellent when it comes to a JBL sound system. This portable 18-inch subwoofer provides you with 1,000 watts of maximum power, thanks to JBL's premium transducers.
It might be a surprise that such a powerful subwoofer (that offers such deep bass) is so lightweight and easy to carry, but this makes it perfect for live performances or for parties. The Bluetooth connectivity means you can hook it up to your smartphone or media player with ease.
Pros:
+ Bluetooth Connectivity
+ 1,000 Watts Maximum Power
+ Wide Frequency Range
+ Self-Powered
+ Premium Transducers
Why We Liked It - This is simply a premium 18-inch subwoofer that gives you a lot of peak power, as well as amazing low frequencies, and sound quality that you can only get from JBL.
4. Seismic Audio Tremor_18-PW
This Seismic 18-inch subwoofer has been appropriately named - the thunderous, deep bass it produces certainly causes tremors. The peak power is 1,000 watts, and the RMS max output is 500-watts, which is more than enough for live performances or for people who just like their bass loud.
This heavy-duty subwoofer has a full metal grille at the front, as well as rubber feet to keep it secure. If you plan to transport the subwoofer, then you'll appreciate the very durable recessed handles. The sound quality is amazing, thanks to a 90-ounce magnet and a 3-inch voice coil.
Pros:
+ Heavy Duty
+ 1,000 Peak Power
+ Secure Rubber Feet
+ Easy to Hold Handles
+ Powerful, Deep Bass
Why We Liked It - The best 18-inch subwoofer should provide you with outstanding bass, and that's just what this subwoofer does, but it's also heavy-duty and perfect for live performances, too.
5. JBL JRX218S Portable 18
This is another excellent 18-inch subwoofer that's been made by the incomparable JBL. It's the perfect addition to any sound system that's seeking a subwoofer to provide huge power, top sound quality, and a pounding, deep bass.
The enclosure is both rugged and durable due to the 19mm MDF that it's made from. The steel handles also enhance this heavy-duty aspect. An 18-gauge, perforated steel grille ensures that you don't have to worry about breakage.
The sound quality is everything when it comes to a subwoofer. With a 3-inch voice-coil woofer and a maximum power of 1,400 watts, as well as 350 watts continuous peak power, this gives you amazing sounding performance.
Pros:
+ Extremely Durable
+ Huge Maximum Power
+ Aesthetically Pleasing
+ Affordable Price
+ Perfect for Live Performances
Why We Liked It - This gives you JBL sound quality and deep bass at a price point that's utterly incomprehensible for such an amazing 18-inch subwoofer.
18 Inch Subwoofer Buyer's Guide
There are some key differences that you'll find between different 18-inch subwoofers that are on the market. To make sure that you choose the best 18-inch subwoofer for your needs, then consult this buying guide, which will explain the key features found on these subwoofers, and what they mean.
Maximum Power/Continuous Power
Maximum power is just that: the absolute peak power that the speaker can handle, but only in short bursts. No subwoofer is capable of performing at just its peak power. That's what the RMS number means, which is important for working out the continuous peak power that the subwoofer offers. Check both numbers to make sure that your new subwoofer will function as part of your sound system.
Enclosure Construction
The best 18-inch subwoofers will feature an enclosure constructed out of a durable, hard material that will enhance the heavy-duty nature of the subwoofer. One of the best materials for this purpose is MDF (Medium-density Fiberboard). The thicker the material, then the more durable and hard-wearing the subwoofer will be.
Rubber feet are an important consideration for the stability of the speaker. Metal corners, as well as a metal grille (preferably made from steel), will also ensure that your 18-inch subwoofer is heavy duty and won't break or be damaged easily.
Portability
The two main attributes that contribute to portability are the design of the handles and the weight of the unit. An ergonomic design – often with handles inside deep recesses – will allow for much easier carrying.
And then, of course, the lighter the 18-inch subwoofer is, the easier it will be to carry too, but you need to make sure that the speaker isn't so light that it may move around when the bass is pumping through it.
Voice Coil
When it comes to the voice coil in an 18-inch subwoofer, you'll tend to have a choice between a 3-inch voice coil or a 4-inch voice coil. The difference between the two is minimal, and this feature should only be considered as one element of the subwoofer. There's no need to simply choose one subwoofer over another because of the size difference in the voice coil.
Pole Mountable
If you're looking for an 18-inch subwoofer for live performances, then check if it's pole-mountable, as that will come in handy.
What's the difference between a powered 18-inch subwoofer and a passive 18-inch subwoofer?
A powered subwoofer – also known as an active subwoofer – will include an amplifier inside it, whereas a passive 18-inch subwoofer does not include an amplifier inside the cabinet. Basically, this means that a powered subwoofer is ideal for people who are using a sound system that doesn't include a third party amplifier, whereas a passive subwoofer is only for people who have an audio system that includes an amplifier.
Expert Tip
Don't forget that deep bass and maximum power isn't everything when it comes to a subwoofer. If you're planning on using the subwoofer for live performances, then you've got to make sure that it isn't a hassle to carry.
Check that it has handles that are either ergonomically designed or a deep-recessed so you don't have to struggle every time you carry it into a venue. Of course, the lighter it is, then the easier this will be too.
Did you know?
Raymon Dones is the man who first patented the idea for a subwoofer back in 1964. He then went on to design the Octavium subwoofer which became very popular with a lot of big musicians in the 60s and 70s, including The Grateful Dead.
Conclusion
There are some great 18-inch subwoofers on the market that will provide you with the deep bass your current sound system is lacking. The very best 18-inch subwoofers will be affordably priced, constructed from heavy-duty materials to enhance durability, give you a lot of peak power and continuous maximum power, and they will feature an ergonomic design to make portability easier.
If you've enjoyed this review by Music Critic, please leave a positive rating: