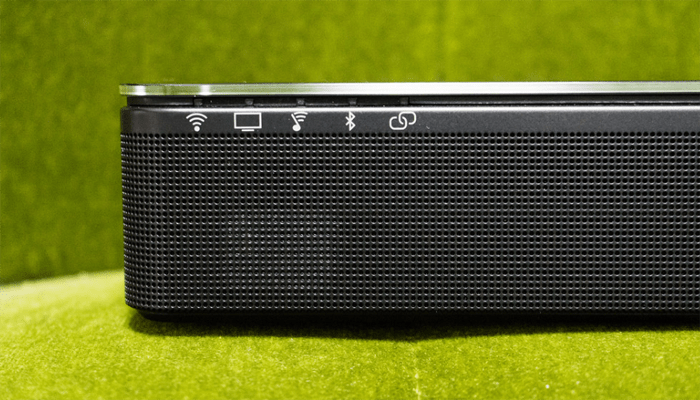 Are you looking for the best soundbar under $100? If so, then you know how a soundbar can improve your experience when watching a flat-screen television or when playing games on one. A soundbar really boosts the sound, offering far better bass, and also gives you a surround sound experience.
The best soundbar under $100 will do all of this at a price that won't break the bank. They will also be simple to set up, offer you wireless connectivity, as well as a wired option too. A built-in microphone can also be a handy extra too.
To make sure that you choose the best soundbar under $100 then check this list of the four best, as well as the buyer's guide that follows, and will let you know about all the key features you should be looking for when investing in a soundbar under $100.
At a glance:
Our top 3 picks
Our team's top 3 recommendations
Yamaha ATS1080-R Sound Bar

EWEMOSI Sound Bar

SAKOBS Soundbar

In-built subwoofer
Clear Voice Technology
Wall mountable
Bluetooth connectivity for streaming music
Easy to set up

In-built microphone
Cinematic, stereo sound
Up to 8 hours wireless playtime
Bluetooth 4.2 connectivity
Low price

15-degree angle
Slim, stylish design
Remote control
Three equalizer modes
Four full-range speakers and two subwoofers
View The Best Soundbar Under $100 Below
1. Yamaha ATS1080-R Sound Bar
Yamaha is a name we all know for a reason. It always offers excellent products at affordable prices, and this soundbar under $100 is certainly no exception. It has an aesthetically pleasing, sleek design that won't take up much space at all in front of your flat screen.
It is ideal for watching movies, as it incorporates Clear Voice Technology, which means that you will hear all dialogue perfectly clearly. It is easy to set up. And it can be fixed to the wall too. There's also no need to invest in a separate subwoofer to get brilliant bass, as this soundbar has a subwoofer integrated into it.
Pros:
+ In-built subwoofer
+ Clear Voice Technology
+ Wall mountable
+ Bluetooth connectivity for streaming music
+ Easy to set up
Why We Liked It - It is just about the best soundbar you can get under $100, as it is a premium quality soundbar, with a built-in subwoofer and Clear Voice Technology, and it comes at a low price too.
This soundbar offers Bluetooth 4.2 connectivity, and when it is used wirelessly then you get playtime of between 6 and 8 hours. It can also be used while connected into the mains too. It also has an in-built microphone, so that it can be used for making phone calls while connected to your smartphone or for video calls via your computer.
The sound is fantastic and can be described as being "cinematic quality". That's because of the 5V 1.8 speakers that are integrated into this soundbar that is highly affordable too and must be considered in the category of the best soundbar under $100.
Pros:
+ In-built microphone
+ Cinematic, stereo sound
+ Up to 8 hours wireless playtime
+ Bluetooth 4.2 connectivity
+ Low price
Why We Liked It - The sound is the best thing about this soundbar, it is truly fantastic and will make you enjoy your favorite movies even more.
If you have a bigger budget, you may wish to consider one of these Soundbars under $300.
SAKOBS have designed this soundbar with a lot of thought. It sits at a 15-degree angle, meaning that the sound will be directed at your ears, rather than at your knees as you find with other soundbars. And this soundbar certainly offers sound you want to hear, as it has four full-range speakers inside it, and it also has a dual-bass port, which means you get outstanding surround sound.
It has an easy-to-use remote control that can be used for adjusting the three different equalizer modes, as well as 16-level volume adjustment. Not only does this best soundbar under $100 sound great, but it looks it too.
Pros:
+ 15-degree angle
+ Slim, stylish design
+ Remote control
+ Three equalizer modes
+ Four full-range speakers and two subwoofers
Why We Liked It - When it comes to a soundbar, then you want to be assured outstanding sound that also has powerful bass, and the four full-range speakers and dual-bass port certainly ensures quality surround sound.
This soundbar can be used in three different manners. You can lay it flat in front of your TV like a normal sidebar, and it can also be mounted on the wall, but the third option is to use it as a speaker tower, preferably in conjunction with a second one.
It is 39 inches in size, and it offers 60 watts of power. But this soundbar is more than just power and bass, it also offers crystal clear clarity of voice too, which is because the total harmonic distortion is less than 1%, which is very impressive, and makes this a top choice as the best soundbar under $100.
Pros:
+ 60-watts power
+ Three installation methods
+ Less than 1% total harmonic distortion
+ 39-inches in size
+ Includes remote control
Why We Liked It - The innovative design that allows the soundbar to be installed in three different methods makes this soundbar stand out.
Soundbar Under $100 Buyers Guide
If you're looking for the best soundbar under $100, then there are some important features that you must make sure to look out for, so that you invest your well-earned dollars in a truly excellent soundbar. The following buyers guide explaining the key features will help you make an informed choice.
Speakers
There is a range in the number, size, power, and style of speakers that you will find in a soundbar. The number of speakers inside the soundbar will depend upon the size of the soundbar itself. In some soundbars, you will find two speakers and in others, you will find four.
The more speakers, then the more range in the sound you'll get, and the better the soundbar will replicate surround sound. Preferably the speakers will be full-range so that you also get a wider range of sound, as well as better projection. The power output will vary from the soundbar to soundbar.
If you're looking for big volume, then the best soundbar under $100 for you will need to be at least 60 watts. The other thing to consider when choosing the best soundbar is whether you want a subwoofer to be incorporated into it or for it to be separate.
A soundbar is only effective when it is used in conjunction with a subwoofer, as this is where the all-important bass sounds will come from. Selecting a soundbar with a subwoofer integrated into it saves you needing to scout around for a separate subwoofer, and it can also save you money too.
Connectivity
A lot of soundbars will include Bluetooth technology. This means that you can hook up the soundbar to any device wirelessly. If you choose to use the soundbar wirelessly, though, then it will need to be charged, and that means that you should also check the amount of battery time you get from a full charge.
The soundbar should also allow for a wired connection too, and depending on your needs, you will need to check if this can be done through AUX, coaxial, or HDMI.
Design
A soundbar should be designed in a manner that makes it both look good while also being effective. Some soundbars have a tilted design so that the sound is directed towards the listener's ears. Another element of soundbar design that has to be considered is whether it is wall-mountable or not.
If you have your television on the wall, then you will want to choose a soundbar that can be mounted to the wall too. There are also soundbars that can be used as a tower. This is a great option if you purchase two of these soundbars as you will then get outstanding and hugely powerful surround sound.
If you have a big budget, you may wish to buy a soundbar under $500.
What is Clear Voice Technology and what are its advantages?
This technology has been created by Yamaha to compensate for background noise when watching your television. For example, you might struggle to hear the commentator clearly during a basketball game because of the crowd.
It basically boosts the vocal frequency range and its harmonics, which means that voices will become more intelligible. Other manufacturers offer similar technology in their soundbars, and it is a great feature for hearing the dialogue in movies.
Expert Tip
Don't forget that a soundbar will become a piece of furniture, as it will sit in front of your television, so make sure to choose a soundbar that has a sleek, stylish design that looks great.
Did you know?
The very first soundbar went onto the market back in 1998 and it was made by the American company, Altec Lansing.
Conclusion
The best soundbar under $100 will not only offer surround sound thanks to numerous full-range speakers, but it will also include a subwoofer, a microphone, be Bluetooth enabled, and also have a sleek, slim design that looks good.
If you've enjoyed this review by Music Critic, please leave a positive rating: