Summary
Containing all the essentials for a high-quality PA system, this bundle from Bose is an excellent investment.
Central to the system is the Bose L1 Model II line array. It's designed to offer uniform sound coverage, which is exactly what it does thanks to Spatial Dispersion and Articulated Array technologies. These technologies function because of a 24-driver set up inside the Bose L1 Model II, which allows for horizontal sound coverage across 180-degrees.
To complement the excellent Bose L1 Model II, this bundle also includes the B2 Bass Module. This subwoofer packs a huge punch due to the dual 10" high-excursion drivers that are central to it. The powerful, balanced bass it reproduces – at very loud volumes – is ideal for bass guitarists, drummers who mic their kick drum, and especially DJs who play dance music.
The final element of this Bose L1 Model II package is the T4S ToneMatch Mixer. It's a critical piece of equipment that allows you to balance sound or shape tone, so you get the very best quality out of the L1 Model II and the B2 Bass Module. It also allows you to add extra channels.
Overall, this package contains everything you need for a professional PA system. As with every Bose product, this equipment is designed to deliver exceptional sound quality, which is exactly what it does.
About the Bose L1 Model II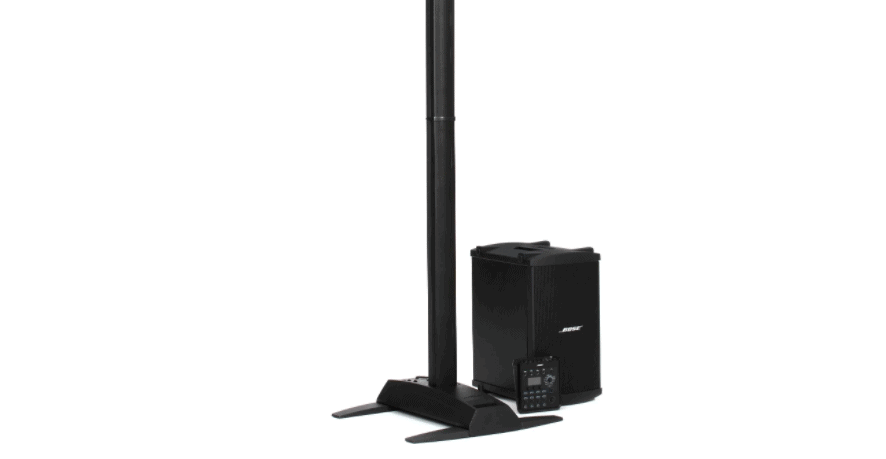 Key Features
Let's have a look at the key features of the Bose L1 Model II with B2 Bass Module and T4S Tone Match Mixer:
Room-Filling, Wide Sound Coverage: The Bose L1 Model II is designed to offer uniform sound coverage. Instead of sound traveling up and down, it goes forward and to the sides, creating a better listening experience for your audience.
Efficient Design: The B2 Bass Module is only 15" by 10.25" by 17.75," but the two 10" high-output drivers inside it mean that it can produce booming bass that's perfect for a live gig for audiences up to 300 people.
Intuitive, User-Friendly Controls: The T4S ToneMatch Mixer is simple to use, meaning that you don't require an audio engineering degree to operate it.
Compact, Lightweight, and Portable: Each piece of gear is lightweight, compact, and portable, making it a suitable PA system for the road.
Pros
+ It's the complete package. The L1 Model II, B2 Bass Module, and T4S ToneMatch Mixer work perfectly well together, and as it's a bundle, then you can purchase them for a lower price than if you bought them separately.
+ The B2 Bass Module offers a huge amount of bass for its size. Combined with the L1 Model II, then you get a crystal-clear, balanced sound that projects widely to fill a room.
+ The whole PA system is so small and lightweight that it's an excellent choice for transporting to gigs.
Cons
- There aren't any cons. It's a superb PA system that's reasonably priced as a bundle.
Who Is It Suitable For?
It's a complete PA system. DJs, singers, public speakers, and small venues will benefit from it. As will anyone who wants a great-sounding PA system that's portable.
Why We Like It
The Bose L1 Model II with B2 Bass Module and T4S ToneMatch bundle offer quality across the board.
As always with Bose products, the sound quality is impossible to beat.
If you liked the article, please leave your feedback.