For almost a century, Electro-Voice has offered an excellent selection of audio equipment with a wide range of requirements. Customers include everyone, from vocalists searching for microphones to regular folks looking for speakers for their home. Electro-Voice has remained one of the most well-regarded audio equipment manufacturers for such a long time because it is continuously innovating, making sure that its products are cutting edge.
The Electro-Voice ZLX-12BT is a loudspeaker that offers 1,000-watts of Class D peak power. It features a 12-inch woofer and a 1.5-inch titanium driver. It has Bluetooth technology so that it can be used for wireless audio streaming.
Electro-Voice ZLX-12BT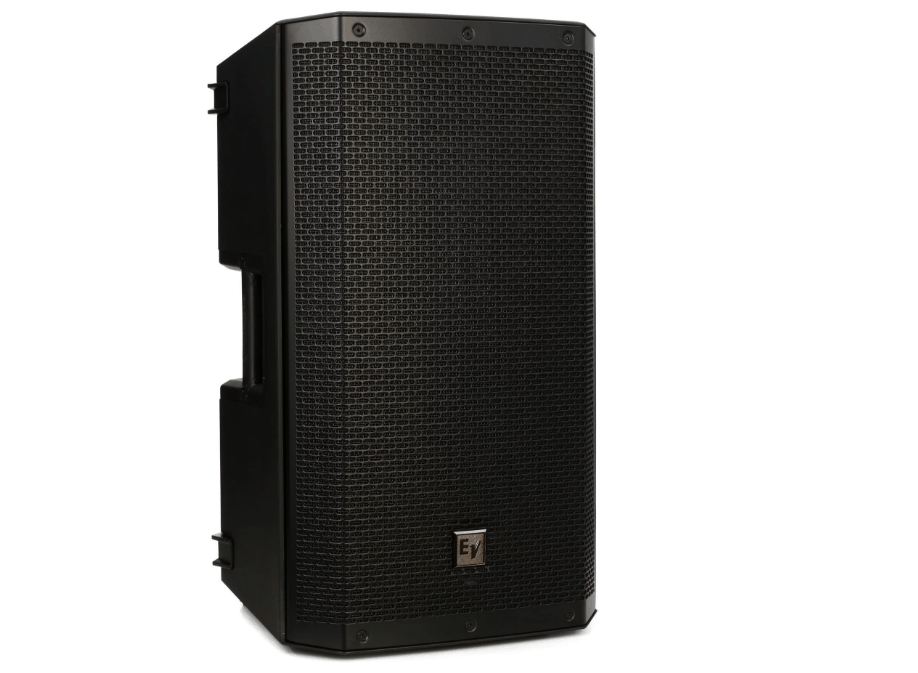 Summary
The Electro-Voice ZLX-12BT powered speaker is a perfect example of Electro-Voice's dedication to producing high-quality gear. At only 34.3lbs, the Electro-Voice ZLX-12BT is a lightweight speaker that packs a punch, which is what you'd expect from a loudspeaker with a maximum power output of a whopping 1,000-watts.
This combination of power and portability (it is only 24-inches by 14-inches by 14-inches) makes it the ideal speaker for touring musicians, as it won't take up much space, nor will it injure your back – or your roadie's back – when carried into the venue.
The three handles will also enhance its portability, allowing you for a comfortable grip. Despite being lightweight, it has a rugged, composite structure that makes it durable and hard-wearing, meaning it can handle more than its share of knocks and continue to perform at its highest ability.
It also performs just as well when mounted onto a pole as it does when it is placed on a wall bracket or simply on the floor, allowing you to take advantage of its wedged back shape. As it offers two XLR combo inputs, you can plug in microphones, mixing desks, or line inputs easily, meaning that it could be used for stand-up comedy, talks, and karaoke, as well as for music performances.
The Electro-Voice ZLX-12BT isn't just made for the stage, though. It works just as well as a loudspeaker for the home. The ability to hook it up to a Bluetooth device means that you can easily stream music from your smartphone, tablet, or PC, without needing to fiddle around with lots of wires.
The Electro-Voice ZLX-12BT provides you with a superb sound that will truly do justice to your favorite tunes. This is down to the 12-inch woofer and the 1.5-inch titanium driver, which combine perfectly to provide listeners with a well-balanced sound that performs naturally across the whole soundscape.
With a frequency response of 65Hz to 18kHz, as well as a frequency range of 50Hz to 20kHz, then you can be sure that the subtlest sounds in the music will be picked up. The Electro-Voice ZLX-12BT also features an SST waveguide, which ensures that there is zero distortion, accurate coverage, and offers the maximum amount of acoustic loading.
Being able to pair the speaker with a Bluetooth device isn't just an excellent feature for those looking for a loudspeaker for the home. It also allows musicians – especially vocalists – to stream a backing track at the same time as performing through one of the two inputs.
The Electro-Voice ZLX-12BT's versatility is backed up by easy usability thanks to four in-built preset modes that allow you to effortlessly switch between Music, Speech, Club, and Live. You also have the option to use the EQ to set up your own presets, which gives you even more control over the sound that the speaker reproduces.
Overall, this is an outstanding loudspeaker that suits a variety of uses, making it perfect for musicians, venue owners, event planners, or someone seeking something top-grade that offers superb sound quality.
Pros
+ It is lightweight and portable, featuring three handles that have been placed in optimal positions for more comfortable carrying, making it an ideal loudspeaker for traveling musicians.
+ The 1.5-inch titanium driver and 12-inch woofer provide you with a balanced sound that gives you crystal clear vocals, as well as rich, deep lows.
+ It comes with four preset modes so that you can plug in your microphone, mixing desk, or instrument to one of the XLR/Line inputs, select the right EQ preset for your purpose, and you're ready to go.
+ The ability to pair your smartphone or tablet to the loudspeaker via Bluetooth is an excellent feature.
Cons
- There is little to fault the Electro-Voice ZLX-12BT besides perhaps its price, but if you're looking for a reliable loudspeaker, it's worth the investment.
Why We Like It
It is a versatile, portable loudspeaker that offers 1,000-watts of peak power, can pair with Bluetooth devices for audio streaming, provides you with well-balanced sound, and is highly durable too. The Electro-Voice ZLX-12BT is a top-quality piece of equipment.
If you liked the article, please leave your feedback.