Summary
Designed for intimate venues, the Bose L1 Pro8 portable line array system is a superb PA system for singers, DJs, and public speakers.
As with all Bose L1 series models, this PA system features Bose's innovative line array system, which consists of 8 articulated 2" neodymium drivers. This system creates a balanced, uniform sound without any distortion or echo, reaching every spot inside a small to medium venue.
Bose products are renowned for their flawless, immaculate sound quality. The Bose L1 Pro8 delivers this crystal-clear sound quality too.
Overall, it's a lightweight, portable PA system that offers exceptional sound quality, wide sound distribution, and simple use.
The cymbals are advertised as 'spectacularly realistic' but there has been a lot of mixed feedback as far as they are concerned. This is especially true with regards to the hi-hat which many have found problematic.
We think they look the part with their hammered appearance but that a hi-hat replacement could well be on the cards. They have a great deal of bounce which gives them a natural feel in direct comparison to a real cymbal. It is also important to note that in the size department once again they trump a number of modern electronic kits with their larger bell surface areas.
About the Bose L1 Pro8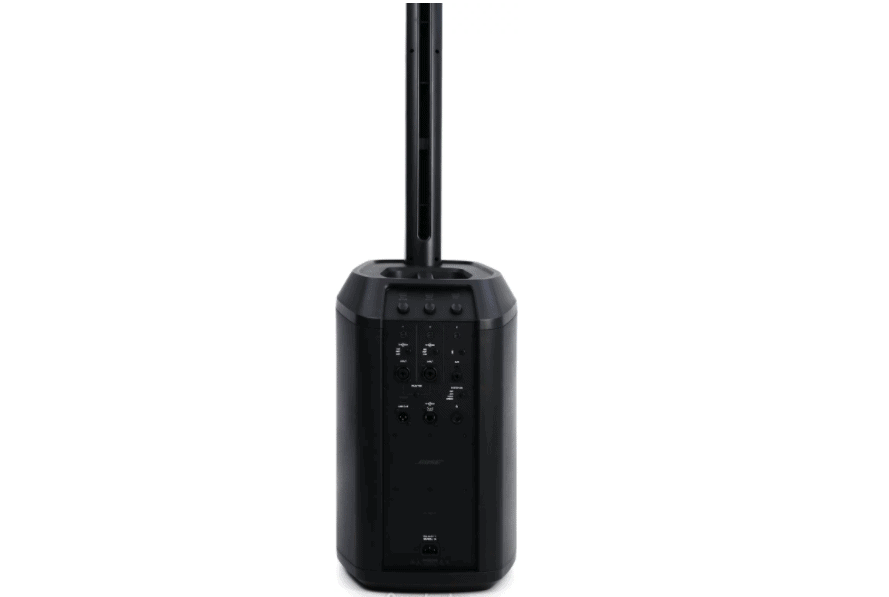 Key Features
Let's look at the most important features of the Bose L1 Pro8 portable line array system.
Line Array Design: The 8-speaker line array design allows for 180-degree horizontal sound dispersion and 40-degree vertical coverage. This allows audience members to hear the sound clearly regardless of their location in the venue.
Integrated Subwoofer: Offering low notes down to 45Hz, the integrated bass module features a unique RaceTrack driver that has dimensions of 7" by 13".
In-Built Mixer: Built into the Bose L1 Pro8 is a user-friendly mixer that includes several pre-sets.
Wireless Control: The PA system includes Bluetooth technology so that you can connect your phone to it and control it via the L1 Mix app.
Portable: The whole PA system combined weighs approximately 40lbs. Together, it can be easily carried to a venue and won't take up much room in your van or the trunk of your car.
Pros
+ It packs a huge punch. Considering its small size, it produces enough power for an intimate, small to medium-sized venue. The line array design also ensures that the whole audience has a quality listening experience, as the sound is evenly distributed.
+The small size and weight of just 40lbs make it highly portable. For touring speakers, singers, or musicians, then this is a great feature. It's also simple to set up, and the mixer can be controlled easily.
+ As with all Bose speakers, this one delivers stunning sound quality. The integrated subwoofer also ensures that the sound has depth and power on the low-end, something that many PA systems are lacking.
Cons
- The Bose L1 Pro8 doesn't have any cons in terms of the product. But it might be priced a little high for some people. Then again, when the quality is taken into account, it still offers great value-for-money.
Who Is It Suitable For?
It's a PA system that's well-suited to venues that are small to medium in size. Think coffee shops or cafes for an idea of the size.
The quality makes it a good choice for singers, preachers, politicians, public speakers, and DJs.
Why We Like It
It's a superb, portable PA system that features an innovative line array design, which allows for uniform, wide sound coverage.
If you liked the article, please leave your feedback.