Treblab has generated a great reputation for earbuds and headphones that deliver high-quality sound alongside brilliant design, with active people in mind. They've also released a series of speakers, but how do these compare to their headphones' high standards? We've reviewed and tested the Treblab HD7 Speaker to find out how it measures up.
The Treblab HD7 Speaker is the smallest of their speaker range, and the cheapest - coming in at just over $50. This pricing is mid-range for this type of Bluetooth speaker, and a little on the expensive side compared to similar models and brands.
The main unique selling point of the Treblab Speaker is that it's rugged, water-resistant, and is a good option for an active lifestyle.
Design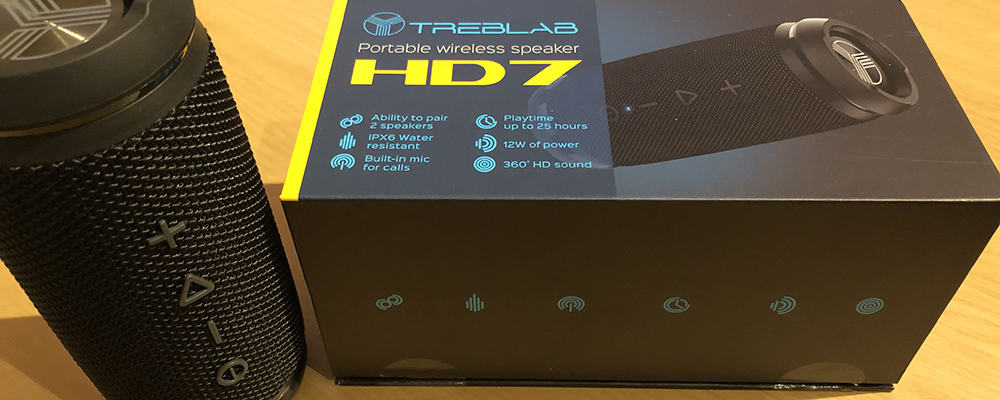 The Treblab HD7 is designed to have nearly 360 degrees of sound with a circular design that allows sound to be pushed out from all angles. The speaker can rest on either end of the cylinder, which is reinforced to take the weight and balance perfectly. Alternatively, the HD7 speaker has a flat section that can rest on, which is also where you'll find the charging port.
The standard design of Bluetooth speakers is to have one or two sides emitting sound, which usually leads itself to a triangular or square shape. Treblab HD7 is one of the only speakers to have a circular design.
The outer materials are water-resistant, and the speaker covering is a tough, tightly knit material. This keeps water and dust out and allows sound to pass through, making this speaker durable. As the Treblab HD7 doesn't come with a carry case, it needs to have a rugged exterior for proper protection.
Our Verdict: Treblab HD7 is a no-frills, rugged speaker for the outdoors and gatherings.
Sound Quality
The sound quality of Treblab HD7 is pretty decent and plays pop music, radio and podcasts well. The speaker has two speakers embedded in the design, on opposite sides of the product. This intelligent positioning allows for 360 sound and makes sure that no one is left out of the party.
The speaker has an excellent overall quality but is not particularly strong on the bass notes. The volume reaches a very high level, and as it reaches the higher noise level, you can hear the sound quality decreasing. However, most people will use the speaker for indoor or outdoor parties, and would not need to use the full volume.
This speaker is designed for use at indoor or outdoor gatherings and is perfect for these events. The speaker allows you to play background music to complement your BBQ, or be the life and soul of the party!
Our Verdict: This speaker offers great sound quality for parties or gatherings and delivers exactly what you'd expect for the speaker's size.
Controls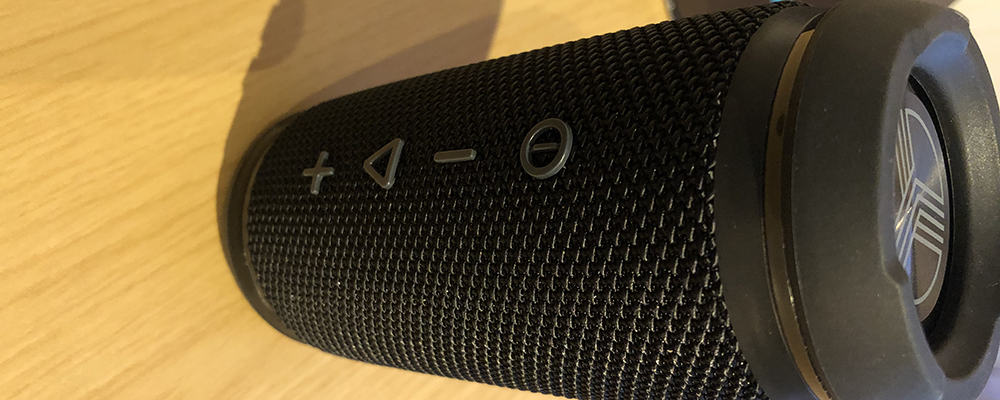 The HD7 speaker comes with four easy controls that allow you to operate your speaker and sound quickly. Simply an on and off button, which is also used for Bluetooth connection. In addition, a play or pause button and a volume up and down control. These buttons are rubberized and raised on the speaker's spine, so they are clear and easy to use. There is also the option to make calls with a built-in mic, so you could use this speaker during meetings.
Battery Life
This speaker is straightforward to charge by merely using the charging cable and portal on the speaker's flat section. The speaker has up to 25 hours of playing time so that you won't get cut off halfway through your party. Like many audio devices, it will also tell you when the battery is running low and needs a charge.
Our Verdict: The speaker charges quickly, within a few hours, and has great battery life.
Additional Features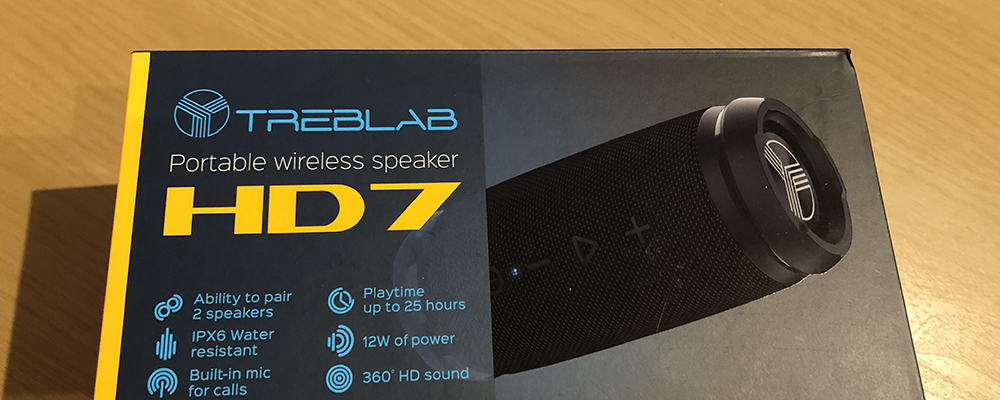 There are some additional features that complement the rugged design of this speaker. Not only is the outer covering material tightly knit, but it's also water-resistant. This means your speaker won't be damaged if it's splashed by water or gets a little rained on. In addition, the speaker also has a loop structure on the spine, where you can attach a short lanyard, which is provided in the box.
This helps to carry the speaker or attach it to other items. You can also make use of the small carabiner that is provided for the same purposes. The spine also has a small screw hole, which can be used to attach it to a tripod or selfie stick.
The only disadvantage, which isn't a deal-breaker for most customers, is that the speaker does not come with a fabric carry case. A carry case can be helpful to protect the speaker from other items in your bag, or when you are on the go. However, the tough fabric covering should be durable to last any minor bumps.
Summary
Overall, the Treblab HD7 is a great speaker, but not particularly unique in the speaker market. It is one of the only Bluetooth speakers to have a circular design, which boosts sound from all angles. The two speakers are proportionally positioned to make sure that the sound is evenly distributed.
We recommend this speaker for use at indoor or outdoor gatherings, like a BBQ or beach day. The speakers have a good sound quality at standard volume and can provide excellent background music for your occasion.
The elements of this speaker that make it a Treblab design is the tough exterior of the product. The material covering the speaker is thick, feels a little rough to the touch, and protects the speaker from harm, without compromising on sound. The speaker is also water-resistant, making it appealing to those leading an active lifestyle and don't want to be too precious with their tech.
In concussion, we recommend Treblab HD7 as a great all-round Bluetooth speaker. Easy to connect and control, the speaker gives good sound, with 360 degrees of output. Perfect for small gatherings.
If you liked the article, please leave your feedback.