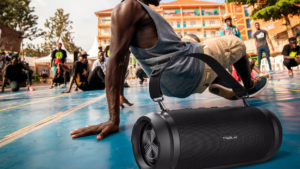 Review of the TREBLAB HD-Max Big Loud Bluetooth Speaker

Treblab is a relatively new company – founded in 2015 – that has quickly earned itself a reputation for producing great-sounding, affordable audio equipment. We're going to look at one of its most popular products, which is the Treblab HD-Max Bluetooth speaker.
Design
This speaker is designed with power in mind. It includes four speaker drivers that deliver a combined power output of 50w. It isn't just loud, though. The sound quality is flawless too. It offers a balanced output across the whole sound spectrum, with it performing very well on the low-end. It offers you a frequency range of between 80Hz and 16kHz, which is very impressive for such an affordable speaker. There are three sound modes to choose from so that the speaker can be equalized for optimal performance, whether you're indoors or outdoors. The third mode is for a bass boost, which is ideal for getting a party started.
Outdoor Use & Water Resistance
As we've mentioned, the HD Max has a mode that's specifically for use outdoors. To ensure that rain or splashes from a pool, for example, don't cause you to run indoors, this speaker has IPX6 water resistance. This is just one feature that contributes to the durability of this robust unit. It has a strong chassis and rubber ends that will help it stand up to a few accidental knocks.
Connectivity
Connectivity is also simple with this product. It features Bluetooth 5.0, which ensures that you get a smooth, lag-free connection. You can also pair it easily with a press of a button. It offers an ample amount of range, with you being able to stay connected to it up to 33ft. Everything about operating this speaker is a breeze, in our opinion. It's got large, tactile buttons that can be used to adjust volume, pause and play tracks, as well as one for connecting and disconnecting from your device. The pause/play button is also used for answering and ending phone calls. It's possible to use the speaker for calls, as it features a high-quality, in-built microphone.
Portability
A Bluetooth speaker needs to be portable, as many people will use this product while on the go, especially in the summertime for outdoor gatherings. The Treblab HD-Max ticks this box too. It has dimensions of 4.72" by 4.72" by 12.4". It also weighs just 5.62lbs. Even though it's highly unlikely that this product will have any manufacturing flaws, Treblab still offers a one-year warranty with the product to ensure that you get a replacement in those unlikely circumstances. The speaker also comes with a carry strap, which further enhances its portability.
Battery Life
Another area where the Treblab HD-Max impresses is in terms of battery life. The amount of time that you'll get from a single charge will depend on how loud the volume is, but Treblab suggests that you can get 20 hours when the speaker is used at 30% of its maximum volume. If you have it turned up to full volume – although it's unlikely you will unless for a party, as this speaker is seriously loud – then you'll get 5 hours of playtime from a single charge. It takes around 5 hours to fully charge the battery. It can, of course, be used when plugged into a power source. The speaker comes with a USB charging cable with a Type C connection.
Overall, the Treblab HD-Max is an excellent choice for anyone seeking a powerful, great-sounding, Bluetooth speaker that's affordably priced. It particularly impresses when it comes to its room-filling sound. We also are fans of the three sound modes, which will come in handy for outdoor parties. The added features like the integrated microphone, easy-to-use controls, and extended battery life are all pluses too. 
Summary

The Treblab HD-Max is a portable, wireless speaker that features Bluetooth 5.0 technology. It includes four speaker drivers that combine for a power output of 50W. There are three sound modes – Indoors, Outdoors, and Bass Boost – which can be used for optimizing sound quality to your surroundings. It offers 20 hours of battery life from a single charge, and it includes an in-built power bank. It's also a durable unit that has IPX6 water resistance.
This speaker is loaded with lots of handy extras too, including an integrated microphone that can be used for phone calls. It comes with a strap for carrying, a USB charging cable, a one-year warranty, and a 3.5mm AUX cable. Treblab also supplies a bottle opener for those summer parties you'll be taking this speaker to.
Pros
+ Loud speaker with 50w of power
+ IPX6 water resistance
+ Integrated mic
+ Affordable price tag
+ Extended battery life
Cons
- The cable input ports are located at the bottom of the speaker
Conclusion
It's a powerful speaker that offers exceptional sound quality, all for a very affordable price tag. If you're looking for a great speaker for indoor or outdoor parties then this is a superb option, in our opinion.
If you liked the article, please leave your feedback.