If you want to capture the dynamics of louder instruments, then you will probably need to seek a dynamically balanced microphone. Condensers are usually a go-to for vocal takes as they're great for detailed work, but they can be on the delicate side. You need a good, old-fashioned cardioid dynamic mic to tolerate the higher sound pressure levels.
The Sennheiser MD421 is a notorious mic with near-perfectly engineered components - its sound and reputation precede it. MD421 II is the next model of one of the most popular dynamic mics on the market. It remains largely the same as the original version, but it's been given a stronger make-over.
Sennheiser has increased the durability, and the insides have been brought up to date with modern circuitry equivalents. The sound quality on offer is excellent; it has accurate reproduction and is very transparent.
It's beautifully built and competitively priced, as it's competitively designed. It offers up the addition of a bass roll-off switch that features five options for positioning. This useful attribute, along with its undeniable reliability, is what gives the mic its award-winning acclaim.
With a robust, refined steel basket and high-end, hardy enclosure, you can rest assured that it'll cope with a little rough handling. The internal electronics are expertly designed and manufactured with tough quality control, ensuring the field generation and response are optimal for a professional capture.
The components are housed in a glass composite capsule. Being fully enclosed keeps them safe from dust and humidity, adding to the longevity of the mic, ensuring that it's a sound, long-term investment.
The tuned frequency response reaches 30Hz-17kHz. Granted, this is a little less than some dynamic mics, but this gives it a better focus and ultimately gives you a cleaner, clearer capture.
It picks up interruptions from within a cardioid magnet field. This polarity is best for preventing feedback as well as ignoring other nearby sound sources.
This microphone is not overly sensitive, so you can use it to capture loud sources. This makes it an excellent option for drums, high-gain amplifiers, heavy distortion, as well as large group vocals, in a single take. That's good news if you're trying to record in the field, and it's perfect news for choral recordings.
The roll-off switch gives this mic flexibility, letting you tailor it before the signal is sent. You can use the switch to enlarge or reduce the size of the cardioid field to control what it captures.
For an up-close and personal recording, it means you get an honest, clean signal capture. You can also place the mic at a greater distance for something with higher decibel levels.
This, again, makes the microphone idyllic for handling higher SPL's. The bass roll-off switching extends the range of applications you can use it for. You have a much greater degree of control over the recording conditions.
The requirements for a vocal take versus micing up gritty bass amp are different. The MD421 II gives you the technical advantage with its added versatility. This eliminates the need for stocking up on too many different types of mics for different jobs. It also means that it's reliable enough to use for live broadcasts where there's always an element of unpredictability.
The MD421 comes with a mic clip, but we aren't overly keen on it, so you might want to seek out a more professional option.
Sennheiser Md 42 II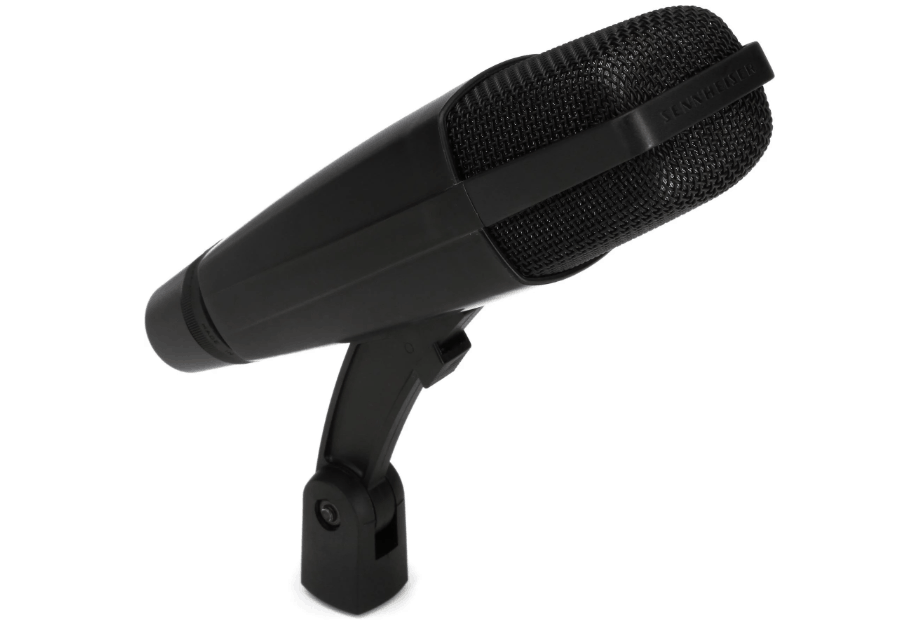 Summary
The MD421 II is a modern-day rendition of one of the best dynamic mics in Sennheiser's legacy. It features an exceptionally engineered capsule and is perfectly designed to combat feedback and be ready for anything.
It copes effectively with high SPLs and is equipped with five bass roll-off positions for its cardioid polarity pick-up patterns. This gives it great flexibility and allows you to apply it to a diverse range of recording situations.
This mic is highly effective with toms, and you can place it in front of guitar cabs. It's reliable enough for live broadcast, too. You can throw it into the mix of just about any recording situation, and the recording quality will always shine.
Pros
+ Professional dynamic mic.
+ Refined steel basket and glass composite capsule.
+ Well-manufactured.
+ High SPL handling.
+ Five position bass roll-off switching.
+ Very versatile.
+ Competitively priced.
Cons
- The clip doesn't add to the mic. It doesn't seem snug enough to support something you have spent four-hundred bucks on. We recommend you look for an alternative to prevent any rattling or accidents.
Why We Like It
MD421 II is an excellent mic. It's super reliable with great versatility that provides a lot of freedom. It's designed to reject feedback and takes high SPLs in its stride. The bass roll-off switch expands its functionality. Not to mention, this mic doesn't cost the earth.
With any situation where you know you're going to have to fight a little feedback, go ahead and give this mic a whirl.
If you liked the article, please leave your feedback.